With these Make Ahead Breakfasts for Back to School, you will be ready for busy mornings. From casseroles, oatmeal, waffles, breakfast muffins and more, there is a breakfast idea that works for everyone!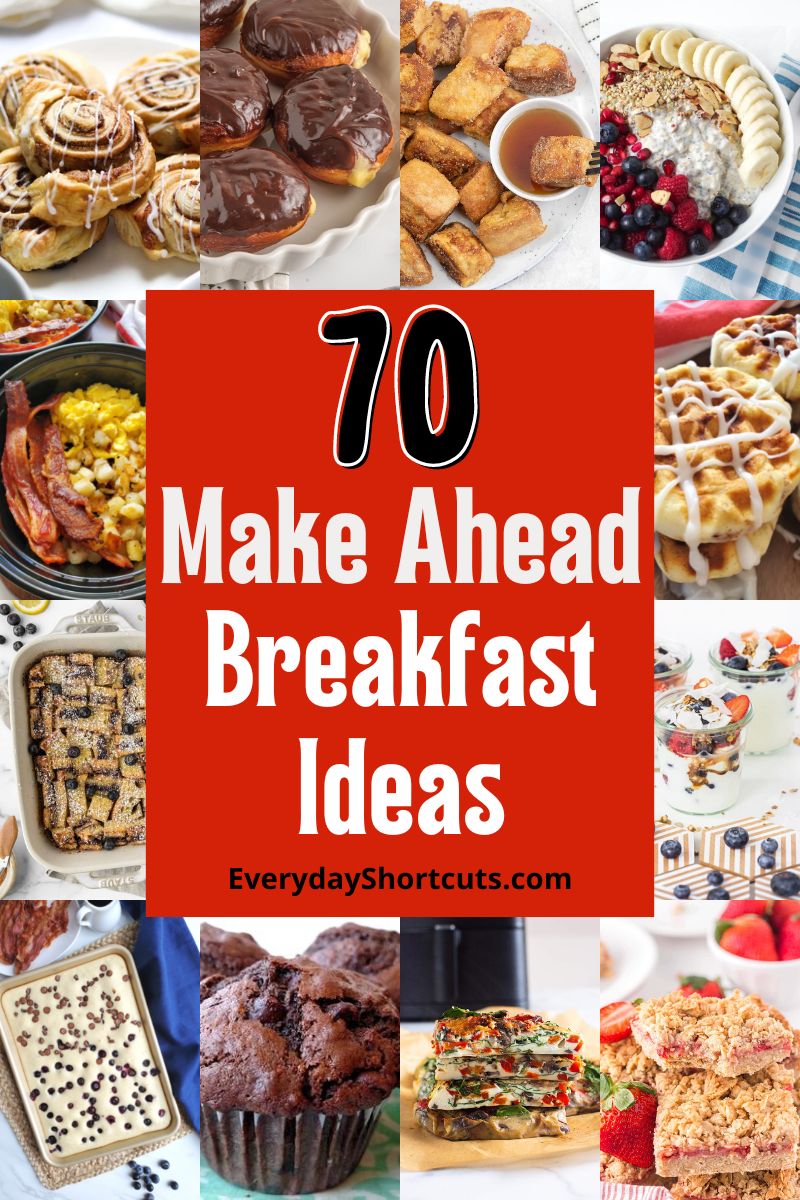 The back to school season is upon us, meaning it's time for a little extra planning! With all the busy mornings ahead and an already packed schedule, you'll need some easy breakfast ideas that can be prepped in advance. Here are 70 breakfast recipes that are easy to make for a great start to your day.
What Makes a Good Breakfast?
There is no correct answer to this question. What makes a good breakfast for one person may not be the best breakfast for another person. Some people like to eat eggs and bacon while others prefer cereal or oatmeal. The important part is that breakfast is something that you enjoy and that you can easily make ahead so that you don't have to worry about it in the morning.
Why Make Ahead Breakfasts?
There are plenty of reasons to make ahead breakfasts. For one, they're a perfect way to use up leftovers or ingredients you've had on hand. Plus, they're easy and fast to make, which means you can get your morning meal on the table faster.
Benefits of Breakfast Freezer Meals
Easy to grab and go – just pop them in the microwave or oven when you're ready to eat.
Customizable – you can add your favorite ingredients, flavors, and toppings.
Nutritious – all of these breakfast freezer meals have plenty of nutrients you need to get you through the morning.
Affordable – you can save a lot of money by prepping your breakfast freezer meals ahead of time.
Saves time – frees up extra time you would be in the kitchen cooking.
Less stress– with so much going on in the morning, cooking breakfast is one less thing to worry about.
Tips for Prepping Breakfast Ahead of Time
Before you get started, there are a few steps to take for a successful meal prep session.
Make sure you have plenty of room in your fridge and freezer to store the ingredients and the foods you cook.
Pick a day to plan, shop, cook and package meals. Check your pantry and write what you need on this free blank grocery shopping list.
Print out all the breakfast recipes you are going to make and set up an assembly line. Make a variety of breakfast items so you have different options to choose from in the morning.
Make enough food to last several days to a week.
Save time by using pre-made ingredients like frozen hash brown potatoes and already cooked bacon.
Keep food fresh and store them in an airtight container that is freezer, microwave and dishwasher safe.
Breakfast Sandwiches & Wraps