This Halloween, try a DIY Hocus Pocus Halloween Porch Sign for your home with this easy step by step tutorial!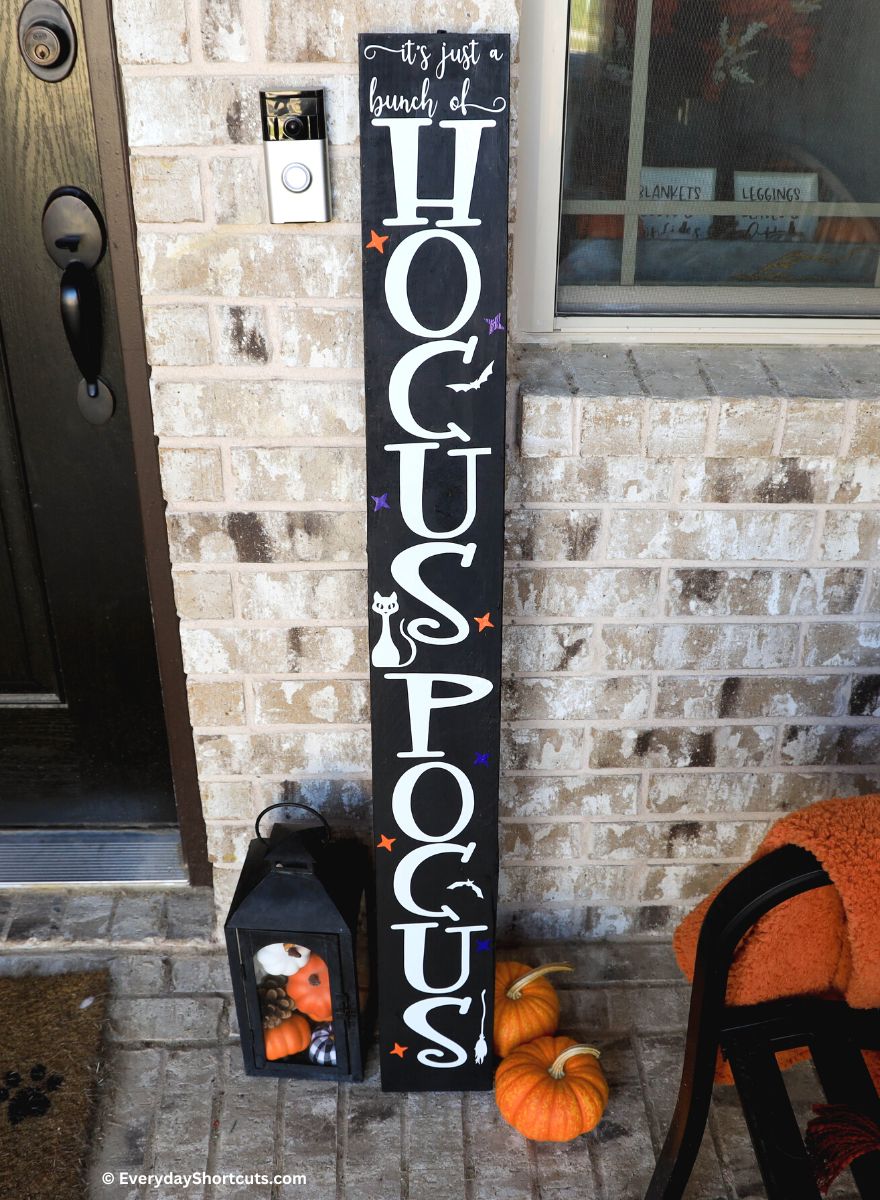 Halloween is one of the most fun holidays to celebrate! From dressing up, Halloween parties to going out trick or treating, there's always something fun to do.
In less than one week, Hocus Pocus 2 will release on Disney Plus and are more than excited to watch the Sanderson sisters back in action. We even planned out our menu consisting of Run Amuck Cocktails and a Spooky Halloween Charcuterie Board for movie night.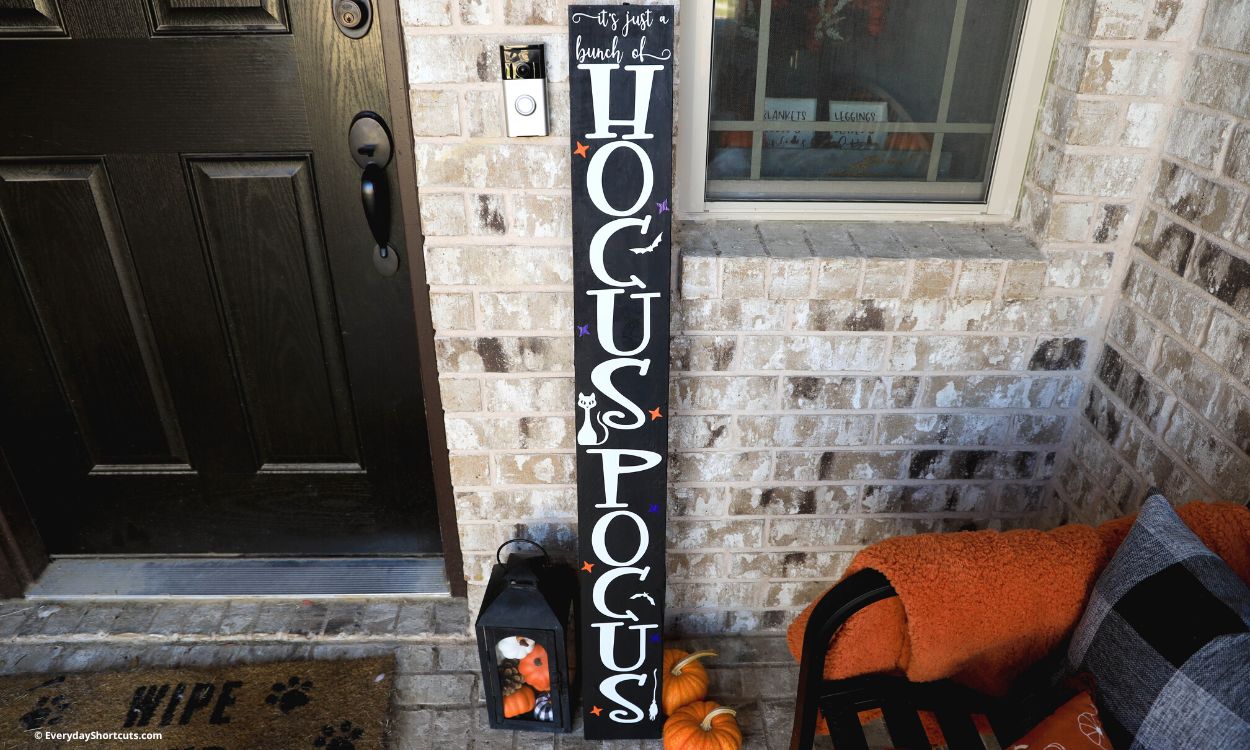 Making a Hocus Pocus wood porch sign that reads "It just a bunch of Hocus Pocus" is a fun way to celebrate the release of the new Hocus Pocus 2 Halloween movie and decorate your porch. This DIY project is easy to follow and requires only a few supplies. Let's get started!
Supplies Needed
1 sheet transfer tape – I reuse the tape on each piece/ more if you don't want to reuse.
1 small bottle black matte acrylic paint
Paint Brush
Wood 1x4x4
Polycrylic
Measuring tape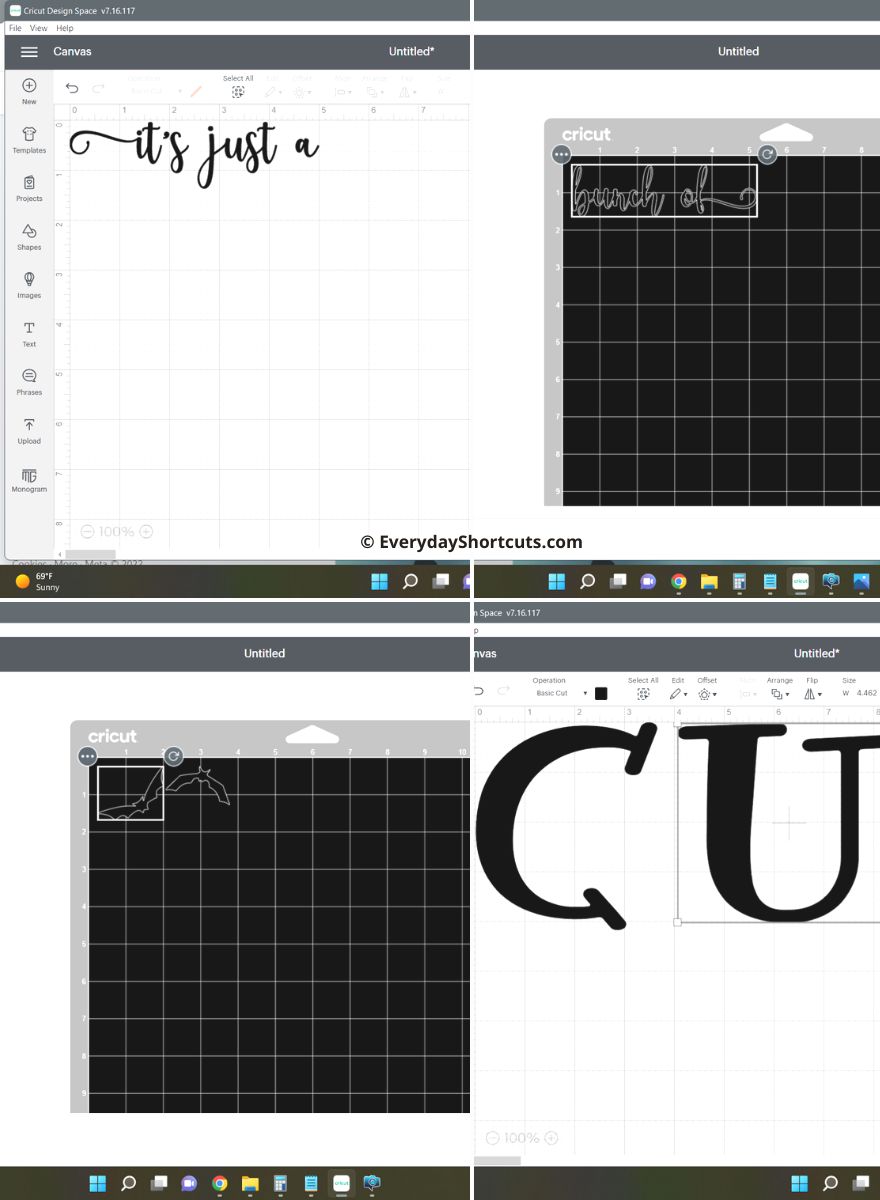 How to Make a Hocus Pocus Porch Leaner
Paint the wood board front and back with the matte black paint. Let dry completely.
Open Cricut design space. Upload the SVG file to design space. Depending on the board size you may need to resize lettering, stars, cat, and broom. I did the letters at 4 inches per the length of my board. You can use ungroup and contour to select the pieces you would like to use or cut first.
Place the vinyl on the green cutting mat. Cut the letters on vinyl cut on the machine dial. Once cut weed the letters with the weeding tool.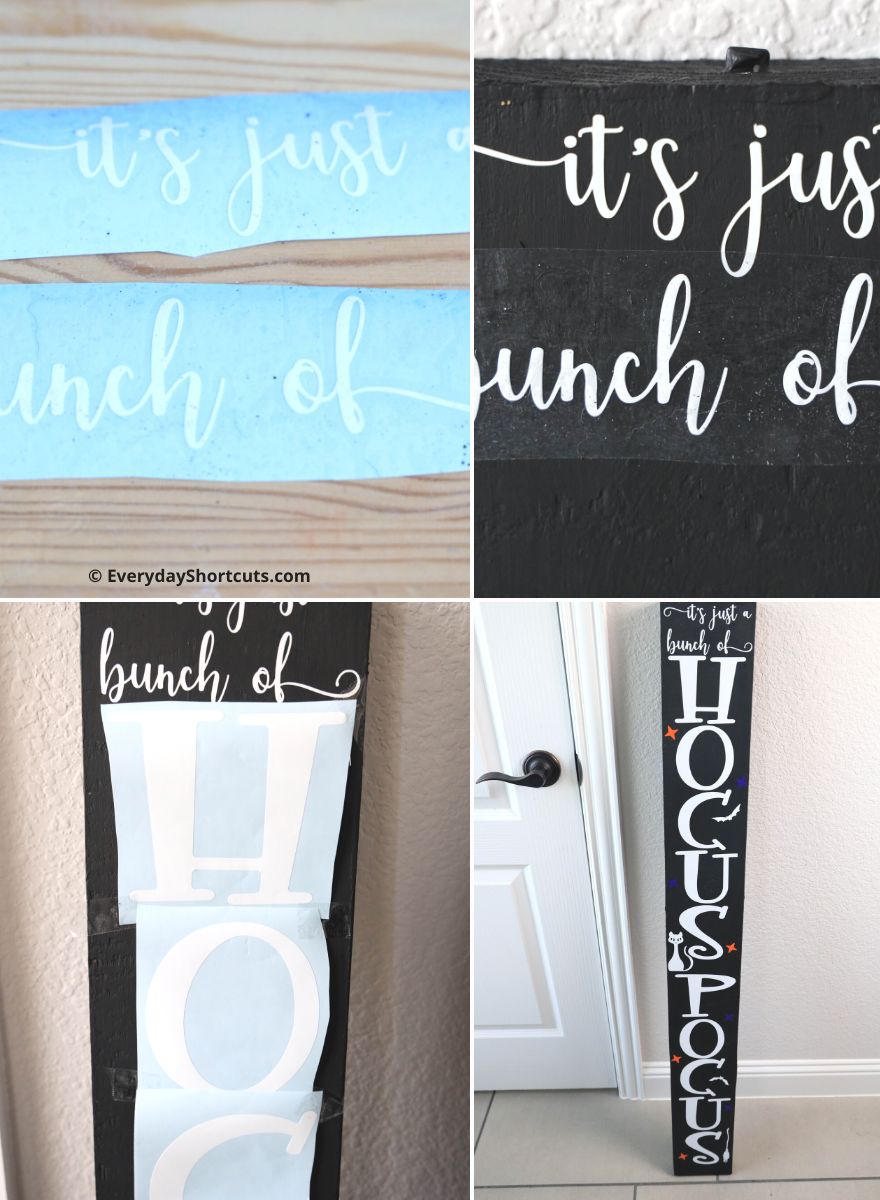 Tape the letters to the board to see the spacing. Use transfer tape to place each onto the board. I use the scraper tool to rub well and then peel back transfer tape. Do this for each letter then for the other items like the broom and cat where you would like to add them.
Once you have the entire design on the board make sure all the pieces are flat. Let set overnight for the oracal to cure.
Then seal with some polycrylic by brushing the polycrylic on. I don't use spray form as it clumps. Brush well and let dry for 24 hours.
To finish off your DIY Hocus Pocus porch sign, simply add some Halloween decor to give it that spooky feel! We recommend using witch hats, fake cobwebs, and witches legs. Have fun with this project and Happy Halloween!
Note: For Personal Use Only! Digital use of the files is strictly prohibited. Digital reselling, sharing, redistributing of the files is NOT allowed.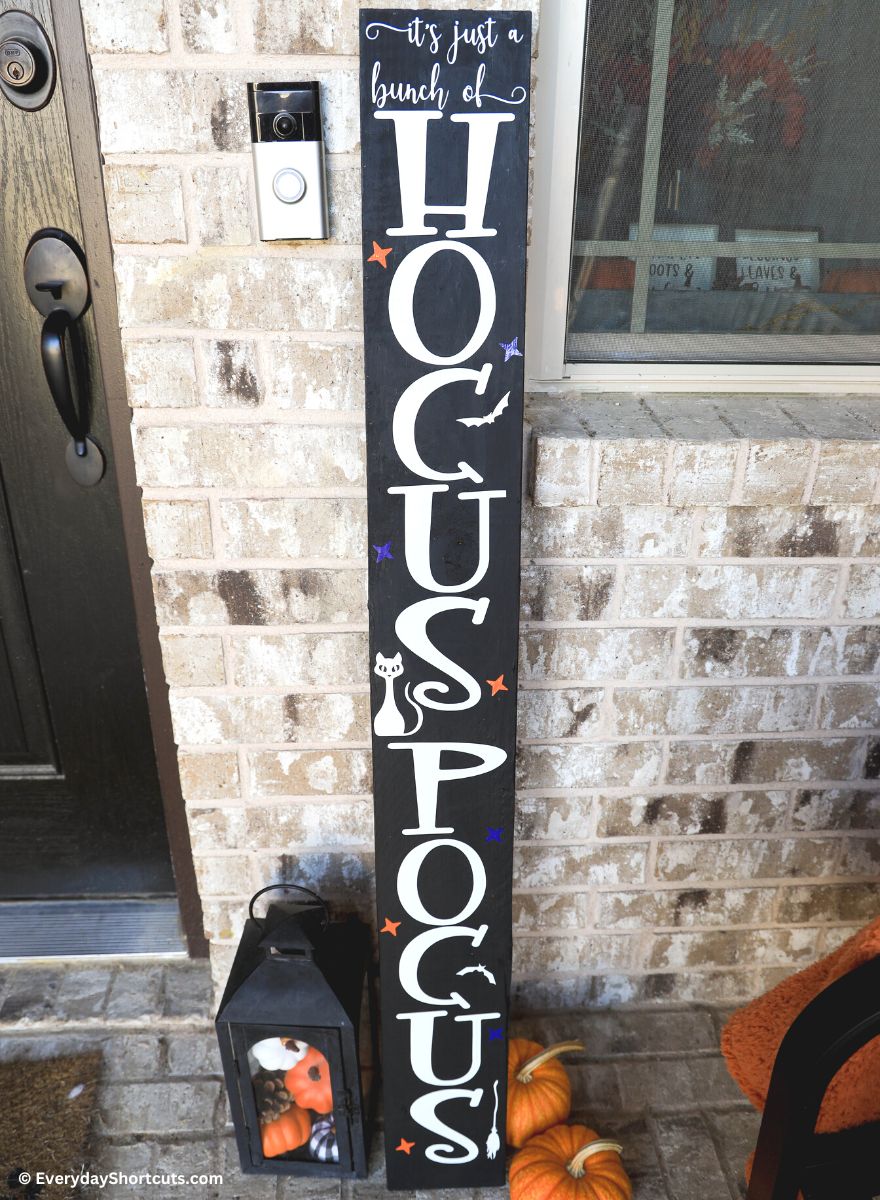 More Hocus Pocus Quotes
If you're looking to make more Halloween decorations, make a wood sign featuring one of the movie quotes from Hocus Pocus. Here are some ideas to get you started:
"I smell children"
"I put a spell on you and now you're mine."
"Oh look, another glorious morning. Makes me sick."
"It's a full moon tonight. That's when all the weirdos are out."
"Amuck, Amuck, Amuck"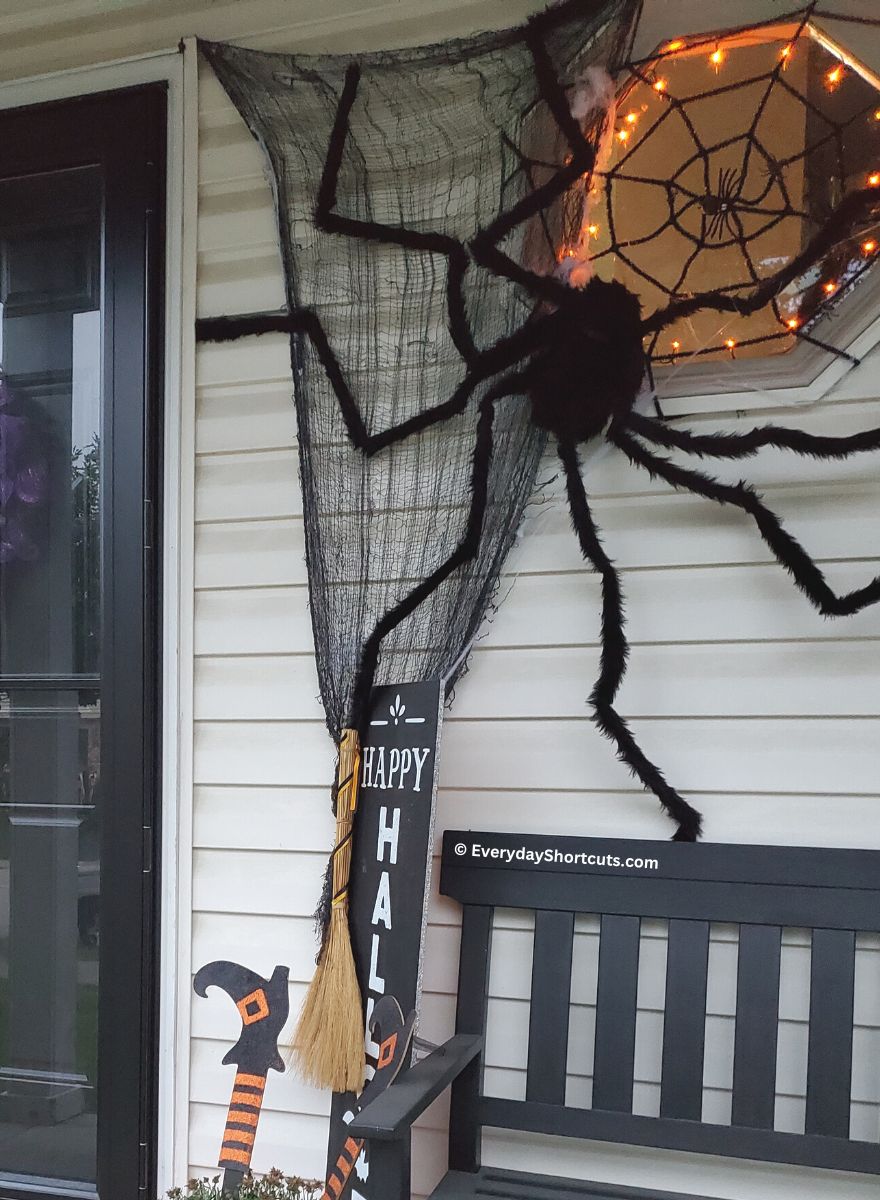 Halloween Porch Decoration Ideas
Putting together a spooky Halloween porch is easy with the help of some simple DIY decorations. Here are five Ideas for you to get started:
Hang ghost or skeleton figurines from your porch. These make an eerie addition to any Halloween decor, and can be bought inexpensively at most craft stores.
Create a graveyard scene with fake tombstones and skeletons in plastic bins. Place these on either side of your porch stairs or near the entranceway.
Place witches' hats, cauldrons, and broomsticks in votive holders on your porch railing or around the perimeter of your deck.
Make a spider web using sturdy wire mesh and fishing line. Hang this from a tree or railing close to your porch step.
Create eerie bushes at night with some glow in the dark eyes. Just place anywhere inside your bushes for a cool effect.
More Fun Halloween DIY & Games