This Spooky Halloween Charcuterie Board is a fun yet spooky way to serve guests at your Halloween party filled meats, cheeses, fruits and more!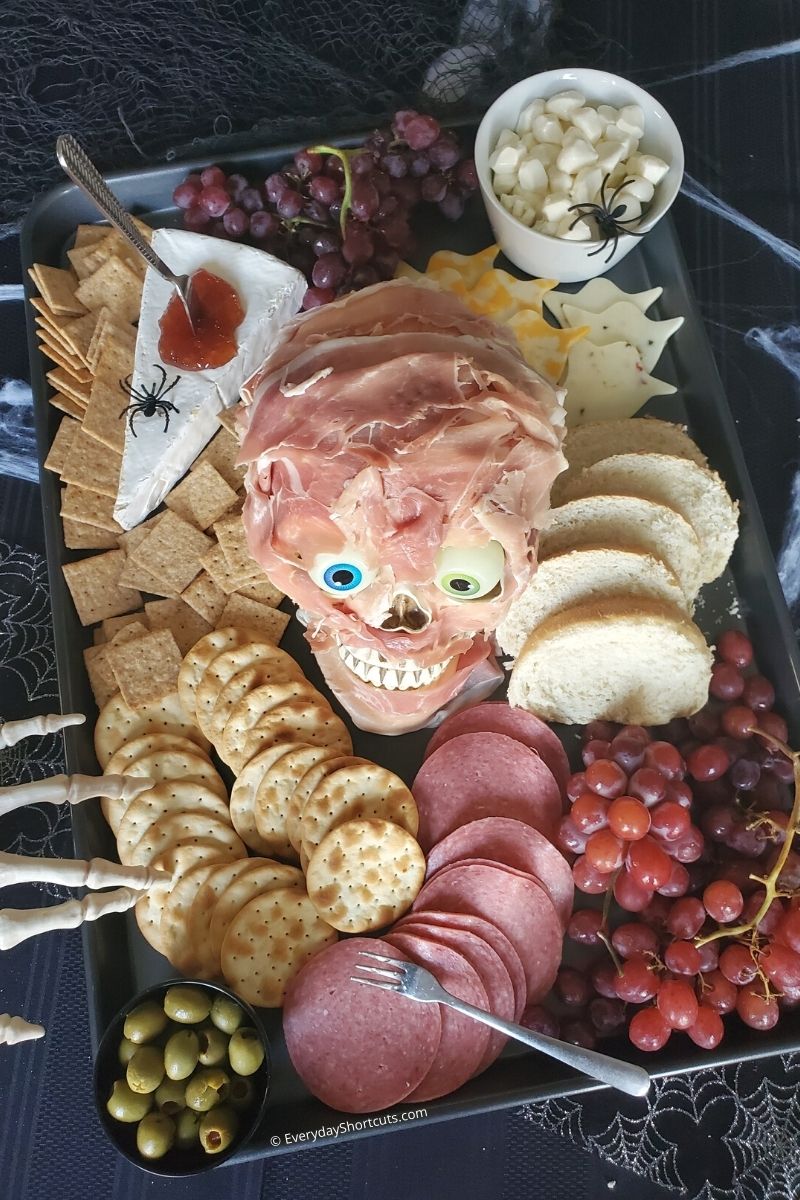 Halloween is one of my favorite times of the year. I'm one that likes to dress up and throw a party filled with spooky yet delicious treats for everyone to enjoy. I'm a planner and a prep ahead type person. This board crosses out the snacks and Halloween appetizers off the list in one shot!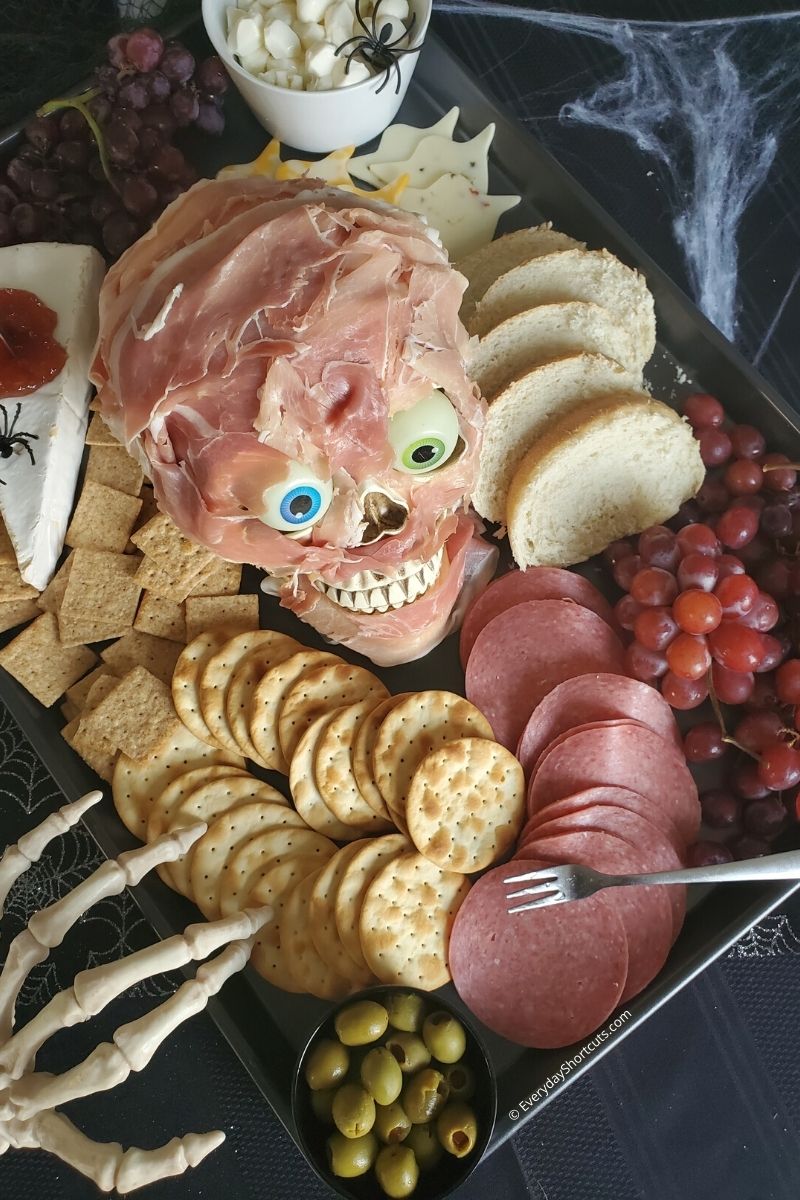 Whether you're bobbin for apples, watching Hocus Pocus or getting ready for a night of trick or treating, gather all the Ghouls and Goblins around and feast on this Spooky Halloween Charcuterie Board! It's Spookalicious and a fun way to impress your guests!
If you like this spooky Halloween charcuterie board, check out my Halloween candy board! It's delicious and fun for all ages!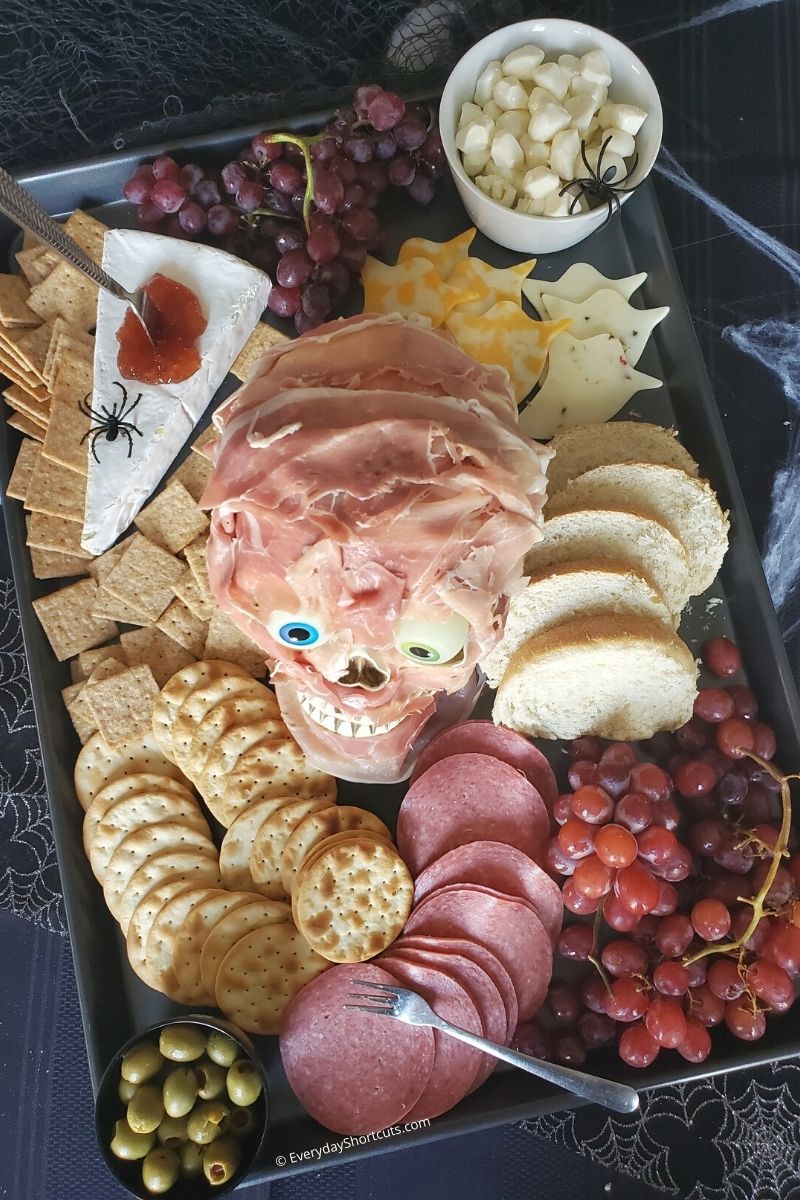 Halloween Charcuterie Board Ideas
A Spooky Charcuterie Board can consists of many things from meats, crackers and cheeses to snacks, candy and more. There really is no rule when it comes to making a Halloween grazing board. So have fun, be creative and make it spooky!
Cheeses: Brie (can shape into a coffin for more spooky fun), Mozzarella Balls (add olives inside for eyeballs), Havarti, Swiss, Pepper Jack, and Colby cheese slices (make into ghost shapes using a cookie cutter).
Meats: Prosciutto, Salami, Ham.
Fruits: Grapes (I would suggest red or black to go with the spooky theme), Blackberries, Peeled Mandarin Oranges to look like mini pumpkins.
Crackers: Water Crackers, Wheat Thins, Triscuits, Ritz, Pita Crackers.
Breads: Sliced Baguette.
Dips, Sauces, or Jams: Pub Cheese, Hummus, Fig or Apricot Jam, Guacamole, Raspberry Jam (place a dollop on top of Brie cheese with a knife through it for a spooky effect).
Snacks: Olives, Pumpkin Seeds, Nuts, Square Pretzels.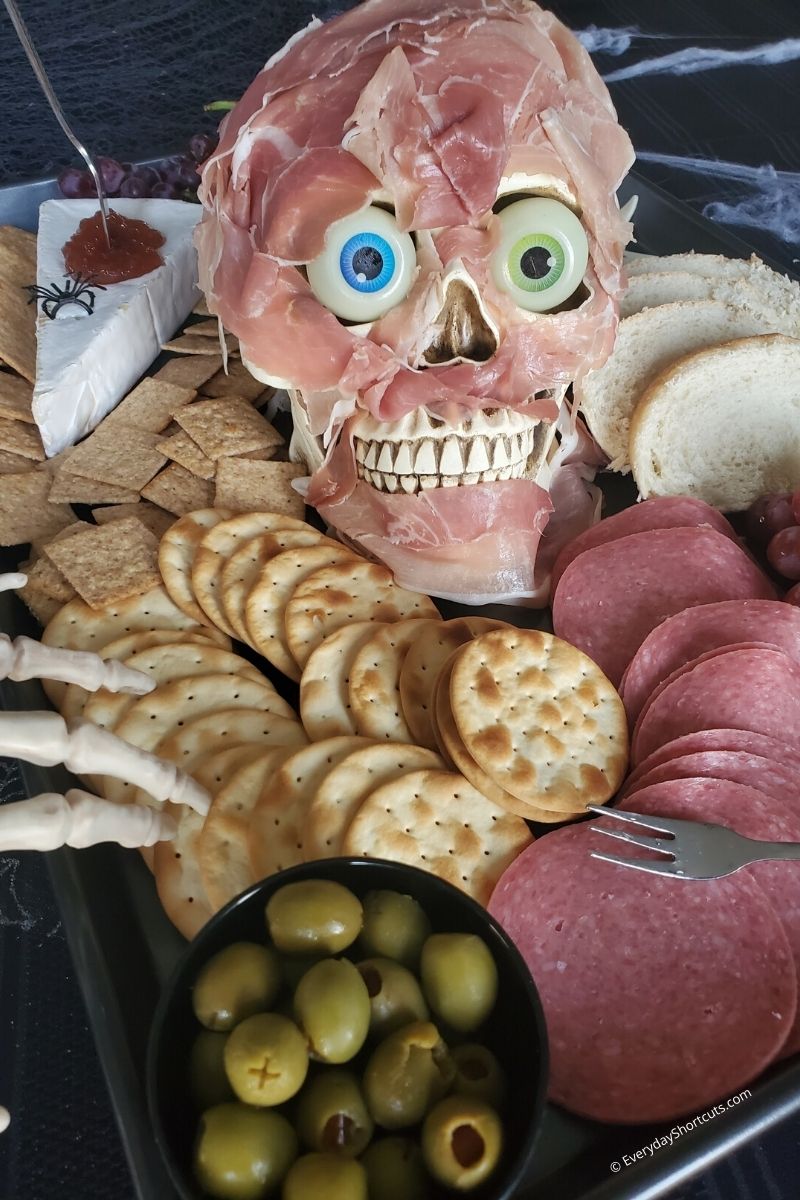 Spooky Props
You can make your Halloween charcuterie board as gruesome and as gross as you want with disgusting food from Dirty Earwax Q-tips to a Human Skull filled with meat. Or if you want it to not be as spooky a few Halloween decorations such as spider rings and cobwebs would be a great addition. Here are some fun spooky prop ideas to add to your charcuterie board.
Skull – I used this life size human skull model replica as the centerpiece. It is heavy duty and affordable. The mouth does not open and close so if you are looking for something that does check this skull out.
Spider Rings – any kind of spider rings would work for this board. What's nice about the spider rings is that you can push the ring part down into the cheese or it can hold on to something with the ring part. You can use colorful ones or just plain black ones to dress it up.
Candy Eyeballs – this is just an option if you want to put eyes on the cheese or in with the mozzarella balls to make it more of a ghoulish effect. This pack of candy eyeballs has a variety from small to large.
Skeleton Hands – this prop is my favorite and can literally be placed anywhere on the board. The skeleton hand gives the effect of trying to steal some of the food and makes it fun.
Glow in the Dark Eyes – these are what I used for the eye sockets of the skull for my centerpiece and found them at Dollar Tree. It was a fun addition to the piece and great for when it gets dark at the Halloween party. You could also use olives for the eyes if you'd prefer.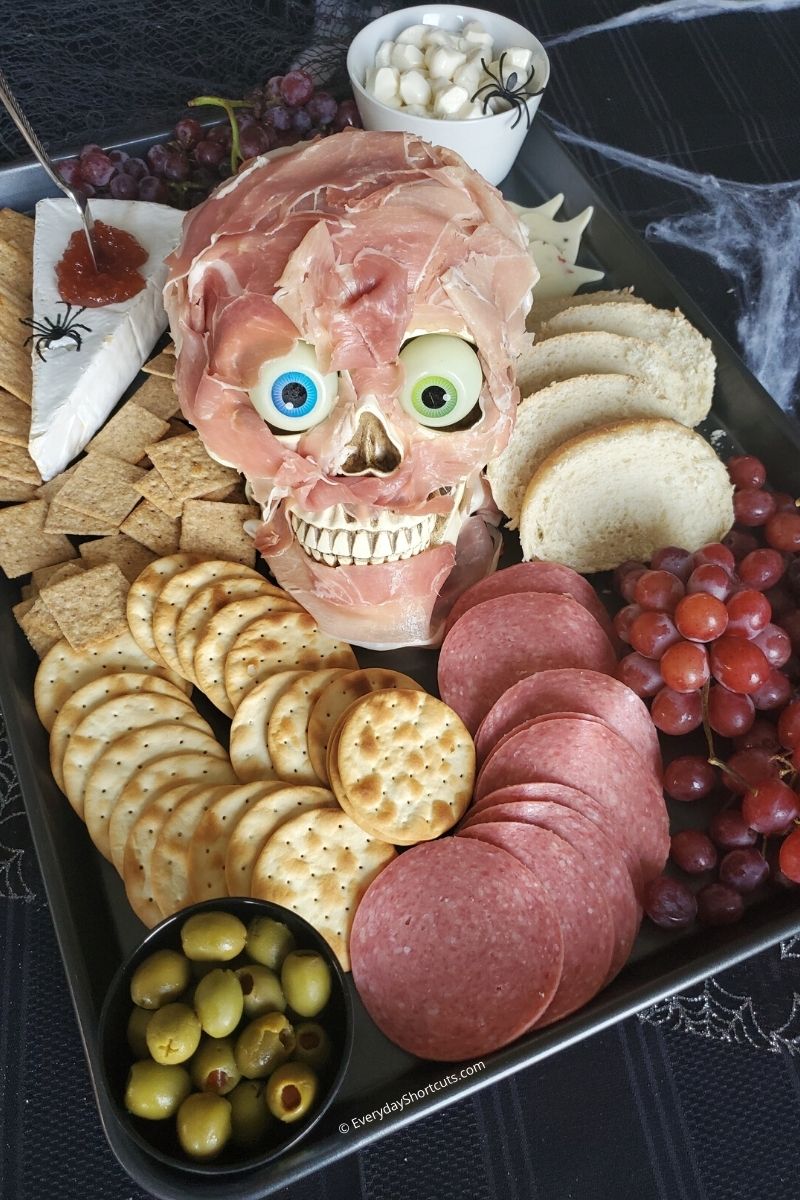 Grazing Boards
For this spooky grazing board I used a large cookie sheet but there are lots of grazing/charcuterie boards in all shapes and sizes to create the vision you are going for.
Round – this round charcuterie board is my absolute favorite board. I purchased it last year and so impressed with it. It's large in size at 19 inches, heavy duty, has a handle and affordable. I've used it for my meat roses tutorial and breakfast charcuterie board so you can see how much it holds. There are plenty of other round grazing boards in various sizes as well.
Long – if a long grazing board are more of what you're looking for you can find a variety to choose from. Long boards are great for spreading more of the food out on a longer platform. They are a bit more expensive than a round board and come in various sizes.
Cookie Sheet – this is one of the easiest and most frugal way to display a grazing platter. For this Halloween platter I used an XL Dark Gray cookie sheet and it worked out perfectly. Everything fit and it the color matched the spooky theme. If your cookie sheet is not as new place a piece of brown paper down or a cloth napkin to dress it up.
How to Assemble a Charcuterie Board
Gather your grazing board of choice making sure it is big enough to hold everything.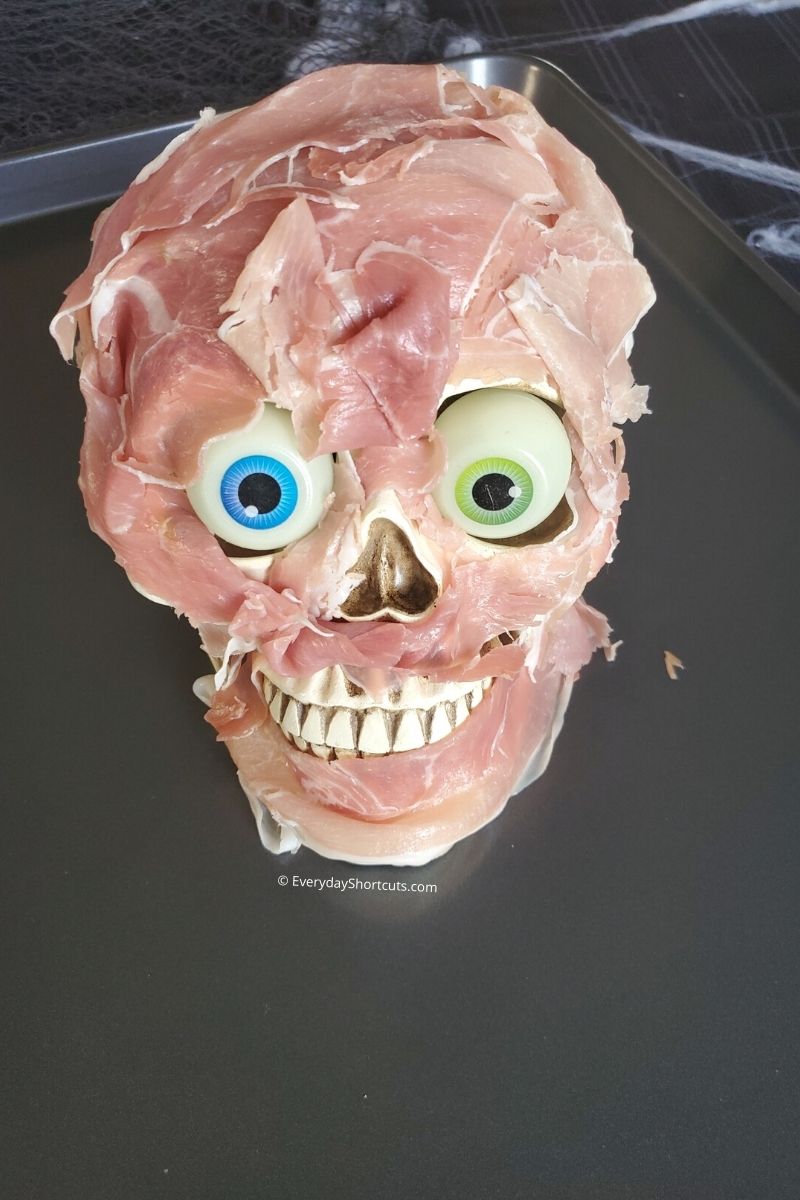 Start with your centerpiece such as adding the skull filled with meat and place in the middle of the board.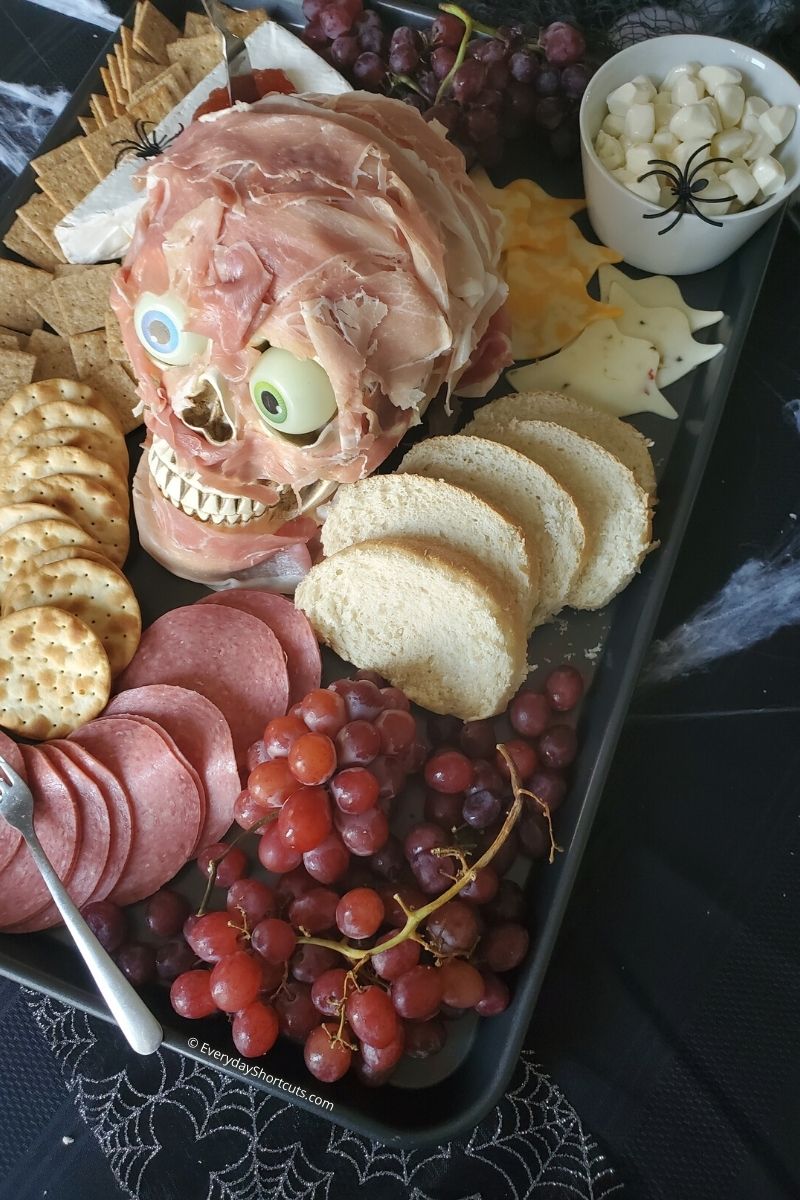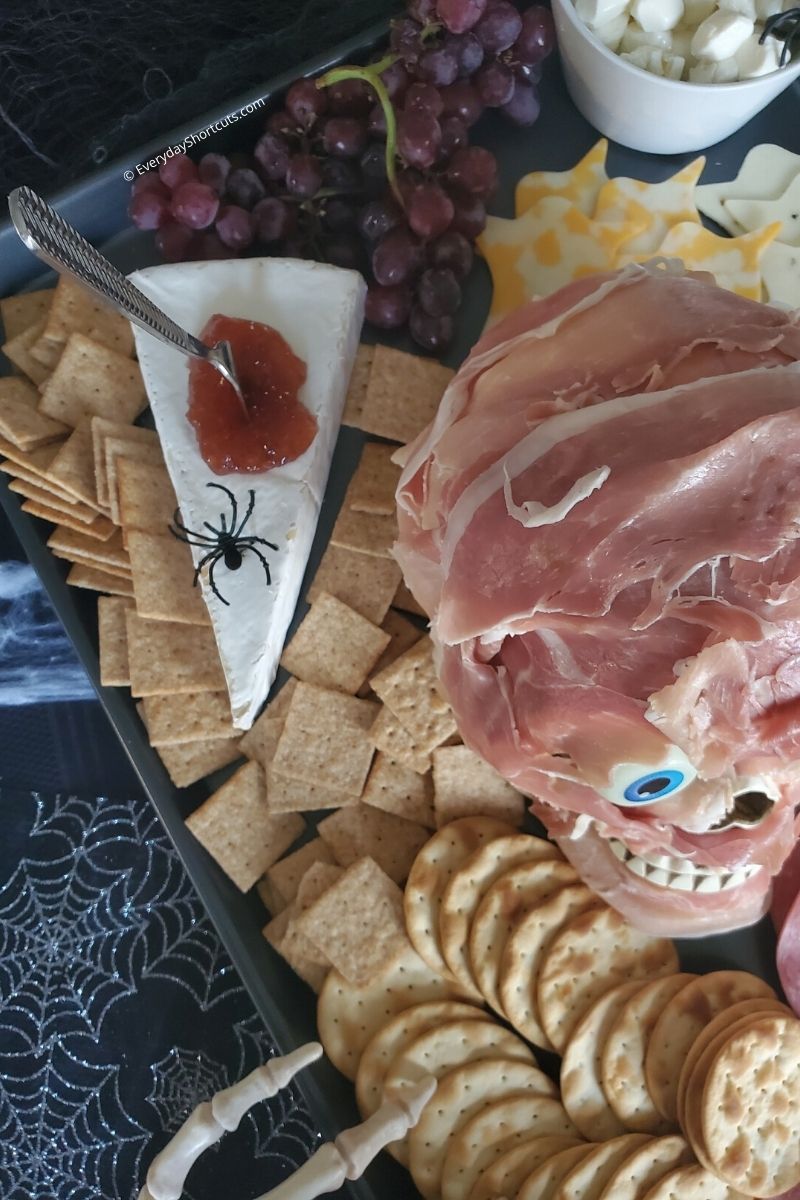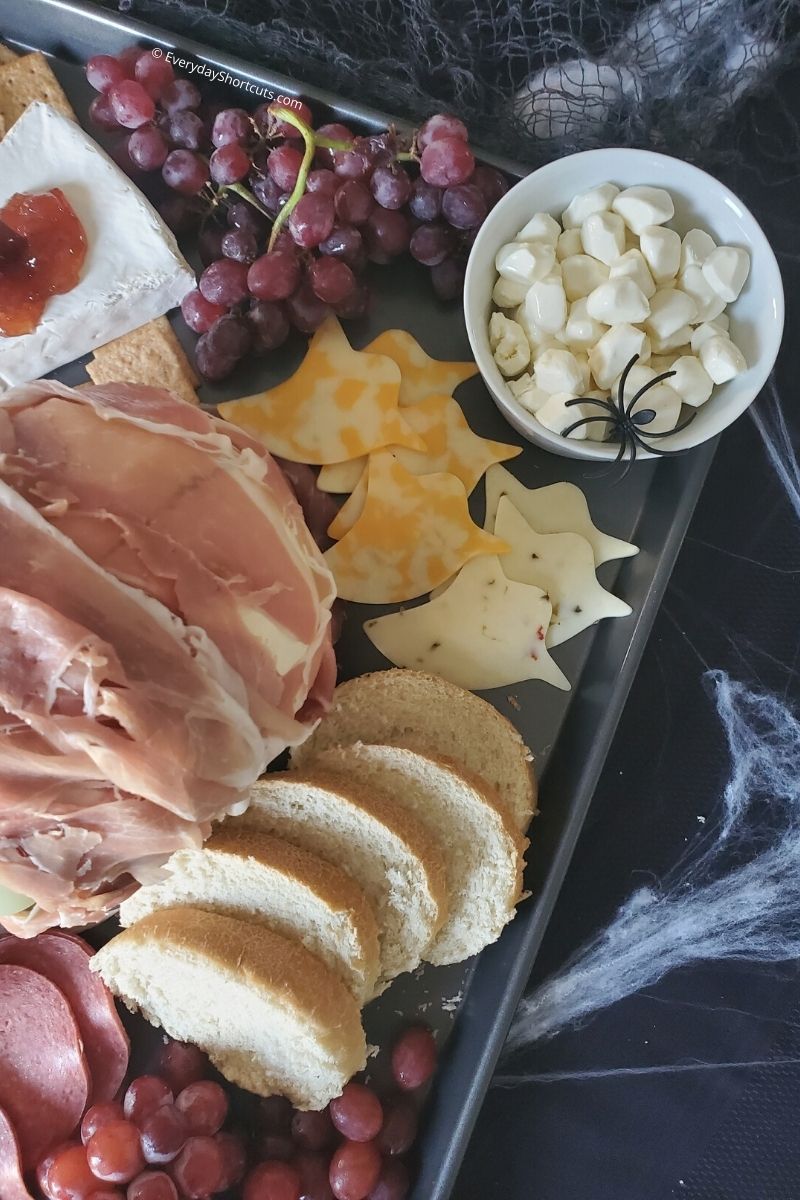 Next, build around your centerpiece by adding the crackers, meats, fruits, cheeses, dips, sauces, snacks, etc. Add plenty to sort of overfill the board making sure there is enough to feed all your guests. Don't forget small knives, forks and toothpicks to serve from the platter plus plates to put the food on.
Set up on a table for all guests to enjoy!