Starting a home gym? Here's some of the best home gym essentials to get you started!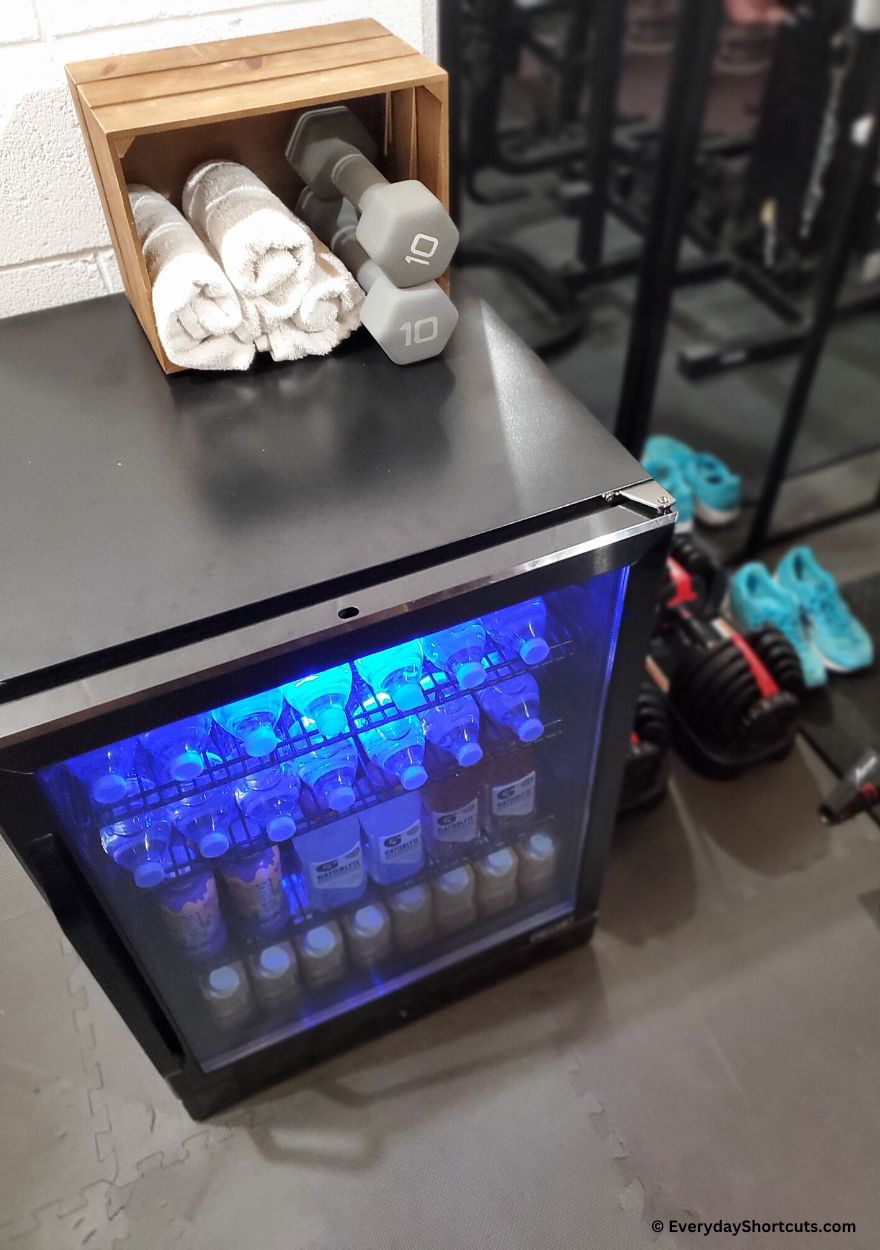 If you're looking to get fit without spending a fortune, then building a home gym on a budget is a great option.
With a few essential pieces of equipment, you can create a workout space that meets all of your needs.
Here are the top home gym essentials to help you get the most out of your workout in the comfort of your own home.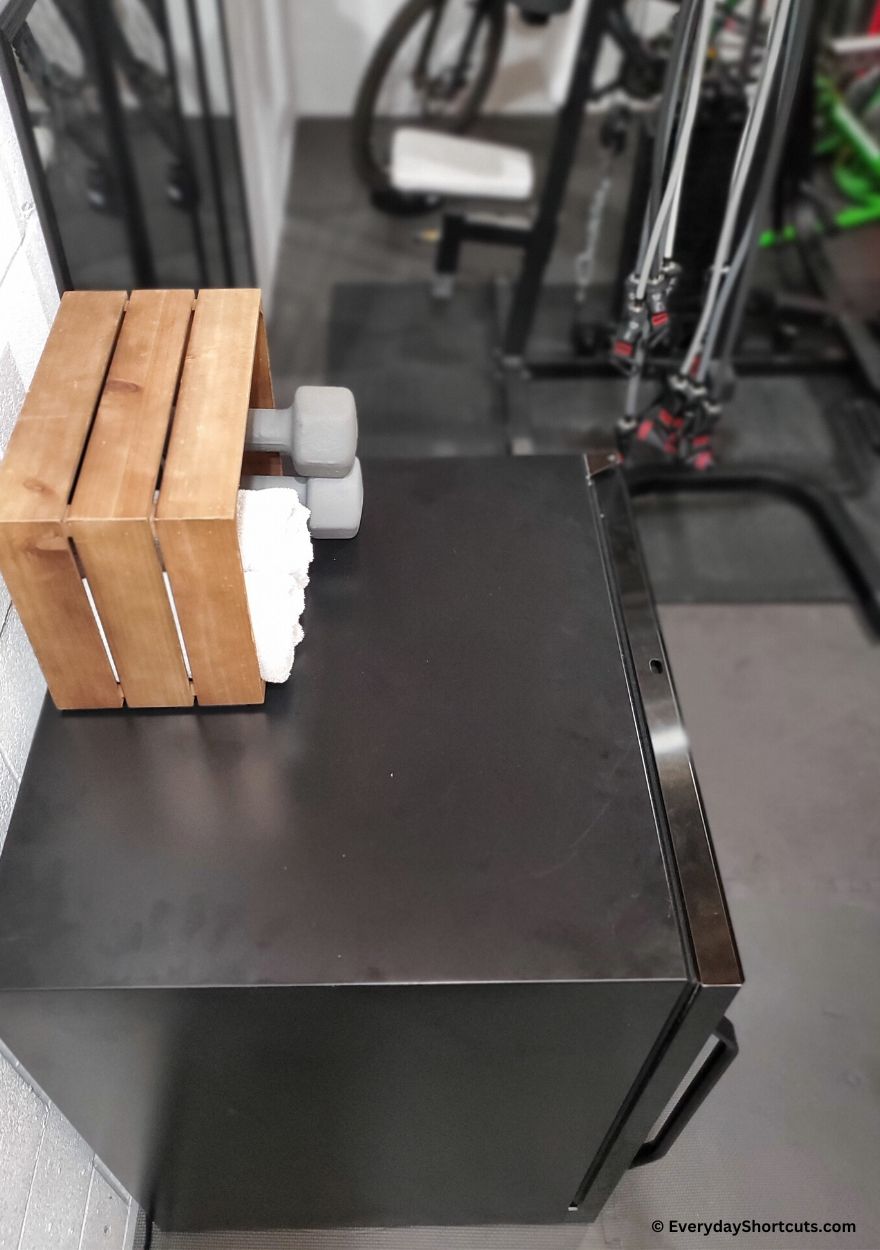 What Is A Home Gym?
A home gym is a great way to get fit and stay healthy, without having to leave the comfort of your own home. There are many different ways to set up a home gym with a few pieces of equipment.
Are Home Gyms Effective?
Home gyms can be just as effective as going to a commercial gym, if not more so. The main reason home gyms are so effective is because you have complete control over your environment and routine.
You can tailor your workouts to your specific goals and needs, and you don't have to worry about things like weather or crowds. Another benefit of working out at home is that you can save a lot of money in the long run.
Keep track of your workout with this free printable workout chart! It's a great way to keep you achieve your goal.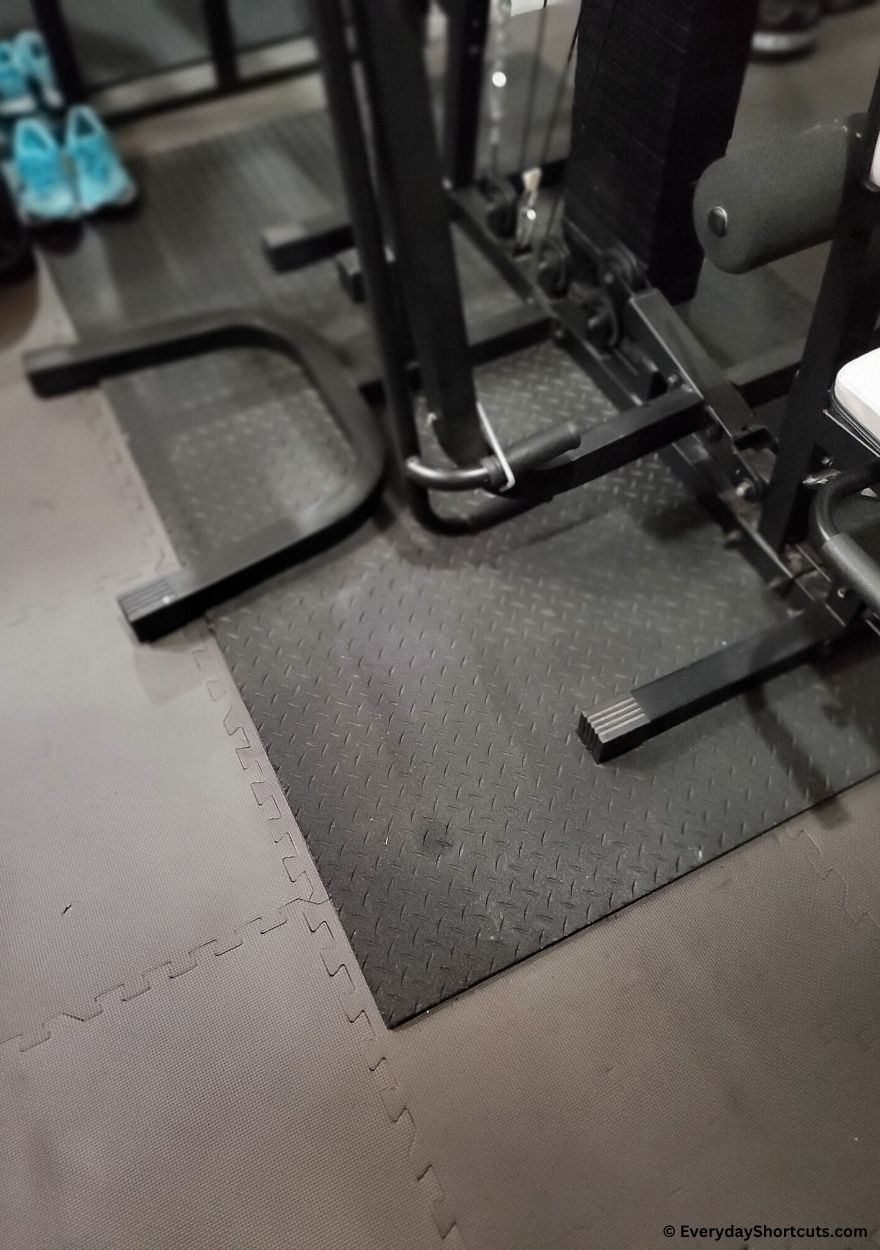 Gym Flooring
Gym flooring is one of the most important aspects of your home gym. It not only needs to be durable enough to withstand heavy weights and intense workouts, but also needs to be comfortable enough to provide a safe and enjoyable workout experience.
There are a variety of different types of gym flooring available on the market, so it is important to do your research and find the option that best suits your needs.
Some of the most popular types of gym flooring include rubber mats, interlocking tiles, and rolled mats.
Rubber mats are a great option for those who are looking for a durable and easy-to-clean flooring option.
Interlocking tiles are another popular option and are perfect for creating a custom layout for your home gym.
Rolled mats are a more affordable option and can be easily cut to fit any space.
No matter which type of gym flooring you choose, make sure it is thick enough to protect your floors from damage and comfortable enough to provide a safe and enjoyable workout experience.
Fan
There are a lot of things to consider when setting up a home gym, but one of the most important pieces of equipment is a fan. A fan will help keep you cool while you're working out and prevent you from overheating.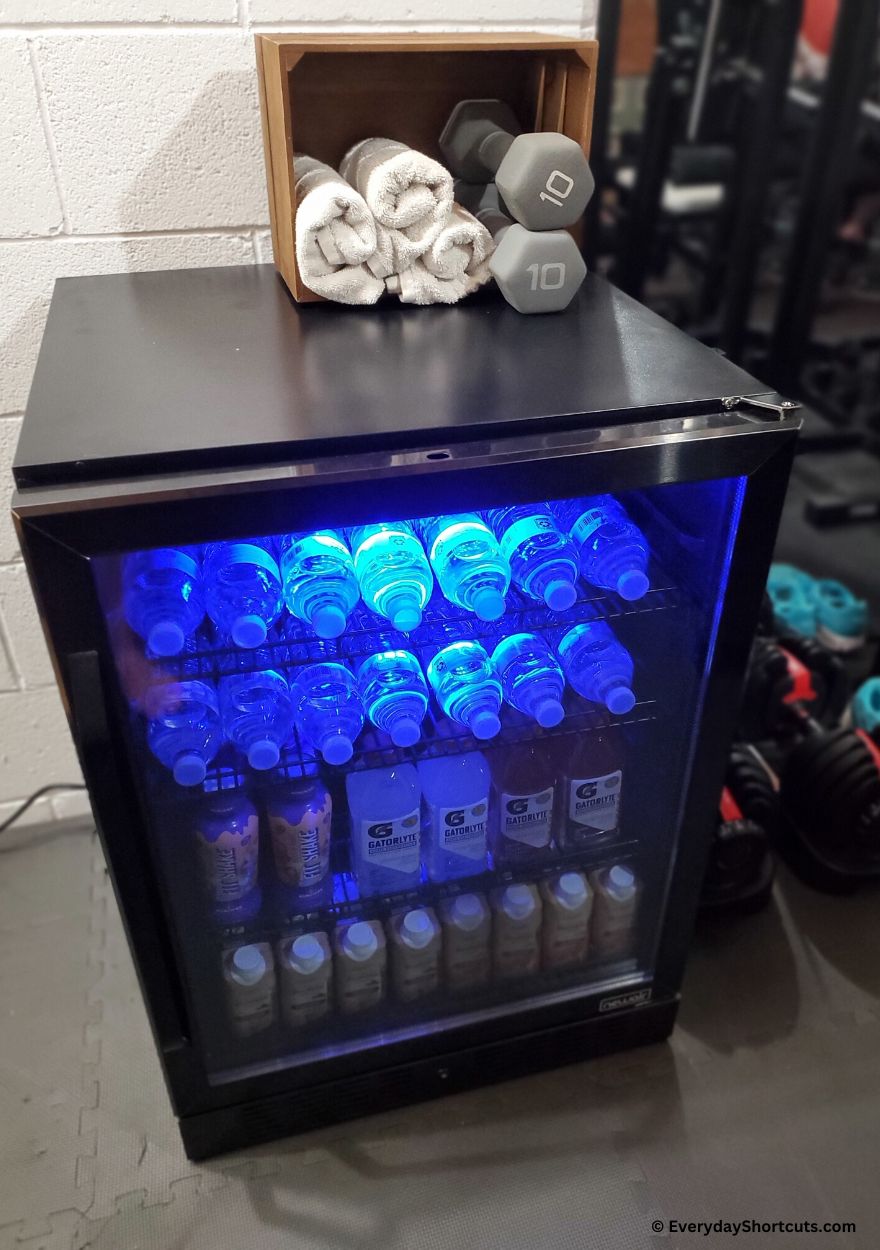 Hydration Station
Water, hydration and protein drinks are essential for any workout routine. Keeping them cold is key to maintaining their efficacy. The Newair 24" Built-in 177 Can Beverage Fridge in Black Stainless Steel NBC177BS00 is the perfect solution for storing your beverages while working out.
This fridge can hold up to 177 cans, making it ideal for large families or groups. The black stainless steel finish looks great in any home gym and the built-in design means it takes up minimal counter space. Plus, the adjustable shelves and temperature control allow you to customize the fridge to meet your specific needs.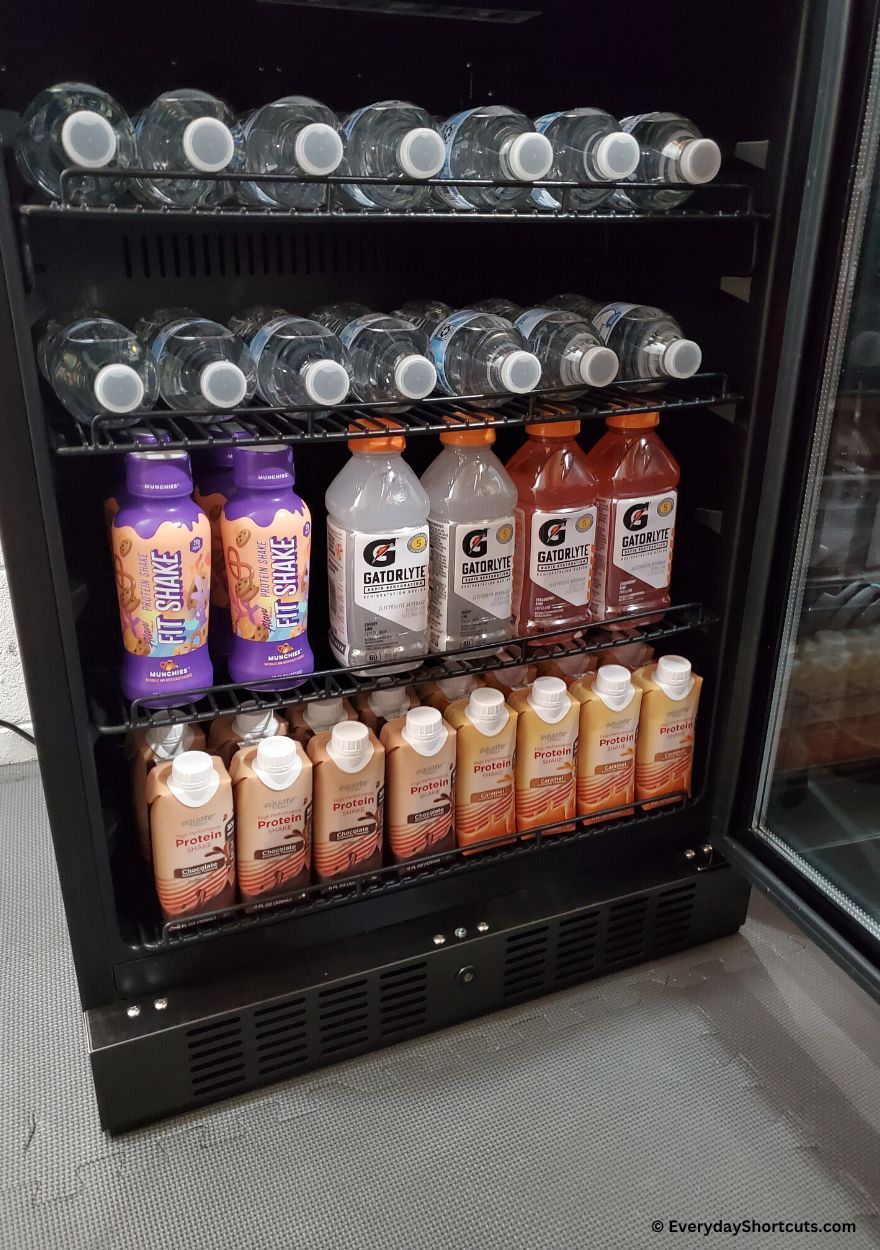 This fridge features a digital temperature control so you can easily adjust the temperature to your specific needs. It also has a built-in fan to circulate the air and keep your drinks evenly cooled.
The sleek black stainless steel design will look great in any home gym, and the large capacity means you can store all of your favorite drinks in one place.
Order yours today at Newair.com and save 10% when you enter code EVERYDAY_10 at check out!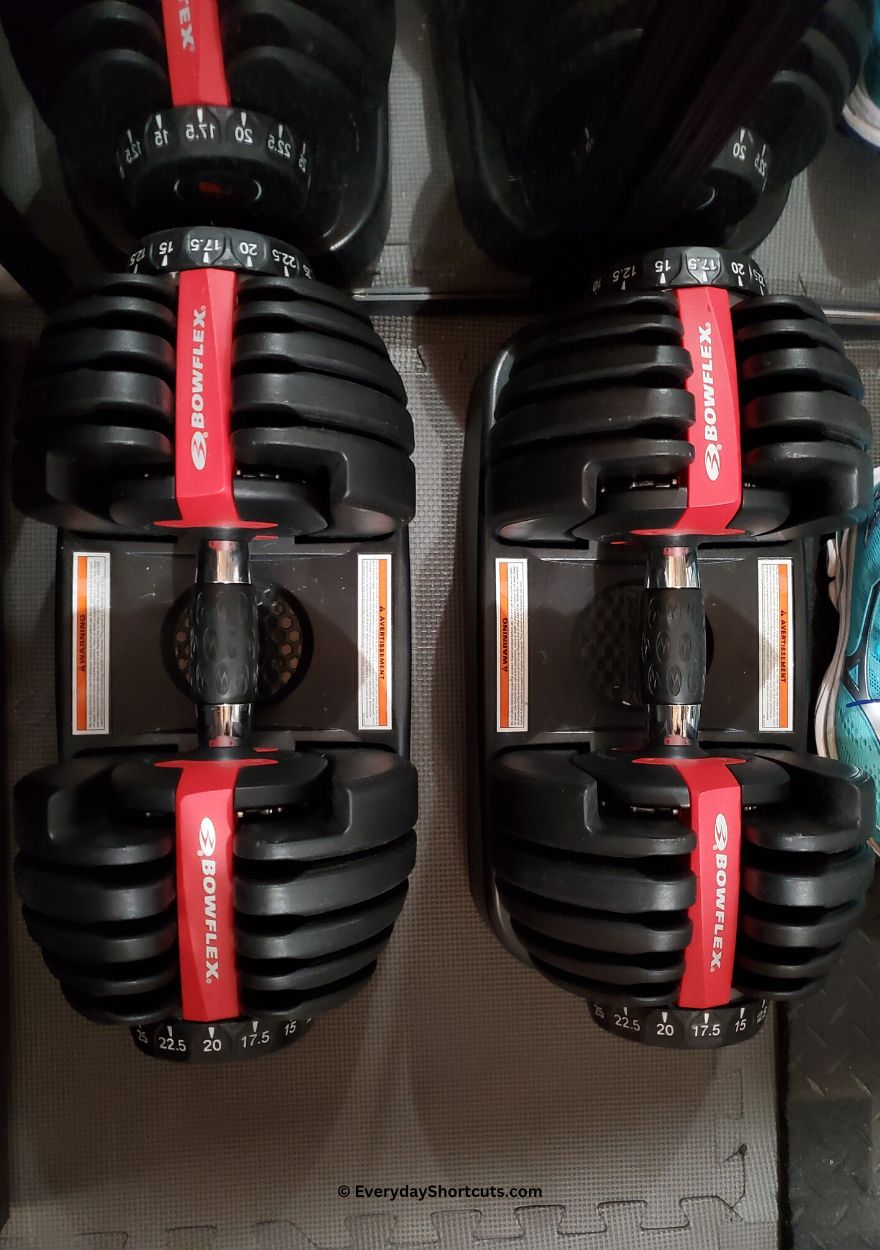 Dumbbells
This is a great piece of equipment to have. They are versatile and can be used for a variety of exercises, making them ideal for people of all fitness levels.
Dumbbells come in different sizes, weights, and materials. My favorite are the Bowflex Adjustable Dumbbells Set. They are 15 weights in one compact design and take up less space than having multiple sets.
Yoga Mat
A yoga mat is one of the most important pieces of equipment for your home gym. It provides a safe, comfortable surface to practice on and helps to absorb impact.
There are a variety of yoga mats available on the market, so it is important to choose one that is right for you. Consider the thickness, material, and price when making your selection.
Weight Bench
Whether you're looking to tone your body or build muscle, a weight bench provides a sturdy and stable platform for a variety of exercises.
You don't need to spend a ton of money on one, just need one that's heavy duty and can hold the weight capacity of you plus the weights you are using.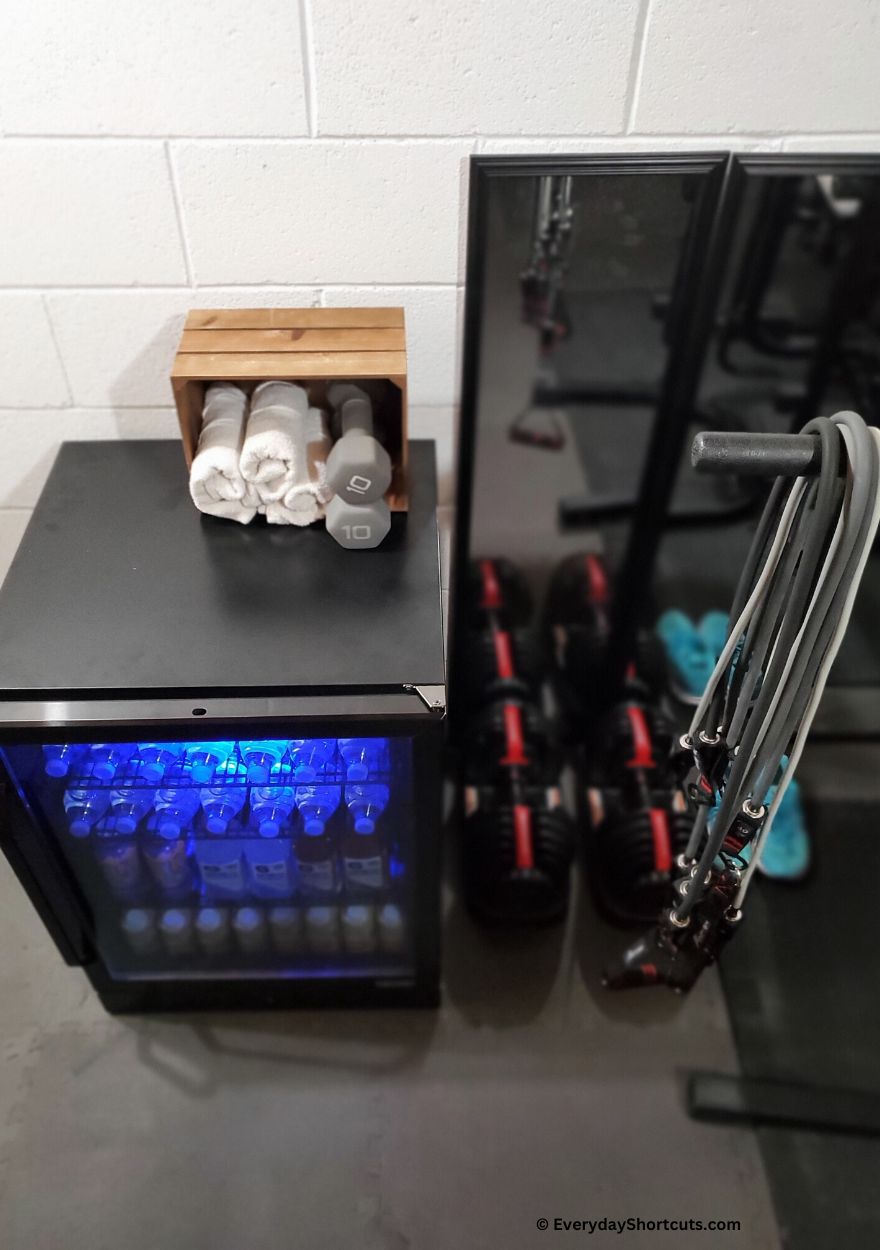 Home Gym Mirror
No home gym is complete without a mirror! A mirror is essential for seeing your form and making sure you are performing exercises correctly. It is also great for motivation – who doesn't love seeing themselves sweat it out in the gym?
When choosing a mirror for your home gym, you don't have to break the bank. I picked up 4 cheap door mirrors from Walmart and put them together on the wall with some Flex Seal tape.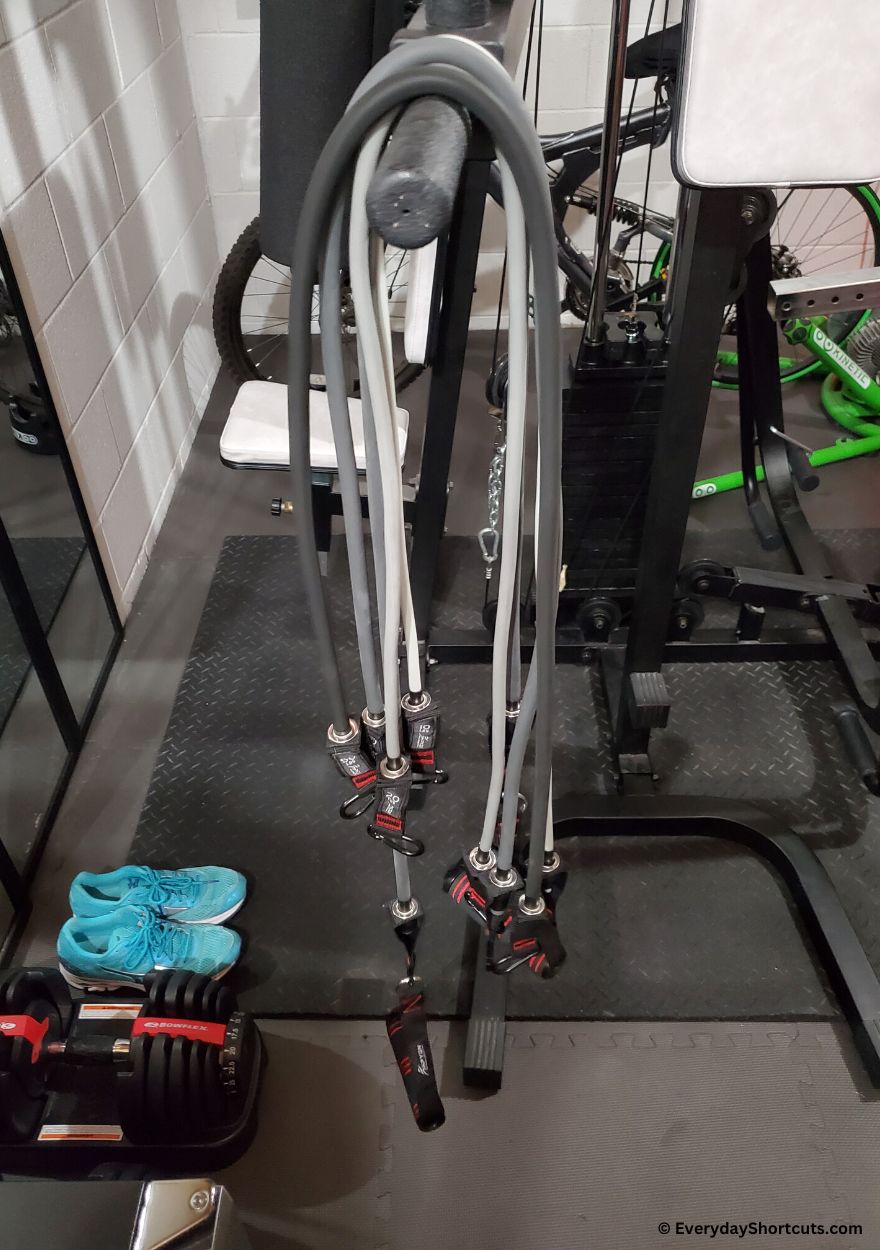 Resistance Bands
Resistance bands can be used for a variety of exercises, making them perfect for a full-body workout. Plus, they're relatively inexpensive and can be stored away easily.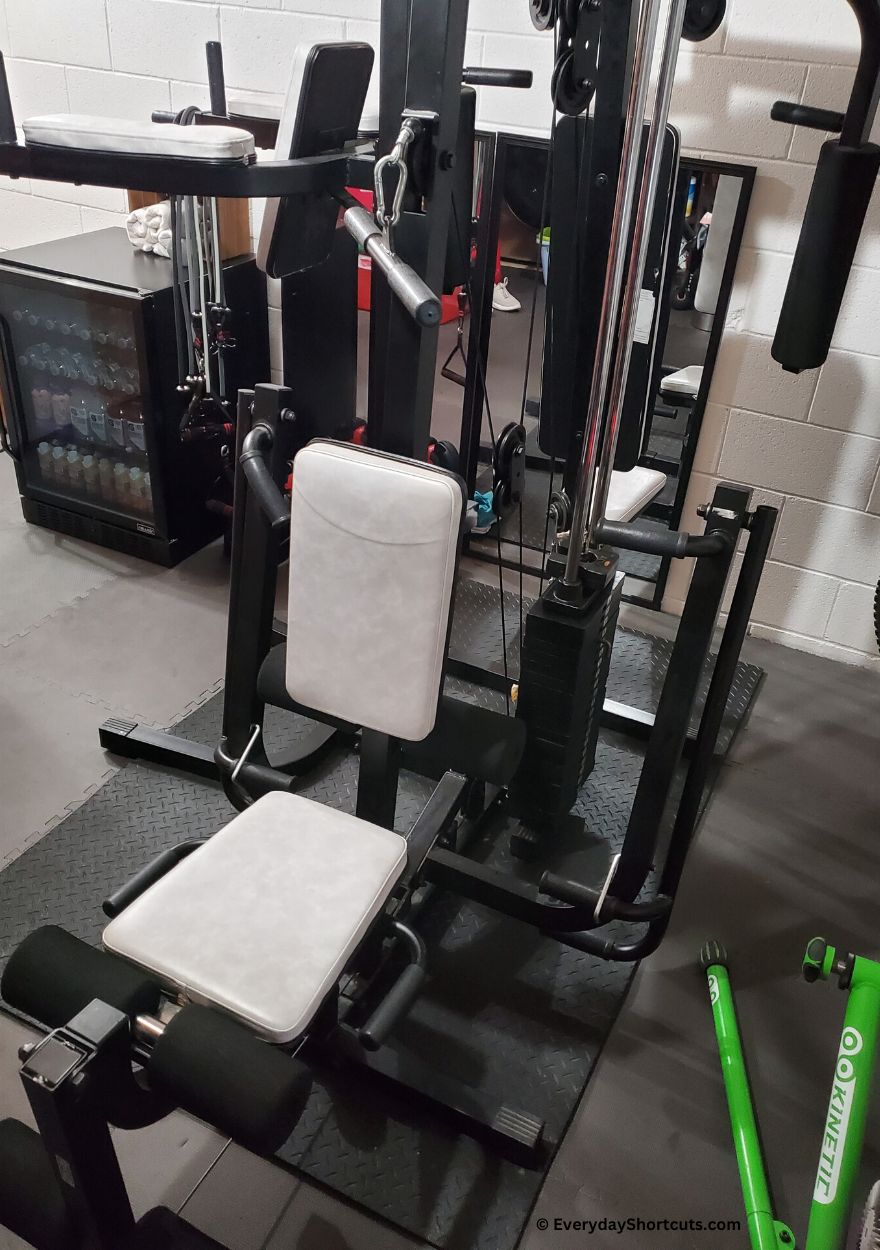 Multi-Station Workout Unit
A multi-station workout unit is a great way to get a full-body workout in the comfort of your own home. This type of unit typically includes a weight bench, a lat pulldown station, a leg curl/extension station, and a pec fly station.
With all of these stations in one unit, you can target every muscle group in your body for a complete workout. A great place to find one with spending a fortune is Facebook Marketplace. Some people even give them away for free if they want them gone quick.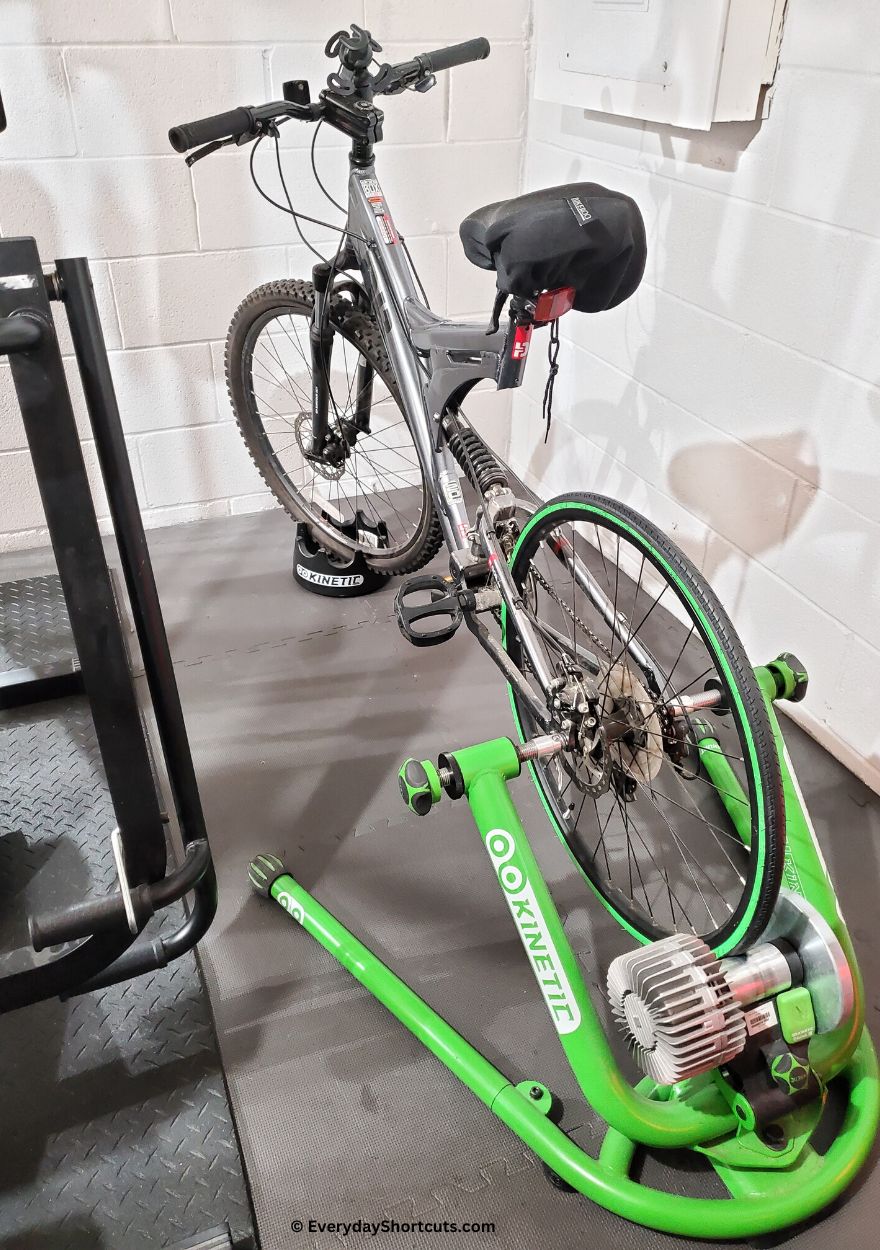 Stationary Bike
If you're looking for a workout that's low impact but still effective, a stationary bike is a great option. You can use it to get your heart rate up without putting stress on your joints, and it's a great way to burn calories.
There are a few things to keep in mind when shopping for a stationary bike. First, decide what type of bike you want. There are upright bikes, recumbent bikes, and spin bikes.
Upright bikes are the most common type, and they're similar to road bikes.
Recumbent bikes have you sitting in a more relaxed position, and they're often used for rehabilitation or physical therapy.
Spin bikes are designed for high-intensity workouts and have a flywheel that gives you resistance as you pedal.
Once you've chosen the type of bike you want, consider features like resistance levels, adjustable seats and handlebars, and built-in heart rate monitors. You'll also want to think about the size of the bike and whether you need one that folds up for easy storage.