These DIY Terracotta Pumpkins are so easy to make and are perfect for fall! They will look beautiful in a centerpiece, on a mantle or on your front porch. Plus, they're a budget-friendly alternative to the Pottery Barn version!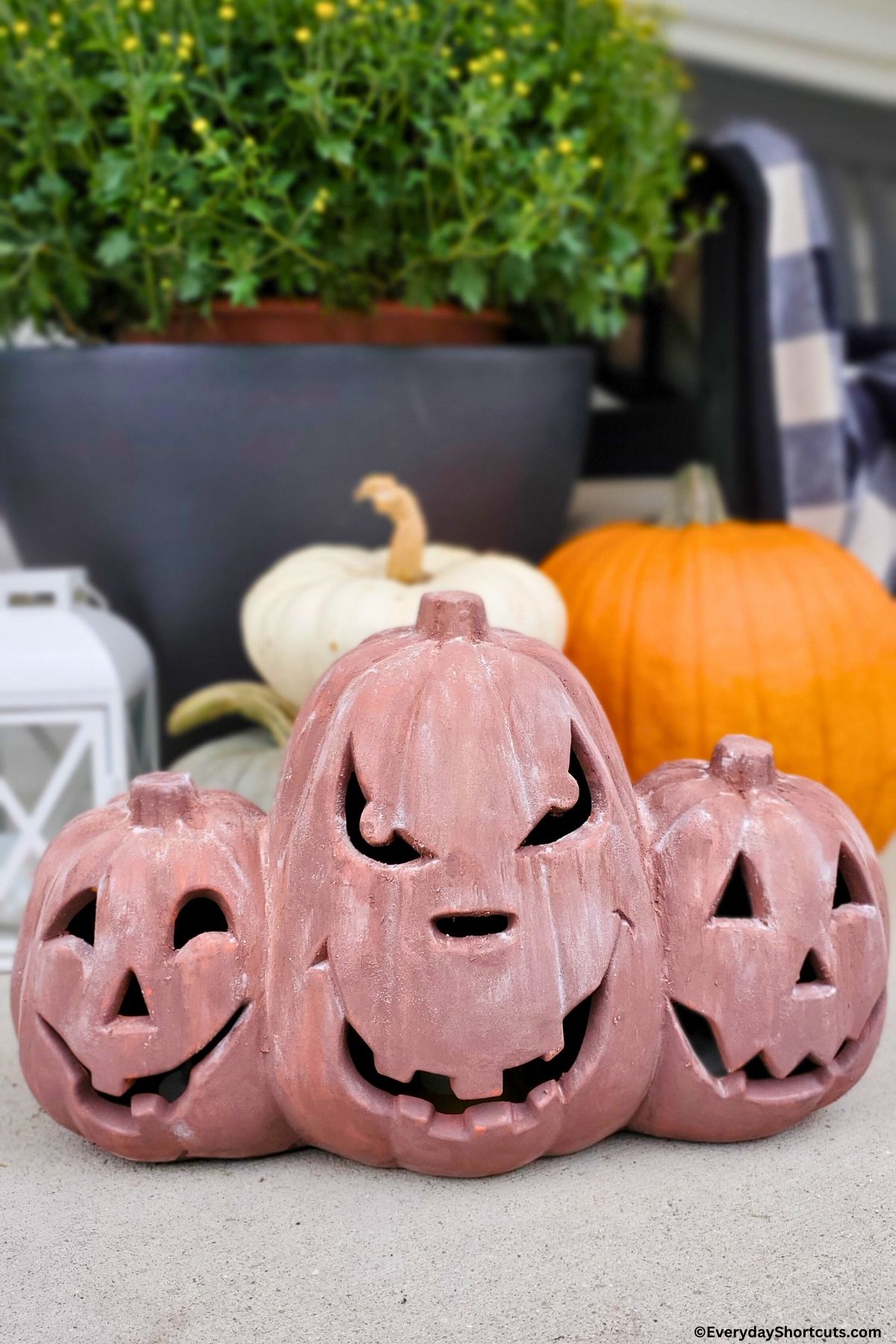 If you've had your eye on those pricey Pottery Barn terracotta pumpkins, I'll show you how to craft your own budget-friendly version with this simple, step-by-step tutorial.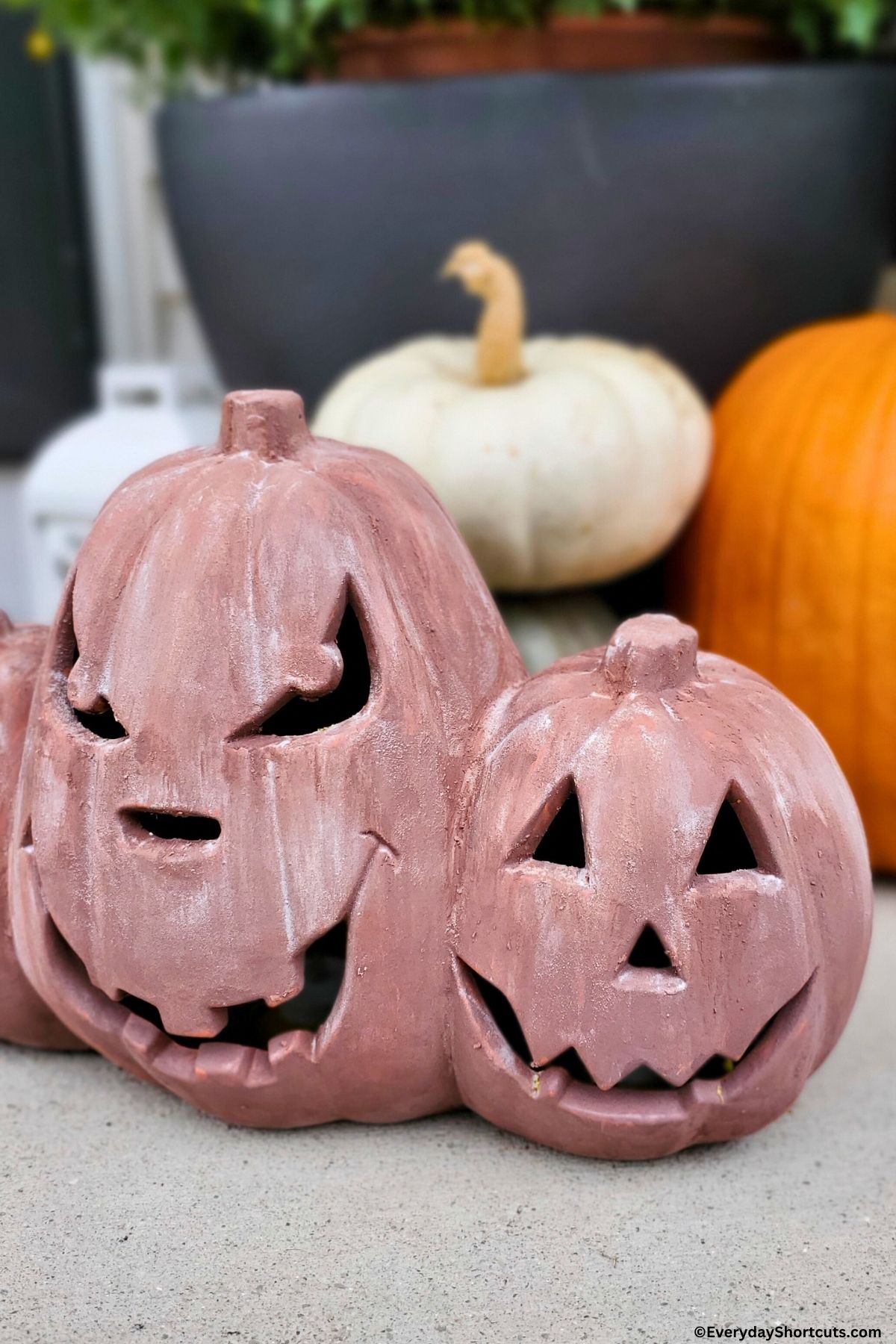 Terracotta pumpkins have been gaining popularity on TikTok and Instagram, and I just happened to have some spare pumpkins on hand to recreate these sought-after pieces.
You don't need to invest in expensive pumpkins to make these Pottery Barn-inspired replicas. You can easily find plastic pumpkins like these at your local stores, including Home Depot, Walmart, and more.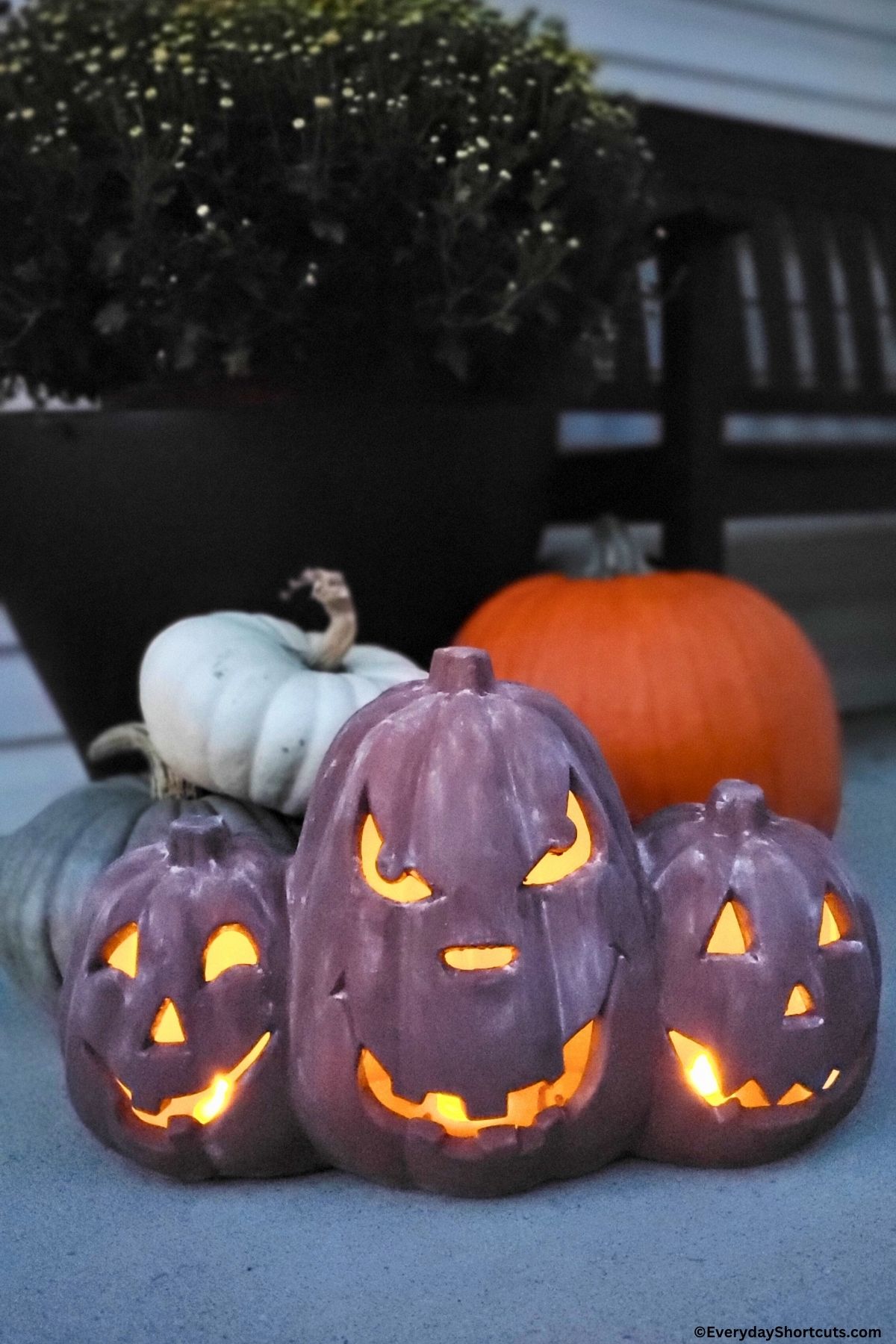 These terracotta jack-o-lanterns are quick and easy to make for stunning fall decorations, whether you choose to display them indoors on your mantel or outdoors on your covered porch.
Gather your supplies and let's get started on this easy Halloween craft!
Jump to: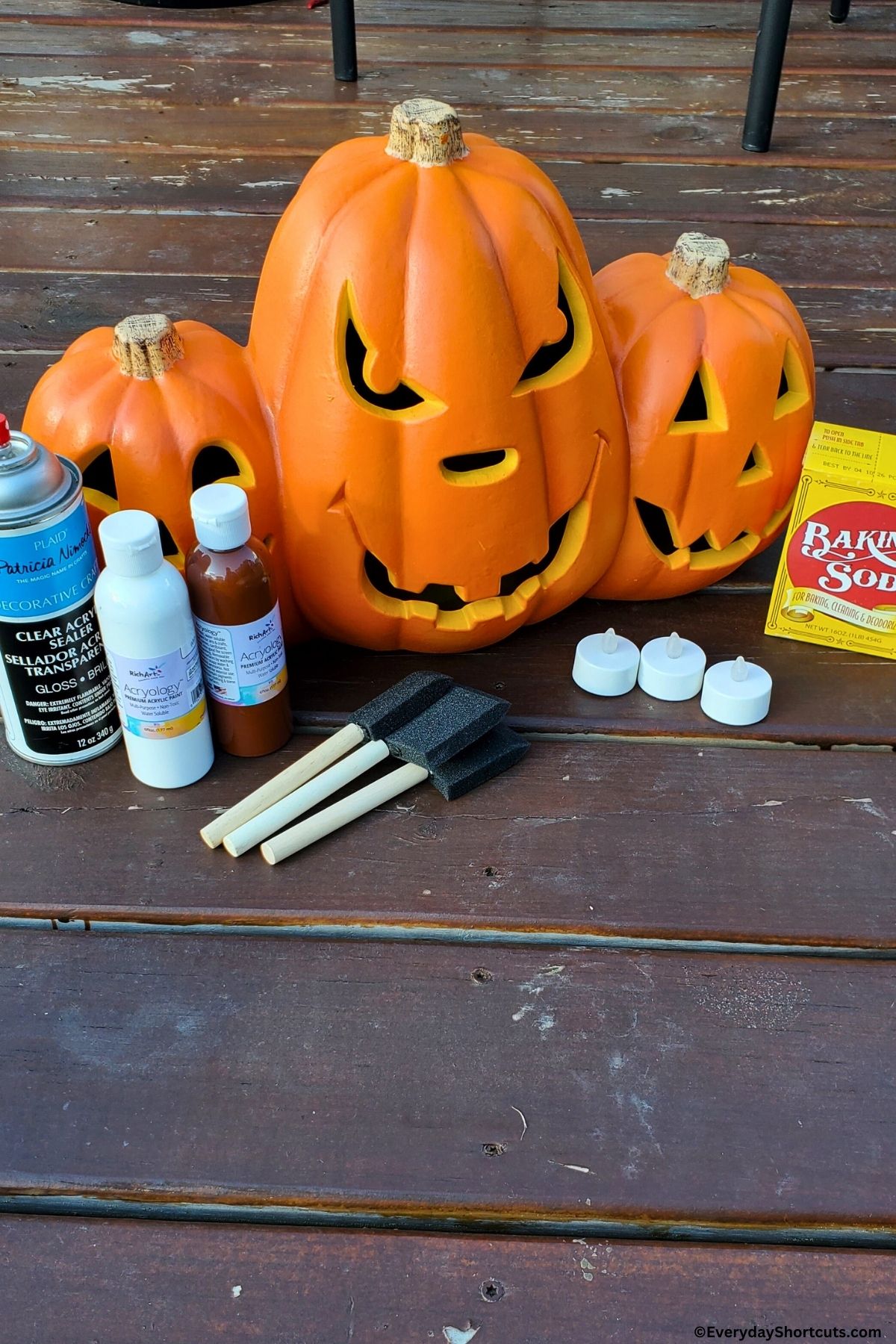 Supplies Needed
How to Make Terracotta Pumpkins
Lay a piece of cardboard or cloth down and place the pumpkins on top.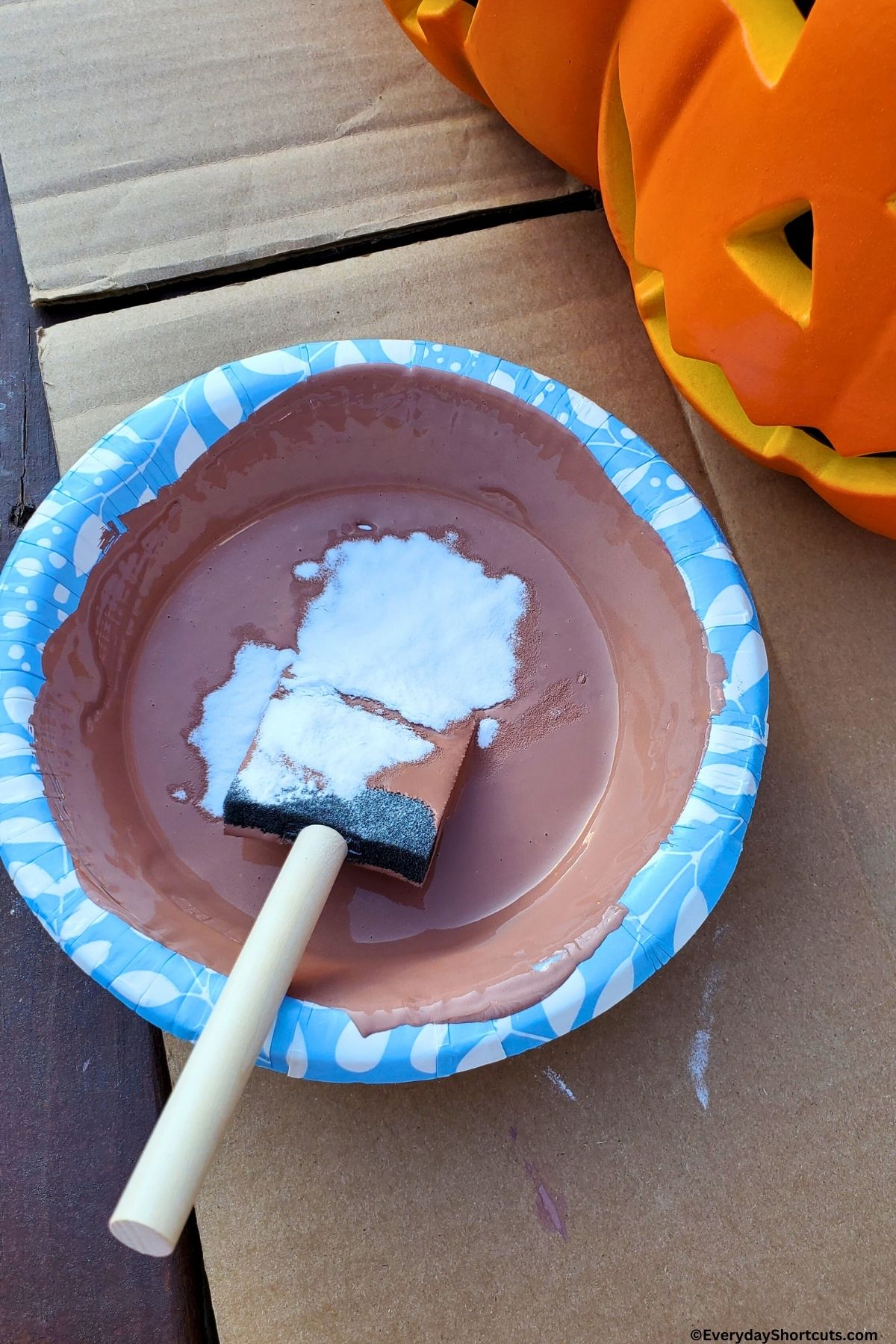 Add paint and a little baking soda at a time in a bowl and mix together till you get a thicker consistency. Add more baking soda if needed.
You can make your own or buy the color terracotta paint. To make a diy terracotta paint, mix the colors white and brown or orange, brown and white till you get to your desired terracotta shade.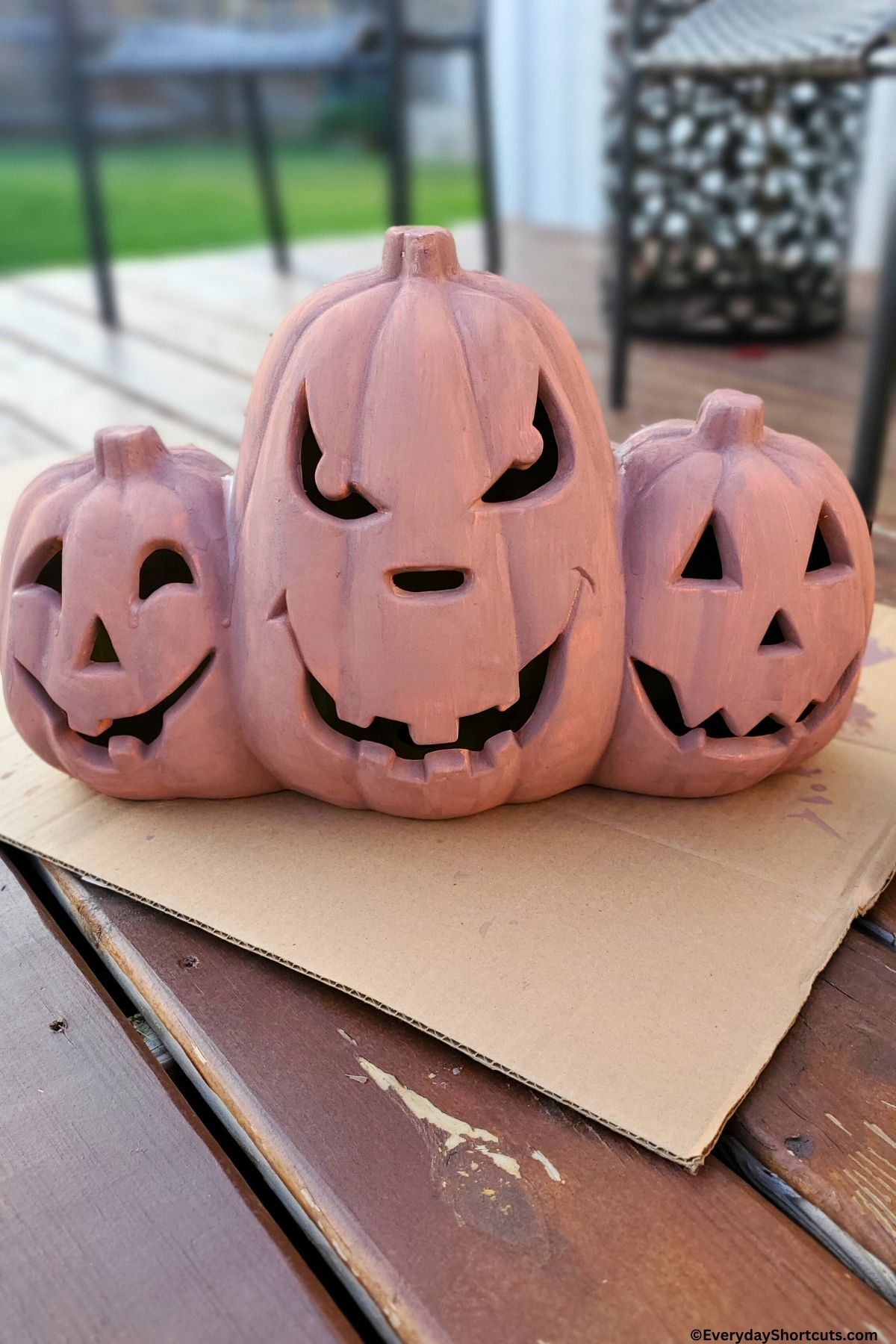 Paint the pumpkins (allowing to dry before you paint the bottom).
Allow to dry completely and paint a second coat if needed.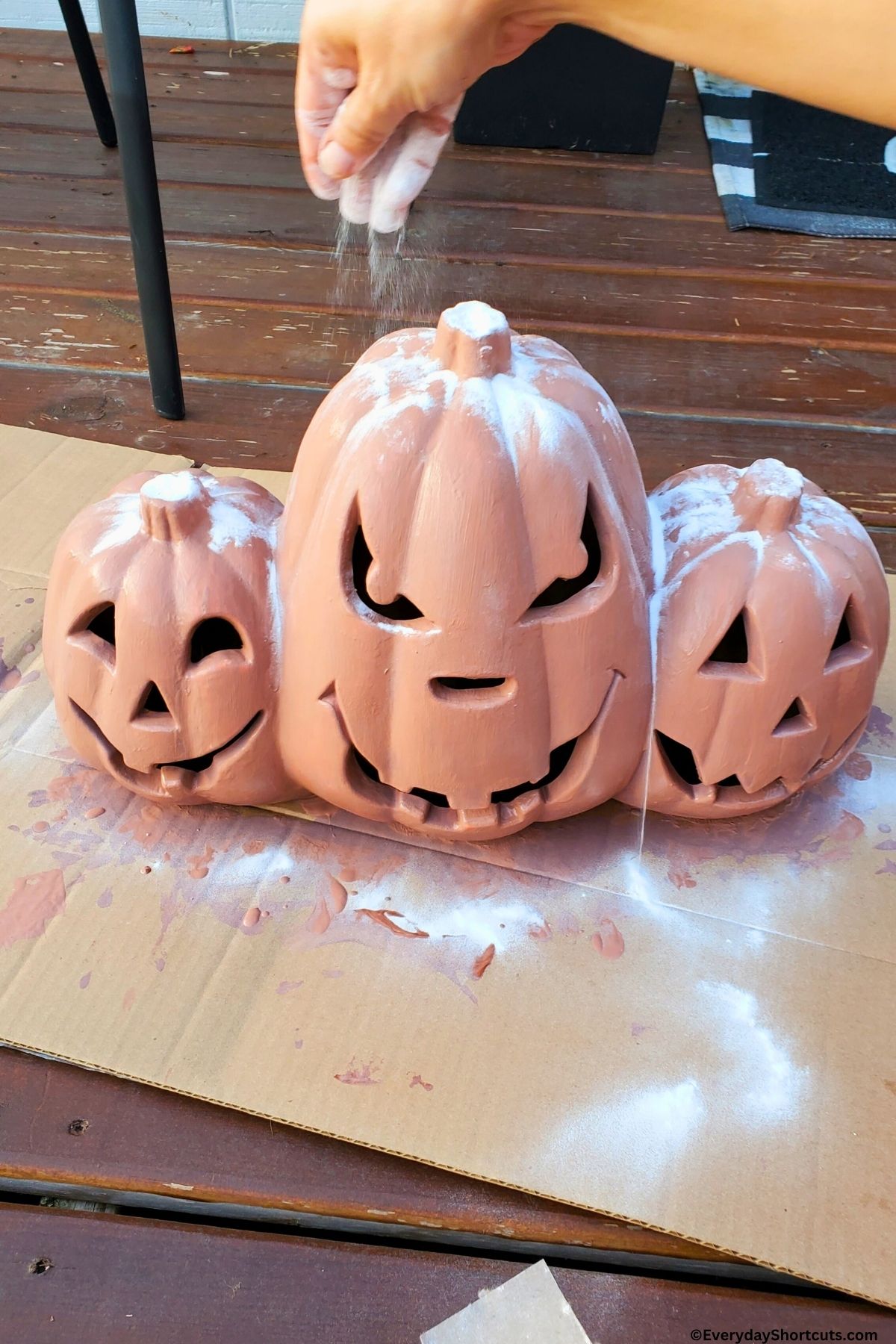 Sprinkle baking soda over top while paint is still tacky and using a paint brush lightly brush it down to create a terracotta effect.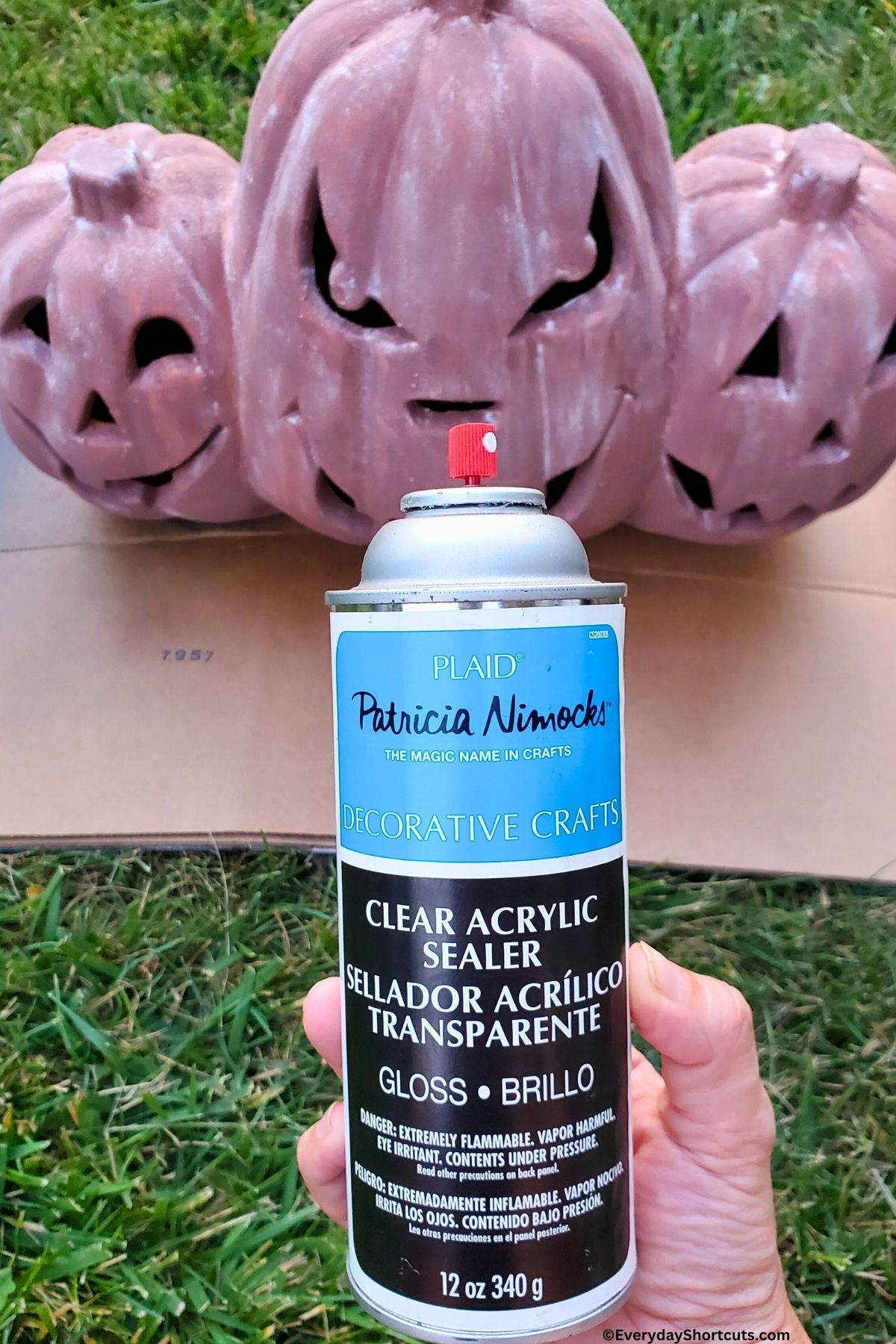 Once dry, lightly spray with clear acrylic sealer (but spray from a distance and not too close) to protect and seal everything together.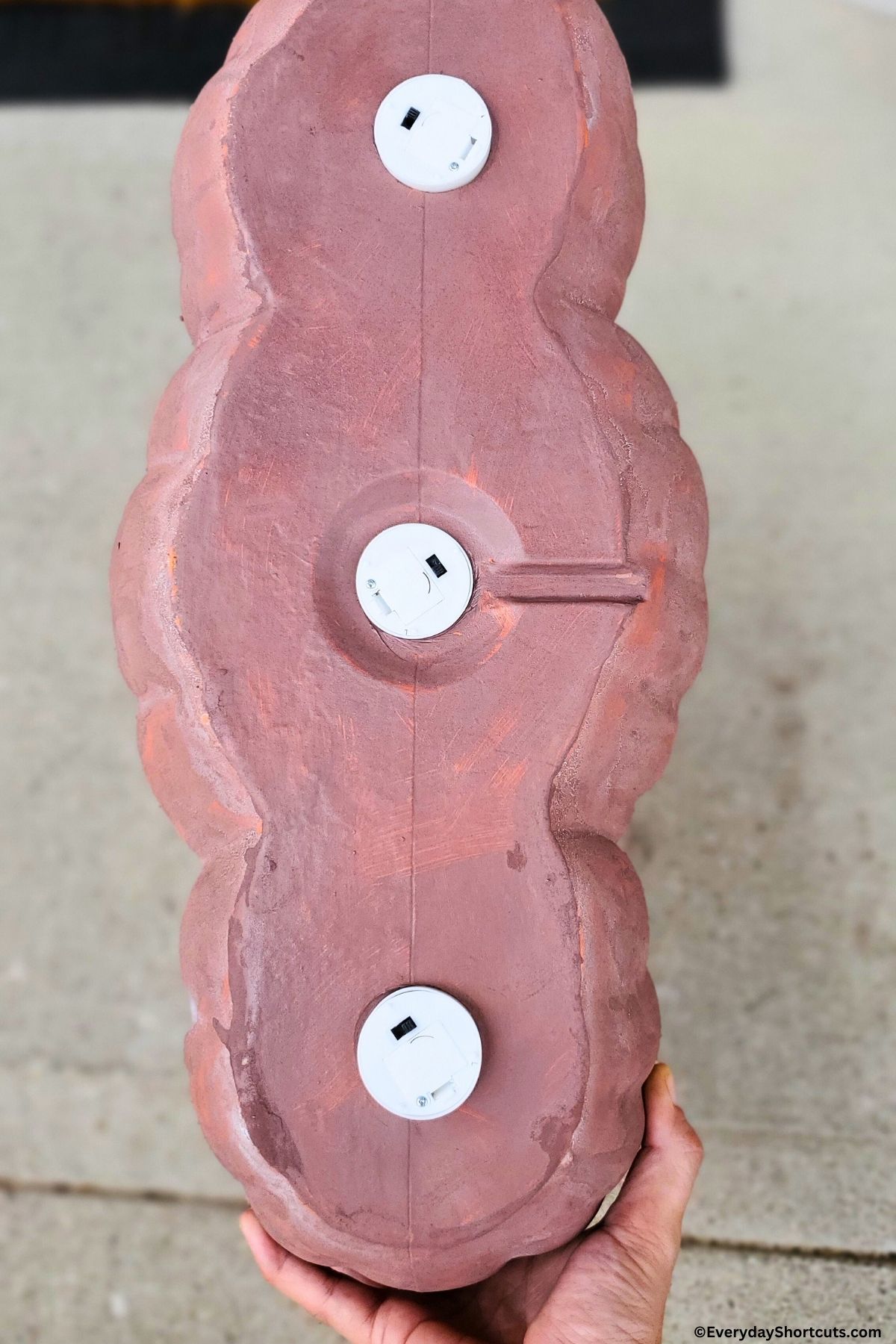 If there is no large gap in the back of the pumpkins to put the lights in, drill a small hole in the bottom (one that will make a tight fit when light is interested).
Push in the battery operated lights in but not all the way.
Place terracotta pumpkins indoors or outdoors and flip the switches on the bottom to light them up at night.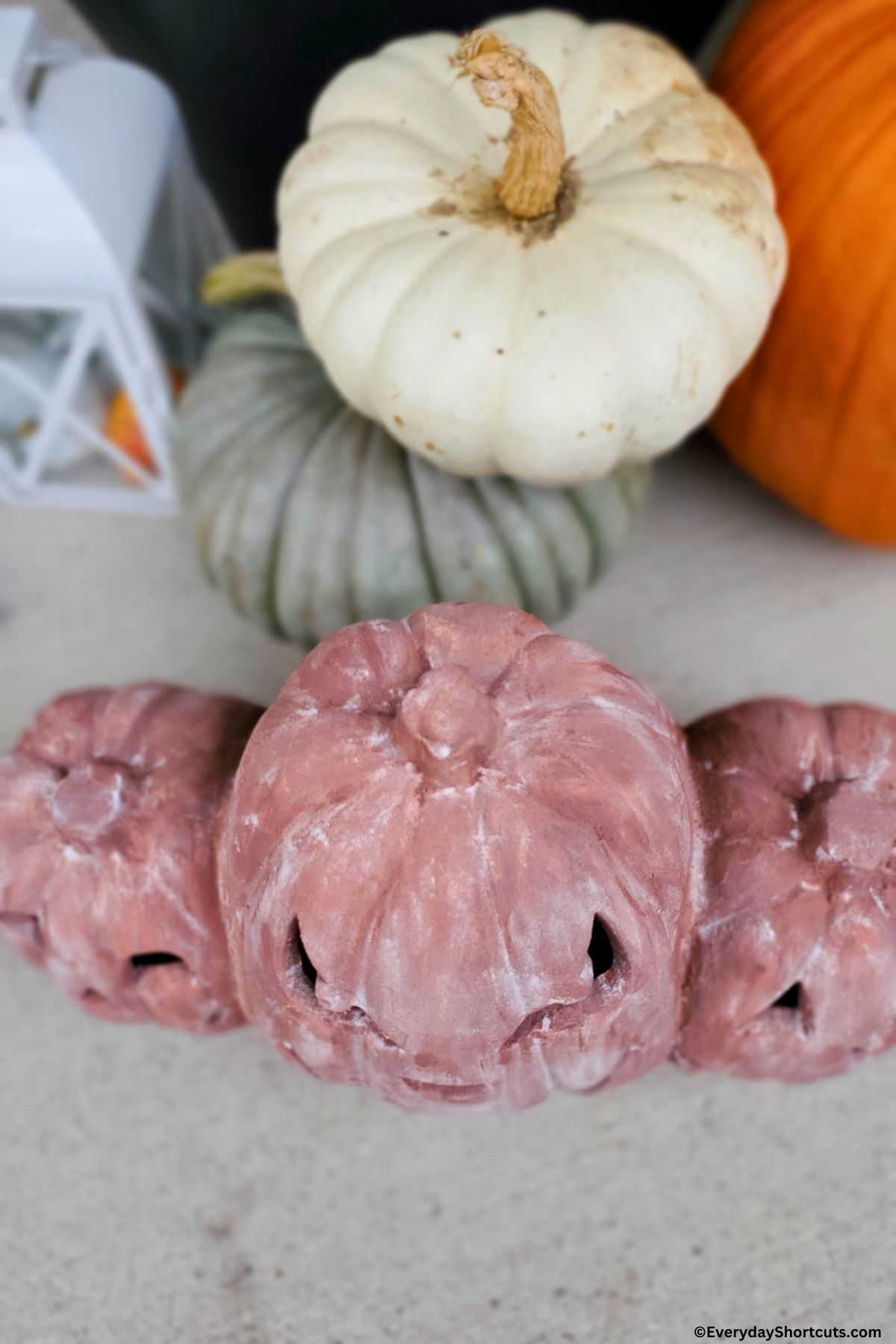 Helpful Tips
Can also use spray paint in place of acrylic paint.
Don't have baking soda? Use flour instead.
Allow paint to dry in between coats.
If you want more of an orange color, stick to orange color paints or mix in orange with the brown and white colors.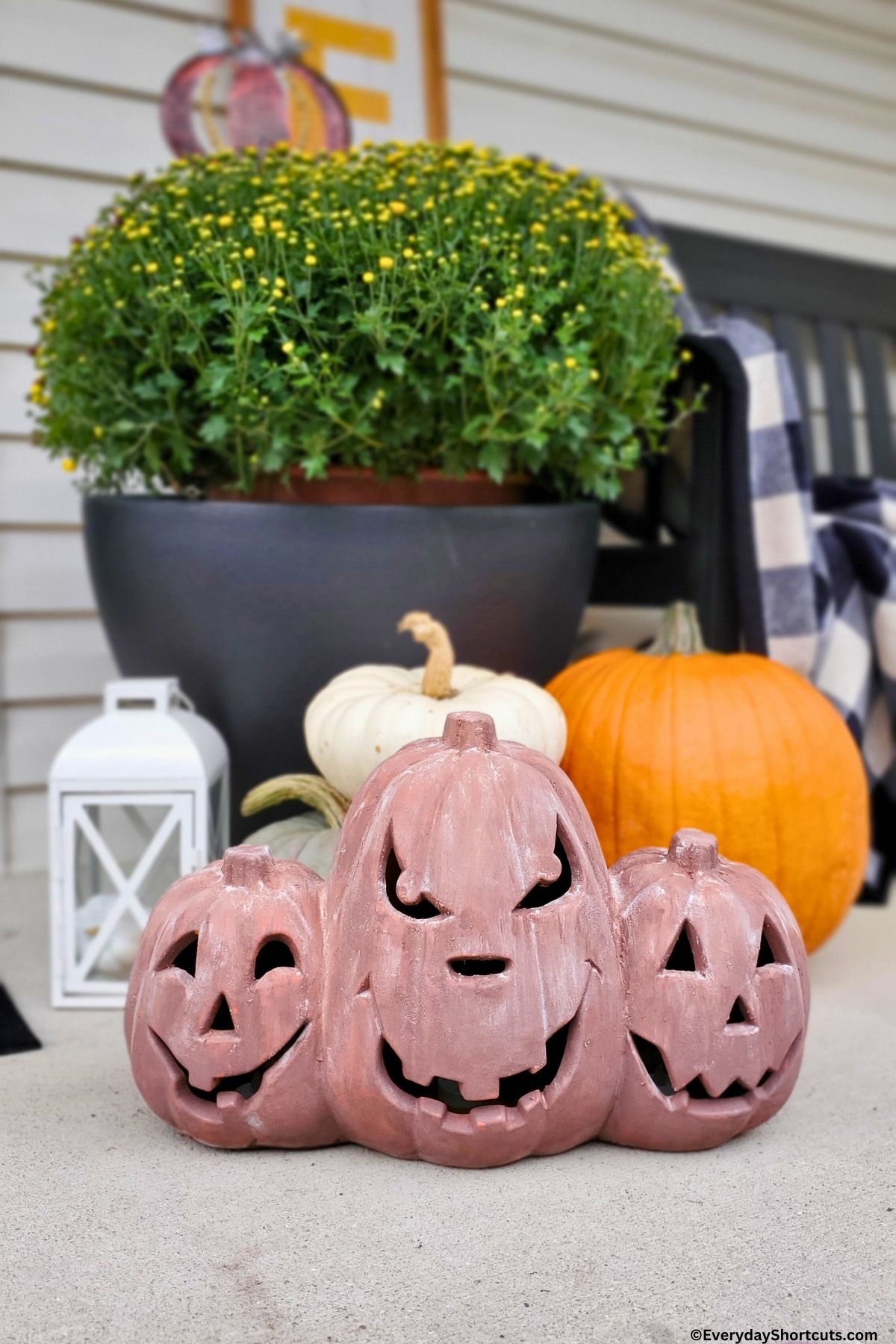 FAQs
Are these DIY terracotta pumpkins difficult to make?
No, not at all! They are quick easy to make with just a few supplies and some time.
Where can I find the supplies for this project?
The supplies can be found at your local craft store, online, dollar store or hardware store. I was able to find the paint supplies such as paint brushes and paint at my local Dollar Tree.
Are these pumpkins suitable for outdoor use?
I have only tested them on my covered porch and they hold up great. I have not tested them in other weather conditions to know for sure.
More Halloween Crafts