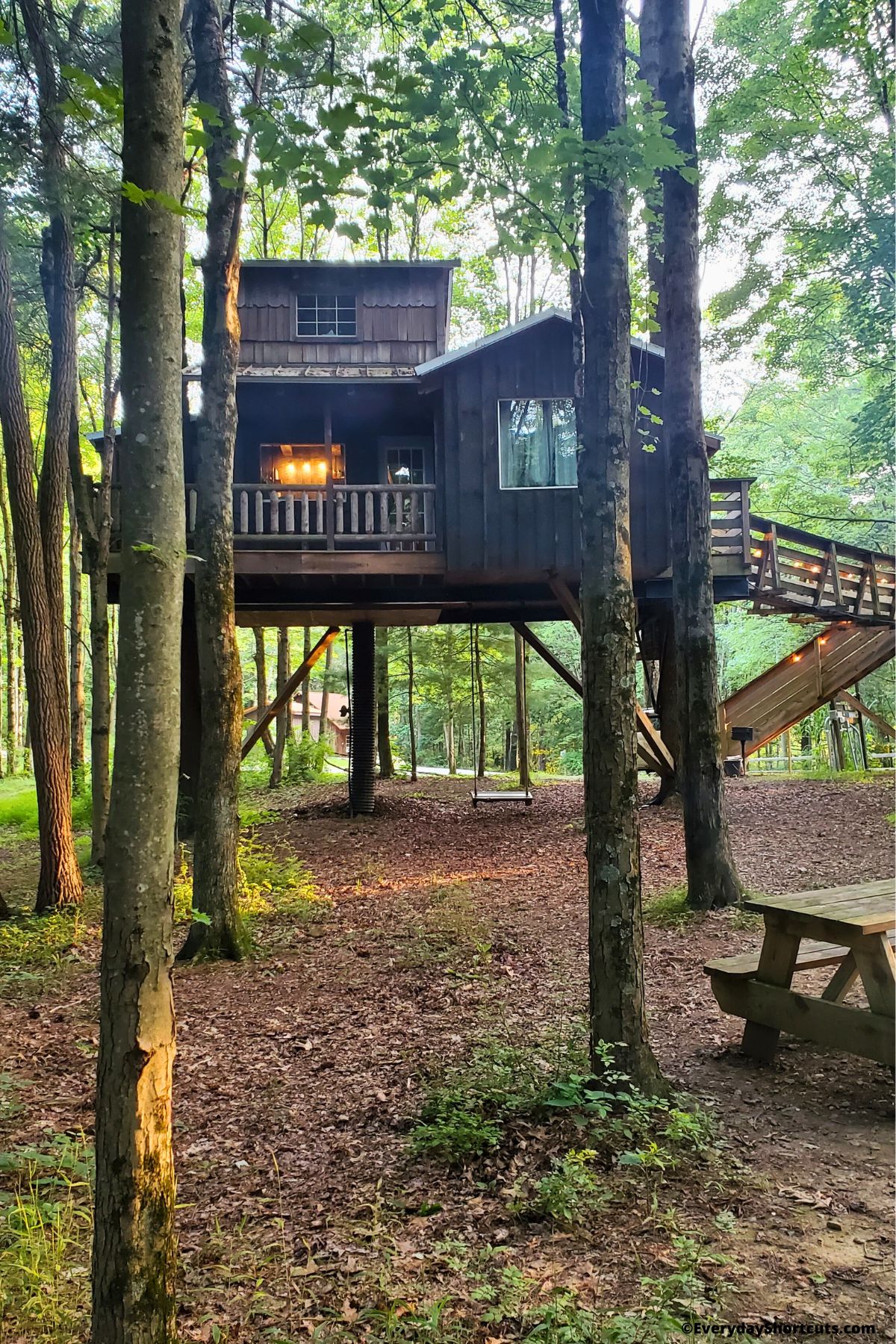 If you have never stayed in a treehouse, you're in for a treat and takes glamping to a whole other level.
Nestled in the heart of Ohio's lush wilderness, The Mohicans Treehouses Resort offer a unique and magical escape from the hustle and bustle of everyday life.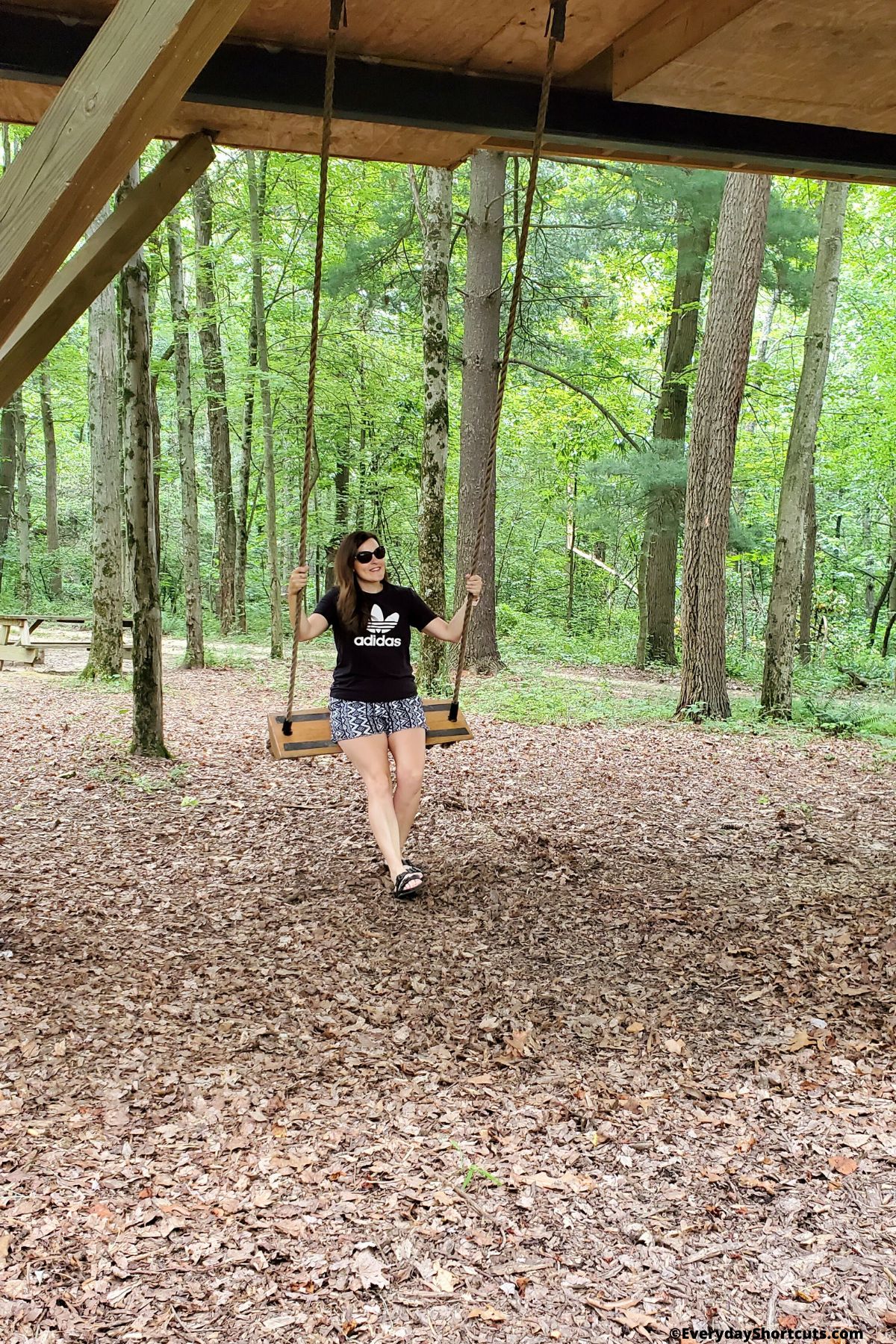 These exquisite treehouses provide an extraordinary opportunity to reconnect with nature, embrace serenity, and make unforgettable memories.
Join us as we embark on a journey through the enchanting world of The Mohicans, with a special focus on our stay at the Moonlight Treehouse.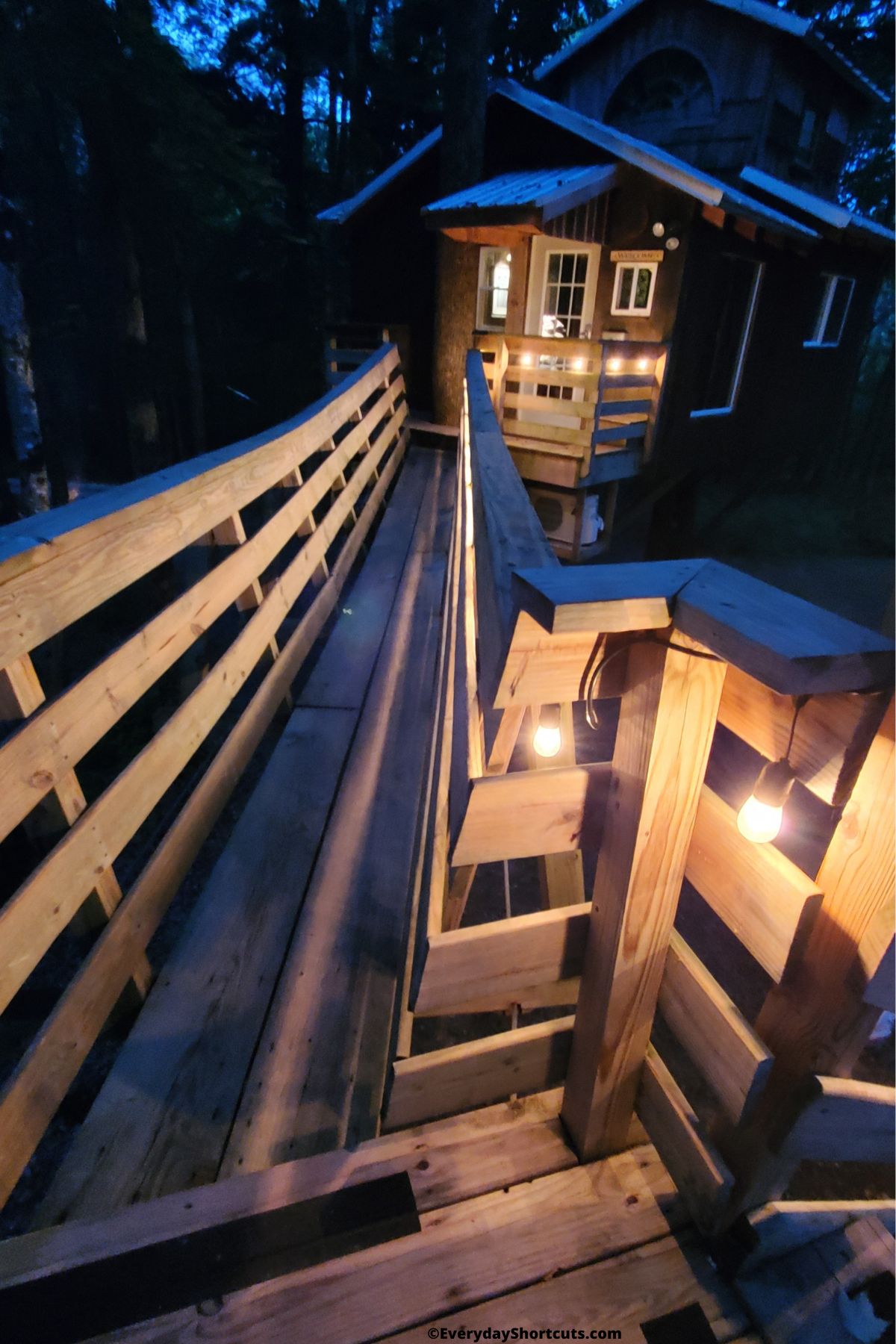 What are The Mohicans Treehouses?
The Mohicans Treehouses is a one-of-a-kind retreat located near Glenmont, Ohio, surrounded by the picturesque beauty of Mohican State Park.
Set in a sprawling forest, the resort boasts a collection of stunning treehouses meticulously crafted to harmonize with the natural environment.
Each treehouse is a testament to craftsmanship, sustainability, and modern comfort, providing a peaceful haven for nature enthusiasts and adventure seekers alike.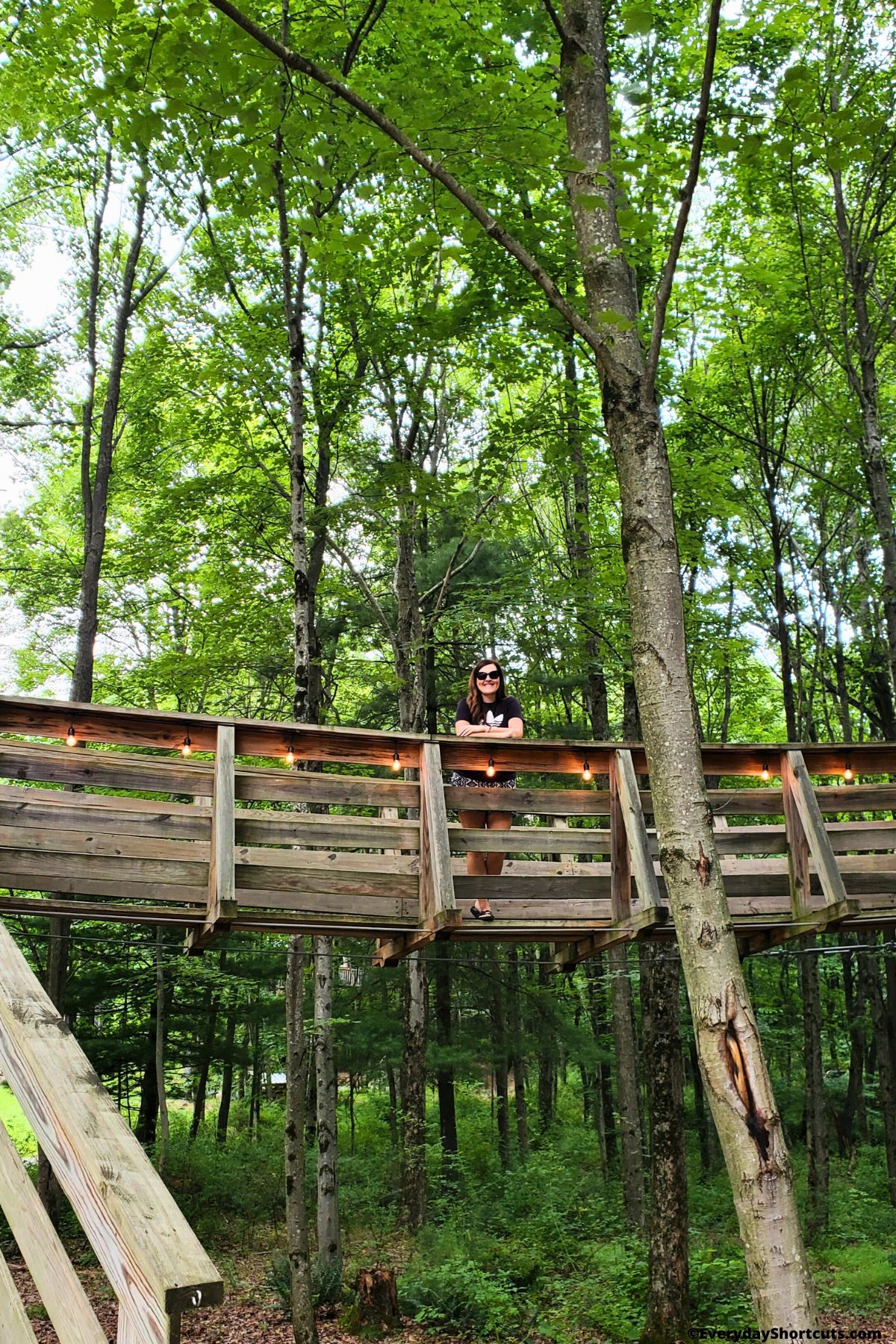 The Different Types of Treehouses
The Mohicans Treehouse Resort offers a range of unique treehouses to suit various preferences. From romantic escapes to family-friendly getaways, there's a treehouse for everyone. The types include:
Moonlight: Perfect for couples seeking seclusion and romance, this treehouse is elevated to provide a panoramic view of the forest and stars, creating an unparalleled ambiance.
Little Red: The second treehouse designed and built by Pete Nelson and his crew from Treehouse Masters. It is a charming, cozy retreat, that started as a brewery/tasting center and is an excellent choice for a solo adventure or couple.
Old Pine: A classic cabin-style retreat amidst the forest canopy with an 1800's feel decor.
White Oak: Built by the Treehouse Master himself, Pete Nelson in 2012 and is truly spectacular. From the 3 sided wrap around porch to the 100 year old barn wood used for the cabinets, this treehouse can sleep 6.
Silver Bullet: A unique treehouse that is in a vintage Airstream 25 feet above ground.
The Nest: Built by world renowned treehouse designer, Roderick Romero. This treehouse offers a single room suite with spectacular views of The Mohicans Wedding Venue and often used as the honeymoon suite.
The View: Floor to ceiling windows offering breathing panoramic views of The Mohican Valley.
Tin Shed: Modern feel treehouse with a full-size garage door that opens up in the warmer months. To get to it you need to walk up a 25 foot high spiral staircase and walk across a swaying bridge.
El Castillo: Super cute treehouse that offers a spiral staircase to the king bed above a chandelier plus a queen murphy bed in the living room.
For larger groups or families, they also offer cabins you can rent that are spacious and tucked back into the woods.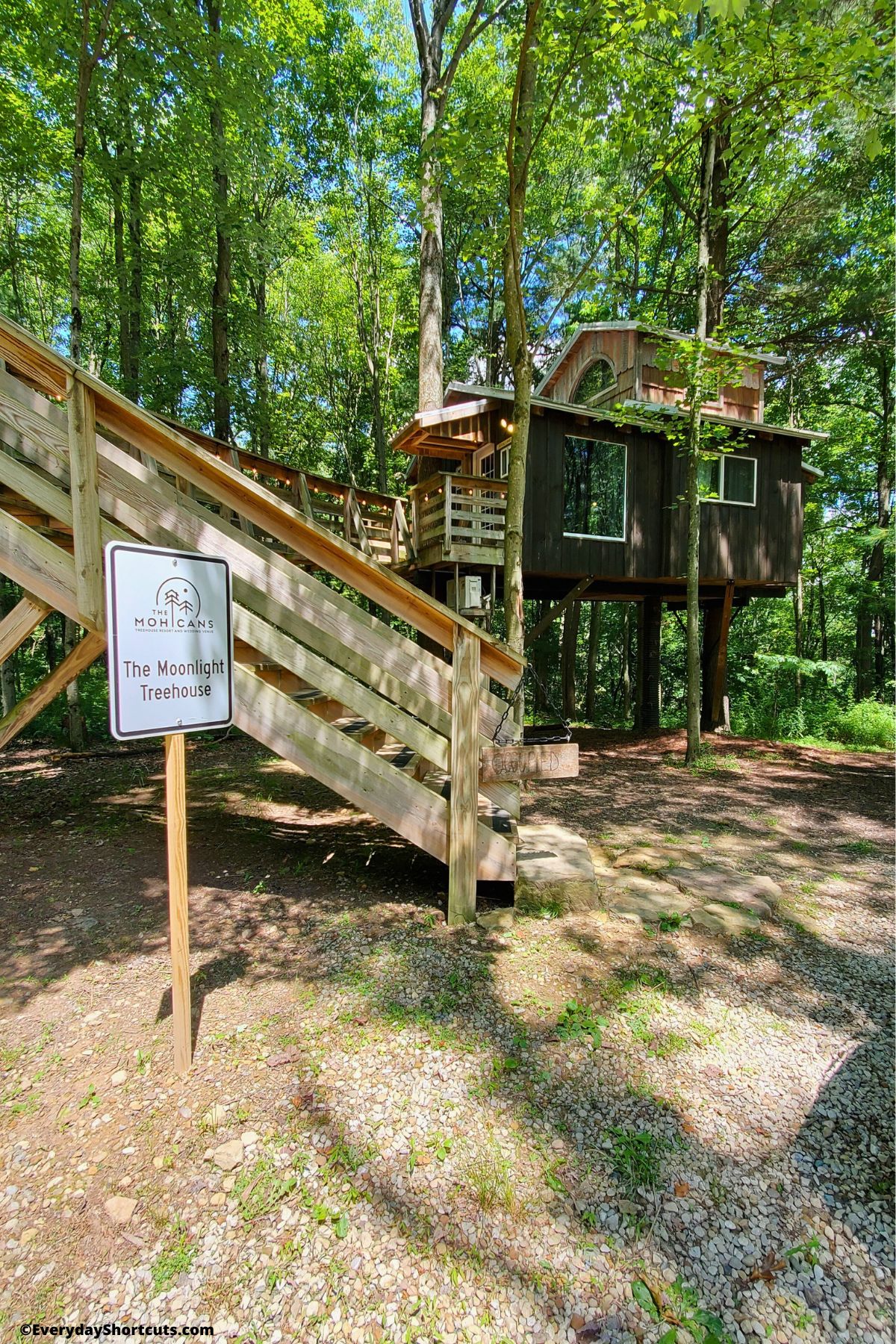 Our Stay at the Moonlight Treehouse
During our visit, we had the privilege of experiencing the Moonlight Treehouse, a sanctuary of tranquility suspended high above the forest floor.
From the moment we arrived, we were captivated by the craftmanship and design. The towering trees and serene atmosphere instantly transported us to another world.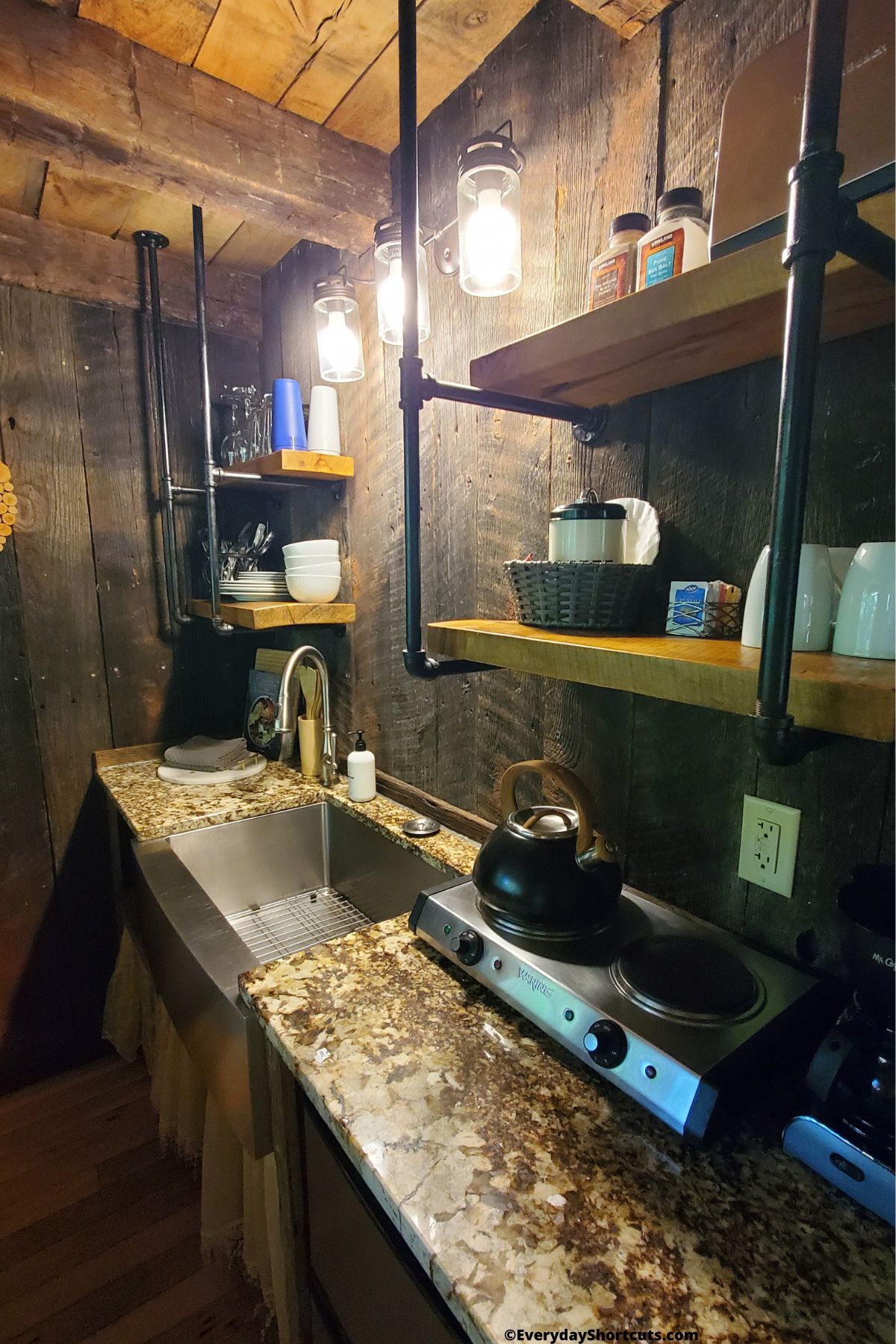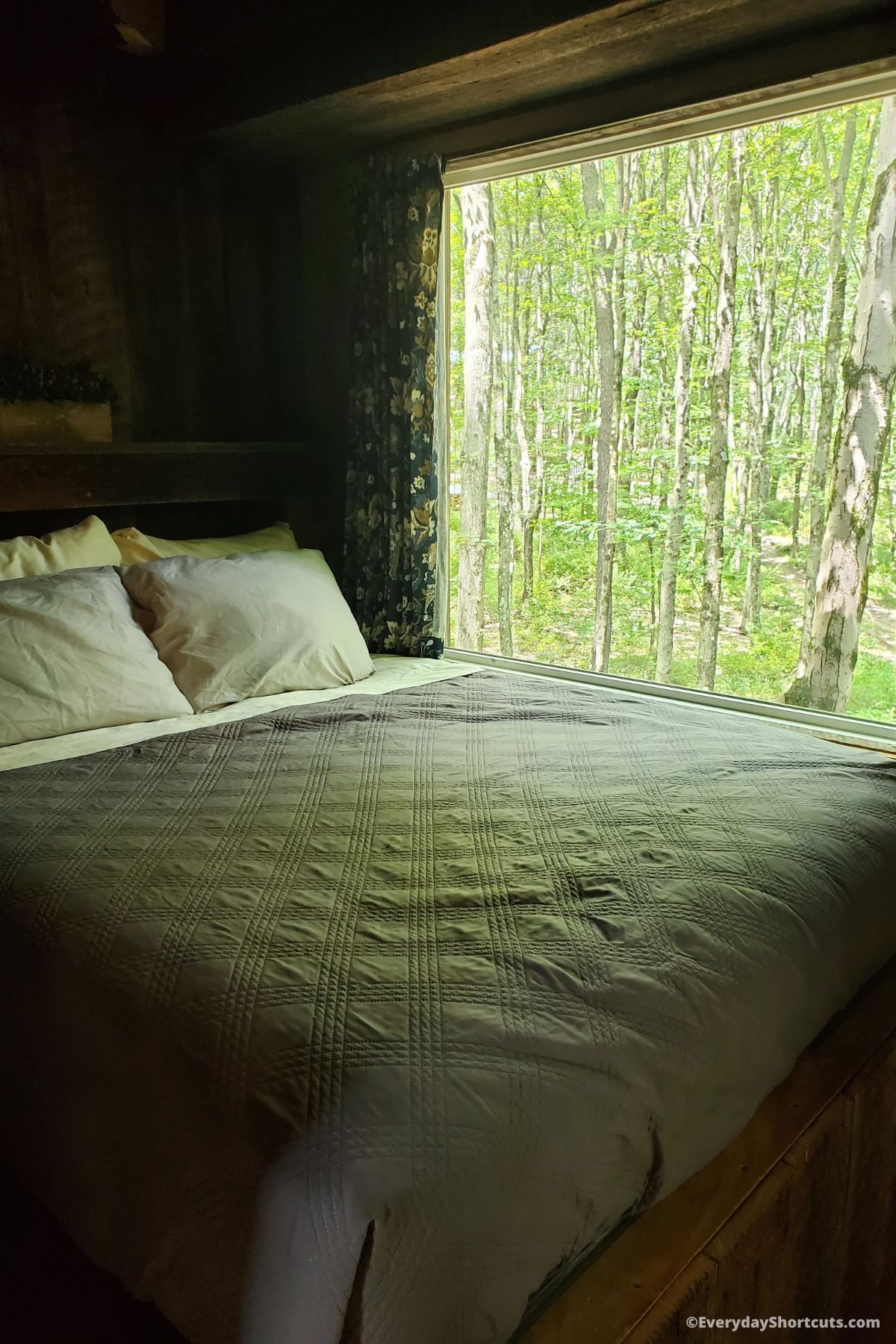 The treehouse featured a cozy living area, a well-equipped kitchenette, and a luxurious bedroom with a large window that let in the soft glow of moonlight, hence the name.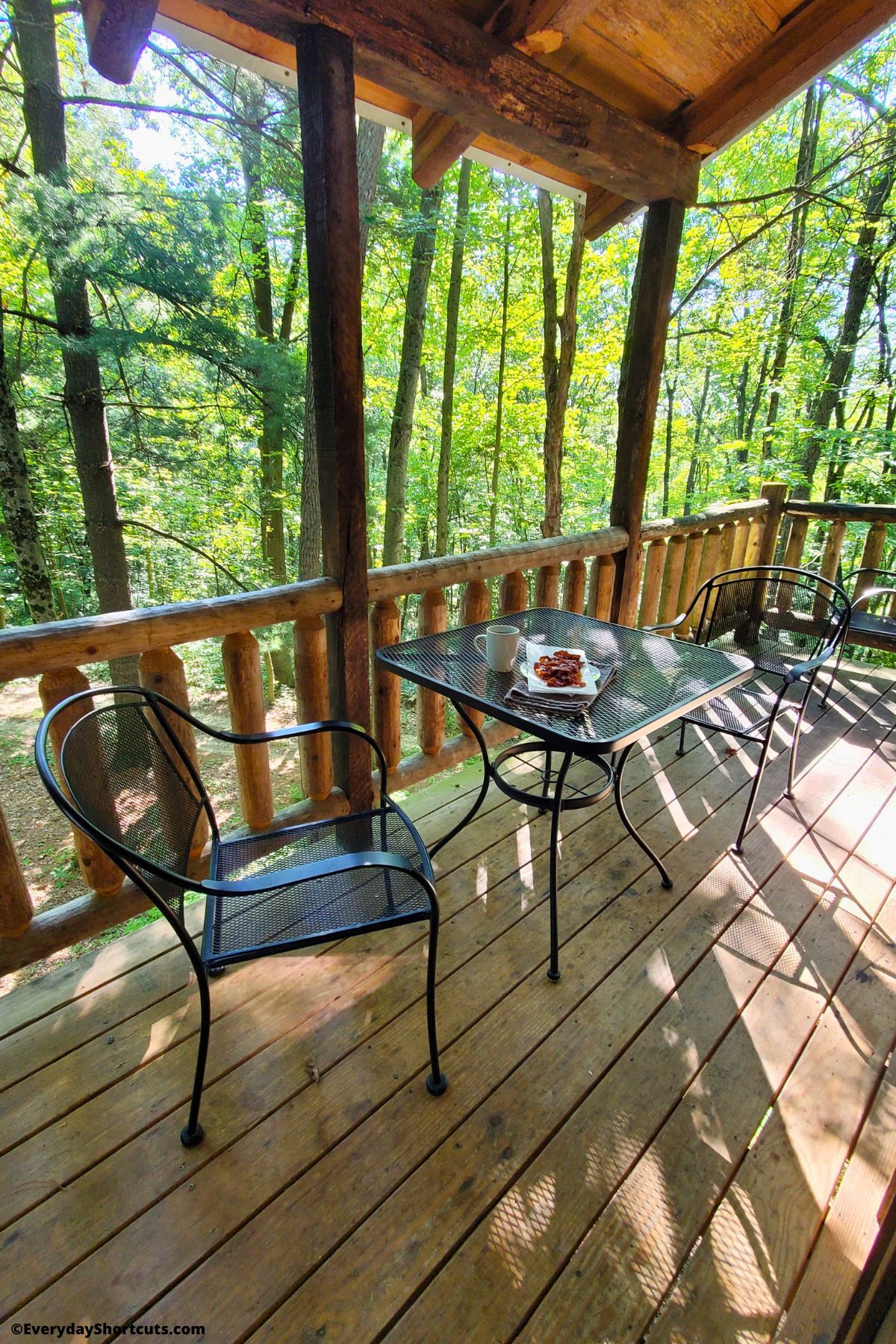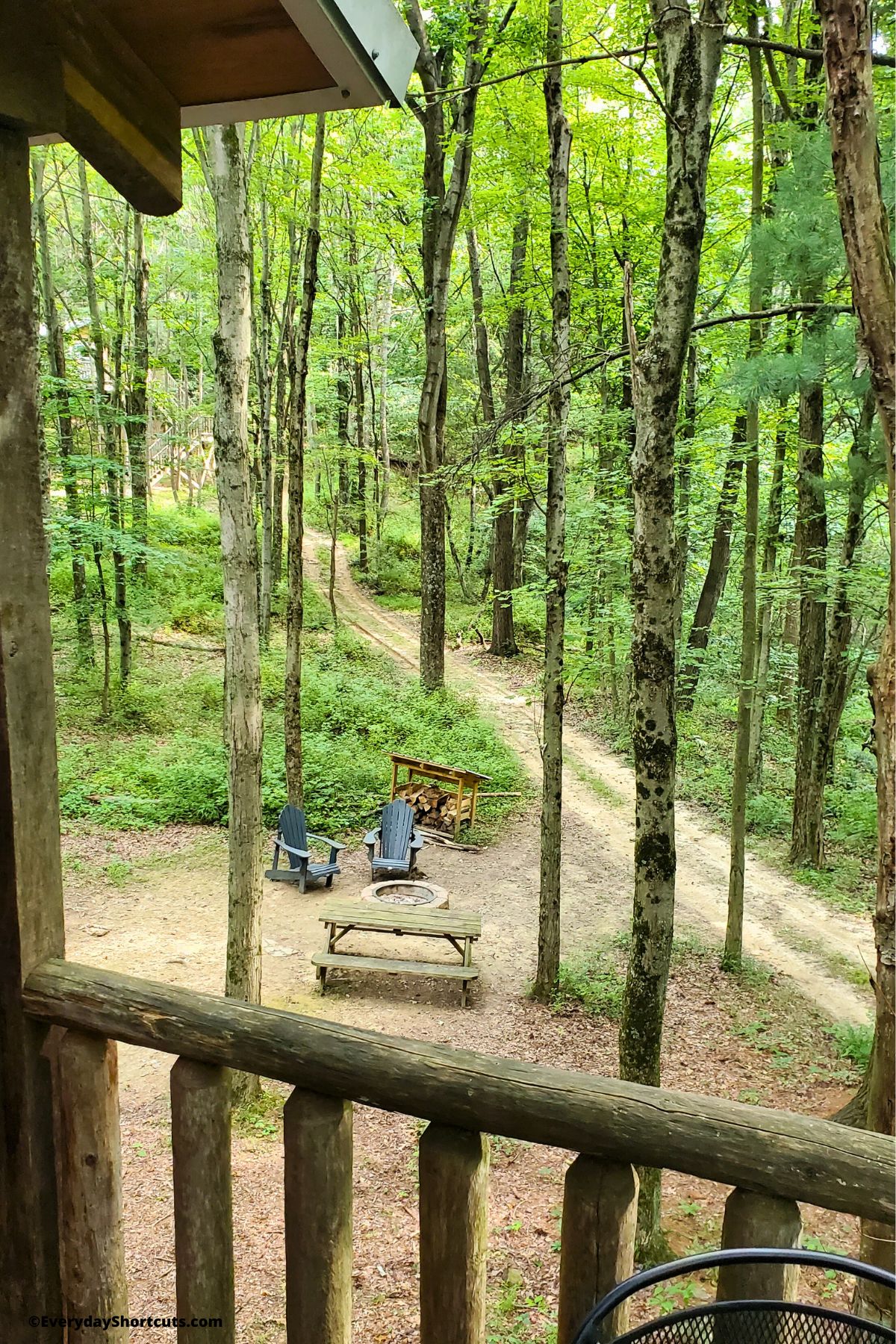 The wraparound deck offered breathtaking views, and we cherished countless hours sitting out there, sipping coffee in the morning listening to the sounds of nature.
Exploring the Mohicans property was an adventure in itself. There are nine different treehouses available for rent, each with its own unique charm and character. We loved wandering through this enchanting forested wonderland, discovering hidden nooks and crannies along the way.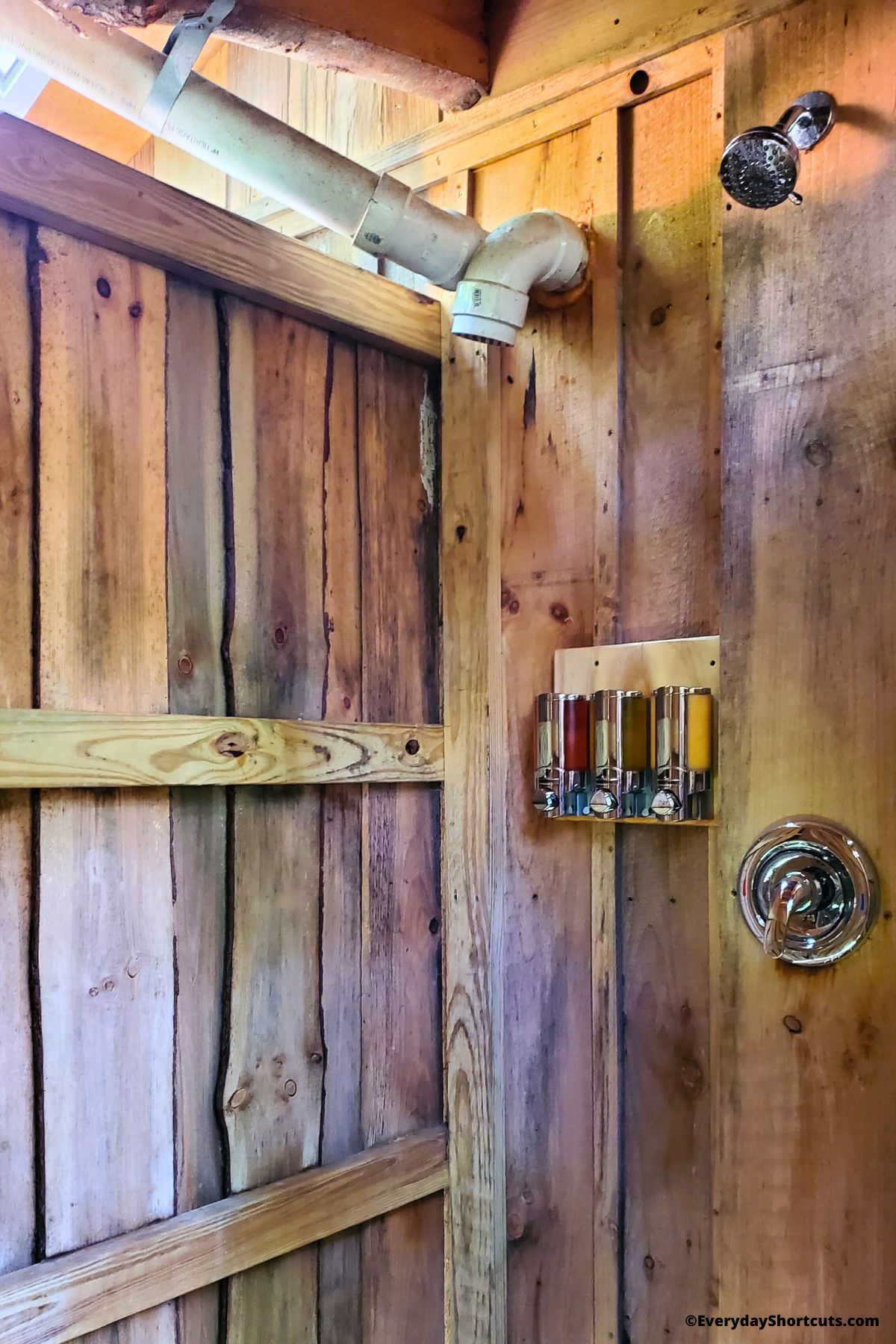 Our experience staying at the Moonlight Treehouse was absolutely magical and exceeded our expectations. From the outdoor shower to the picture perfect views, this treehouse was every bit romantic while offering an escape from reality.
If you're looking for a truly unforgettable getaway amidst nature's splendor, The Mohicans Treehouses are calling your name.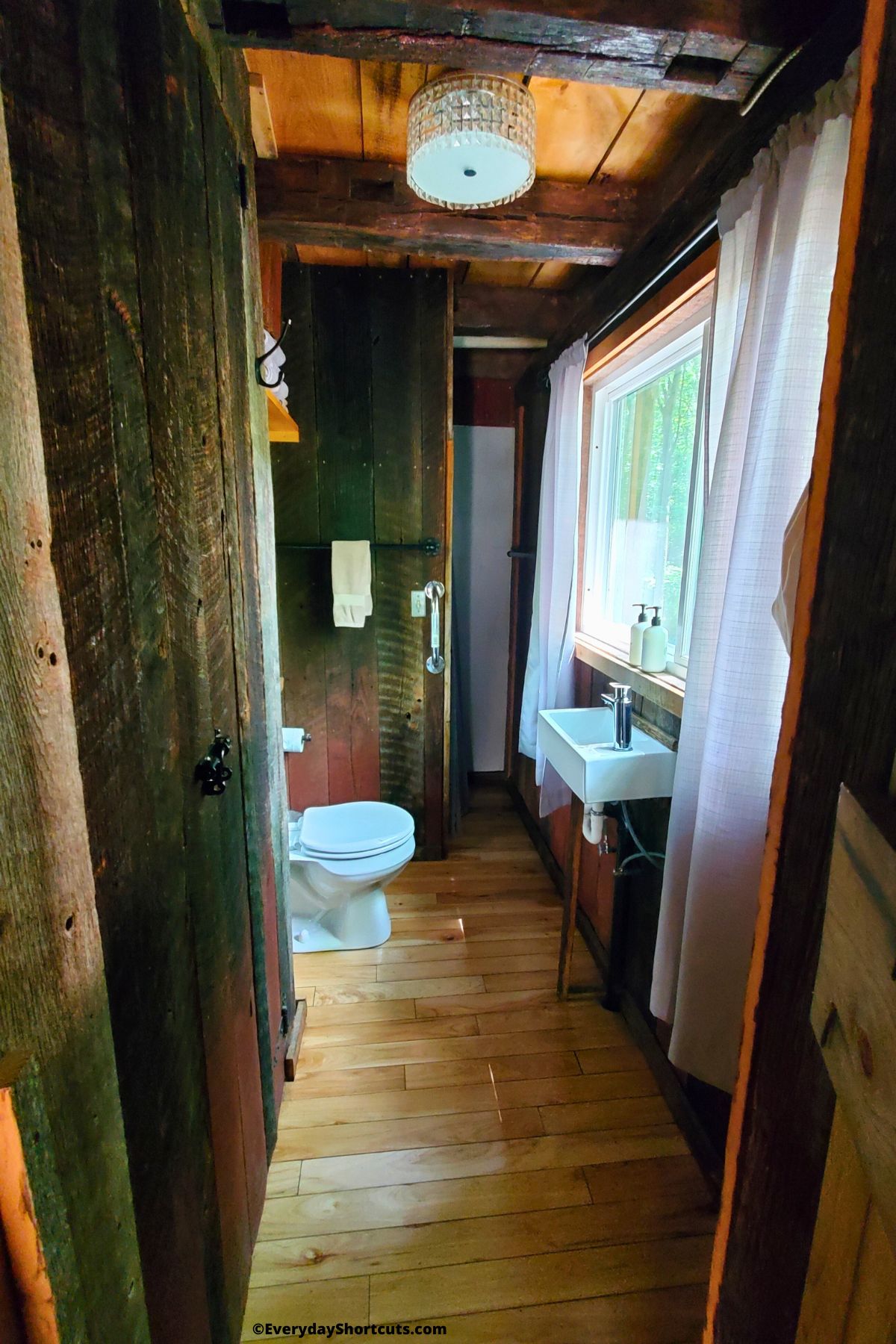 The Amenities
Despite being surrounded by nature, The Mohicans Treehouses don't compromise on comfort and convenience. Some of the amenities include:
Well-equipped kitchen: 2-burner stove, mini fridge, toaster, microwave, sink, coffee station with complimentary coffee, cookware, and utensils
Full or 1/2 indoor bath plus private outdoor shower with soap, shampoo and conditioner
Linens, towels, and washcloths provided
Outdoor picnic table, fire pit with chairs, and BBQ grill (wood and charcoal to be brought by guests)
TV/DVD for movie viewing only (no satellite or cable)
Heating and A/C for year-round comfort
At least one queen bed, and in some cases, multiple beds
Private deck for relaxation
Dedicated parking area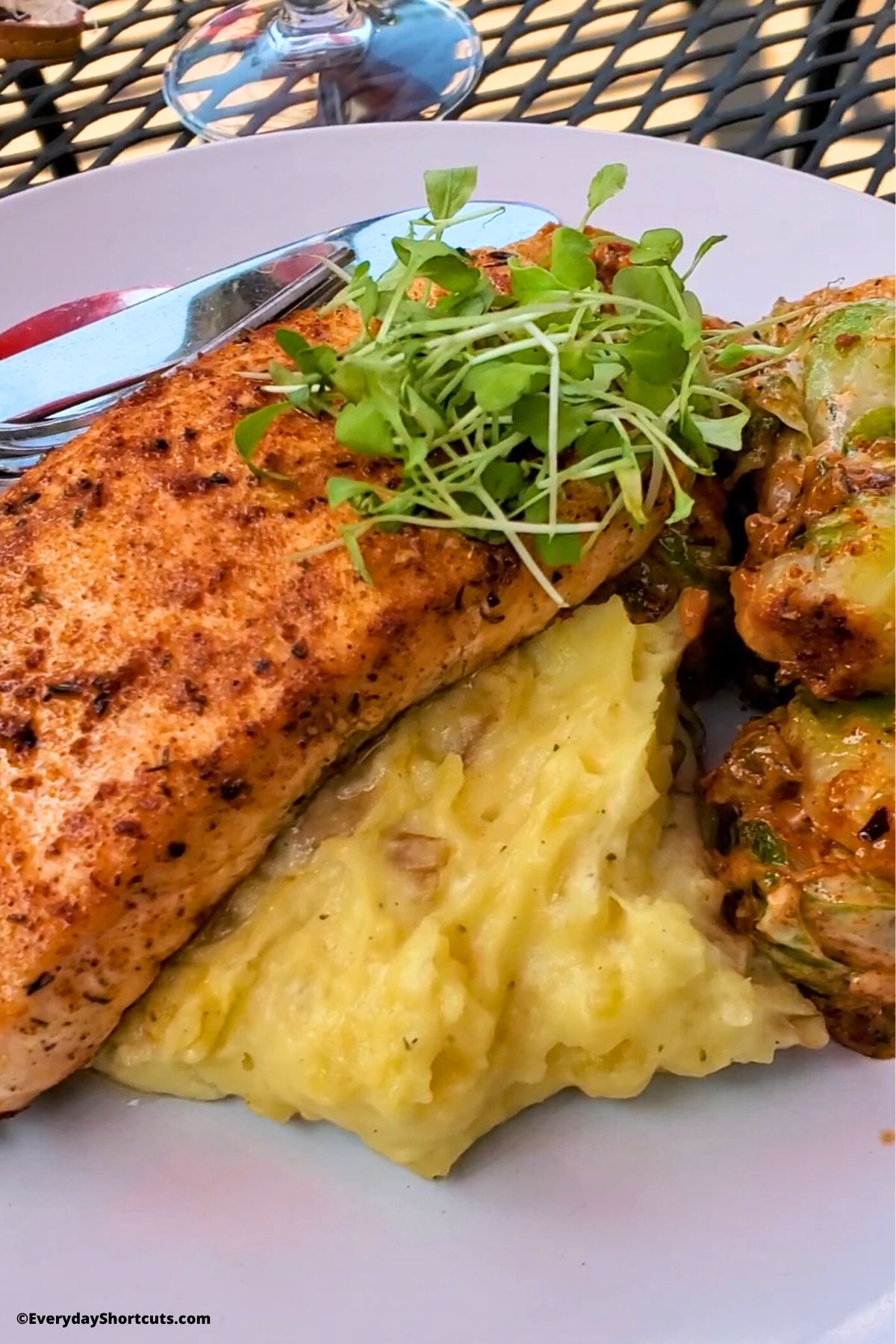 Where to Eat Nearby
While The Mohicans Treehouses provide an excellent opportunity for cooking in your treehouse, Glenmont and the surrounding areas offer great dining options. From casual comfort food to fine dining experiences, the surrounding area has something for everyone.
If you're in the mood for classic American fare, head over to The Millersburg Brewing Company. This local brewery offers not only a wide selection of craft beers but also delicious pub-style dishes like burgers and sandwiches.
The Copper Mug Bar & Grille is another great option for American-inspired cuisine. This casual restaurant offers delicious food (from seafood, steaks and burgers) and drinks (try the Yellow Tail Moscato) in a relaxed atmosphere. I highly recommend this restaurant.
For Amish food, try Der Dutchman Restaurant. This family-style eatery in Berlin, Ohio serves authentic Amish recipes like chicken pot pie, broasted chicken, noodles over mashed potatoes, and homemade pies. I highly recommend the roast beef dinner.
For a unique culinary experience, consider visiting Amish Country Byway. Here you can explore local vendors selling fresh produce, homemade baked goods, cheeses and meats. Perfect for putting together a picnic or stocking up on snacks during your stay at The Mohicans Treehouses.
With such diverse options nearby, you'll have no shortage of delicious meals to complement your unforgettable treehouse getaway!
What to Do Nearby
There is an abundance of outdoor and indoor activities near by or if you are up for a little drive. Here are some of our favorites: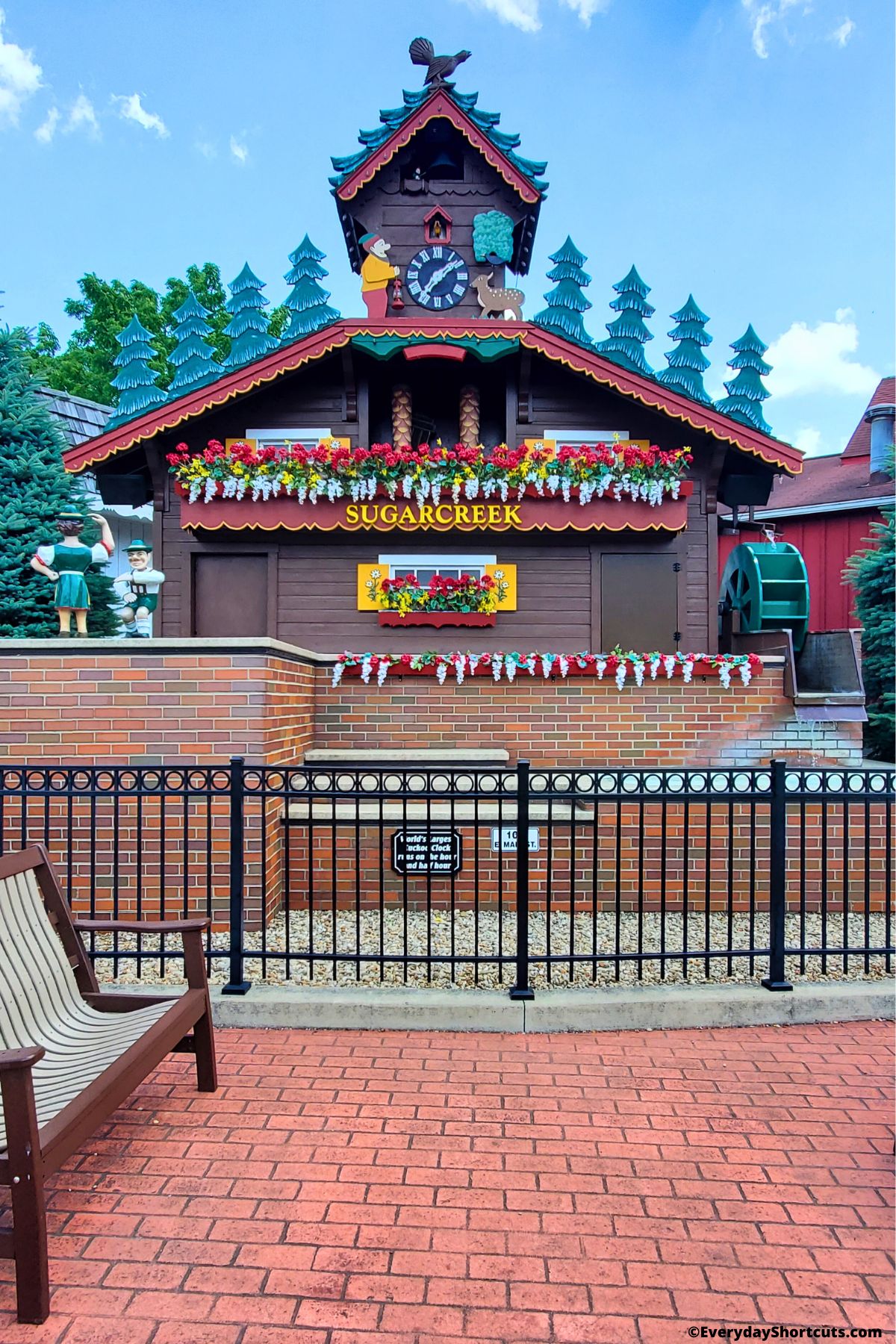 Amish Country: If you're up for a drive, head into Amish Country. There is plenty to do from shopping, eating, to seeing the world's largest cuckoo clock.
Mohican State Park: Over 1,100 acres of beautiful natural landscapes to take a hike on and explore the lush forests and scenic valleys.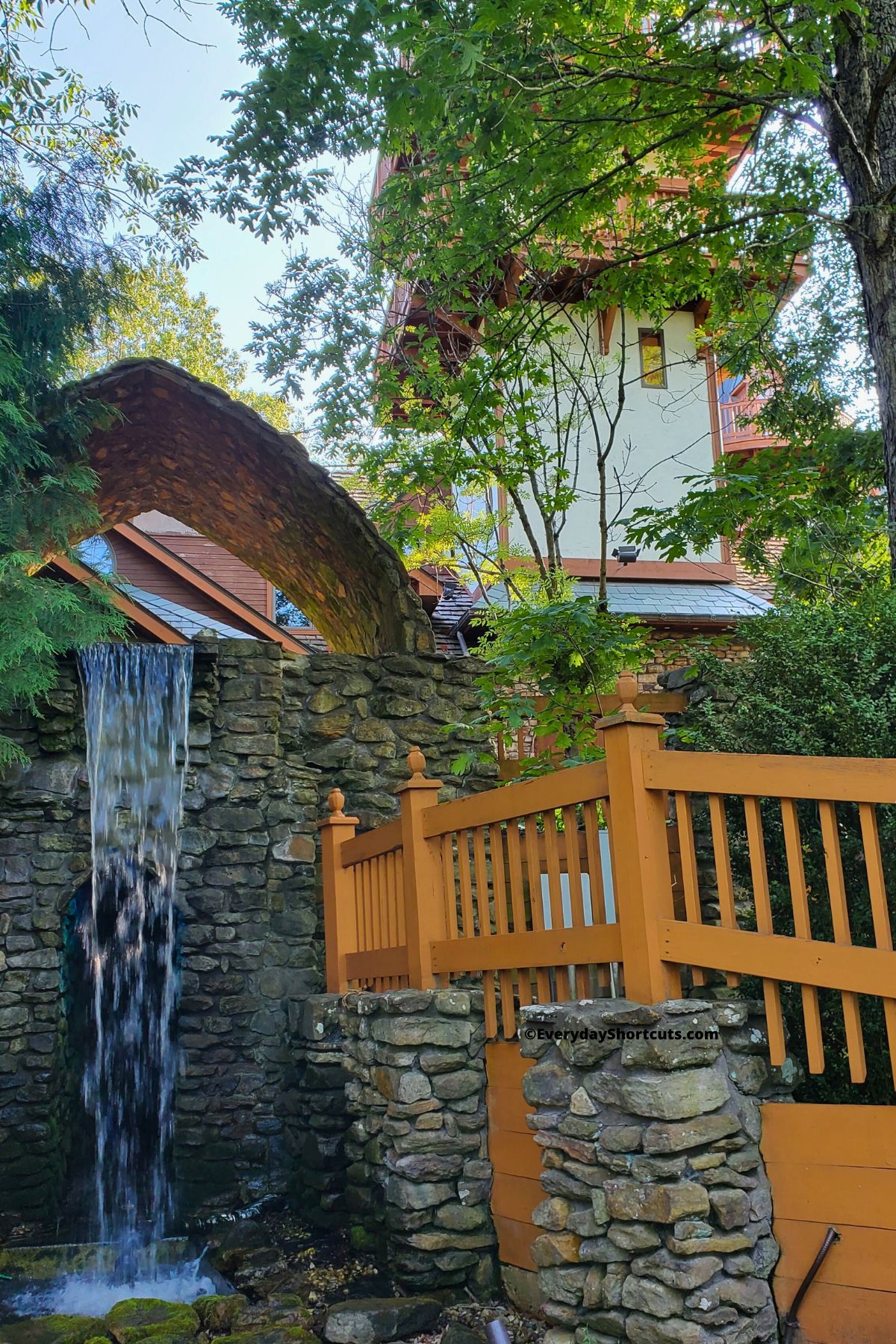 Landolls Mohican Castle: A neat castle to walk around and take photos. They also have ghost tours on property, a wedding venue and a restaurant.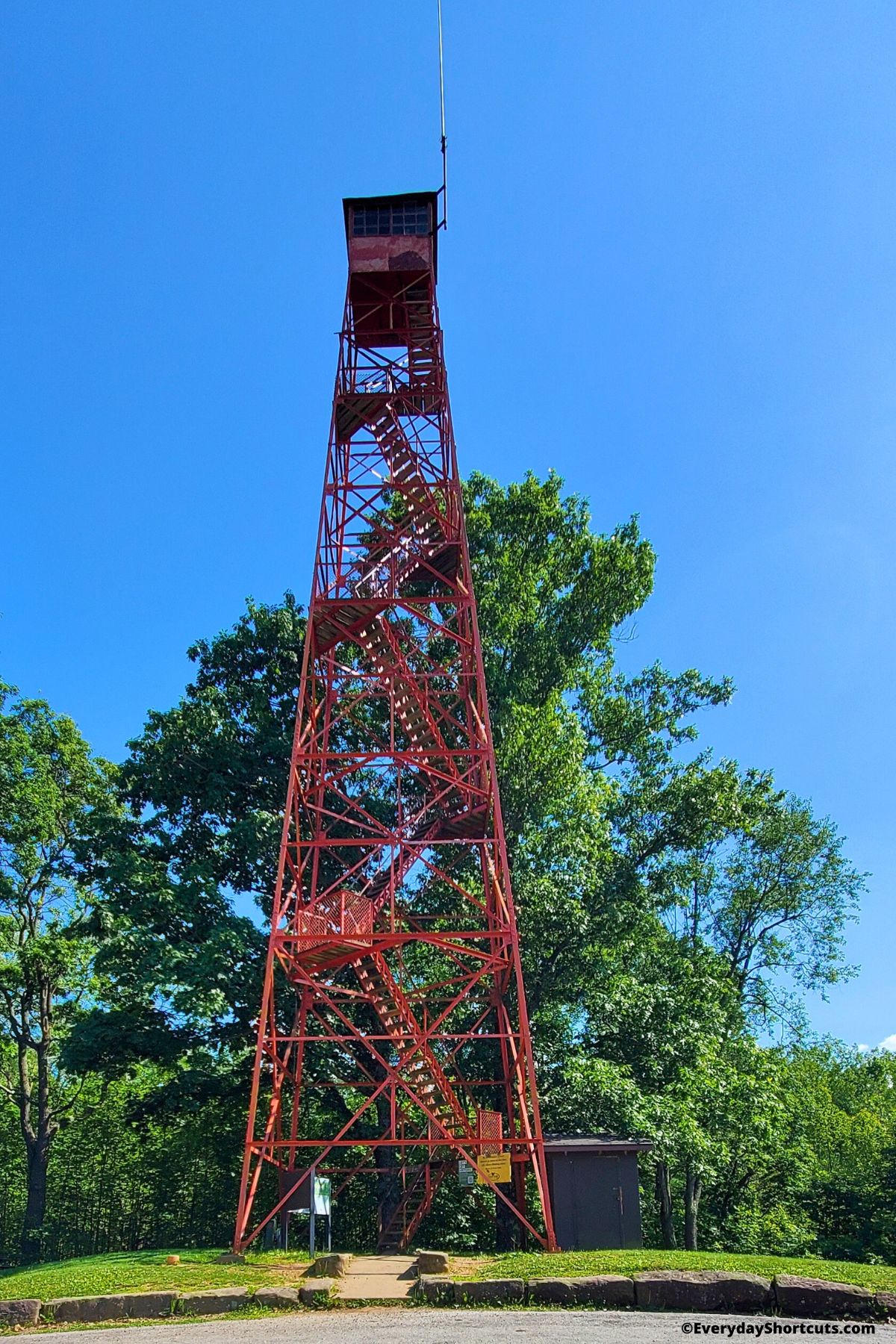 Fire Lookout Tower: Pretty neat to look at but if you're brave enough to climb it, do so at your own risk. We could only get through a few flights of stairs before we got that funny feeling in our stomachs.
Mohican Covered Bridge: Pretty cool to look at and walk on the outside of it. You can get a good view of the Mohican River and maybe see some people rafting, canoeing or kayaking down it.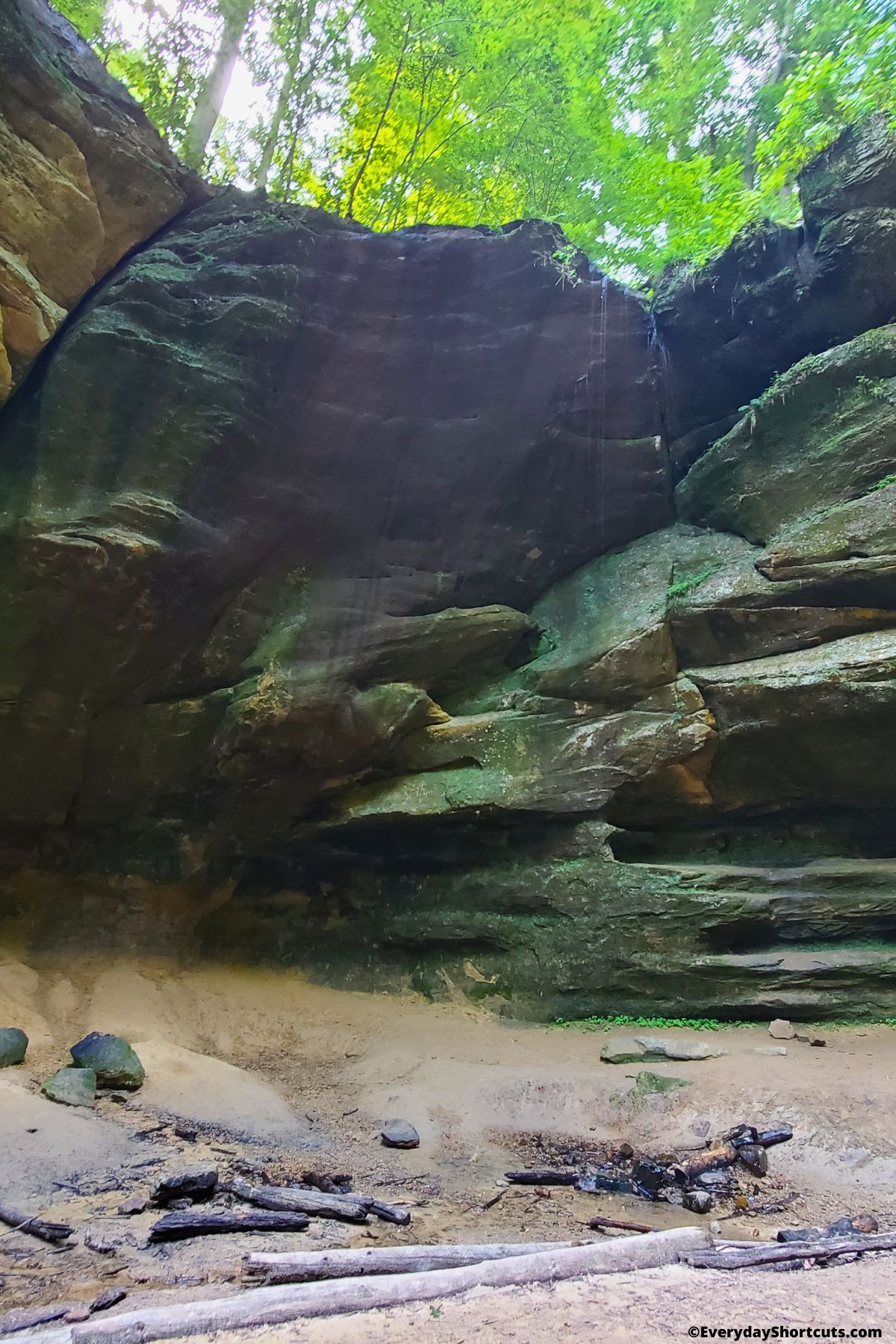 Clear Fork Gorge: Although there wasn't much water flowing, this was pretty to look at. The hike is a little challenging at the beginning with tree roots and such so be prepared with some good hiking shoes.
Mohican Adventures: If you are up for fun and adventure, this is the place to check out. They have a high ropes course, go carts, putt putt golf and canoeing, rafting, kayaking down the 7 mile Mohican River. Fun for the whole family!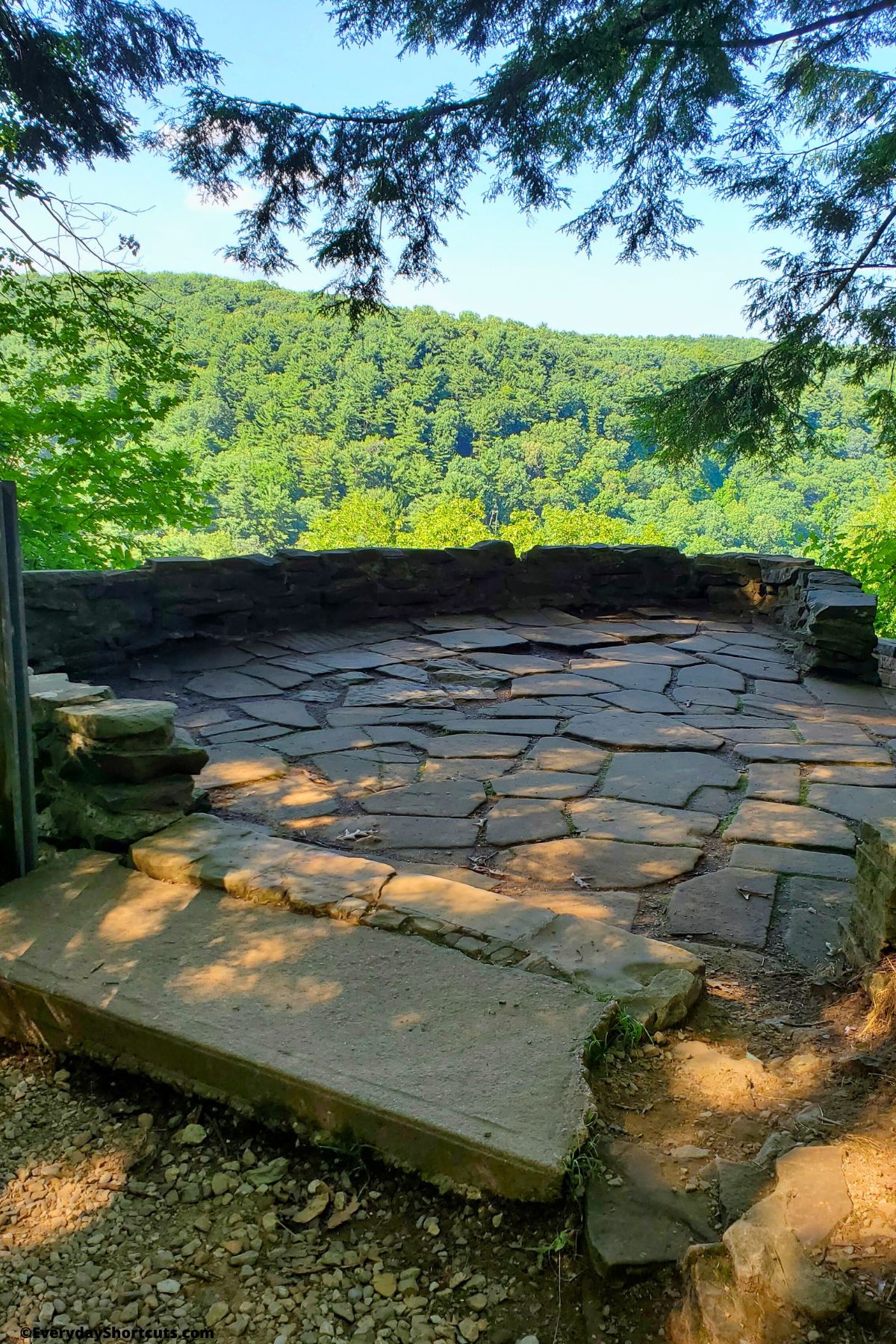 Mohican Gorge Overlook: This is pretty easy to find and right next to the fire tower. You can get a gorgeous 360 view of the 300 foot deep valley of the Clear Fork.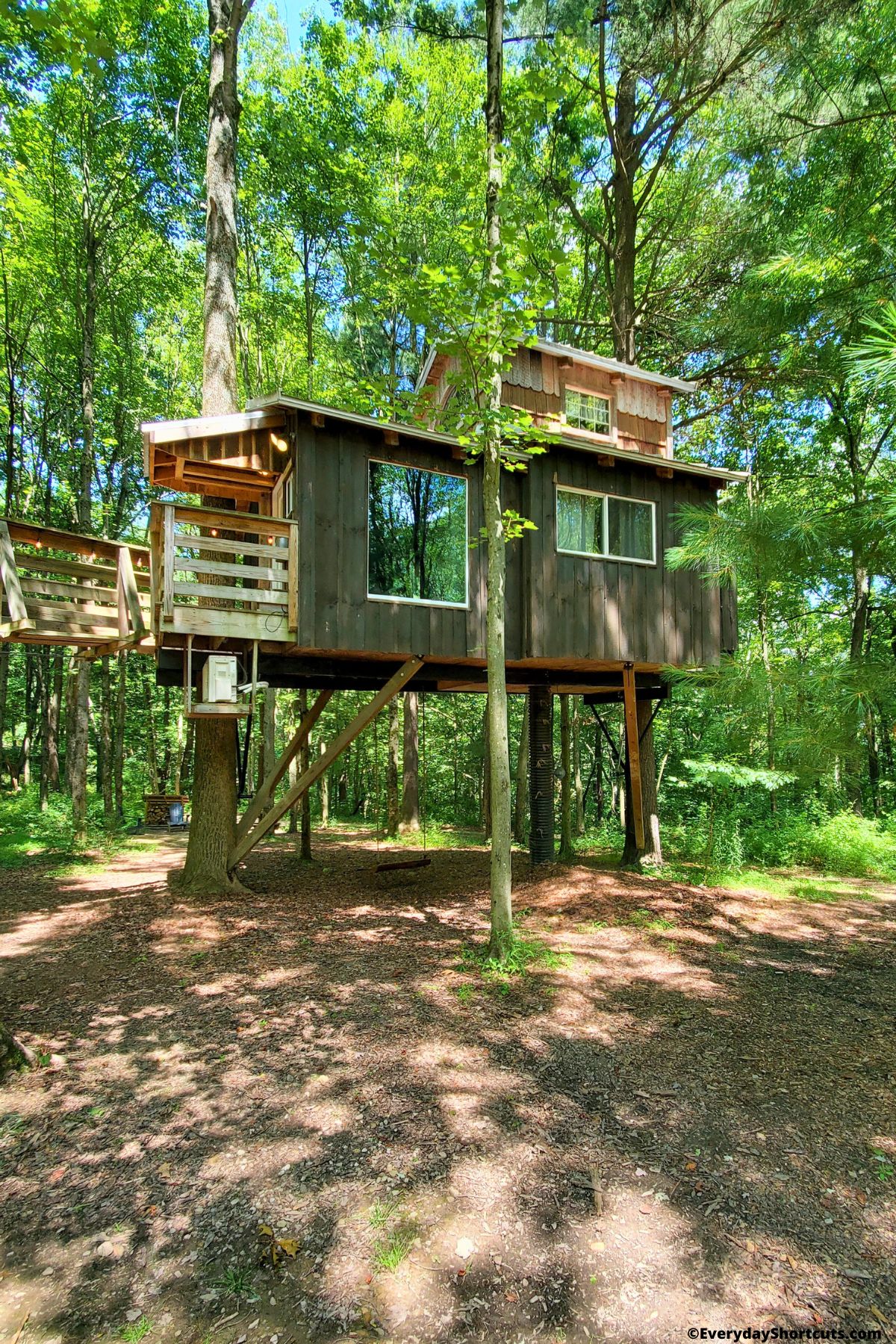 What to Know Before You Stay
Before embarking on this remarkable adventure, here are some essential things to consider:
Unplugged: There is no wi-fi or cell service when staying in the treehouse, however, we were able to get service by the fire with Verizon.
Pack Accordingly: If you plan on hiking, swimming, canoeing, etc., make sure to pack the appropriate clothes to do so. Comfortable clothes, shoes, insect repellent, sunscreen, swimsuits, etc.
Book in Advance: The Mohicans Treehouses are in high demand, so booking well in advance is recommended to secure your preferred dates and treehouse type.
Check Amenities: While the treehouses comes with lots of amenities there may be some things you will need in addition such as the firewood, charcoal, s'mores, etc.
Respect Nature: As nature lovers, it's vital to leave no trace behind and preserve the beauty of the surrounding environment during your visit.
A stay at The Mohicans Treehouses, is an experience unlike any other. Whether seeking a romantic escape, family adventure, or solo retreat, The Mohicans Treehouses offers an enchanting oasis that will leave you with cherished memories that last a lifetime.
Ready to book a stay? Visit The Mohicans Treehouse Resort and Wedding Venue to book your Ohio Treehouse Rental. You'll be glad you did!
A huge thanks to The Mohicans for hosting us!
More Ohio Destinations