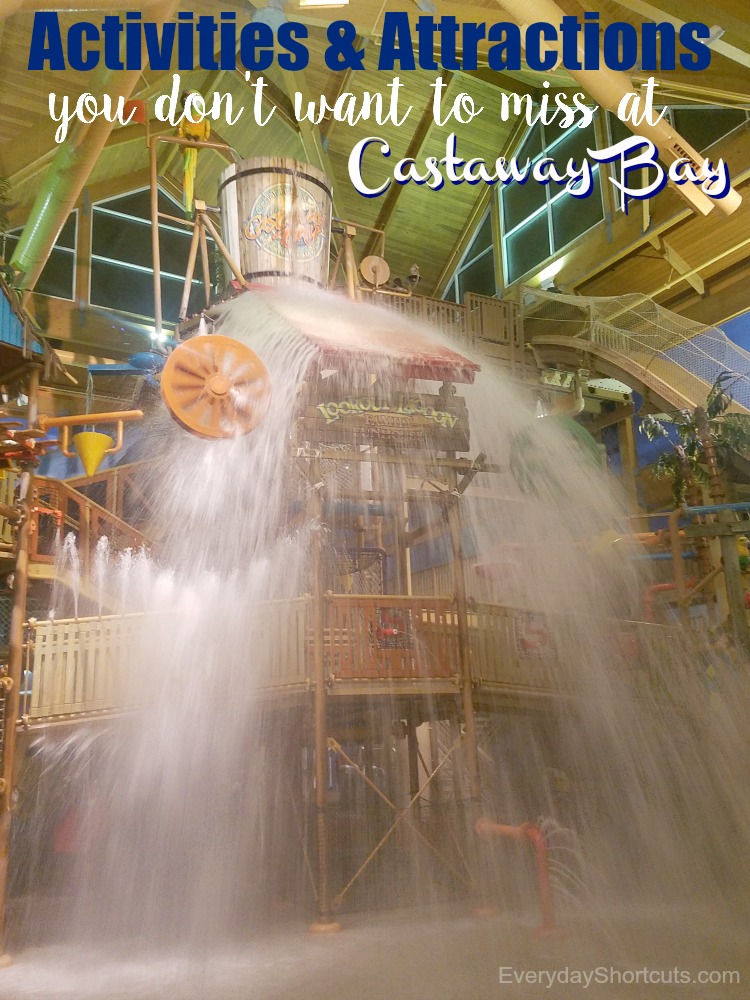 It's time to get away with freezing temperatures and cabin fever kicking in. The perfect place to do so is Castaway Bay in Sandusky, Ohio. Over 32,000 gallons of water, 82 degrees daily and plenty of activities and attractions for the entire family, there no reason to go anywhere else. Recently I took a trip to Castaway Bay for a hosted weekend with the family. No matter what age your kids are they is something for everyone.
Here is a list of activities and attractions for all ages that you don't want to miss at Castaway Bay.
Daily Activities
Each day there is a new list of activities located in the newsletter at the front desk. It will give the list of water park hours along with times each activity begins. The activities change daily so if you are staying more than one day get the newsletter each day. Most activities are located in Club Castaway on the 3rd floor unless noted otherwise. Activities include arts and crafts, games, karaoke, dance party, movie and more.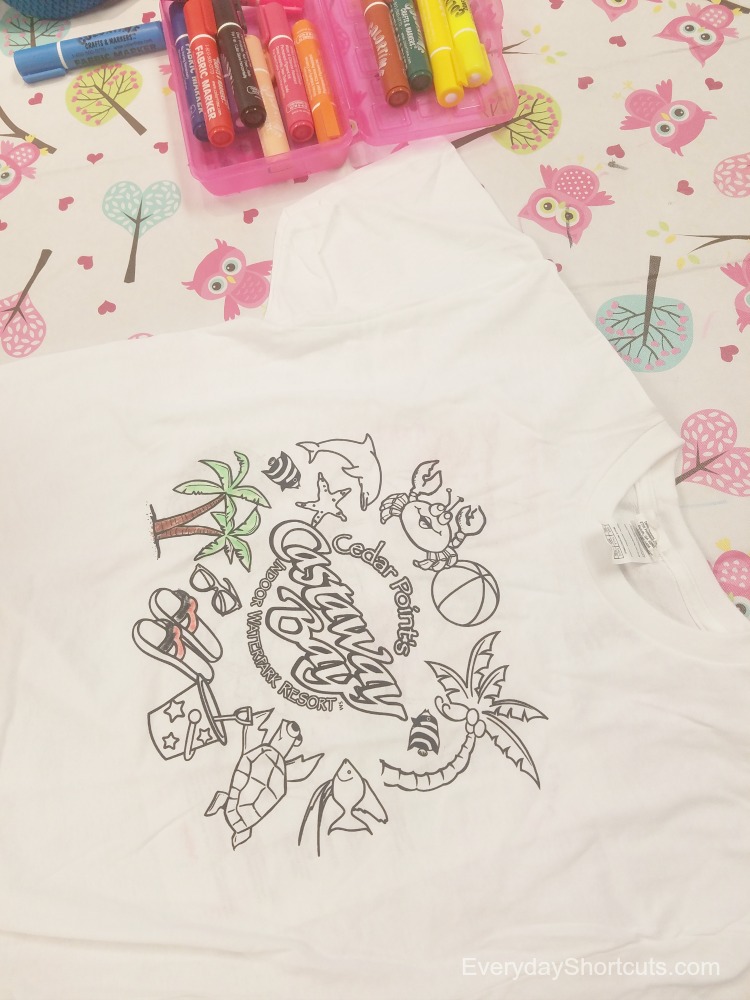 Coloring
Souvenir Coloring T-Shirts, Towels and Backpacks are fun and available for all ages. This activity is an additional charge and is located in Club Castaway on the 3rd floor. Use special markers to create your masterpiece to keep forever.
PEANUTS™ Meet and Greet
Meet Snoopy and the Peanuts Gang in the main lobby! Be camera ready to take photos with your favorite characters.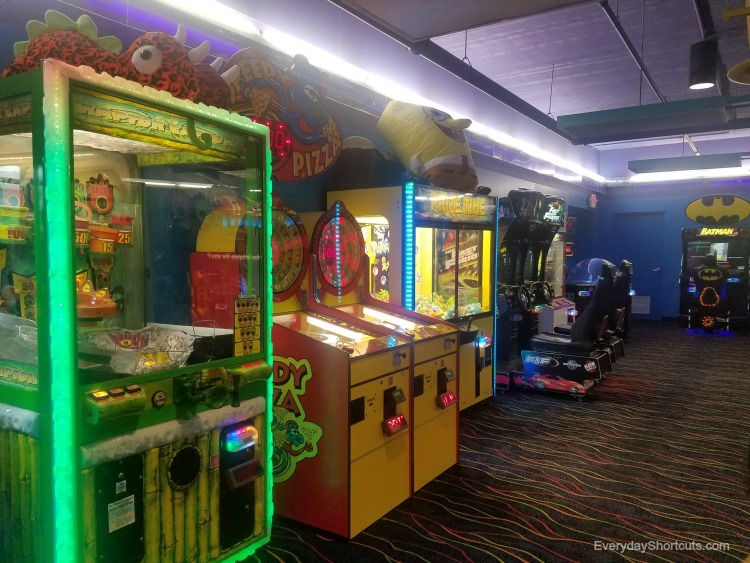 Crabbie's Quarterdeck Arcade
After hours of swimming, take a break in the 6,000-square-foot arcade. There are plenty of games to play that use a reloadable arcade card to keep track of tokens and tickets. Redeem the tickets for prizes at the prize booth.
Attractions
Rendezvous Run
35-foot-high, 520-feet-long water coaster that propels riders in two-person boats uphill using water jets before they race to the bottom.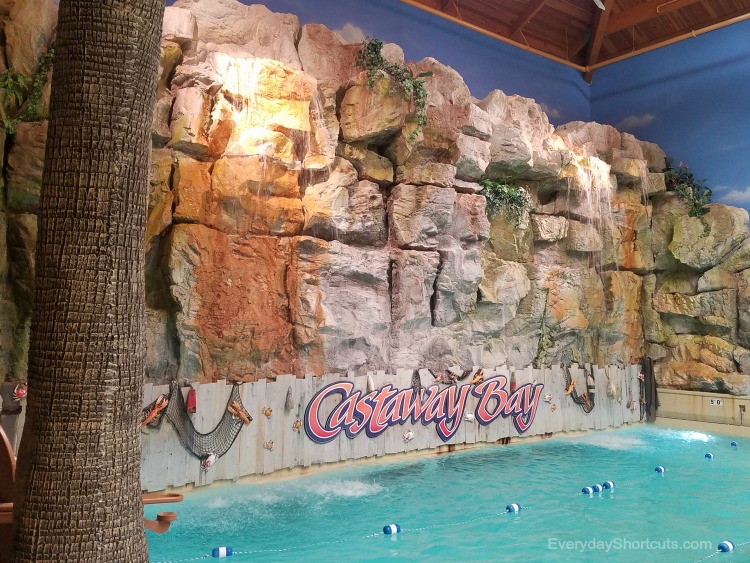 Castaway Bay Wave Pool
Ride the waves every 10 minutes in 100,000-gallons of water. Starts at zero entry all the way to 5 feet and is fun for all ages.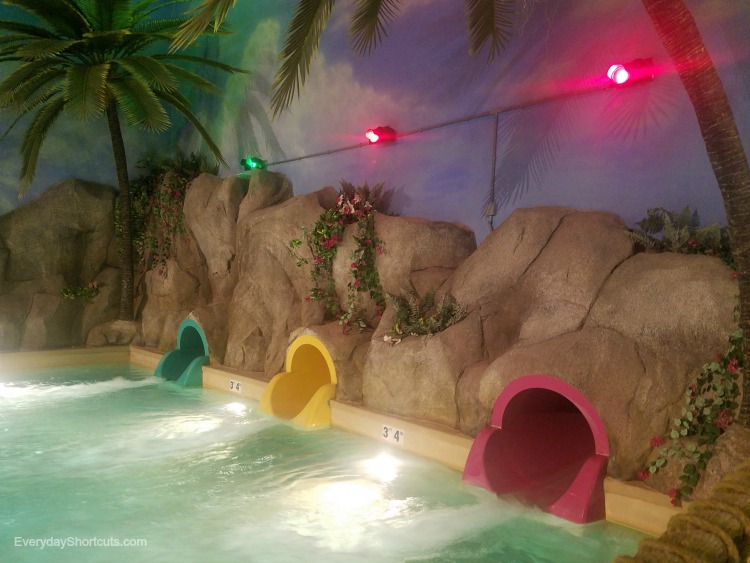 Tropical Tube Slides
Choose 1 or all 3 bright-colored enclosed tubes that go outside to inside and splashing into a pool below.
Lookout Lagoon Family Funhouse
This multi-story water structure includes everything from water dumping water sprayers, water slides and more. The 1,000 gallon bucket dumps water every 2 minutes to anyone standing below it. It's cool, fun, and refreshing.
Toddler's Tide Pool
At 18 inches depth of water the little ones can cool off with water slides, sea creatures, and more.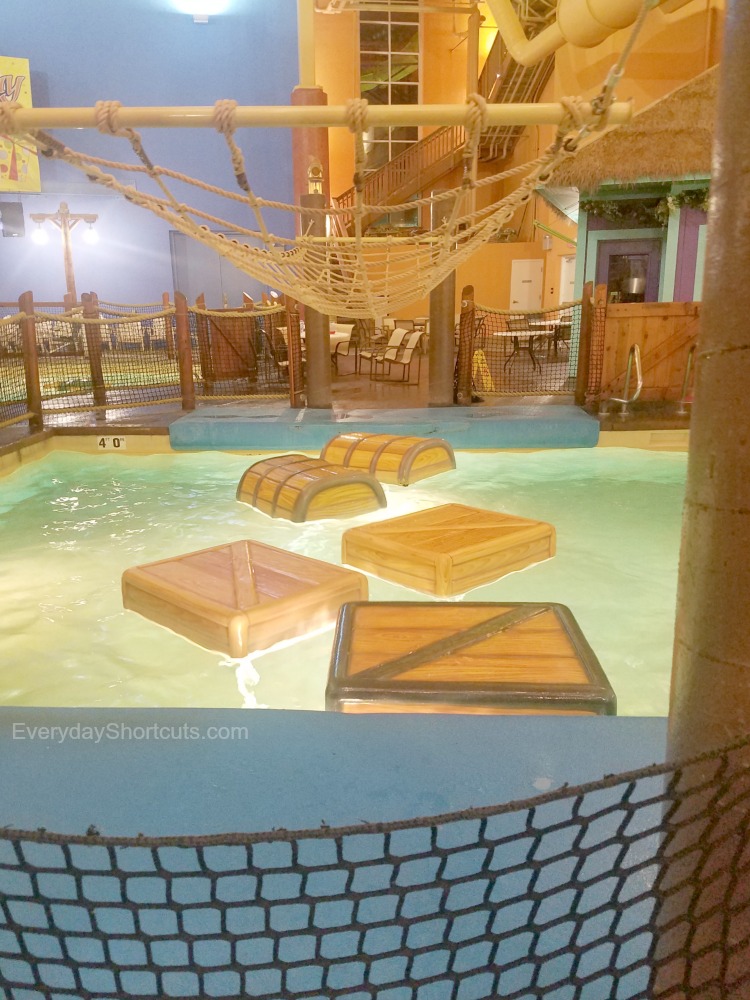 Cargo Crossing
Take the challenge of crossing to the other side by handing onto a net and stepping on floating treasure chests. It may look easy but harder than you think.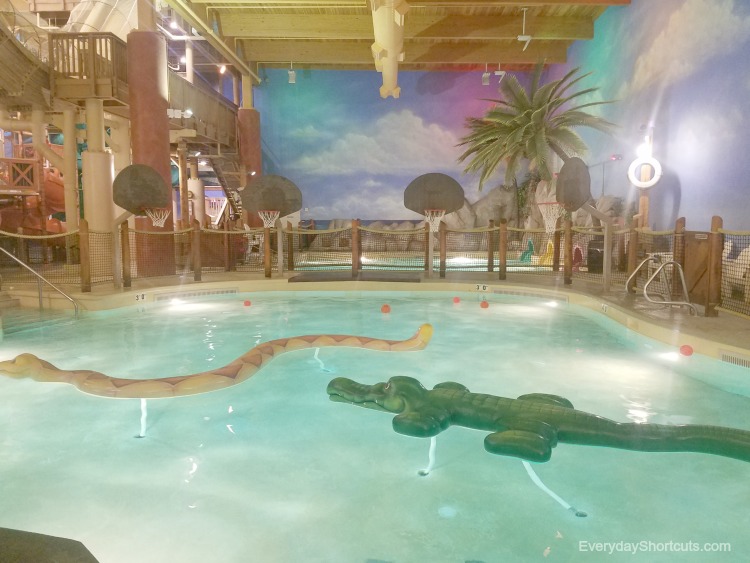 Creature Cove
Play a game of basketball while swimming with some sea creatures such as the snake, alligator and more.
Grotto Spa
Warm up in a 50 person hot tub that is indoor and outdoor. Yes, you can swim in the winter but going thru the flaps to reach the outside. Watch the steam rise from the pool in the winter. Kids and adults love this.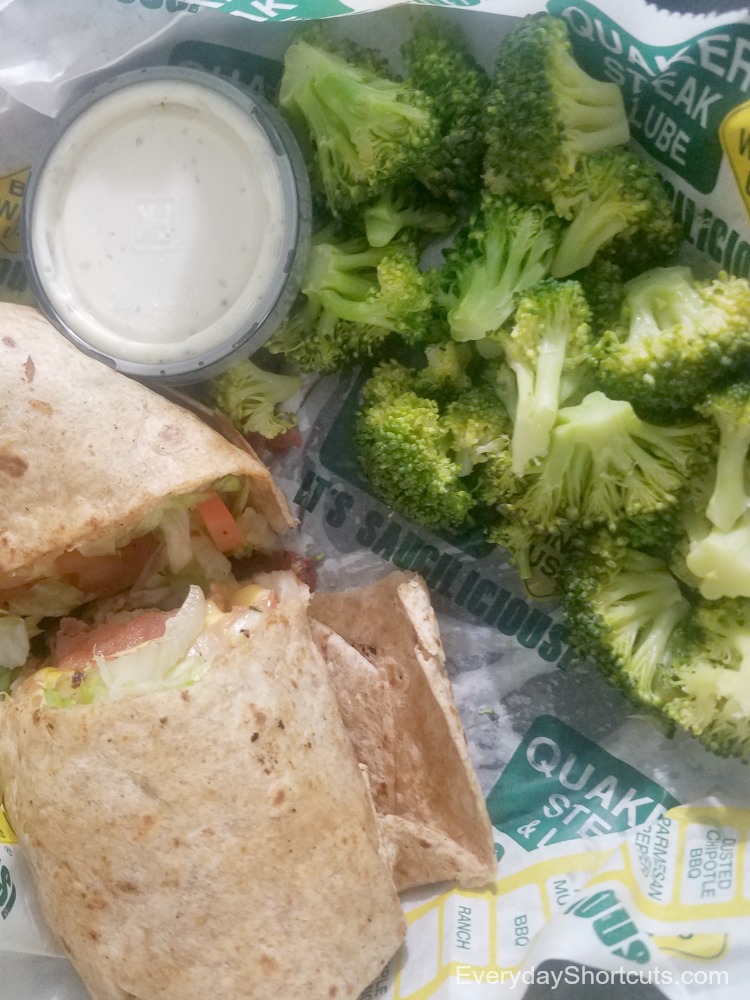 Restaurants
Quaker Steak and Lube
New to Castaway Bay is award-winning ribs & burgers and wings attached to the hotel. You never have to leave the location as everything is right there. And if you don't feel like eating in the restaurant you can order it to go and take it to your room to eat.
Ebb & Eddy's
Did I mention that Castaway Bay has Starbucks coffee? This is usually a selling point for me as well as others. You can find coffee and other various breakfast items daily here.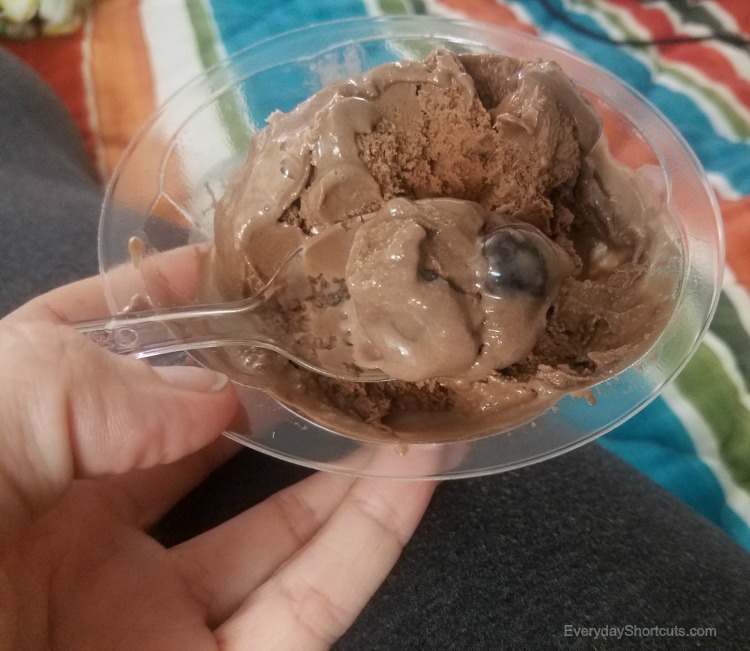 Big Daddy's Snack Shack
Need a late night snack? This is the place to go from ice cream to a variety of snacks to crave any kind of hunger.
Mango Mike's
Open for breakfast buffet that varies daily from pastries to cereal to eggs, bacon and more.
And if that is not enough choices to cure your cravings you can always order room service or eat in a restaurant nearby.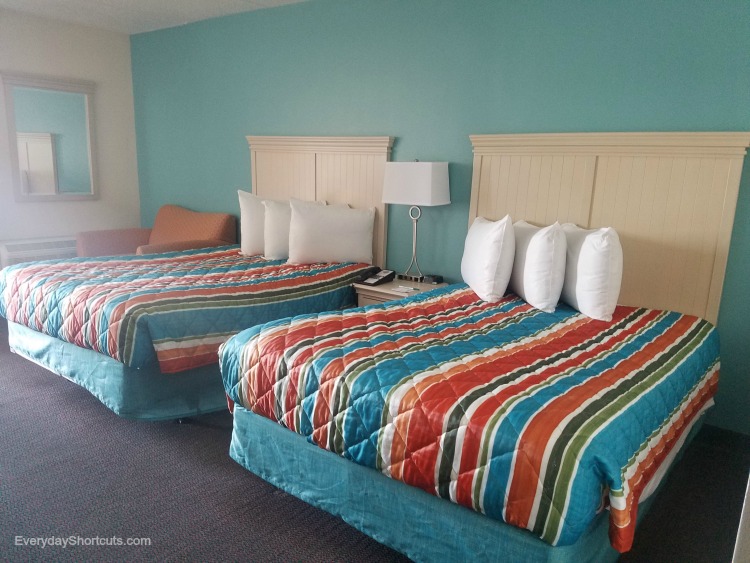 Reservations can be made online at castawaybay.com or by calling 419.627.2106
Disclosure: I was provided a night's stay and passes by Castaway Bay featured in this post to facilitate my review. All opinions are 100% mine and not influenced in any way.