Perfect for Thanksgiving dessert without all the fuss, this No Bake Pumpkin Pie recipe is simple to make and tastes delicious!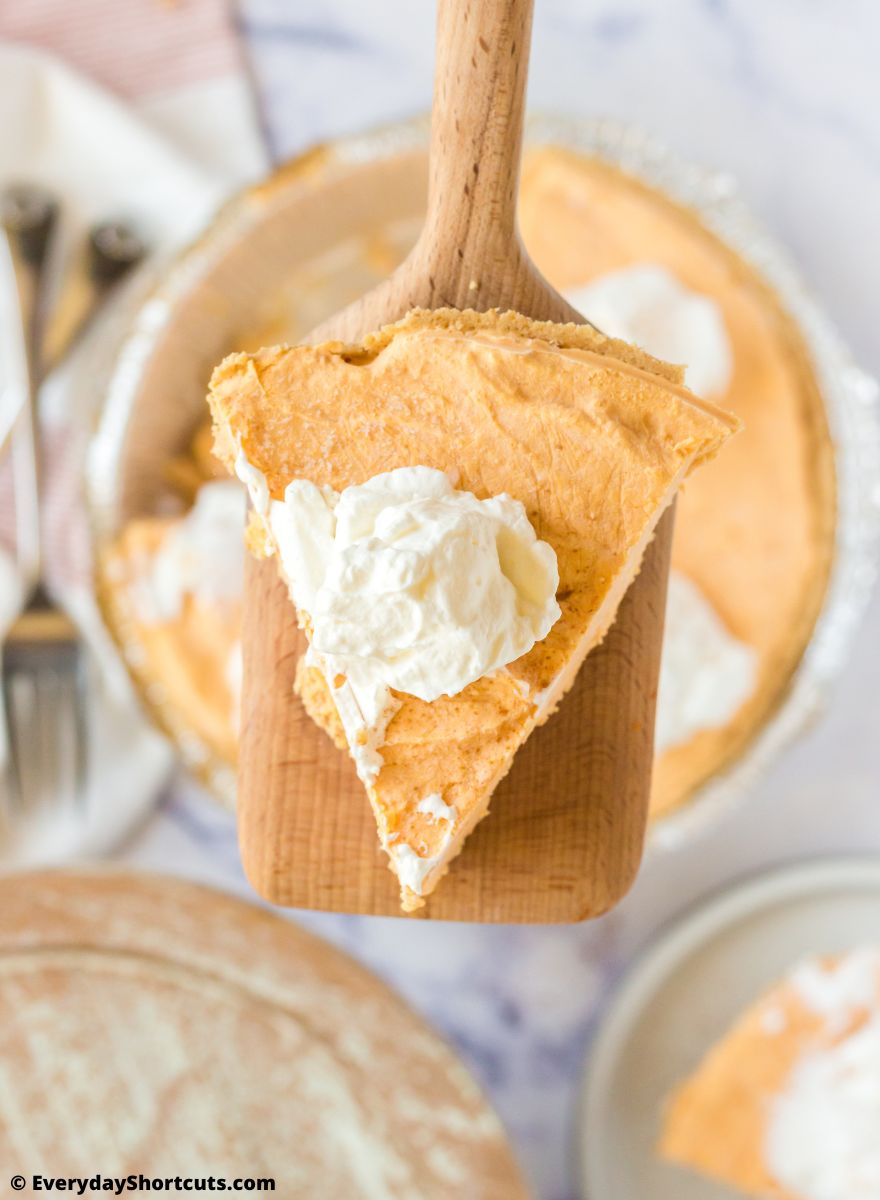 No Bake Pumpkin Pie is the smoothest, creamiest, most luscious pumpkin dessert you will ever make! This easy, 15-minute icebox pie boasts all the warm pumpkin and cinnamon flavors you love without the pain and hassle of trying to bake a perfectly cooked pumpkin pie.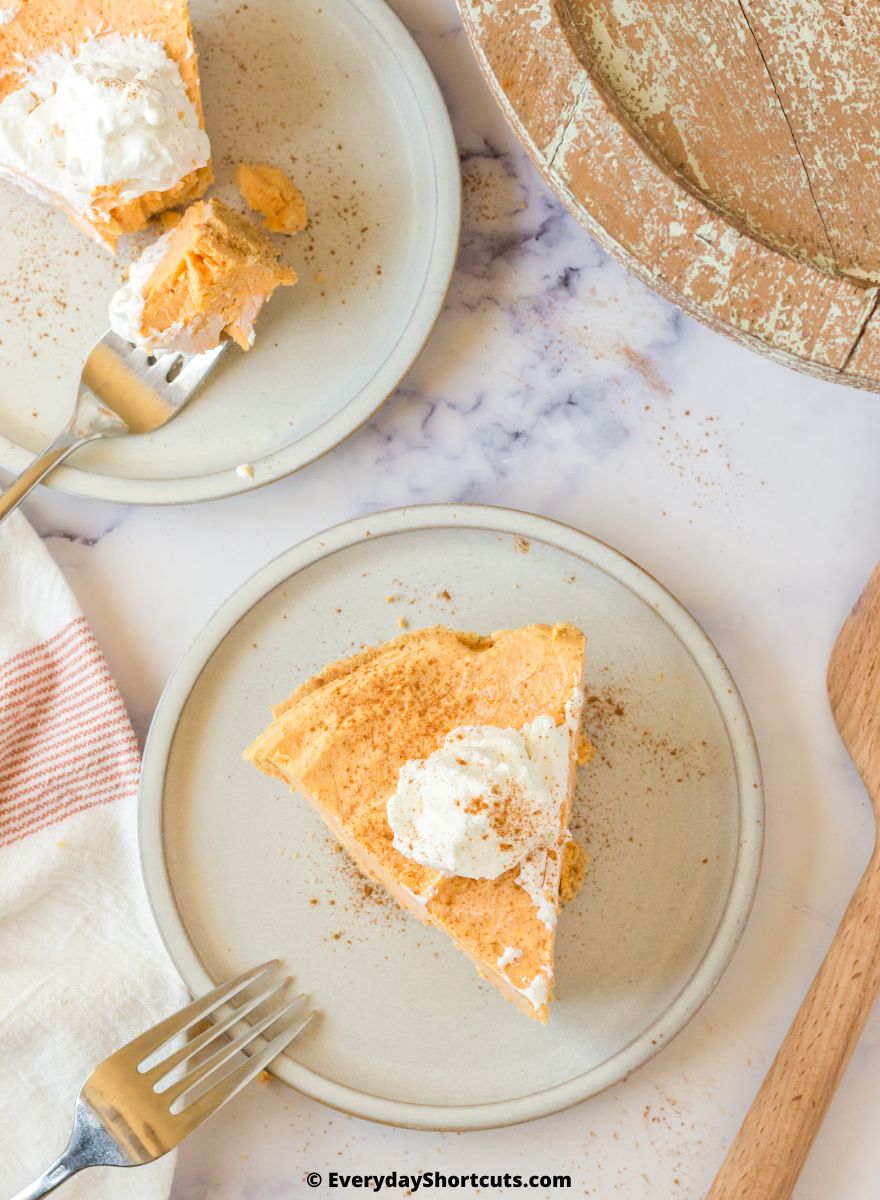 I hate the stress of making a from-scratch baked pumpkin pie. So many things can easily go wrong and I've seen too many budding bakers throw in the towel over this high-pressure dish.
That's why, when I'm craving the classic flavors of a pumpkin pie but don't want to spend hours anxiously watching the oven, I make this no bake pumpkin pie instead! Made with sweet pumpkin purée, heavy whipping cream, and pumpkin pie spice, this easy freezer dessert is sure to satisfy any pumpkin pie craving.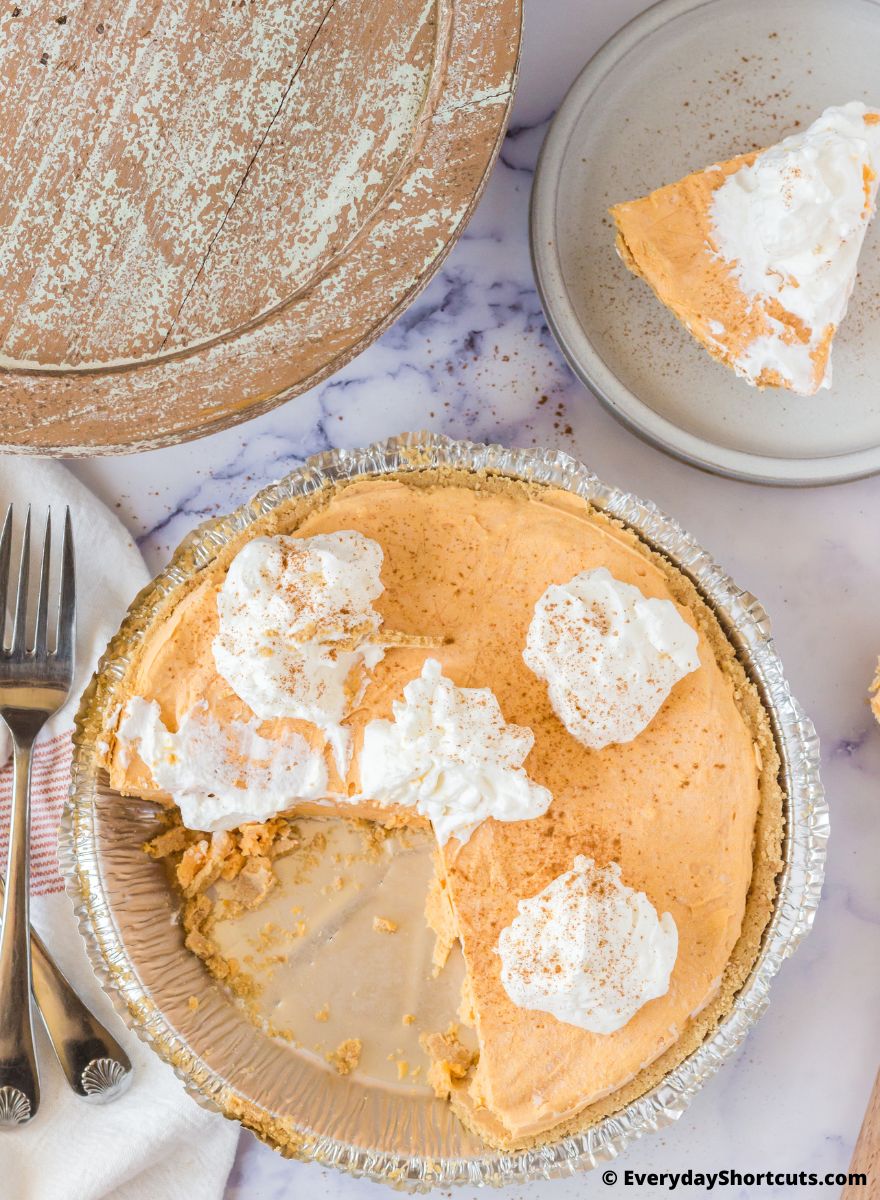 So many no-bake pie recipes out there require you to use gelatin, pudding, or gelatin to set your pie; but not this one! My no bake pumpkin pie without pudding uses cream cheese instead to naturally thicken this cool and creamy treat.
You can feel good knowing that this pie is made with more wholesome, natural ingredients. Plus, any cheesecake fans out there are sure to appreciate the subtle tang and sense of richness that this key ingredient brings to this recipe.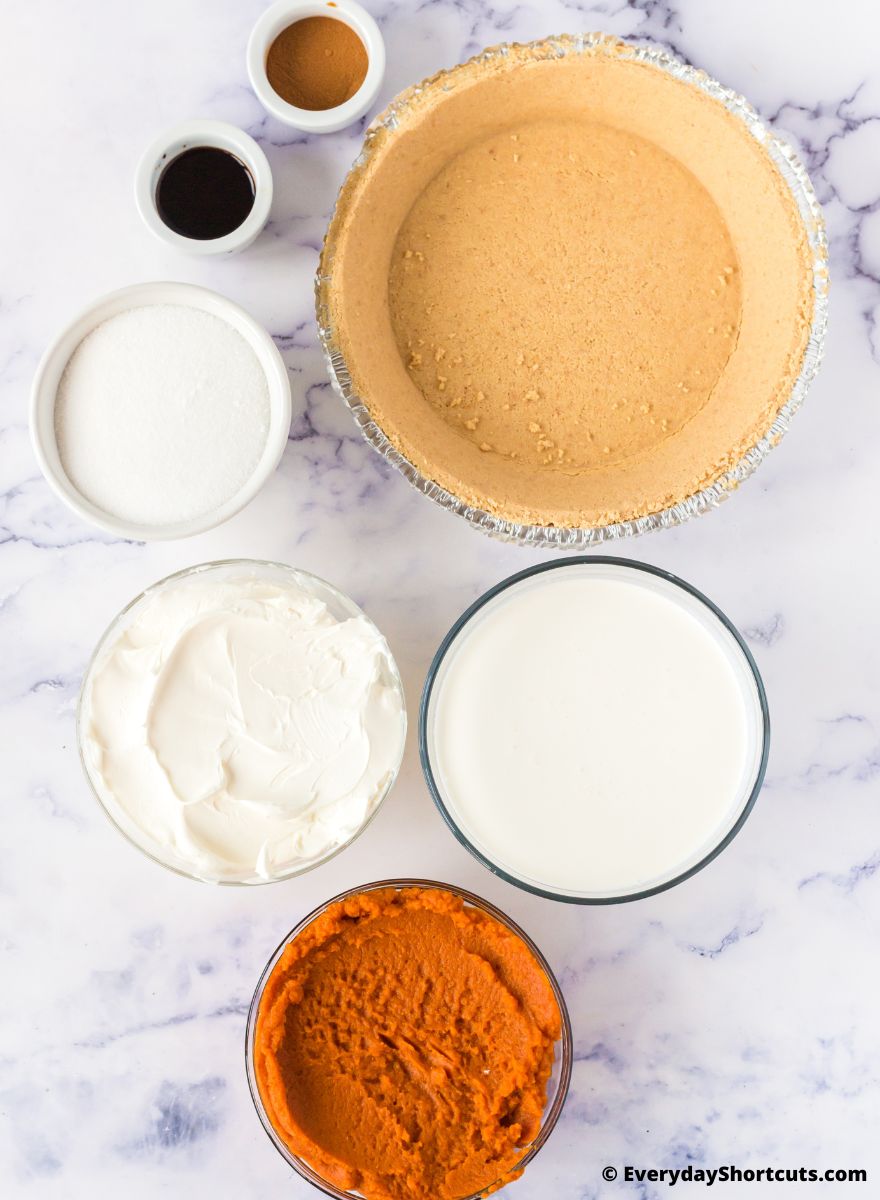 Ingredients You'll Need
Pumpkin Purée—Canned or homemade will add a subtle earthy sweetness.
Cream Cheese—Thickens your pie filling, allowing it to set in the fridge instead of the oven.
Heavy Whipping Cream—Adds smoothness and tons of rich, creamy flavor.
Granulated Sugar—Or powdered sugar will balance out the tang of the cream cheese.
Vanilla—Just a splash of this extract will give this no bake pie that signature homemade flavor.
Pumpkin Pie Spice—A store bought spice mix or your own blend of cinnamon, nutmeg, cloves, and ginger.
Graham Cracker Crust—Adds a light and buttery crunch to the base of this thick and creamy pie.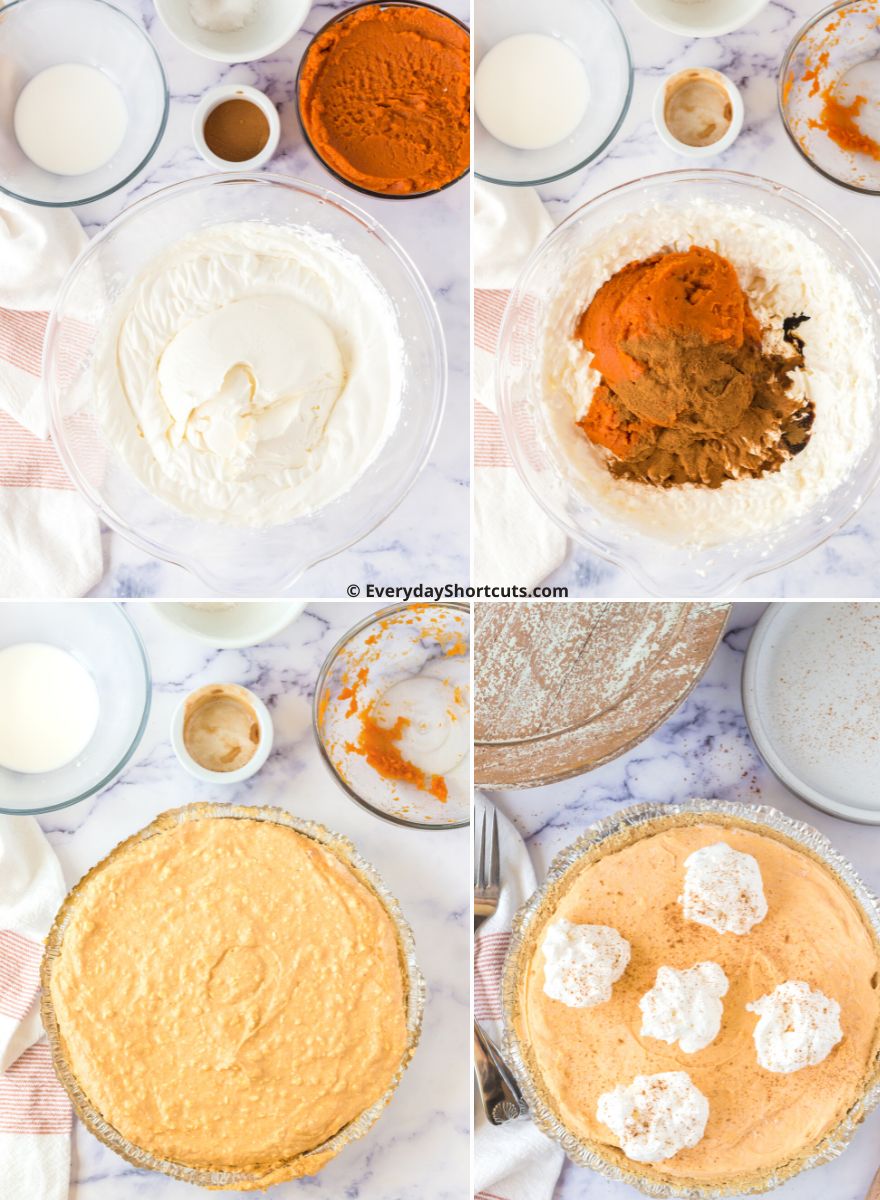 How to Make the Best No Bake Pumpkin Pie
Use an electric mixer to whip the heavy cream and sugar to soft peaks.
Add the cream cheese and mix until smooth.
Gently fold in the pumpkin purée, vanilla extract, and pumpkin pie spice.
Pour the pie filling into the prepared graham cracker crust and allow the pie to set completely in the freezer.
Top with additional whipped cream, slice, serve, and enjoy.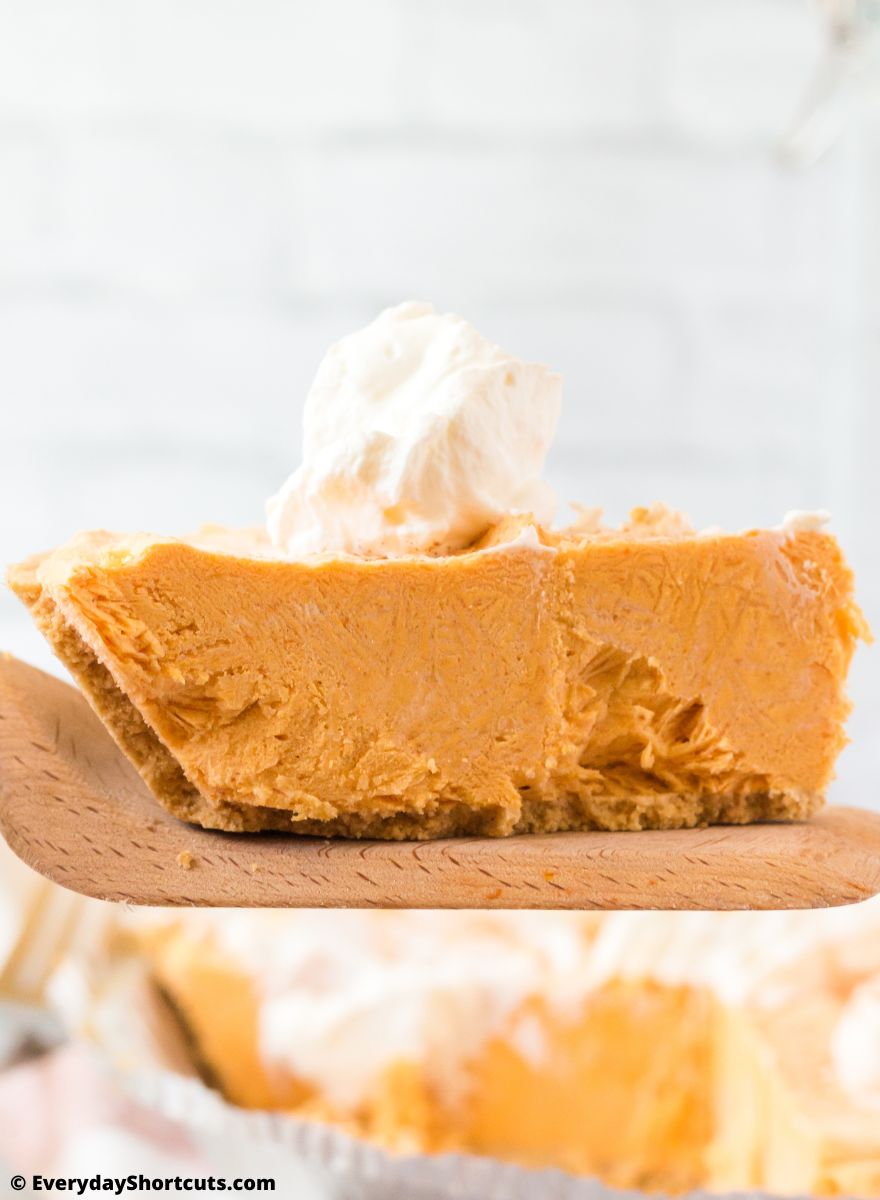 FAQs
Is no bake pumpkin pie healthy?
Although this pumpkin pie does have fruit in it, I wouldn't necessarily call it healthy. However, by substituting a few of the ingredients, you can make this dessert much healthier! Try swapping out the graham cracker crust for a nut-based crust, the granulated white sugar for coconut or maple sugar, and the cream cheese for Neufchatel cheese.
Can I make this no bake pumpkin pie vegan?
Absolutely! Simply use plant-based cream cheese instead of regular and coconut cream instead of heavy whipping cream. Oh, and don't forget to make sure that your graham cracker crust is dairy-free!
Do I have to make this pumpkin pie in a pie dish?
No! You can easily make your own graham cracker crust and use it to line any shape of pan. Try making this recipe in a jelly roll pan to get no bake pumpkin pie bars or in a cupcake tin to make no bake pumpkin pie cups.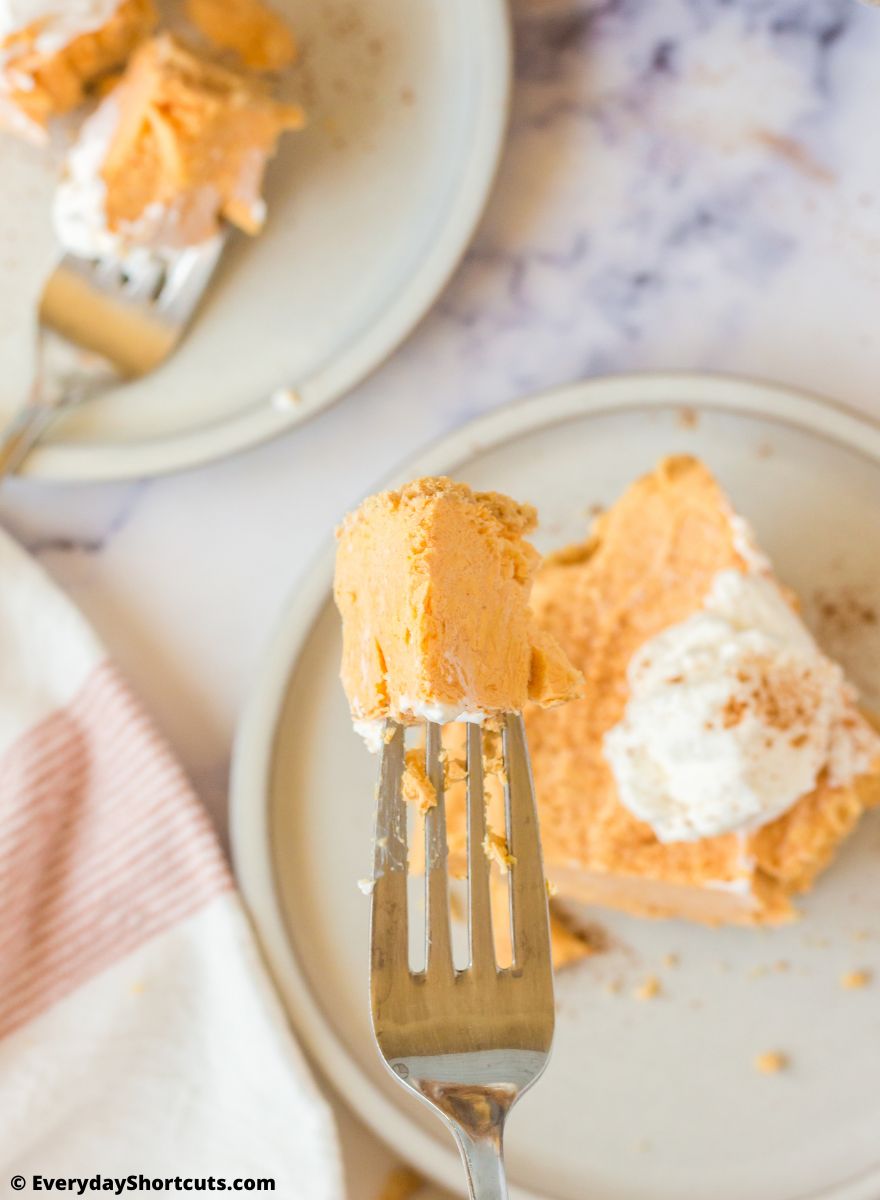 Recipe Variations
Make this no bake pumpkin pie gluten free by using gluten free graham crackers and a bit of butter to make your own crust. Simply blend the two ingredients together until the mixture resembles wet sand and press it into the bottom of a pie tin.
Get creative with the crust. Wanting to make a more traditional tasting pumpkin pie? Try setting your filling in a prebaked pie pastry crust. Love chocolate? Use an Oreo cookie crust. Gingersnap crust anyone? The possibilities are endless.
Add some additional spices. If you're a huge fan of warm, aromatic spices, then you'll want to add some ginger, cardamom, star anise, and allspice to this no-bake pumpkin pie.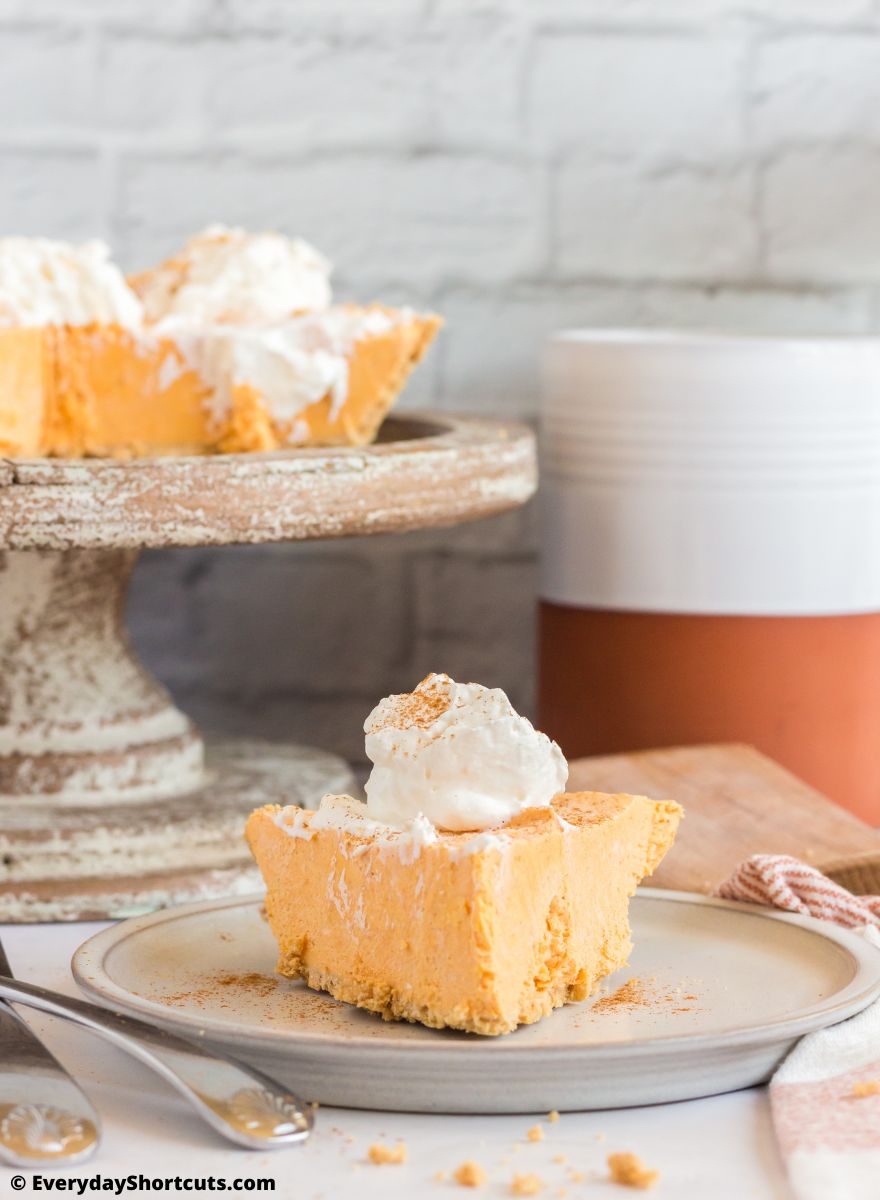 What Goes Well with No Bake Pumpkin Pie?
This pie is absolutely delicious when topped with a generous dollop of freshly whipped cream. Feel free to also get a little fancy by garnishing this beautiful pie with some additional pumpkin pie spice, graham cracker crumbs, or sprigs of mint.
This dense and delicious no bake pumpkin pie pairs super well with all your favorite holiday dishes. It's the perfect sweet finish to a meal filled with turkey, stuffing, mashed potatoes, roasted veggies, and homemade dinner rolls. Oh, and don't forget the apple cider!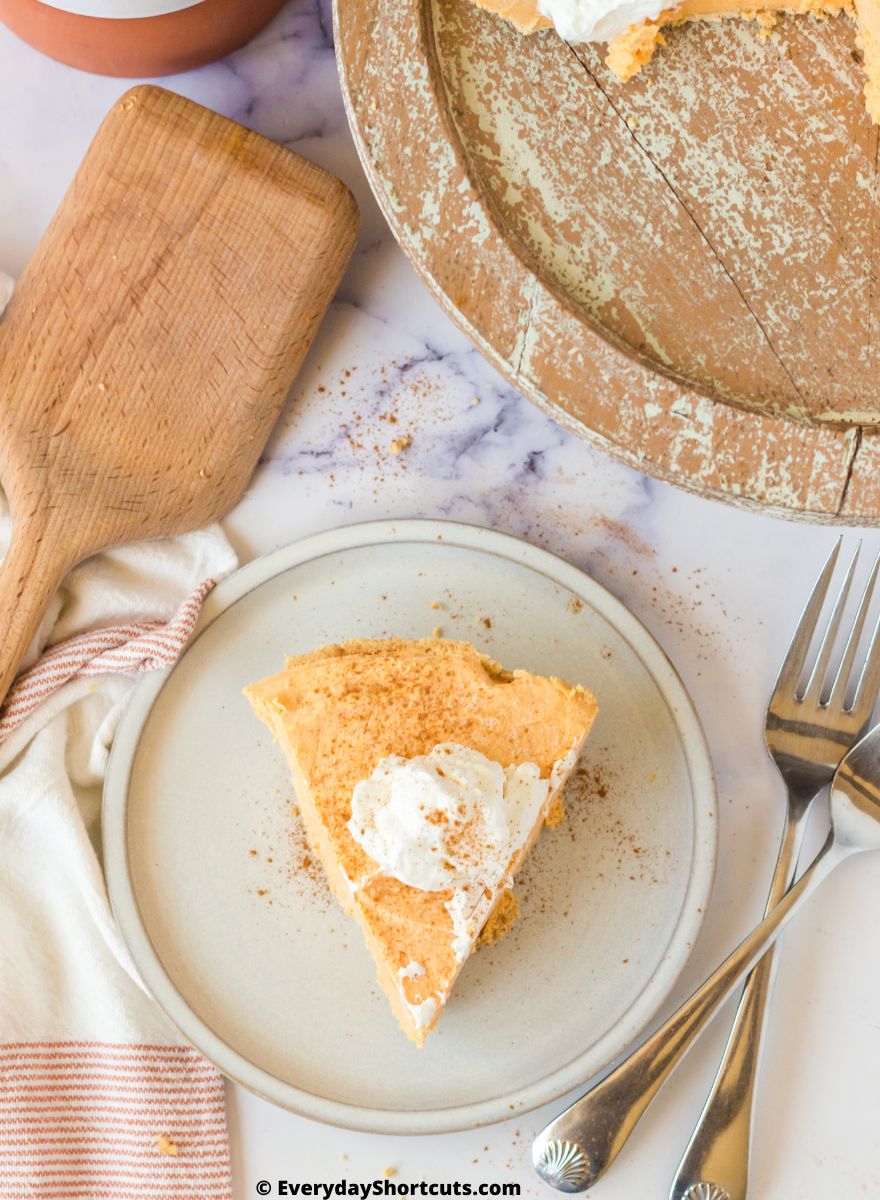 Expert Tips and Tricks
I highly recommend allowing your frozen pie to sit out on the counter for 10-15 minutes before you serve it. This will make slicing it so much easier.
This no bake pumpkin pie will stay good in the freezer for up to 2 months. Just be sure to cover the top with some tinfoil or plastic wrap!
It's important that you use room temperature cream cheese when making this pie. Cold cream cheese will not be able to properly whip into the rest of the ingredients.
Try not to let your icebox pumpkin pie sit out for more than 35 minutes! It's texture and flavor will be best when served cold.
Recipe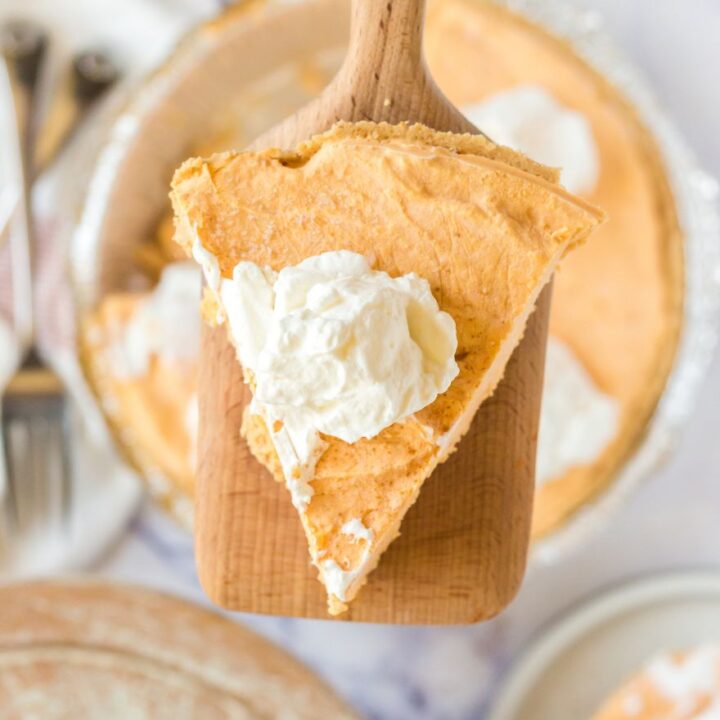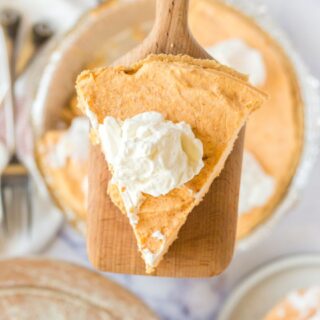 No Bake Pumpkin Pie
Perfect for Thanksgiving dessert without all the fuss, this No Bake Pumpkin Pie recipe is simple to make and tastes delicious!
Ingredients
1

store-bought graham cracker crust

2

cups

heavy whipping cream

1

cup

white granulated sugar

2

8 oz blocks cream cheese, room temperature

1

cup

pumpkin puree

1

tsp

vanilla extract

2

tsp

pumpkin spice
Instructions
In a large mixing bowl, use an electric hand mixer to whip the heavy cream and sugar together until soft peaks begin to form.

Whisk in the cream cheese until the mixture is smooth and homogenous, with no chunks of cream cheese remaining.

Gently whisk in the pumpkin puree, vanilla extract, and pumpkin spice until the added ingredients are evenly distributed throughout the mixture.

Pour the mixture into the graham cracker crust and allow the cheesecake to set in the freezer for six hours.

Allow the cheesecake to sit on the counter for 10 minutes before slicing, top with whipped cream, serve, and enjoy!
Notes
Allowing the cheesecake to sit out for 10-15 minutes makes it much easier to slice and lets the cheesecake soften a bit to give you a nice velvety texture.
If you want to make your own graham cracker crust, simply combine two cups of crushed graham crackers with ½ cup of melted unsalted butter.
It is important to let the cream cheese sit until it is at room temperature, otherwise it will not whip properly, and you will be left with chunks of cream cheese in your cake.
You can store this cake in the freezer for up to two months.
You can let this cake sit on the counter for up to 35 minutes before it should be put back in the freezer. Any longer than this and the cheesecake begins to get a bit too soft.
This cheesecake is great served with a dollop of freshly whipped cream and a sprinkle of pumpkin spice or cinnamon.
Nutrition Disclosure
Nutritional facts are estimates and are provided as a courtesy to the reader. Please utilize your own brand nutritional values to double check against our estimates. Nutritional values are calculated via a third party. Changing ingredients, amounts or cooking technique will alter the estimated nutritional calculations.