Learn how to season your Blackstone griddle in this easy tutorial to achieve optimal cooking performance and create a flavor-enhancing surface for all your favorite dishes!
If you've recently acquired a new Blackstone griddle but are unsure how to properly season it, fret not!
In this comprehensive guide, I will walk you through the step-by-step process of seasoning your Blackstone griddle to perfection.
Seasoning is a crucial step in ensuring your griddle's longevity, preventing rust, and achieving that perfect non-stick surface that will make your cooking experience a delight.
So, let's get started and have your Blackstone griddle ready for some fantastic grilling sessions!
How to Season a Blackstone Griddle for the First Time
Before you begin seasoning your Blackstone griddle you will need some basic supplies. These supplies consist of the following:
Metal tongs
Paper towels
Oil (see what to choose in step 2)
Bowl
Bucket of water
Dish soap (such as Dawn)
Soft sponge
Step 1: Preparing the Griddle
Before you begin the seasoning process, ensure your Blackstone griddle is clean and free from any manufacturing residues. Use warm, soapy water and a soft sponge to do so. Turn on the griddle and let it heat up on high for about 15 minutes. This will open up the pores of the metal and allow the oil to bond effectively.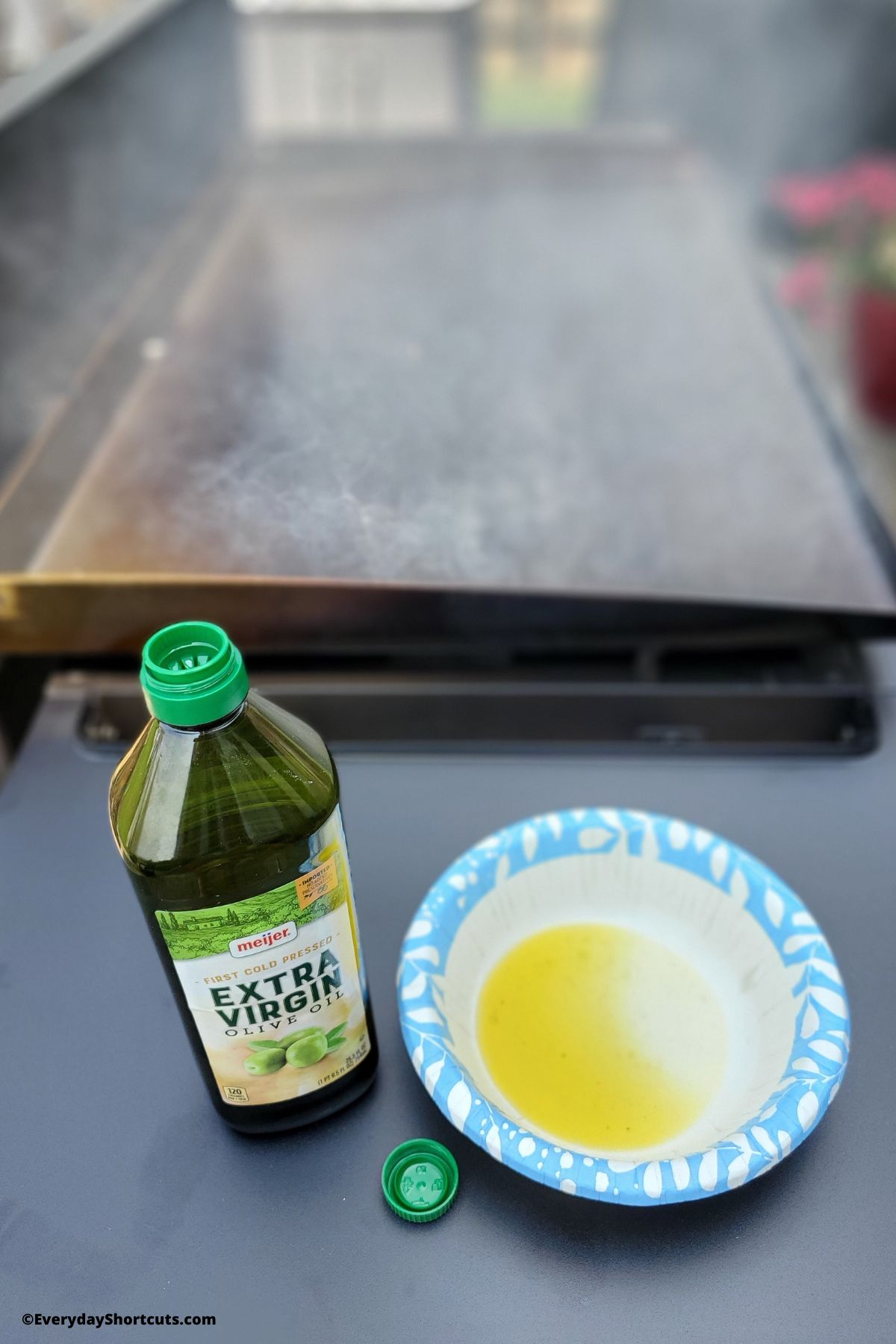 Step 2: Choosing the Right Oil
Next, you'll need to select the oil you want to use for seasoning. Popular options include vegetable oil, canola oil, or olive oil. Some people even use lard or tallow. Be cautious about using bacon grease, as it may not provide the best results. Ultimately, the choice of oil is up to you, but ensure it is a high smoke point oil suitable for cooking at high temperatures.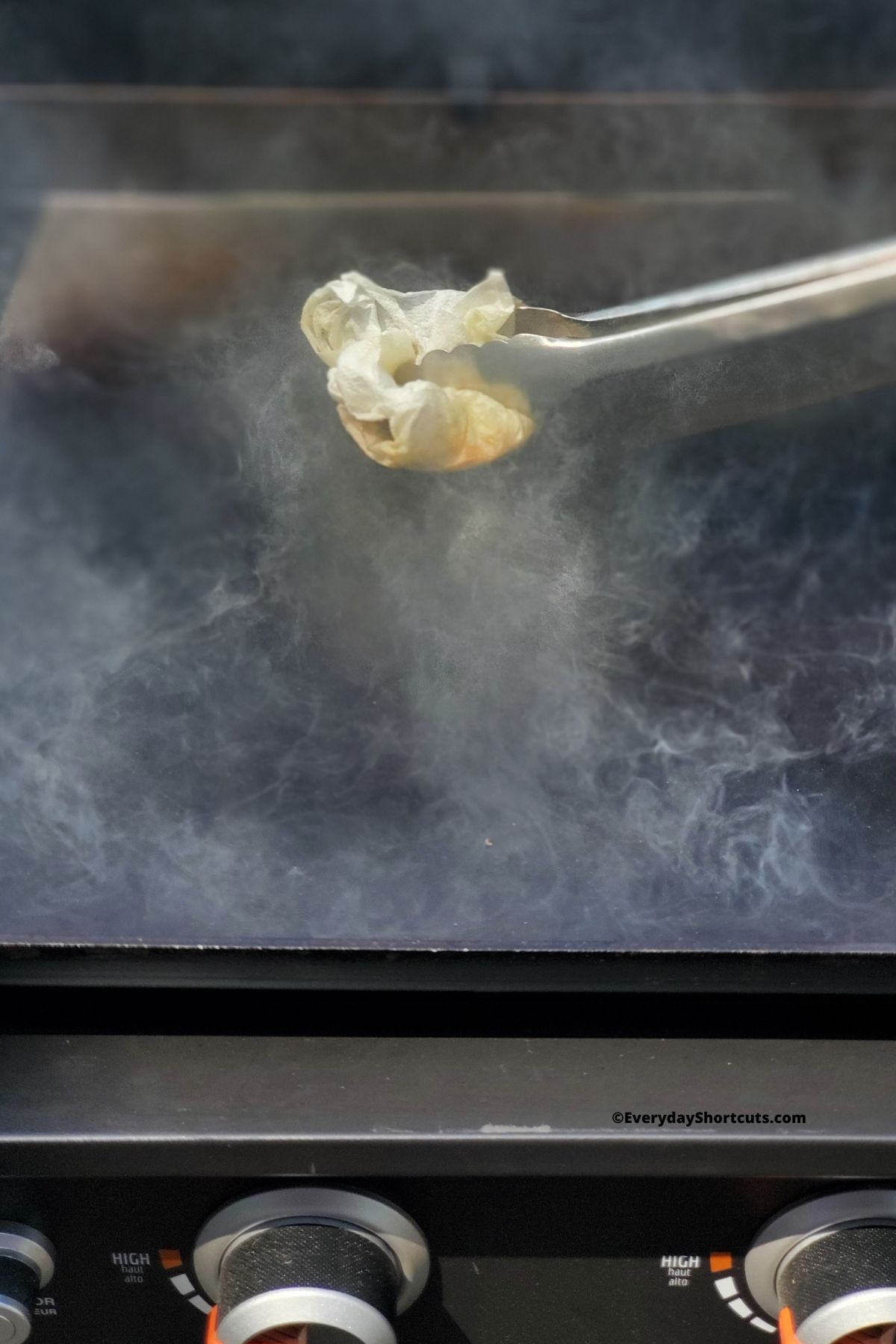 Step 3: Applying the First Coat
Now, let's get to the heart of the Blackstone griddle seasoning process. Pour a small amount of your chosen oil into a bowl. Take a paper towel and wrap it into a ball. Pick up the paper towel ball with the tongs to create a makeshift brush. Dip the paper towel into the oil and apply smooth, even strokes all over the griddle's surface. Make sure to cover every inch of the griddle top to create a protective layer.
Step 4: The Smoking Stage
As you apply the oil, you will notice the griddle smoking. This is completely normal and part of the seasoning process. The heat causes the oil to polymerize, transforming the griddle's surface into a non-stick coating. Keep in mind that the smoke might be a bit intense, so ensure proper ventilation in your cooking area.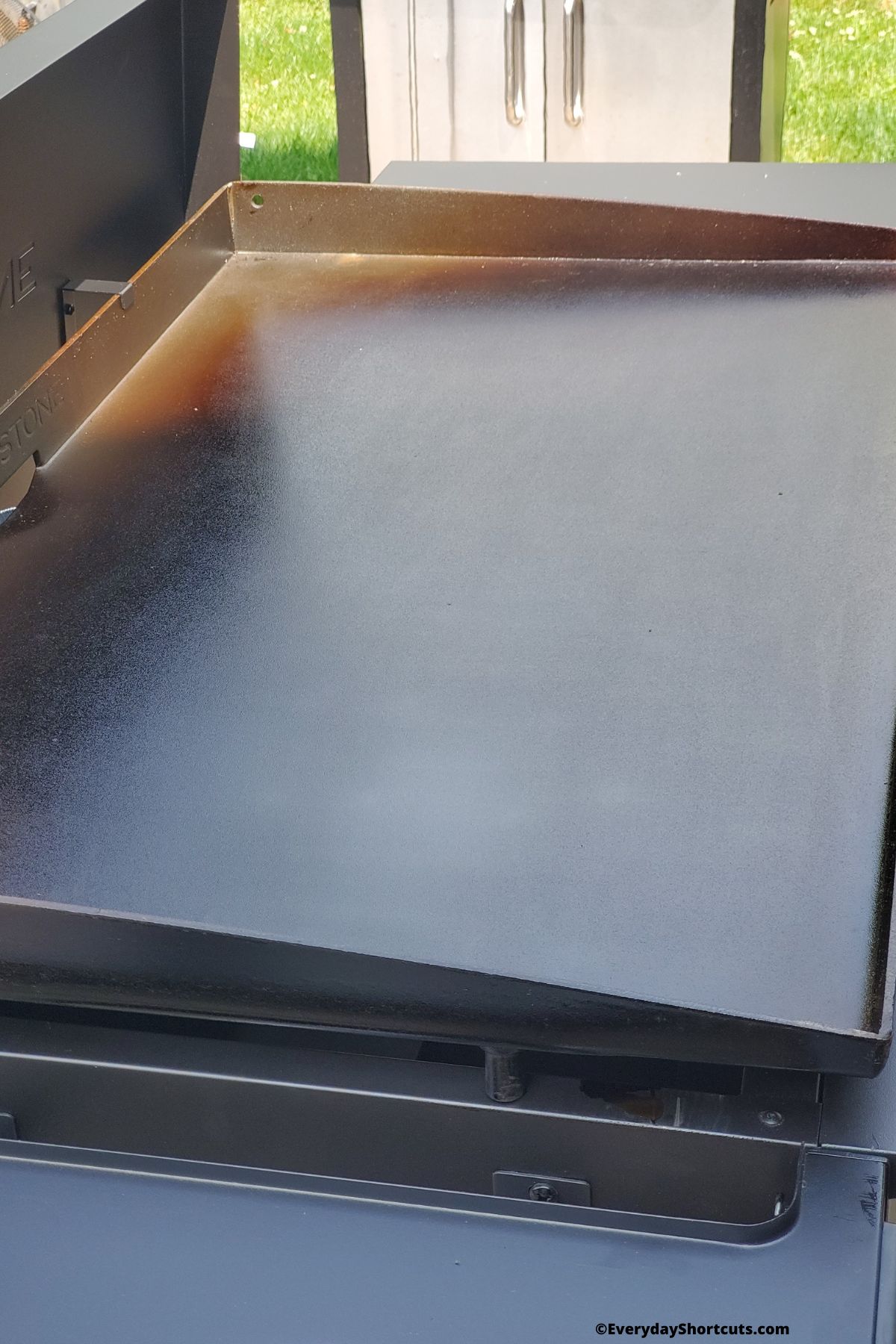 Step 5: Repeat and Build Up
Once the first coat has smoked off completely, it's time to apply the second coat. Repeat the process of oil application and smoking. For a well-seasoned griddle, it's generally recommended to apply a minimum of four coats. With each coat, you'll notice the griddle's surface becoming darker and more seasoned.
Step 6: Patience is Key
As you apply more coats, you might find that the back of the griddle doesn't season as evenly as the front. Don't fret; this is normal, and the griddle will continue to season as you cook on it over time. It's essential to be patient and keep applying coats until you achieve a consistent, deep color across the entire surface.
Step 7: The Final Touches
Congratulations! You've successfully seasoned your new Blackstone griddle and are ready to start grilling!
You can either let the griddle cool completely and store away till ready to use or cook on it right away. Over time, the seasoned surface will become more robust and provide an excellent non-stick cooking surface.
Looking for some Blackstone Griddle recipes? Try these loaded Italian sausages or loaded cheesesteak sandwich. Both are delicious cooked on the Blackstone griddle.
Blackstone Griddle Seasoning Tips
Make sure to leave no puddles of oil during seasoning and use smooth and even strokes.
Maintain the seasoning on your Blackstone griddle by applying a thin layer of oil after each use using the paper towel and tong method while it's still warm.
How to Clean Blackstone Griddle After Cooking
Avoid using soap to clean your seasoned griddle. Instead a griddle scrapper and some warm water to scrape away the residue or add some oil and scrub with a soft sponge.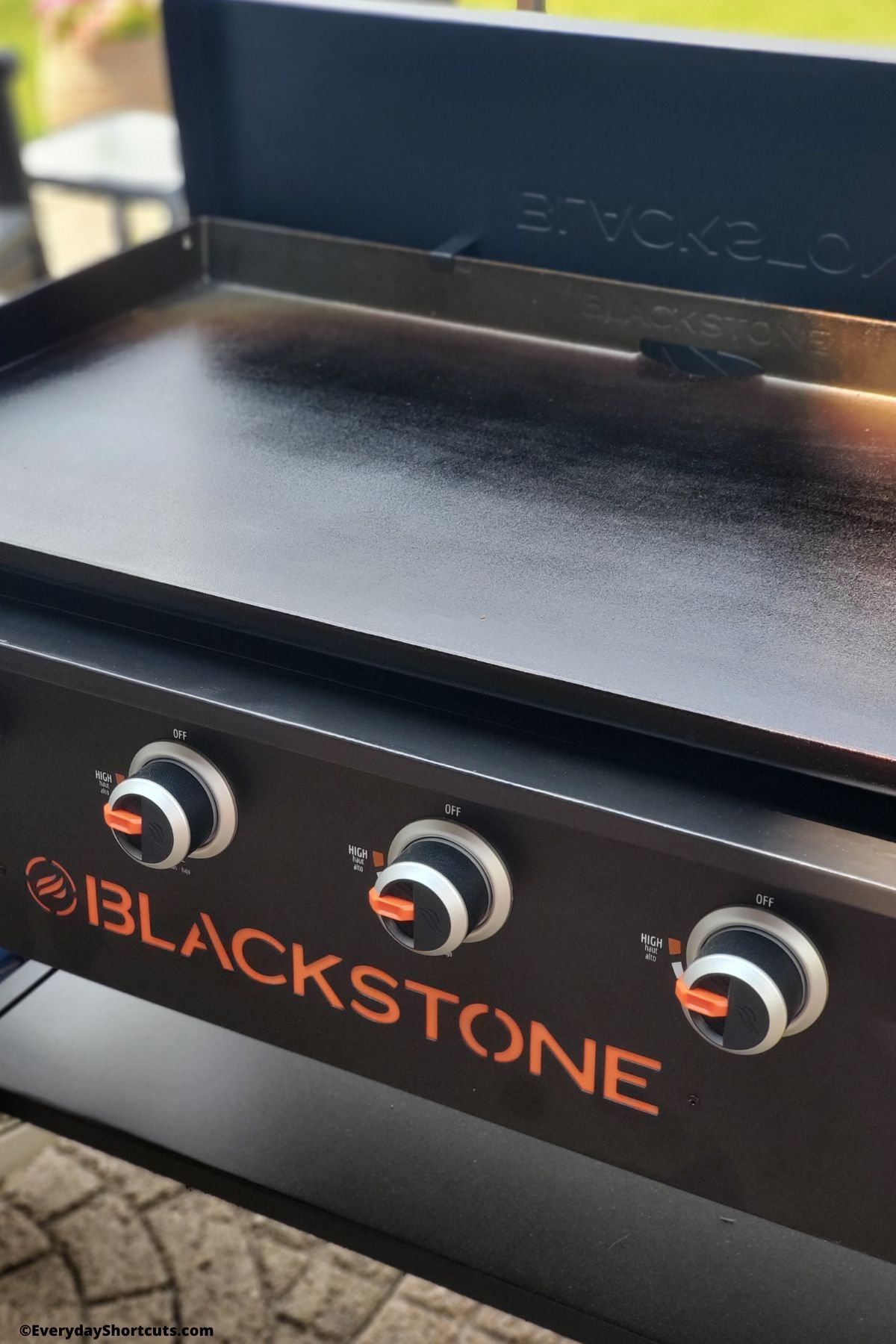 FAQs
Why do I need to season my Blackstone griddle?
It adds a protective layer to prevent it from rusting and making it non-stick on the cooking surface.
Do I need to season my griddle before the first use?
Yes! This is the most important step before you begin cooking on your Blackstone griddle.
How often do I need to season my Blackstone griddle?
It is recommended to season your griddle before every use and every 1-2 months depending on how often you use it.
Can I cook acidic foods on my seasoned griddle?
Acidic foods like tomatoes and citrus can break down the layers of seasoning. If you do cook them, make sure to re-season your griddle afterwards.