This Freezer Storage Guide will teach you how to properly store your food and maximize the efficiency of your freezer.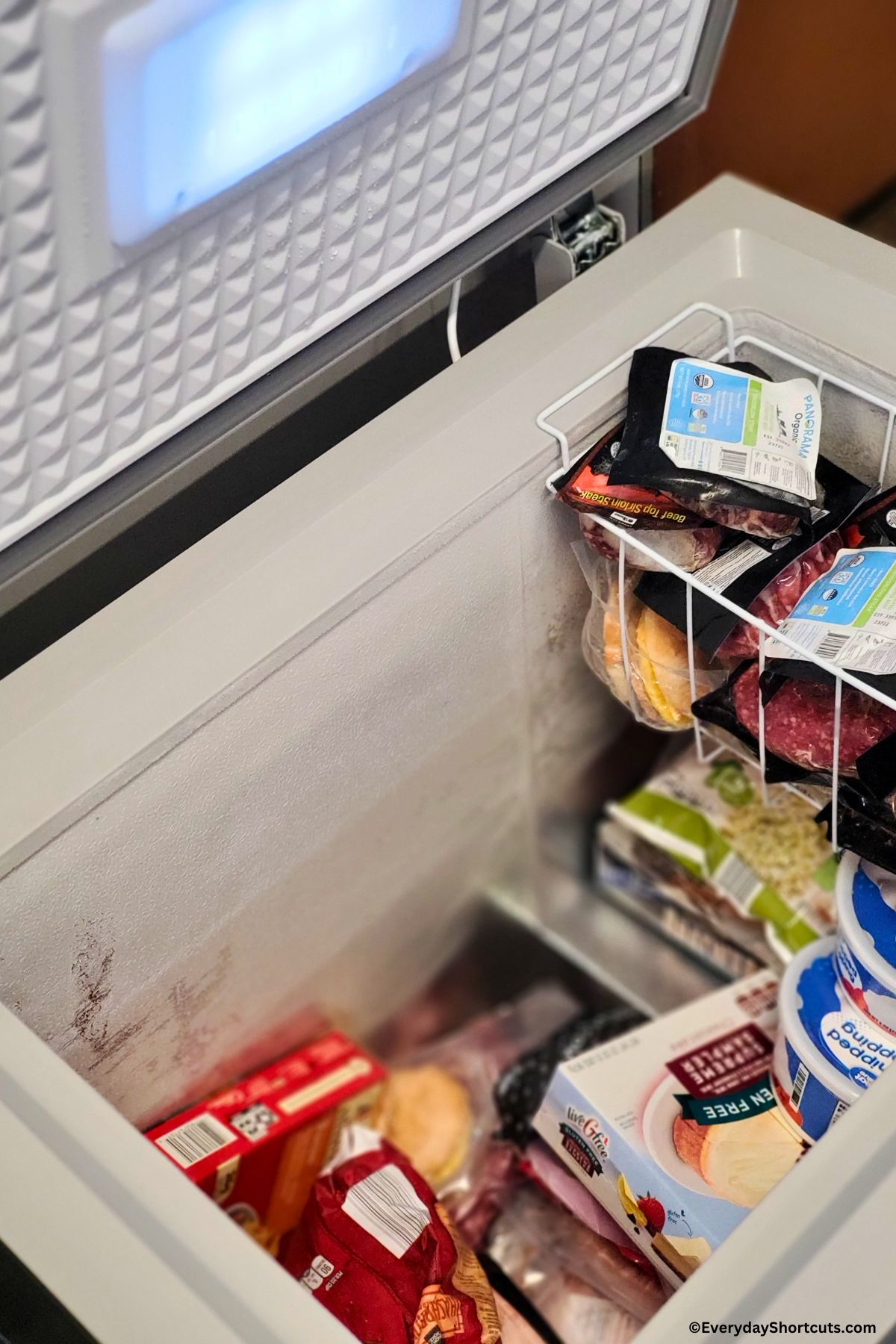 If you've ever found yourself wondering how long you can keep food in the freezer or what types of food are safe to freeze, then this post is for you.
Whether you're trying to save money by buying in bulk or simply want to make meal prep easier, understanding proper freezer storage techniques is essential.
In this Freezer Storage Guide, we'll explore the ins and outs of freezing food, including how to prevent dreaded freezer burn, a good freezer like the NewAir Chest Freezer (NFT050GA00) and some handy tips for storing your favorite meals.
So grab a pen and paper (or bookmark this page) because we're about to take your freezer game up a notch!
What is the recommended temperature to freeze food?
The recommended temperature to freeze food is 0 degrees Fahrenheit (-18 degrees Celsius) or below. This will make your food last longer and prevent it from spoiling.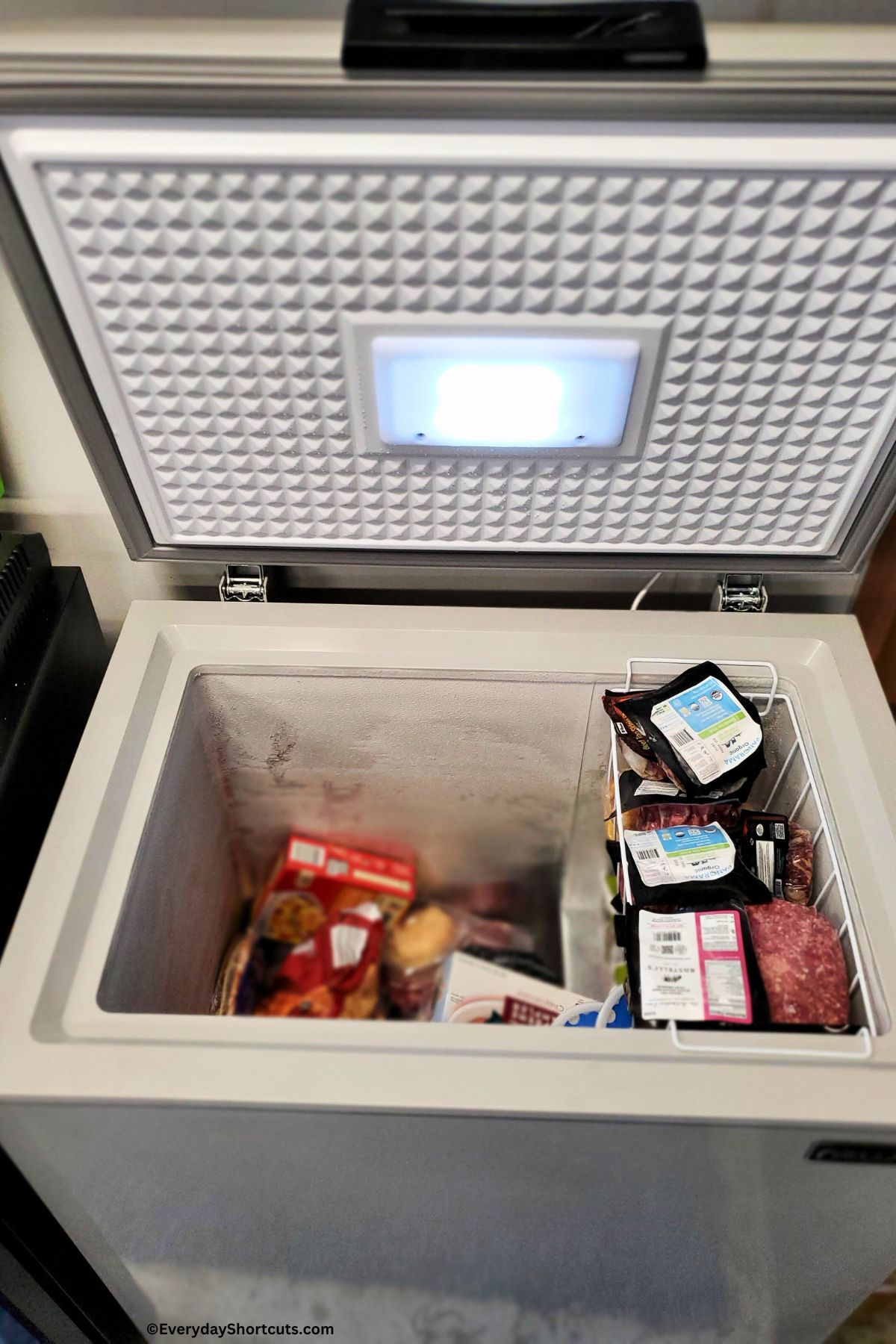 What types of food can you freeze?
One of the great benefits of having a freezer is being able to freeze a wide variety of foods, extending their shelf life and reducing waste. But what types of food can you actually freeze? The answer may surprise you!
Fruits: Berries, sliced bananas, grapes, mangoes, and many other fruits.
Vegetables: Most vegetables can be frozen while some cannot. See the full list in the freezer timing guide below.
Meat and poultry: Chicken, turkey, beef, pork and lamb.
Fish and seafood: Many varieties of fish, shrimp and scallops.
Baked goods: Breads, muffins, cookies and cakes.
Dairy products: Cheese (hard cheeses freeze better than soft ones), butter, yogurt, and milk.
Soups and stews: Free in individual portions for convenient meals later on.
Prepared meals: Many cooked dishes, such as casseroles, lasagna, and stir-fries, can be frozen. Divide them into individual servings or family-sized portions for easy reheating.
Nuts and seeds: Nuts, such as almonds, walnuts, and pecans. Seeds, like flaxseeds or chia seeds.
Herbs: Basil, parsley, cilantro, mint, dill, rosemary thyme, sage, oregano and chives can be frozen and a whole or chopped up. If freezing herbs in oil, pour in ice cube trays for individual portions.
It's important to know that the flavor and texture may alter in some foods after freezing. Learn how to properly package, freeze and thaw your foods using the techniques we are about to discuss.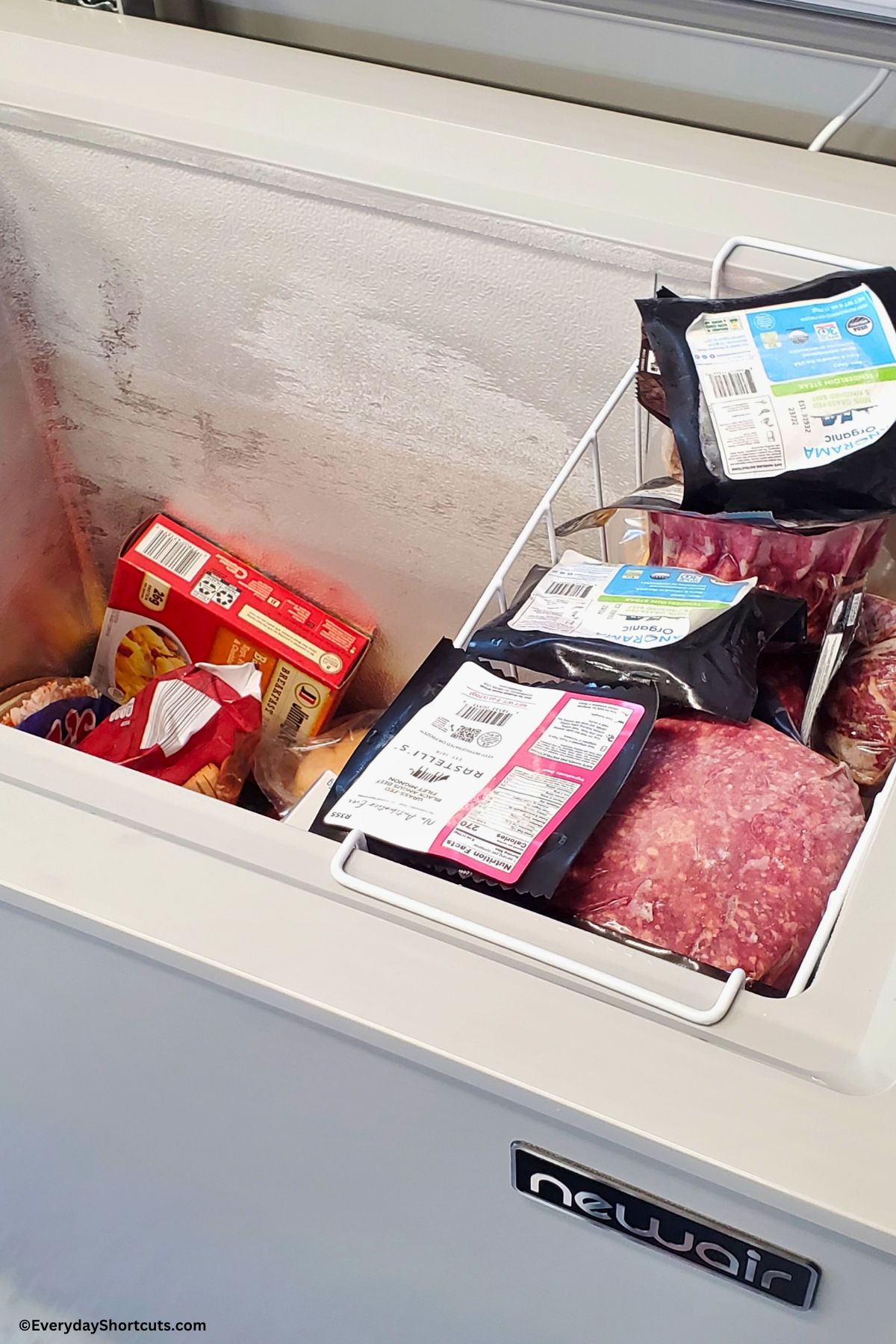 How long can you keep foods in the freezer?
When it comes to freezer storage, the shelf life of food can vary depending on what you're freezing. Some foods can be stored for months, while others have a shorter lifespan. Let's break it down:
Meats: Raw meats such as chicken, beef, and pork can be kept in the freezer for six to twelve months. Cooked meat can last three to four months and meat dishes like stews or casseroles last two to three months.
Fruits and Vegetables: Most fruits (except avocados, bananas, citrus fruit and fruit juices) and vegetables (except tomatoes, cabbage, cucumbers, salad greens, celery and radishes) can be frozen for eight to twelve months without losing their quality or flavor. You will need to blanch some vegetables before freezing to preserve their color and texture.
Dairy Products: Butter and hard cheeses can last up to six months in the freezer, while softer cheeses might only keep for one to three months. Milk can be frozen up to three months but leave room for expansion.
Baked Goods: Cakes, breads, and cookies are generally safe in the freezer for two to three months if properly wrapped or sealed.
Remember that these timeframes are general guidelines and may vary depending on factors such as packaging quality or temperature fluctuations in your freezer. Always use your best judgment when deciding whether food is still safe to eat.
How to Prevent Freezer Burn
Freezer burn is the worst. And no one wants to pull out a package of meat to find it ruined by freezer burn. So how to do you prevent it? Here are some tips:
Use proper packaging: Wrap your food tightly in moisture-proof and airtight packaging such as plastic wrap, aluminum foil, or heavy-duty freezer bags.
Remove excess air: When using plastic containers or bags, squeeze out as much air as possible before sealing them shut. This will help minimize the amount of oxygen that comes into contact with your food.
Freeze in small portions: Instead of freezing large quantities in one container, divide them into smaller portions before packaging and freezing them separately. Smaller portions freeze faster and more evenly, reducing the chances of freezer burn.
Label and date everything: Label your packages with the contents and date frozen so you can keep track of how long they've been stored in the freezer.
Tips for Storing Food in the Freezer
When it comes to storing food in the freezer, proper techniques can make all the difference in preserving freshness and flavor. Here are some tips to ensure your frozen goods stay top-notch:
Package properly: Use good quality freezer bags or airtight containers, label everything and store food in small portions.
Don't overcrowd the freezer: Make sure there's plenty of space in your freezer so that air can circulate properly. If your freezer is too full, the food won't stay cold enough and could spoil more quickly.
Organize strategically: Arrange items by category – fruits together, vegetables together, etc., – to easily locate what you need without rummaging through piles of frozen goodies.
Rotate regularly: Practice "first-in, first-out" by using older items before newer ones.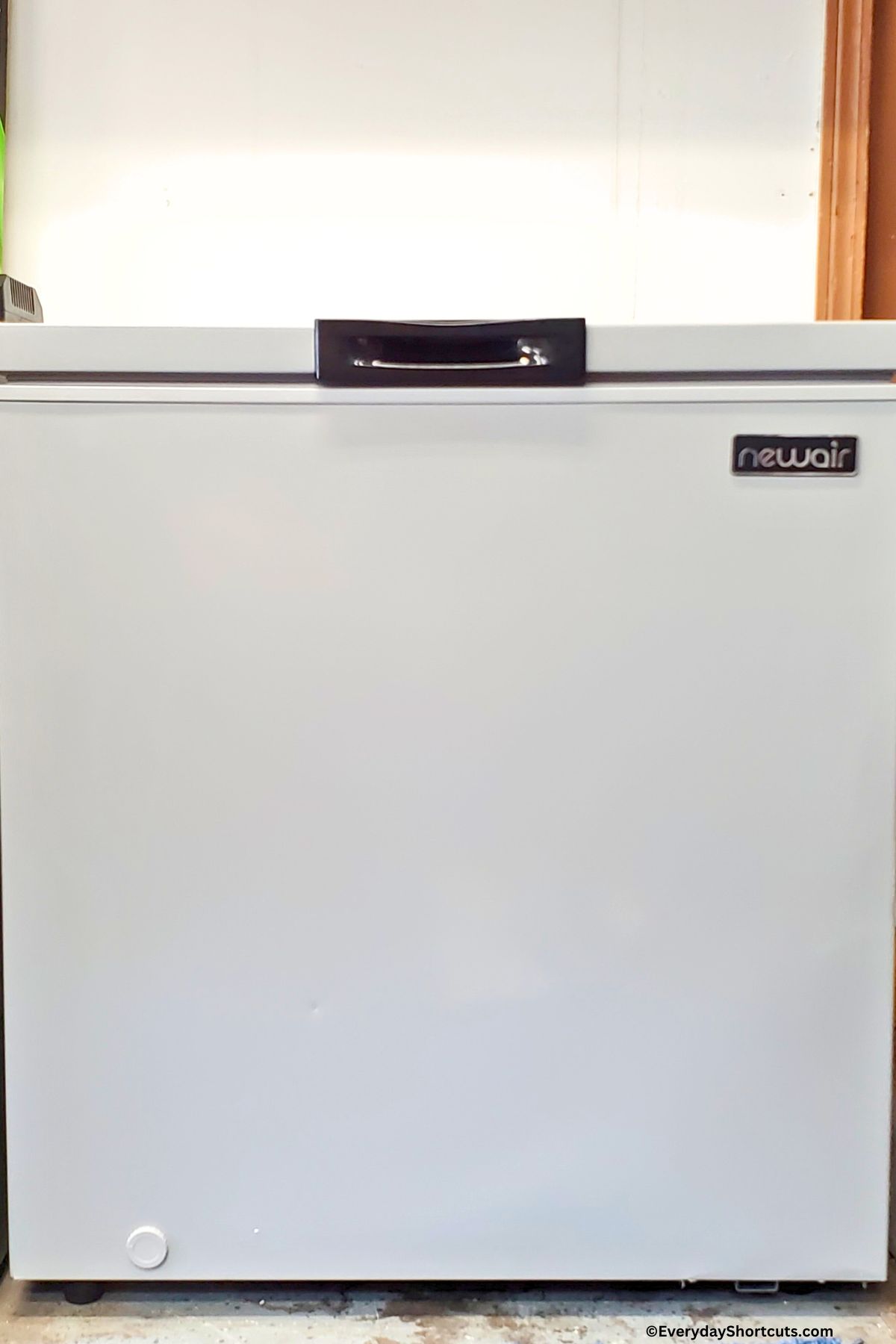 Store foods in a good chest freezer: The NewAir Chest Freezer (NFT050GA00) is a reliable and efficient way to store food. This compact yet spacious appliance offers all the features you need to keep your food fresh for longer periods of time.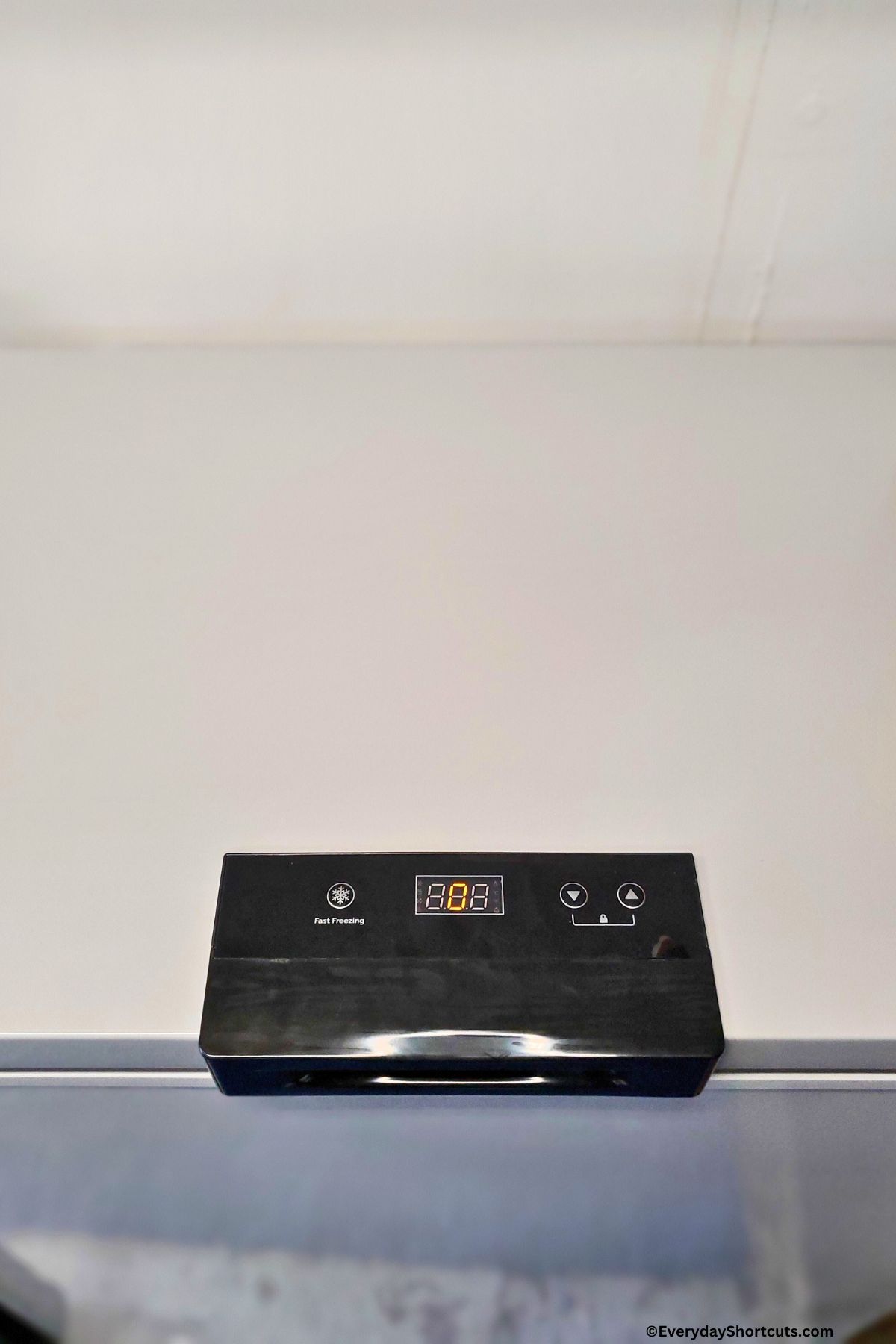 You can easily adjust the temperature and freeze your food quickly without compromising quality. The lid stays open, preventing frost build-up, and the removable storage basket makes organization a breeze.
It even has a self-diagnostic program to ensure your food stays at the right temperature. Plus, the LED light inside makes it easy to see what's inside, even in low light. Learn more about this chest freezer at Newair.com and save 10% with code EVERYDAY10 at check out!
By following these simple tips, you can maximize storage space and keep your frozen foods tasting their best for months to come!