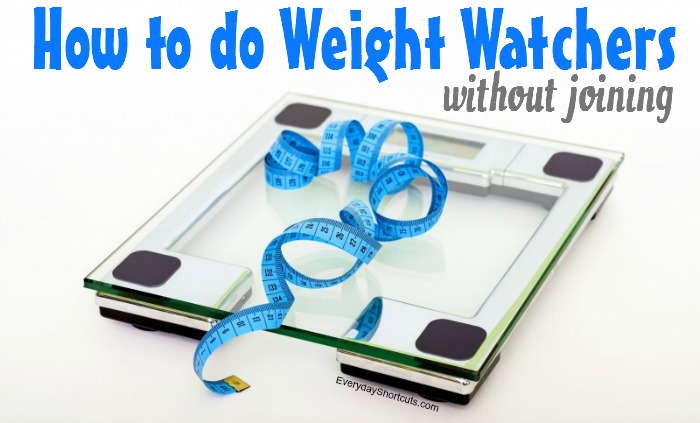 Weight Watchers has been around for over 50 years and is one of the most successful weight-loss programs to follow.  I don't really consider it a diet, I consider it as a way to learn how to eat what you want in moderation. There are several Weight Watchers programs you can follow. You can choose Points Plus or Smart Points. Or you can start off with Weight Watchers Simple Smart which will help you get a feel of the program before you decided which one to choose.
The program price can be quite costly with the weekly meetings, cookbooks, points tracker, etc. But I can tell you How to do Weight Watchers for Free with these simple steps.
Figure out your daily points allowance.
You can get you daily points allowance by using this free daily allowance calculator.  This calculator is for points plus, smart points and previous Weight Watchers programs. If you are are following the Freestyle program you can use this free calculator. The new Smart Points program does start at a minimum of 30 points. Each week everyone gets a total of 49 bonus points to use throughout the week if needed.
Keep track of your points daily using a notebook.
Using a notebook log every bit of food you eat and deduct from you daily allowance points. If you do any exercise for the day make sure you add those points to your total rather than subtracting.
Calculate food points.
Food will have different points. Be sure to check serving size on the contents of the package so you know how many points are per serving. You can find out how many points are in foods by using this free points calculator.
Calculate your exercise.
You will receive points for any exercise that you do. This means you will add the activity points to your daily allowance rather than subtracting. So if you gained 2 points from activities, you will be able to eat something worth 2 points if you desire. You can track your activities with this free activity points tracker calculator.
After a while of doing the Weight Watchers program you will get a feel of the points system and know what you can eat and what to stay away from.
There are so many resources online for Weight Watchers recipes, success stories, and support that are free.  You can find them on Pinterest, Facebook Groups, or just by searching the web.