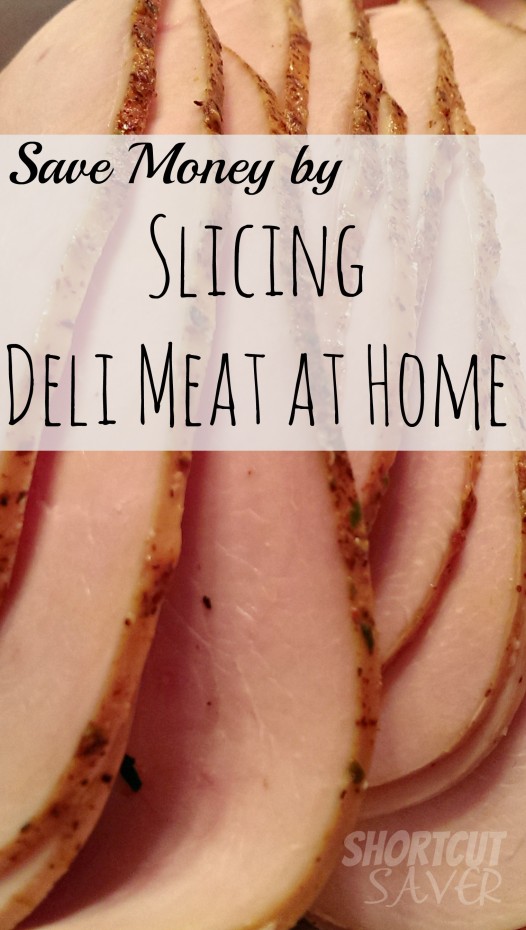 A great way to save on money is by slicing deli meat at home. Deli meat is expensive even when it is on sale. It is usually at $5.99 a pound or more. And if you buy the pre-sliced lunch meat it is not much cheaper and you are not getting a lot. Yes, you will have to invest in a meat slicer but it will be well worth it in the end. I was able to find some meat slicers for under $80 on Amazon.
Jennie-O makes pre-cooked deli meat in a variety of flavors that are found in the meat aisle at the grocery. This meat is already package for you but has not been cut. The meat is also already pre-cooked so there is no need to add an extra step. All you have to do is open up the package and slice it. They are usually 2 lbs. or more and costs around $4.98 -$5.98. By using your meat slicer you can slice it as thin or thick as you want and get more for your money. Plus, Jennie-O products are healthier for you and your family.
How much can you save by slicing deli meat at home?
2 lbs. of turkey meat at the deli counter on sale for $5.99 lb. = $11.98
Jennie-O 2 lb. deli turkey = $5.98
Slice it at home = FREE (after meat slicer investment)
Total Savings = $6 a week, $24 a month, $288 a year!
That's money you can put towards other items for your family, a vacation, and more. If you don't want to invest in a meat slicer ask it for a birthday or Christmas gift.
After you slice the lunch meat you can store it in an air tight container for 4 days in the fridge or you can vacuum seal the meat and store in the freezer for up to 3 months.
To view all the different flavors of Jennie-O deli meat and where to find it, head on over here.