Disclosure: I received 2 tickets to Rock and Roll Hall of Fame Museum in Cleveland, OH, through a travel campaign from New Creative Media. All opinions are 100% my own.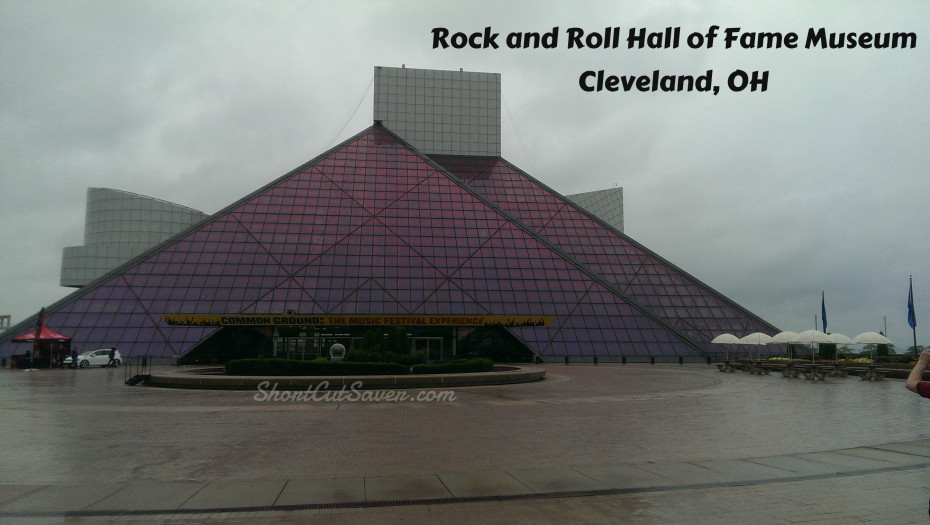 Do you enjoy music and love to see what the musicians wore? I enjoy that and was excited to add the Cleveland Rock and Roll Hall of Fame Museum to my list of things to do while visiting Cleveland. When you walk up to the building you will notice a giant pyramid-shaped building. With 7 floors of exhibits filled with stories of some of the biggest names in rock and roll there is no doubt you won't be excited.
When you first walk in you will see the inside of the pyramid building. To start the tour, you head to the basement and walk into the culture of rock and roll. You will see things from the oldies like Elvis Presley all the way up to current like Kid Rock.

It took us about 2 hours to go thru all 7 floors. I enjoyed The Beatles room as I am a huge Beatles Fan. You probably already know that from my Hard Rock Cafe Tour I posted here.

The coolest thing to see was the Pink Floyd "The Wall". It was an actual wall with the characters from the cover. It had sayings on "The Wall" that were interesting to read.

It was interesting to read all the stories from famous musicians such as seeing the actual couch that Jimi Hendrix sat on when he was young and practice playing his guitar.
If you love music, I highly recommend making a visit to The Cleveland Rock and Roll Hall of Fame Museum. You will not be disappointed.
The cost for admission is $22 for Adults, $13 for Kids ages 9-12, $17 for Seniors (65+)/ Military, $18 for Greater Cleveland Residents, and Free for kids ages 8 and under. If you become a member the admission is always FREE.
Head on over here to purchase tickets or become a member to The Rock and Roll Hall of Fame Museum.