If you're having a Halloween party and need some spooky Halloween food, check out these scary yet delicious Halloween recipes to make. These are some of the Most Gruesome, Gross & Outrageous Halloween Food everyone will be raving about at your party from appetizers, desserts, main dishes, snacks and more. Happy Halloween!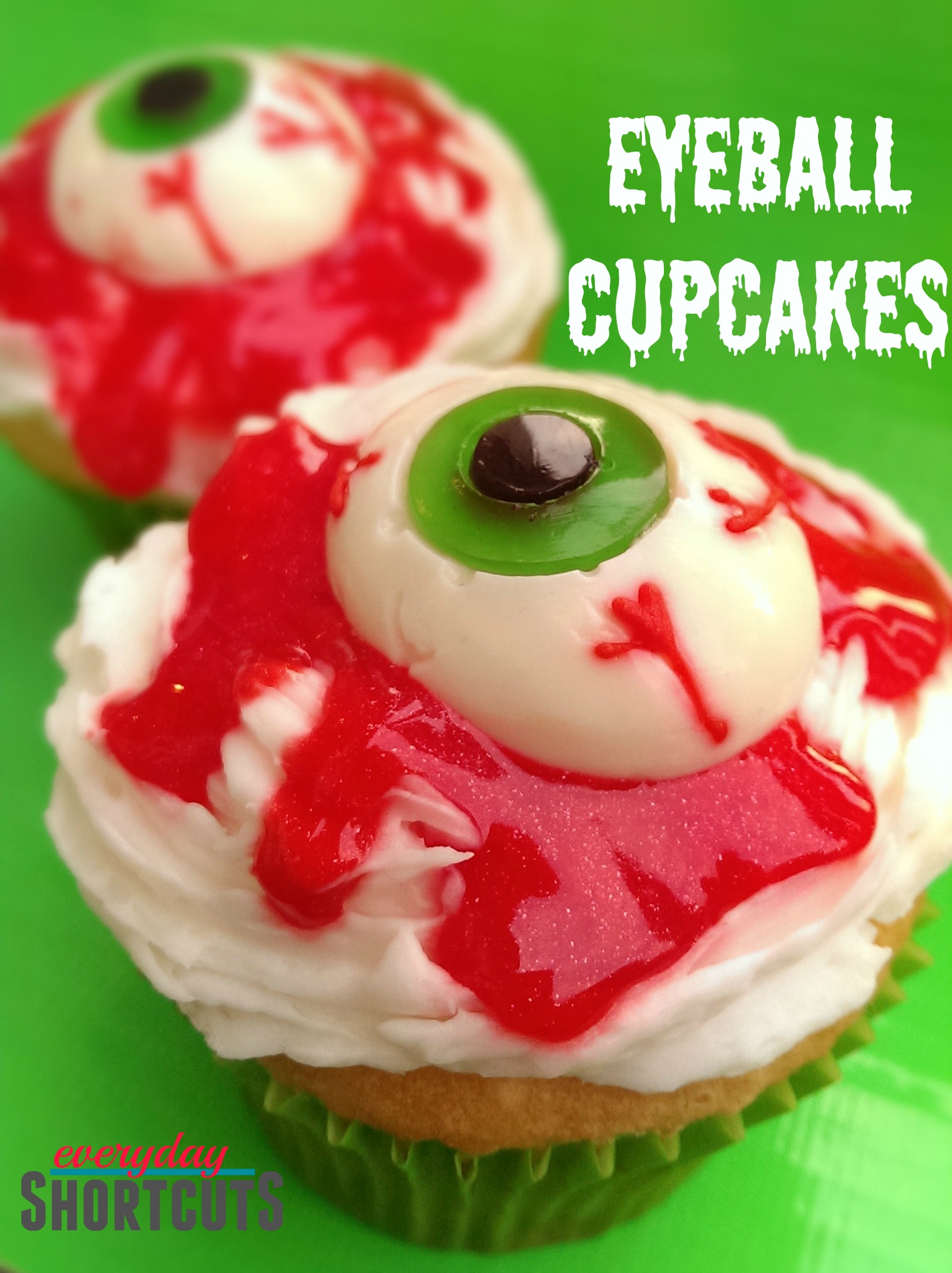 Bloody Eyeball Cupcakes l Everyday Shortcuts – These look just as disgusting to not eat but they are delicious and everything is edible including the eyeball.
Brain Cupcakes l The Simple Sweet Life – Your Halloween dessert table is sure to be the talk of the town with these "bloody" good brain cupcakes!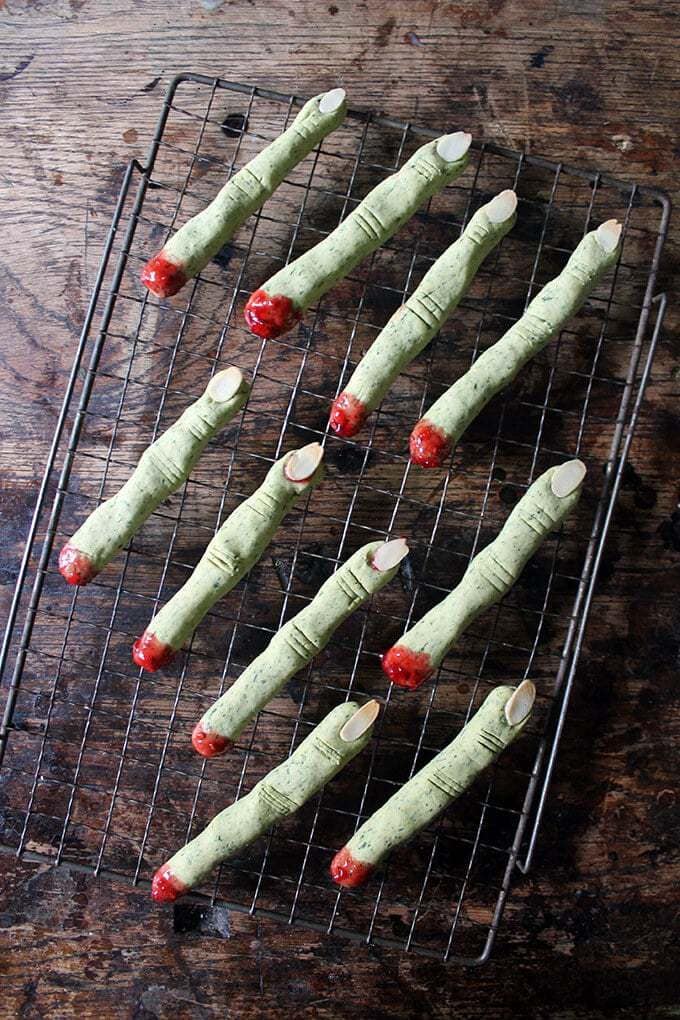 Green Witch Finger Cookies l Veggie Desserts – These Halloween Witch Finger Cookies are naturally green with hidden… spinach! You can't taste the leafy greens and they just taste like peanut butter cookies with jam 'blood'.
Zombie Halloween Pudding Cups l Crayons and Cravings – Just 4 ingredients are all that you need to make these creepy zombie pudding cups!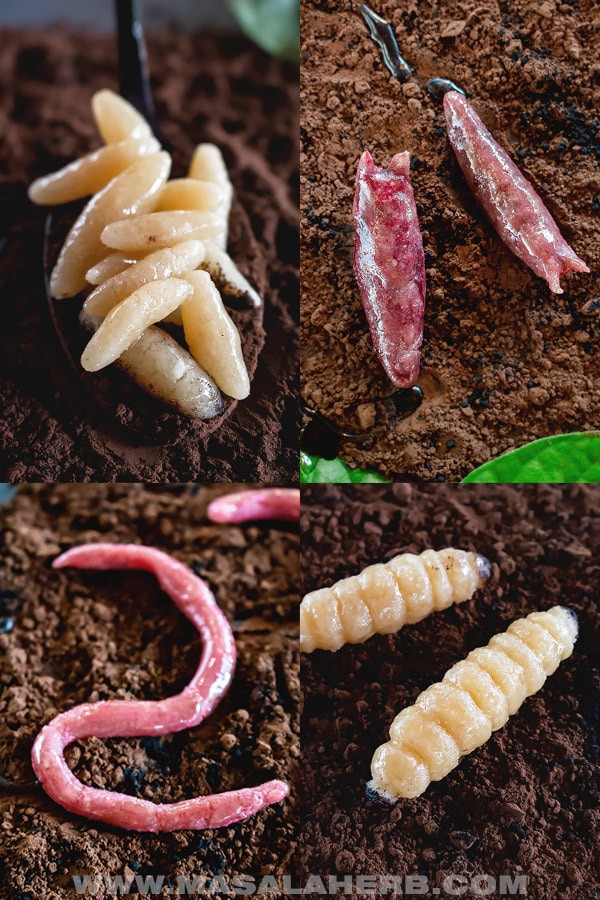 Creepy Halloween Candy Creatures l Masalo Herb – Creepy Halloween creatures prepared from scratch with almond marzipan paste. These ultra realistic worms and slugs are vegan and make mind blowing Halloween treats.
Deviled Egg Eyeballs l Organized 31 – We don't do scary Halloween in our family, but we do fun and fun-creepy Halloween. These deviled egg eyeballs are the perfect fun-creepy treat.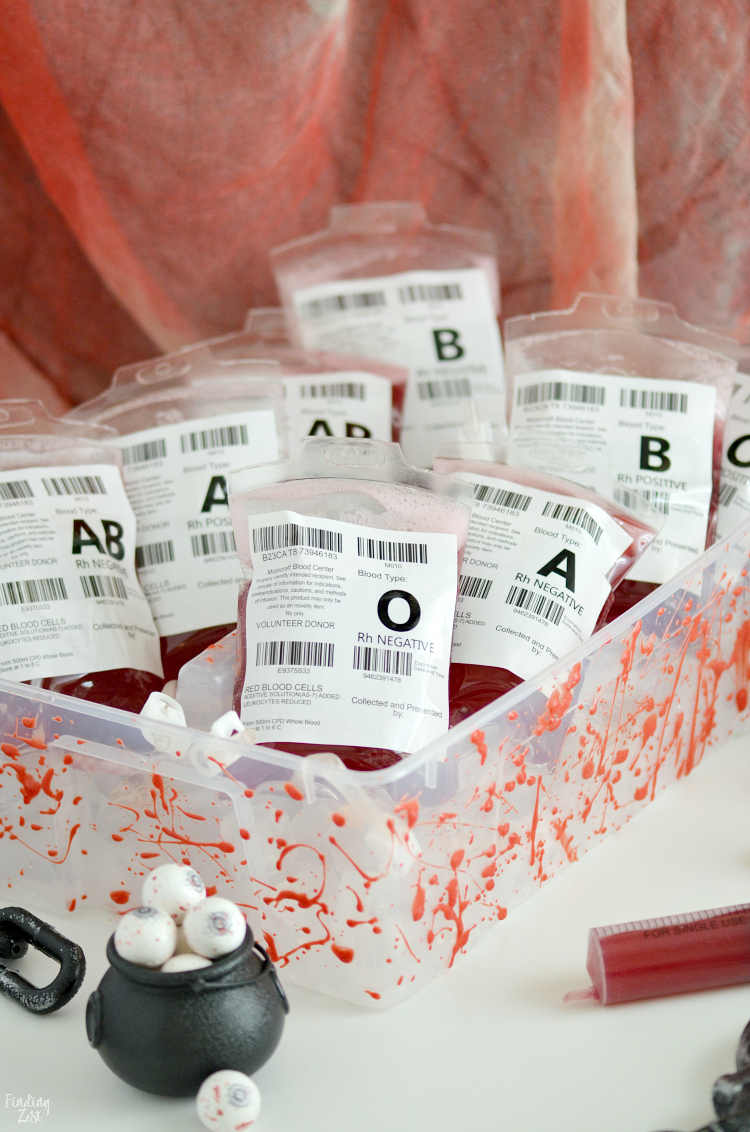 Blood Bags Halloween Drink l Finding Zest – Blood bags are the coolest way to serve up drinks for Halloween! Get this recipe for a red punch (non-alcoholic), and where to find these bags plus tips for how to fill, clip and display the blood bags.
Bloody Popcorn with Bones l Finding Zest – Bloody popcorn for Halloween is the perfect sweet and salty treat to serve for your celebration.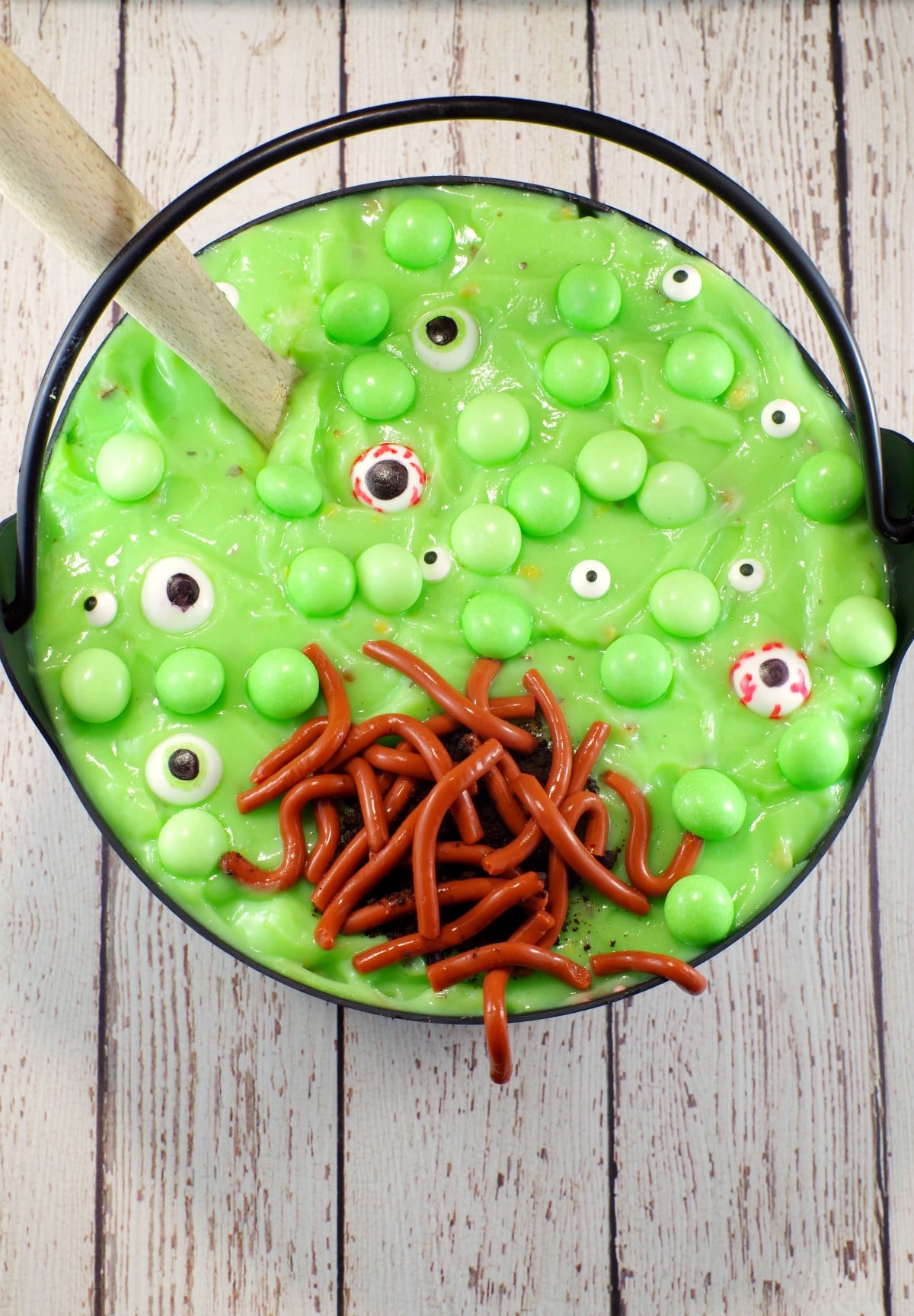 Witches Brew Trifle with Jello Worms l Food Meanderings – This Witches Brew Spumoni Trifle is the perfect dessert for your Halloween potluck. A trifle consisting of layers of cake, pistachio pudding, whipped cream and cherry almond cream cheese, topped with mint eyeballs, bubbles and jello worms, this dessert is both scary -looking and delicious!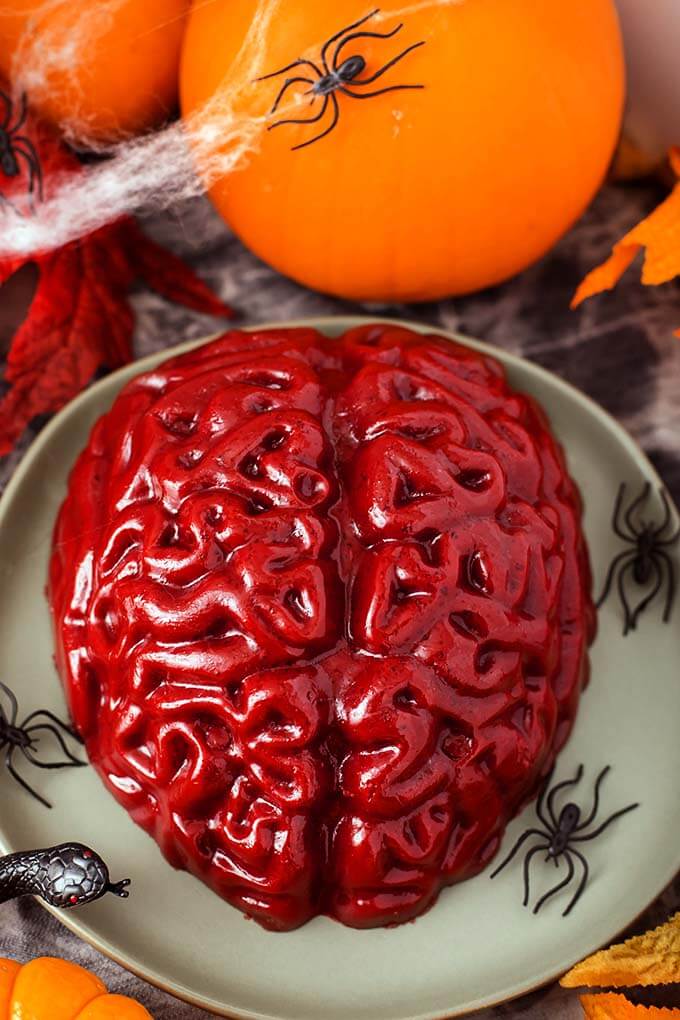 Halloween Jello Brain l Simply Happy Foodie – A creepy gelatin brain that you can take anywhere a jello brain would be appropriate. The Zombie Apocalypse comes to mind along with Halloween!
Zombie Cupcakes l The Simple Sweet Life – There may be debate about the origins of tying string around your finger as a reminder, but there's no debating that these cupcakes will be unforgettable! Whether sending them as party invitations or making them the center of your Halloween dessert line-up, these cupcakes are sure to delight and deliciously satisfy even the scariest sweet tooth!
Black Chocolate Cupcakes with Slime Filling l The Baking Fairy – Get ready for Halloween with these deep, dark Black Chocolate Cupcakes filled with green-tinged white chocolate slime and topped with gummy eyeballs!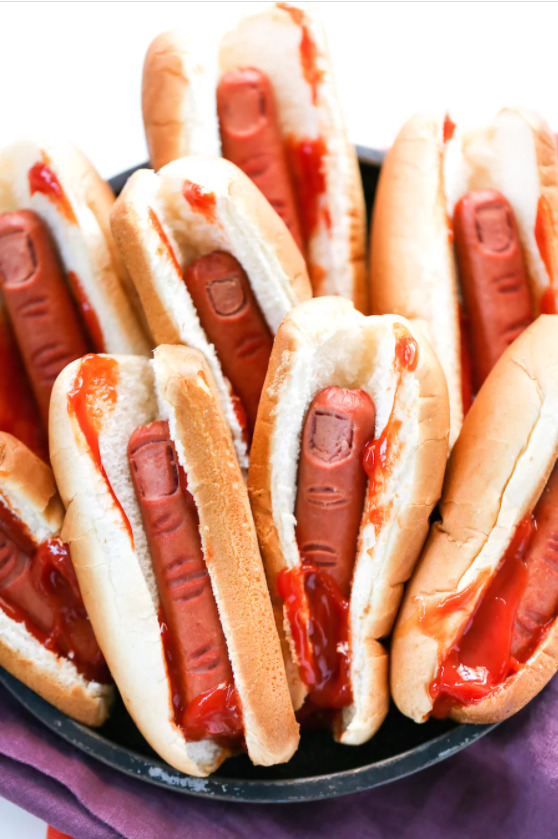 Bloody Finger Hot Dogs l Salty Canary – You might get a tickle in your throat from eating these Halloween Hot Dogs!
Spaghetti with Deviled Eggs l Our Wabi Sabi Life – Looking for Halloween Part food ideas? This Halloween Spaghetti with Deviled Eyes is great for Halloween party food for kids or for Halloween Party food for adults.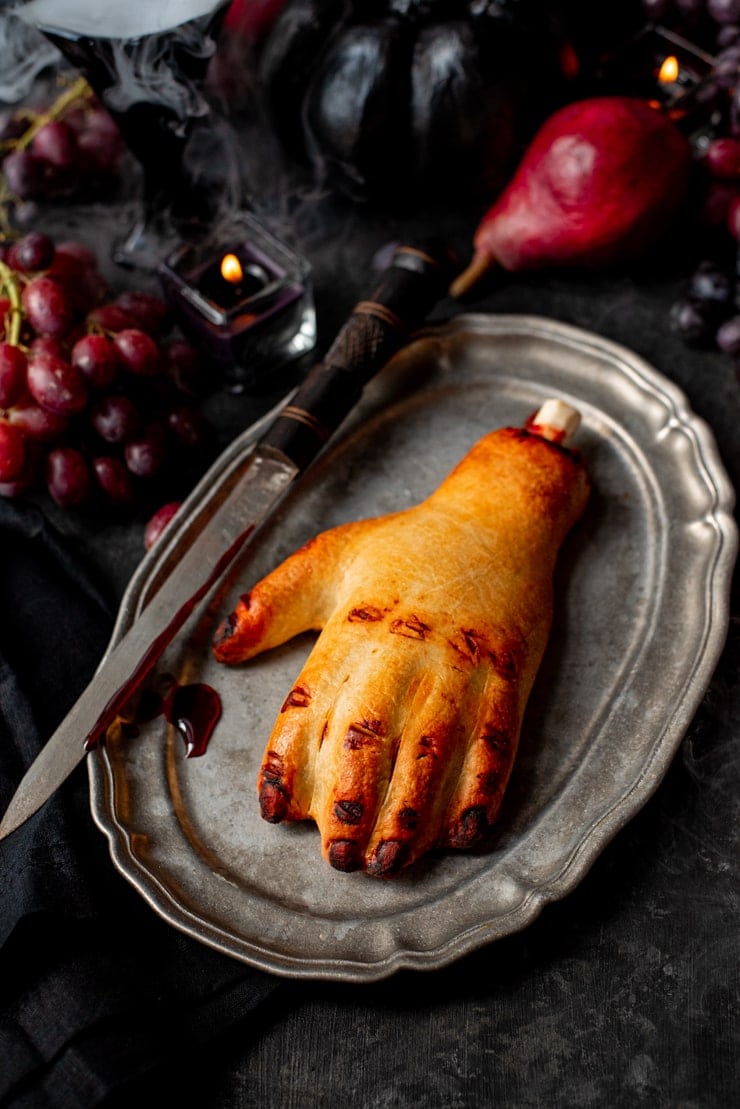 Sloppy Joes Hand Pies l Vintage Kitty – Halloween goes hand in hand with blood and body parts! Create meat pies worthy of Sweeney Todd and Mrs. Lovett to grace your holiday table!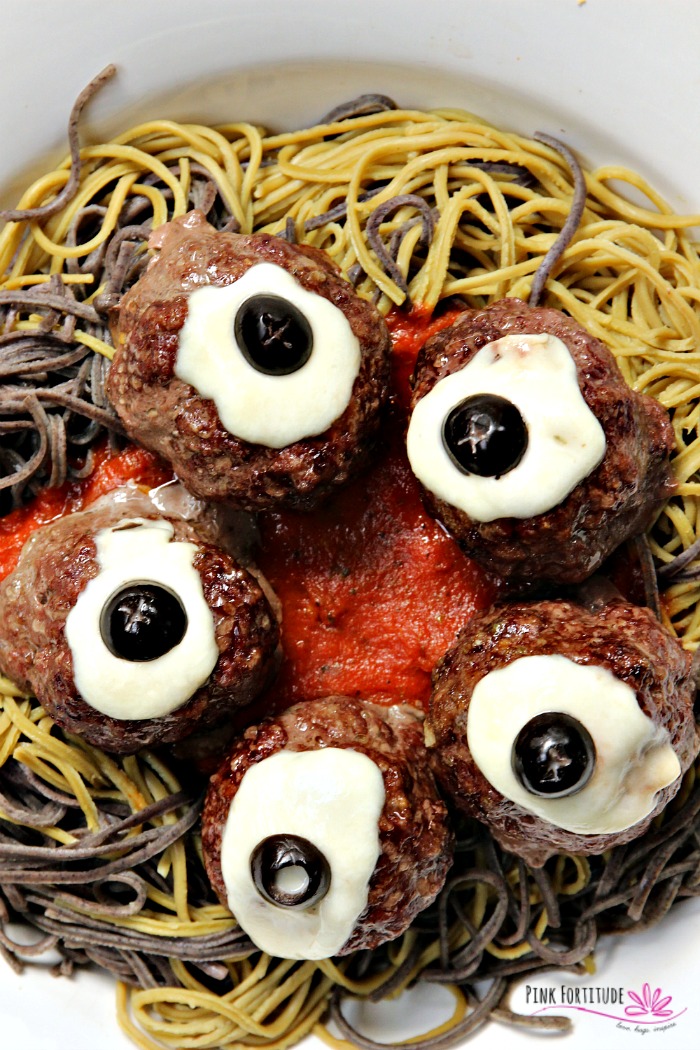 Halloween Spooky Spaghetti and Eyeball Meatballs l Pink Fortitude – Who says Halloween dinner can't be spooky, festive, AND healthy? Serve this Halloween Spooky Spaghetti and Eyeball Meatball recipe to your family and friends. You can even call it brains and eyeballs if you wish. This Spookghetti is made with gluten free pasta and meatballs, and even has a dairy free option.
Smashed Spider Alfredo l The Forked Spoon – Both kids and grown ups will go bonkers for this FUN (and sneakily healthy) version of Pumpkin Cauliflower Alfredo. Appropriately named The Smashed Spider, this pasta is all about healthy veggies and power packed super foods.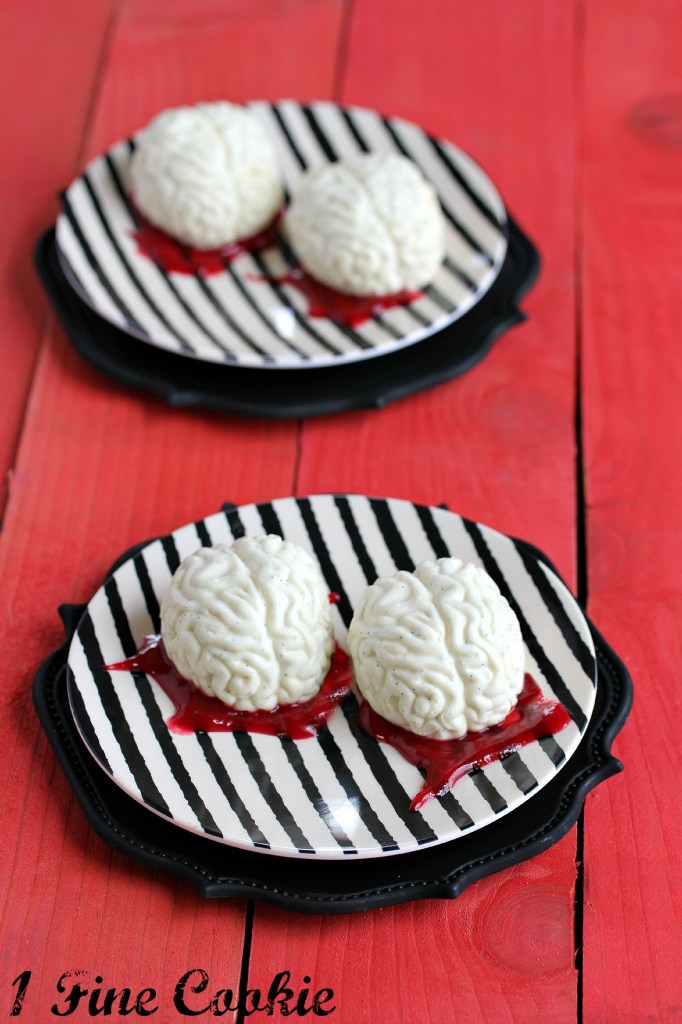 Panna Cotta Brains with Raspberry Blood Sauce l 1 Fine Cookie – A delicious dessert that is so easy to make that looks like brains but yet so delicious.
Halloween No Bake Cheesecake l Lemon Blossoms – Halloween No-Bake Cheesecake is a delicious dessert with layers of cheesecake, pumpkin caramel and cream soda jello all nestled in an Oreo crust.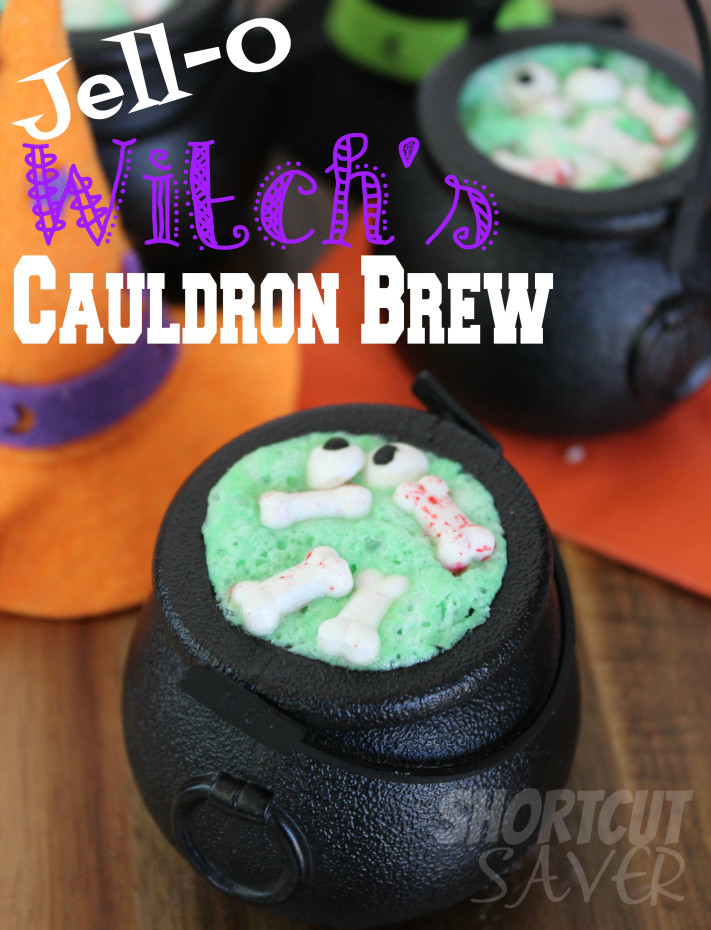 Jell-O Witch's Cauldron Brew l Everyday Shortcuts – This fun Halloween Recipe for Jell-O Witch's Cauldron Brew only requires 3 simple ingredients and a hit with the kids at a Halloween party.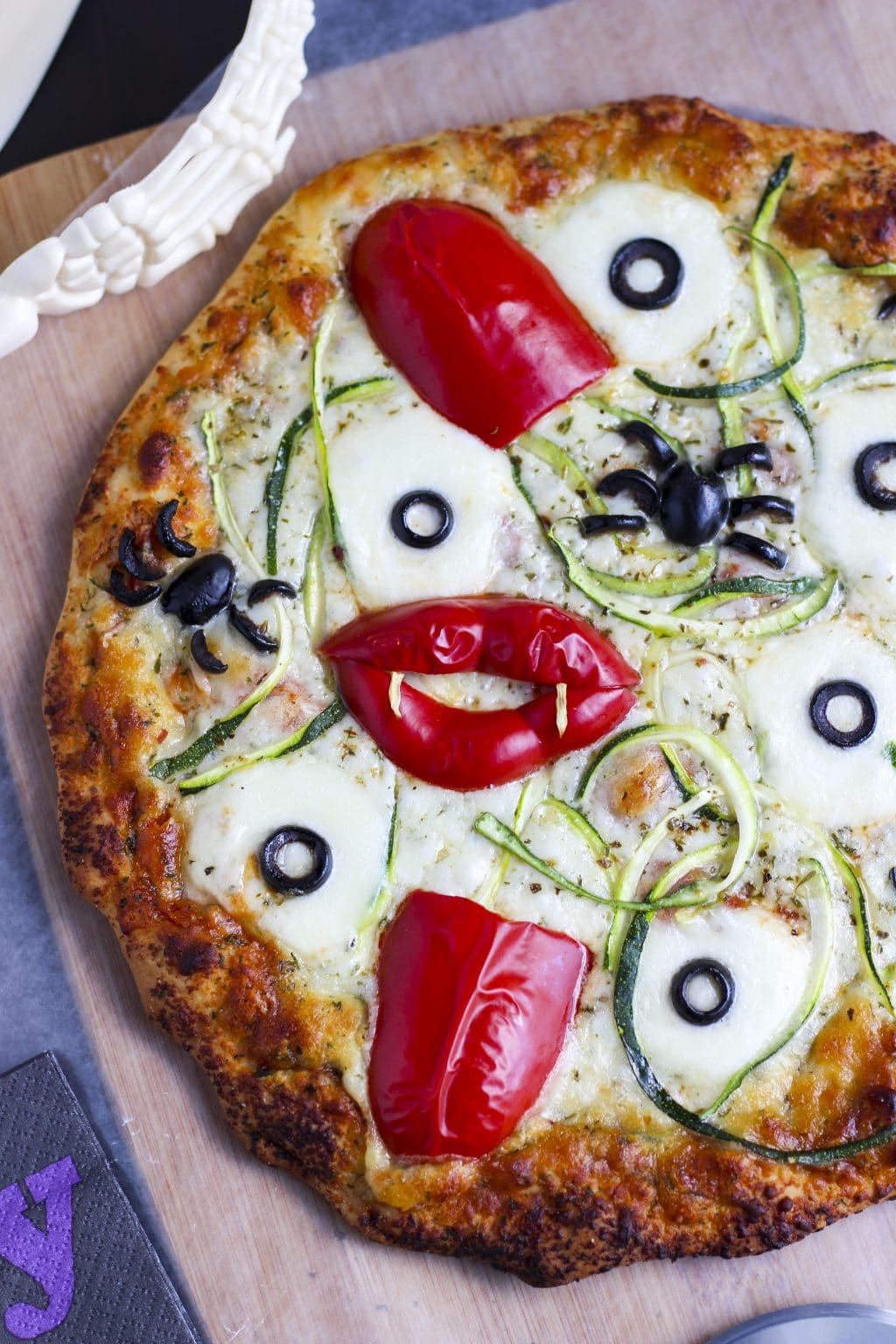 Halloween Graveyard Pizza l Stacey Homemaker – Spiders, worms, eyeballs and vampire tongues can be found on this spooky Halloween Graveyard pizza! This creepy Halloween-inspired dinner is so quick and easy to make thanks to a frozen cheese pizza, all you have to do it make the toppings!
Halloween Chili Con Queso Dip l Sizzling Eats – Halloween Chili Con Queso Dip is a delicious 10-minute queso cheese dip that features canned chilies, pimentos, green olives, food coloring, and original Cooper Sharp Cheese. Thank you, Cooper Cheese for sponsoring today's recipe.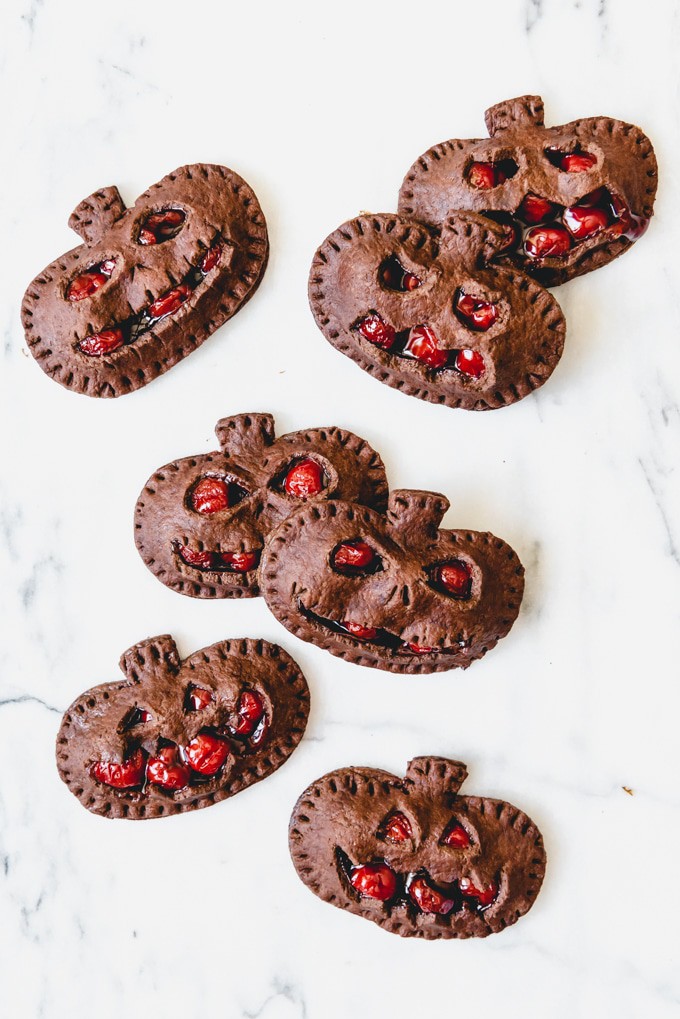 Halloween Chocolate Cherry Pies l House of Nash Eats – These Halloween Chocolate Cherry Hand Pies are an easy and frightfully fun treat to enjoy this October! With a chocolate pastry crust cut out in Jack-O-Lantern shapes and canned cherry pie filling, this handheld dessert will be a hit at Halloween parties!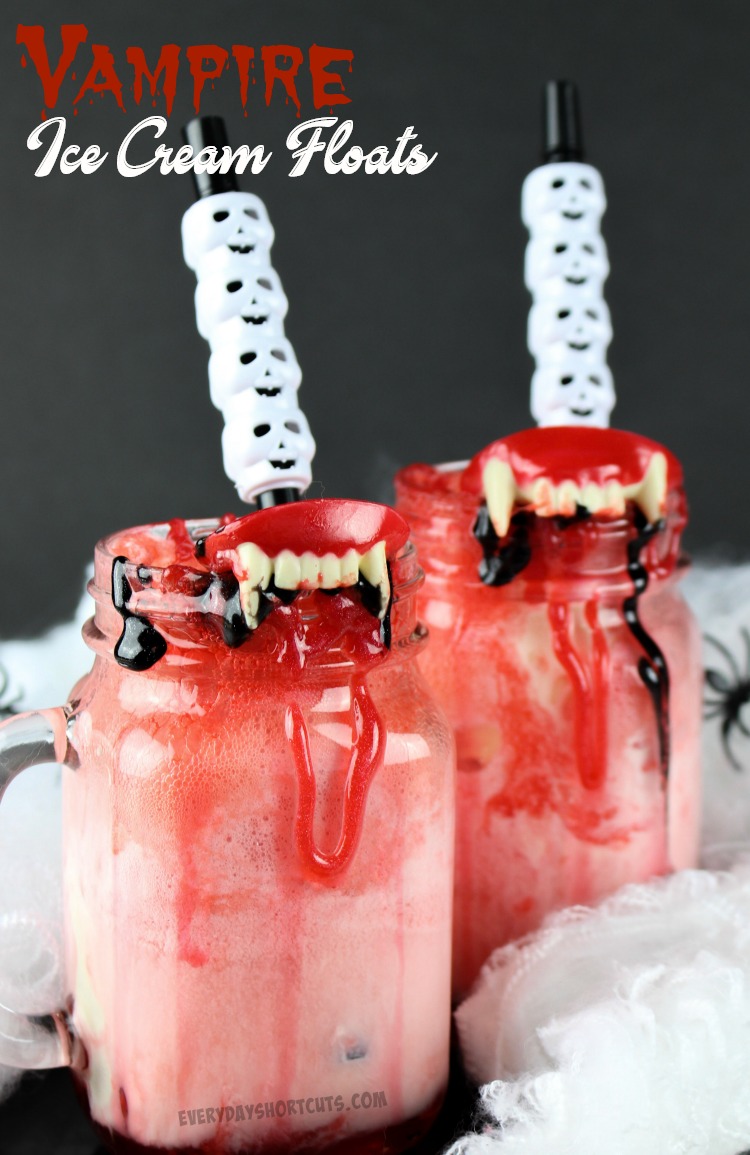 Vampire Ice Cream Floats l Everyday Shortcuts – Kids love these Vampire Ice Cream Floats that are fun to make and garnished with vampire teeth!
Zombie Hot Chocolate l Comic Con Family – Even zombies love hot chocolate – if they have a bloody rim!