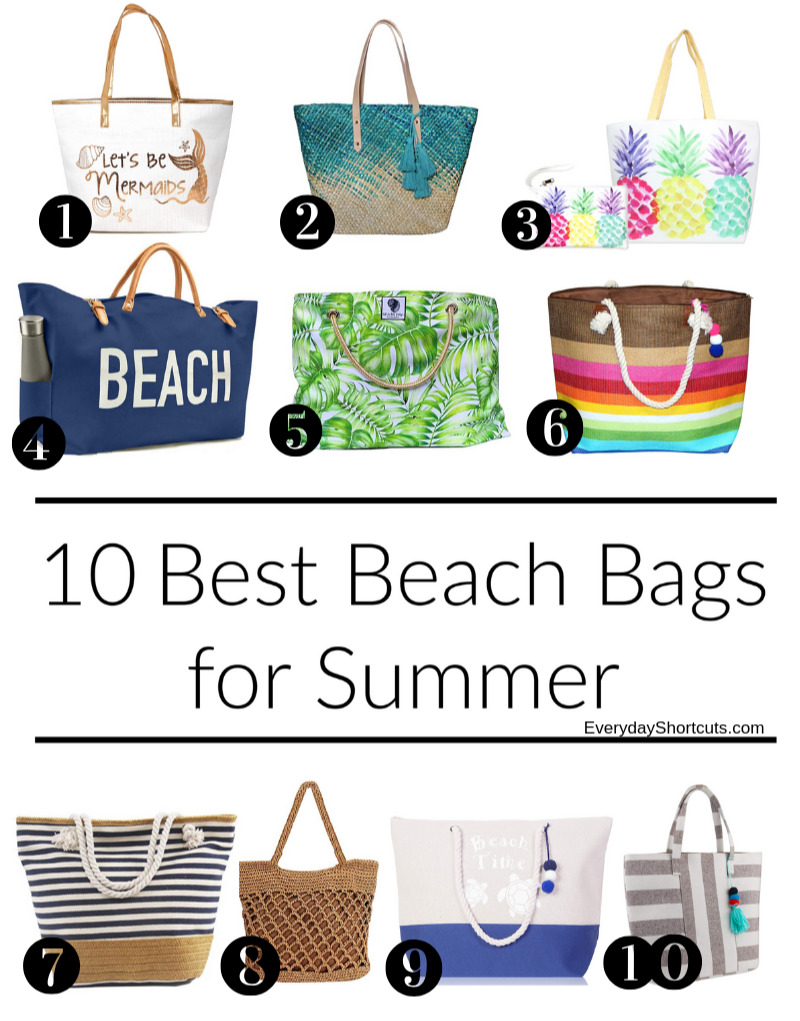 When you're looking for a beach bag for the summer, you want to make sure it doesn't get wet and can hold everything you need at the beach. I've done the searching for you and made it easy to shop with these 10 best beach bags for summer. Each one is different and unique but they each can hold towels, sunglasses, sunscreen, sandals, beach toys and more. Enjoy shopping for the perfect beach bag for you.
10 Best Beach Bags for Summer
Let's Be Mermaids Rose-Gold Tote-This bag is perfect to carry all the beach and pool essentials such as towels, sandals, and sunblock lotions.

It comes with zipper closure and has a small inner pocket to store your valuable belongings.

Straw Beach Tote Shoulder Bag-This bag is my absolute favorite one of them all. It's h

andwoven, water resistant with leather straps. The outside of the bag is dip-dyed sustainable seagrass straw tote but super durable. There is plenty of room and even has a phone pocket and water bottle holder. Plus, the canvas lining is removable and machine washable.

Multi-Pineapple 2 Piece Shoulder Bag & Travel Pouch-The large sized bag is big enough to carry all small accessories for beach and pool and has a zipper so nothing will fall out. The smaller pouch is perfect for holding smaller items such as toiletries, cards, keys, and cell phones. Both bags are waterproof.
Large Beach Canvas Tote Bag-#1 Beach bag on the market that is large, stylish and functional. It's versatile and comes in a variety of colors. There are plenty of hidden pockets and lots of storage. The lining is fully waterproof so you can store wet towels and swimsuits in the bag without getting completely soaked.
Palm Print Classic Beach Bag-Magnetic closure with waterproof lining and machine washable. Fits up to 4 towels and is the perfect print for the beach.
Bright Multi-Color Stripe Straw Beach Tote-This bag can easily​ ​hold​ ​up​ ​to 30​ ​lbs. with ​anti-rip​ ​dual​ ​lining so it can​ ​protect​ ​your​ ​items​ ​from​ ​sand​ ​and​ ​water along with a bright colorful design. Handles are made of cotton so they are comfortable on your shoulder.
Large Size Straw Striped Canvas Beach Bag-This beach bag is made of tough "Ripstop" fabric, making it tear resistant lasting for years. The classic design goes with any style. It can carry plenty of items for the whole family, has extra thick handles for comfort, secure inner pockets, and a zipper closure.
Woven Straw Summer Beach Bag-Superior straw thread with polyester cotton lined that helps keep you cool and comfortable in the hot summer. The bag is on the smaller side but perfect for a single person at the beach.
Navy Turtle Beach Bag-Enough room to fit a beach blanket, two towels, swimsuit, flip flops, sunscreen and so much more. Very durable with zipper closure and 2 inner pockets. The bag is functional and perfect for a cruise trip, beach day, travel, or just lounging by the pool.
Boho Striped Beach Bag-If you like to travel on the go, this is the beach bag for you. This bag is durable, fashionable and easy to clean by using a damp cloth to wipe it down.