If you have been looking for inspiration, or want some decorating tips for a she shed, then you're in the right spot. Recently my husband built a she shed in our backyard from the ground up and today I'm revealing the inside. I'll tell you everything you need to know about how to decorate your own she shed with tips and inspiration.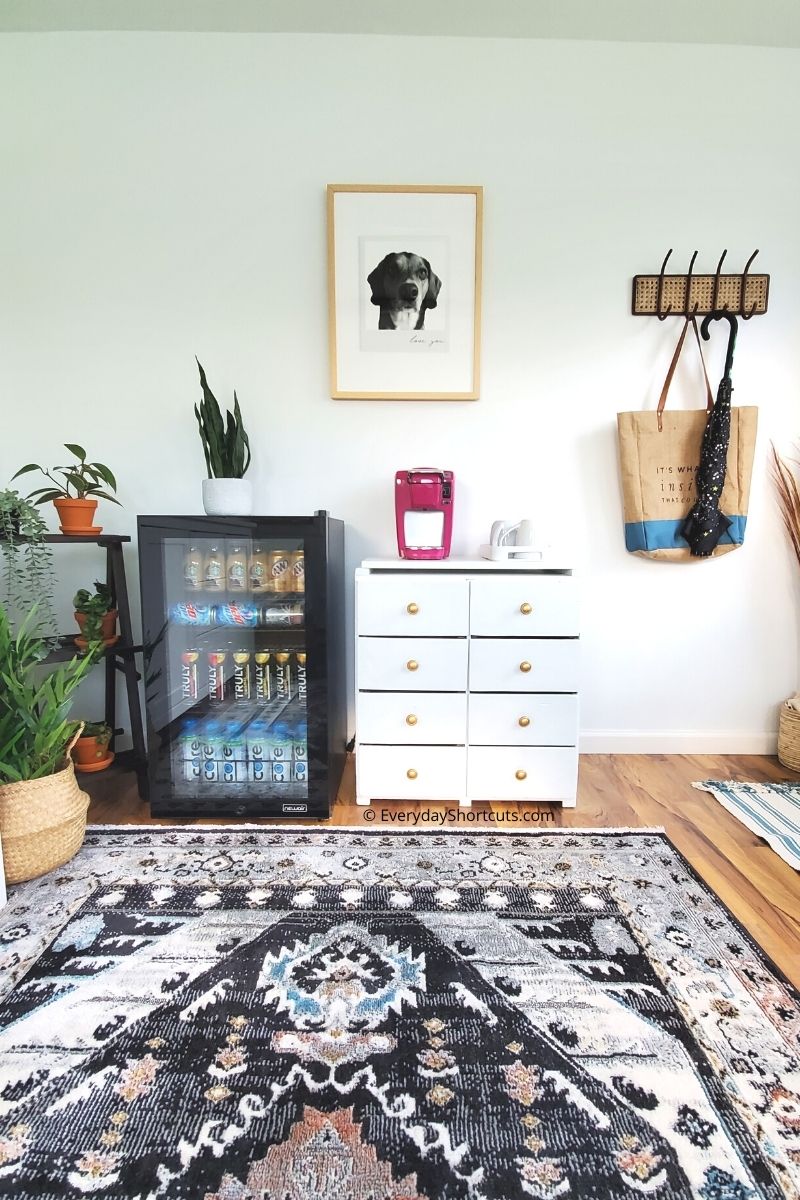 A she shed is a place for women to escape and create in. It's also known as an outdoor room or garden office. You can do anything from crafting to reading to working on your laptop while listening to the birds chirp outside…and if you don't like any of that, at least you're getting some fresh air!
The best thing about decorating a she shed is that there really are no rules except one: it has to be functional. That means having enough space so everything will fit without being too cluttered and comfortable furniture so you want spend time there instead of running back inside because it's cold!
If you're thinking about adding a she shed to your property, then be sure to follow these tips for decorating it!
Choose a Style
Before you being to decorate your she shed, come up with a style that you would enjoy. Remember you have to look at it everyday so you want to make sure it's something you'd like. I decided to go with a Boho style for mine and had an idea in mind before I began.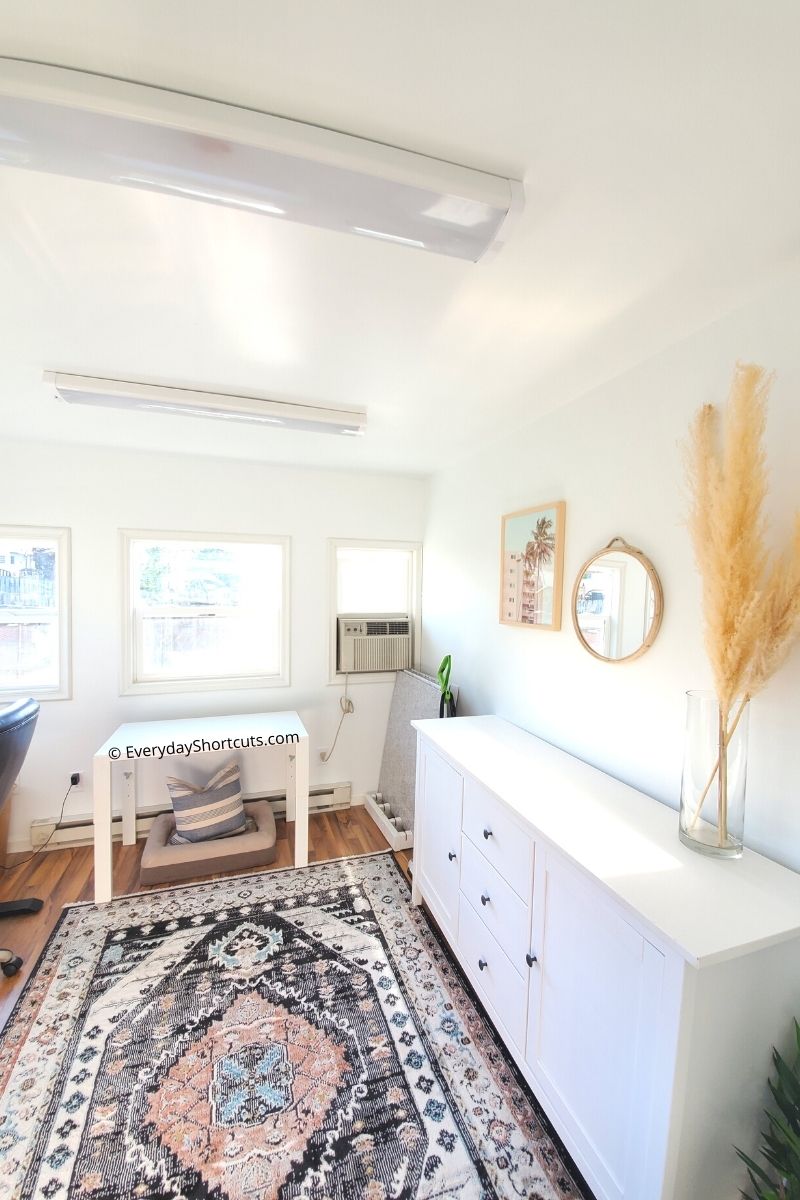 Measure Furniture
Since this is going to be a smaller space, you'll want to make sure you measure out all furniture and make sure it fits before you make that purchase. I used blue painters tape on the floor to measure where I was putting each piece to be sure it would all fit.
When in Doubt Go Neutral
If you're unsure of what colors to use, go neutral. You can always paint the walls and add color later once you get a feel for what you want. I chose a clean boho theme of mostly white, browns, and black.
Add Color
If you're bold, go for something colorful and fun stripes. A fun way to brighten up your she shed is by adding colorful stripes. Use chalk paint or fabric, either on the floor or wall, for a dynamic and playful style. If you're not sure what color combo to go with, use this rule of thumb: the wider the stripes, the more masculine they are.
Compliment Your Shed
The following is a list of complementary items to add to your she shed:
Blanket – A throw blanket or rug in a neutral color that will also match most other decor accessories.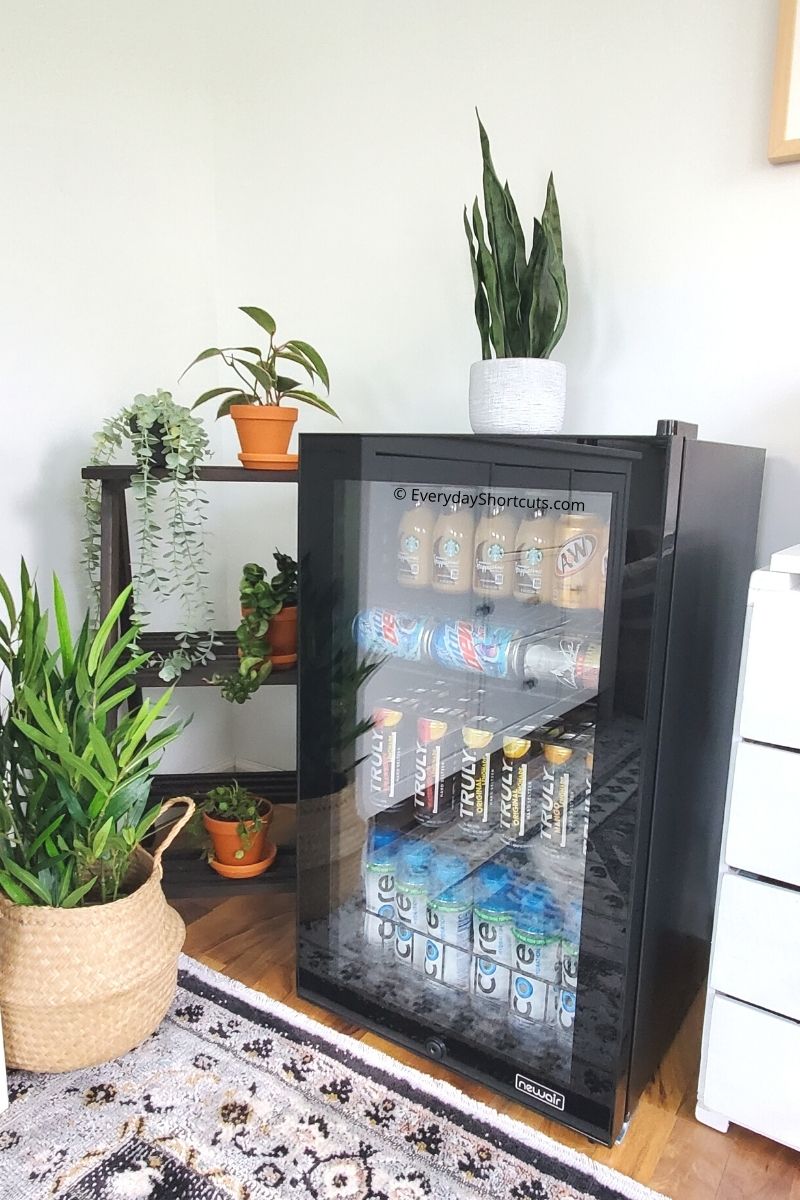 Beverage Fridge – A Newair 126 Can Freestanding Beverage Fridge in Onyx Black is a great addition to any she shed/office. It has adjustable shelving so you can store different types of food and drinks on it with a sleek design that will fit into any room!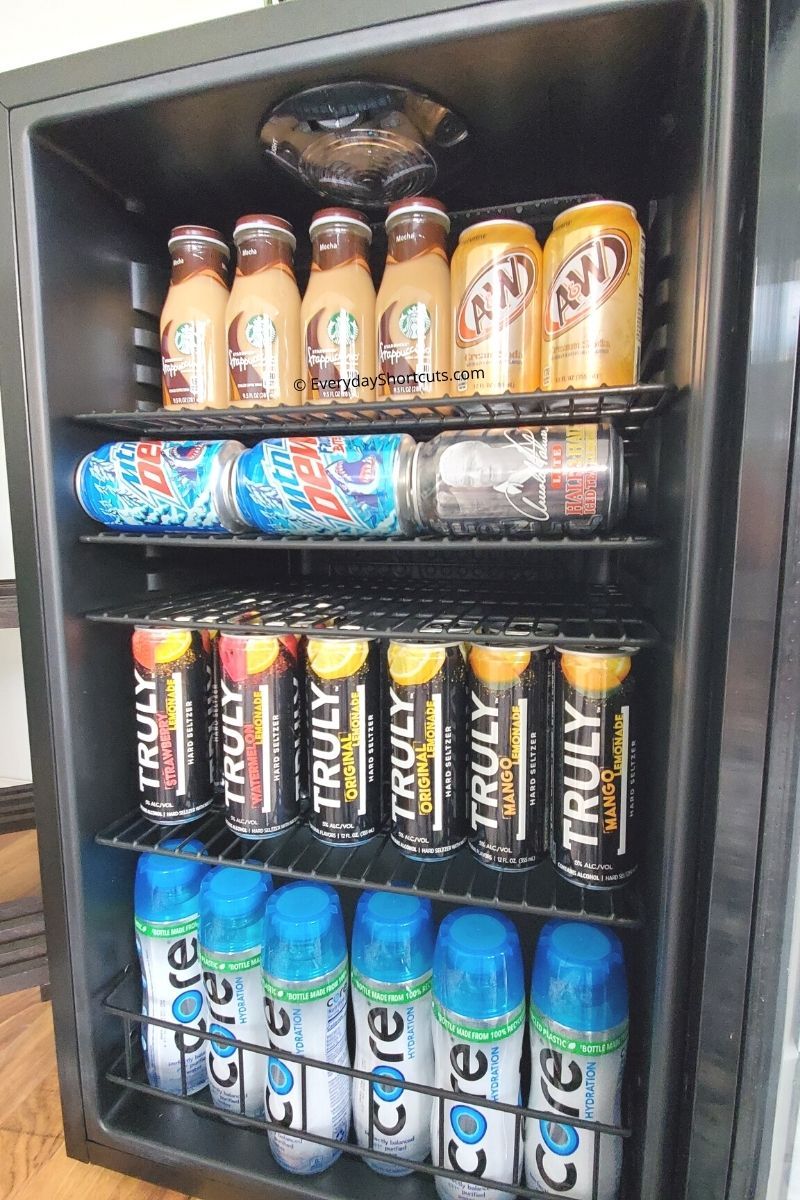 You won't find a better beverage fridge that has a sleek design and can hold different sized cans and bottles such as iced coffee, wine, beers, seltzers and more – perfect for happy hour off the clock! Plus with a stylish onyx black finish–always classic– there is no better way to keep your fridge looking tidy. Head on over to NewAir.com and use code SHORTCUTS to save 10%.
Stool, Bench or Ottoman – A round stool or bench (or both!) The height should be at 18″ from floor and 36″ diameter. These are great because they're small enough not to take up too much room but big enough that you'll have somewhere comfortable to sit and put on shoes without kneeling on the ground! They look nice as well.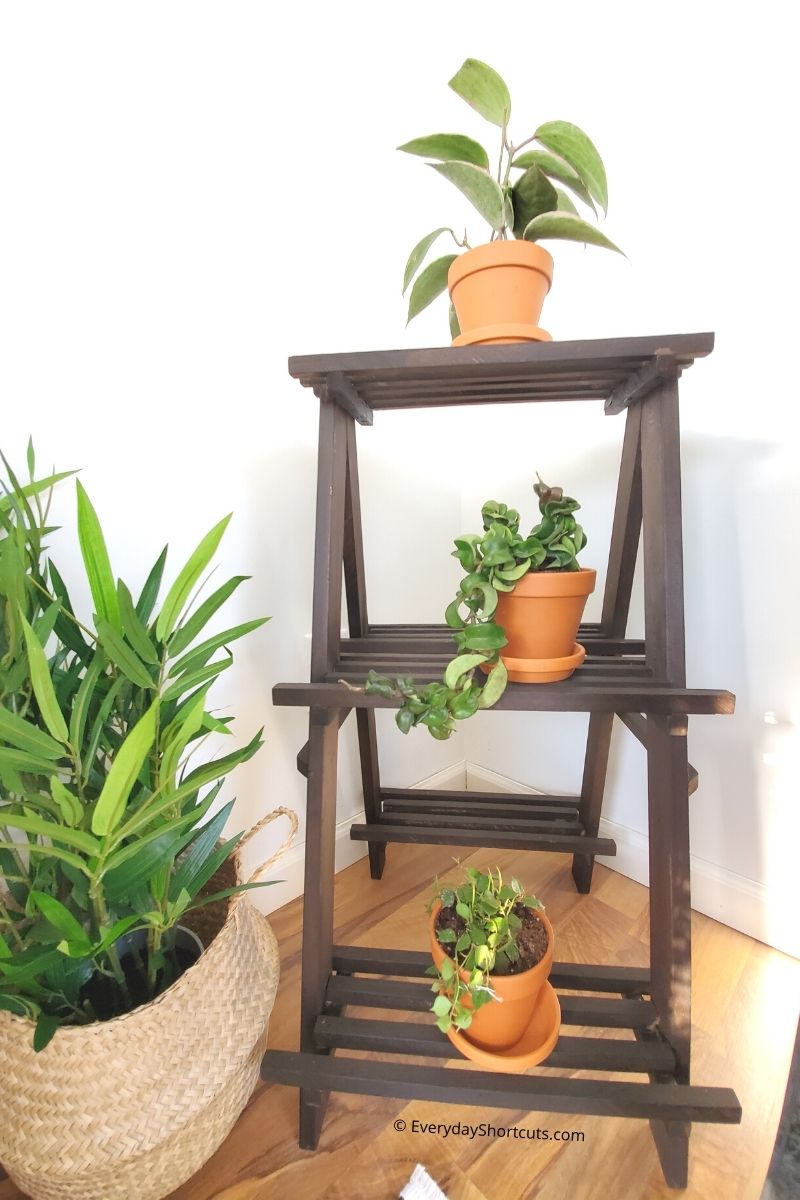 Potted Plants – Ideally some ivy vines would give an airy feel while still providing greenery. If you want something more full, choose succulents like cacti. Bloomscape's Hoya Collection is perfect for a she shed. This trio of no-fuss Hoya plants has fun and uniquely shaped leaves, from teardrops along trailing vines to curled, rope-like leaves. They enjoy bright indirect light and are non-toxic for pets. these They make a great addition to your space and perfect for plant stands, shelves or coffee tables.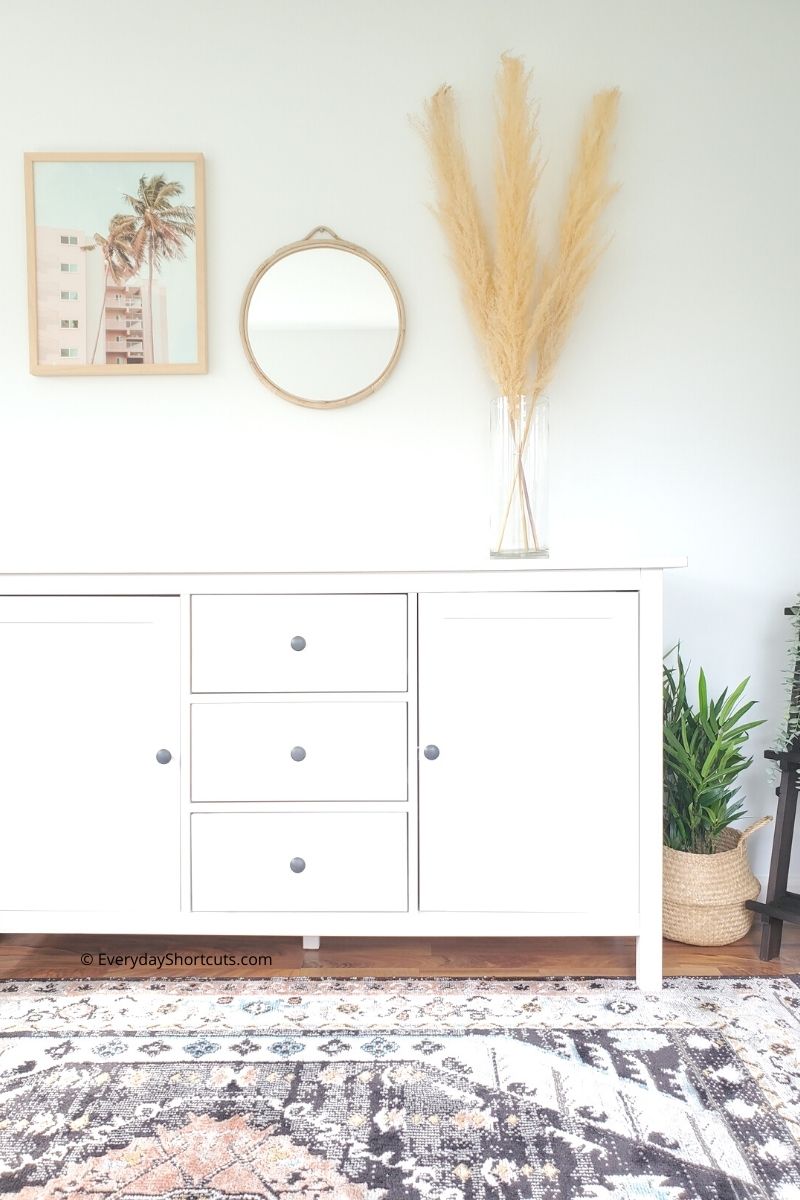 Mirror – Mirrors are a great she shed decorating tool that can help you with everything from primping to self-reflection. A mirror will also add more light, so if yours lacks windows or natural lighting, it's the perfect addition.
Buffet Table – Add an armoire or buffet table for some much-needed space for styling and storage. There are so many different she shed options that go beyond just plain old tables. You can repurpose and vintage piece, find one off of marketplace like I did, or use one that you already have.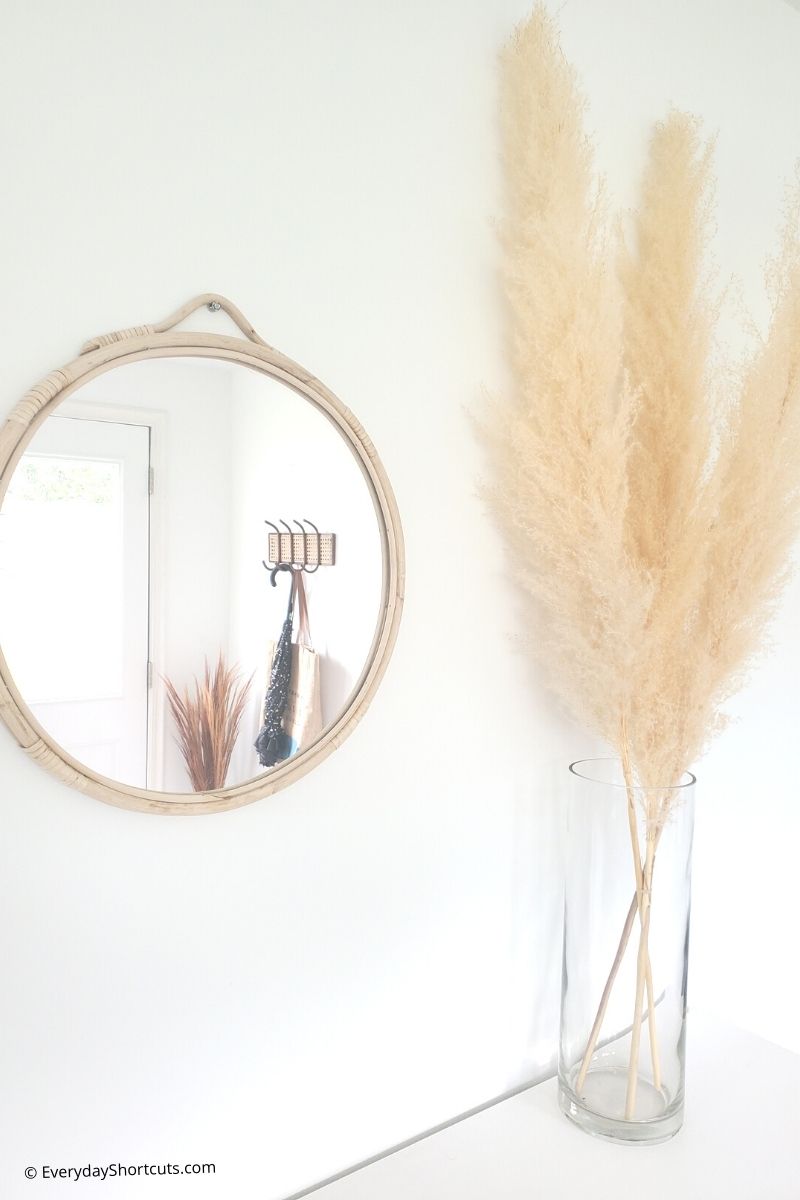 Dried Flowers – dried flowers can be used to create gorgeous centerpieces without having to worry about water to spills (or dead plants). They also come in a variety of shapes and sizes depending on how much space you want to fill. Since I needed to fill a large space along the wall I chose tall dried pampas and added a large vase. It filled the height of the wall and added a touch of nature without having to worry about watering it!
Art Work – Paintings that are not too big and have a happy vibe to them. These should be placed at eye level for optimal viewing pleasure. I chose my dog and palm trees, 2 things I love to look at.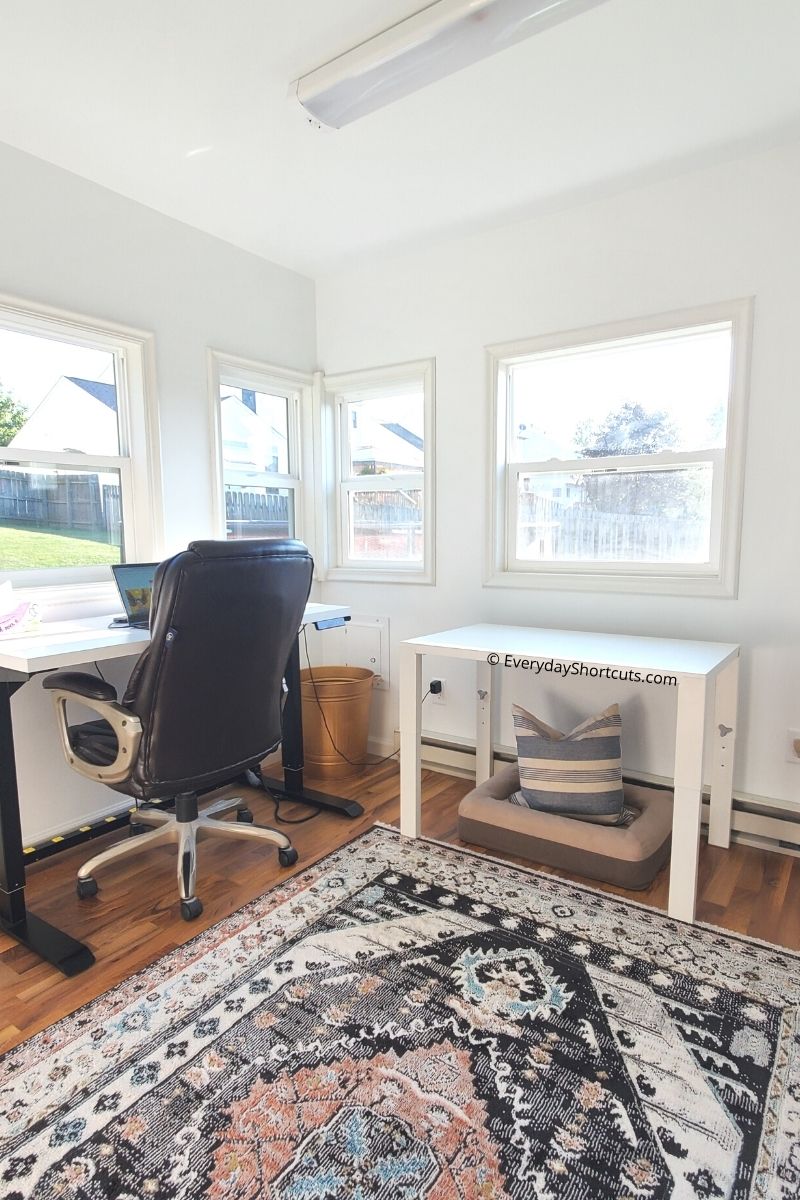 Baskets and Bins or Storage Containers – Adding storage containers and baskets are great ways to help keep your she shed organized or dress up a plants. I love using plastic bins for storing items that I use for photography such as props and napkins. You can use wooden crates or old drawers to hold things like gardening supplies too!
Flooring – For the floor, I would suggest floating laminate flooring. It's easy to install with no nailing requirement. Just add underlayment, flooring and your set to decorate. Laminate flooring will provide more insulation against cold weather, it's easy to clean and costs less leaving you more room for your budget to decorate.
Pillow – A pillow to make your sitting area more inviting. Make it fun with pops of color, stripes or a bold saying.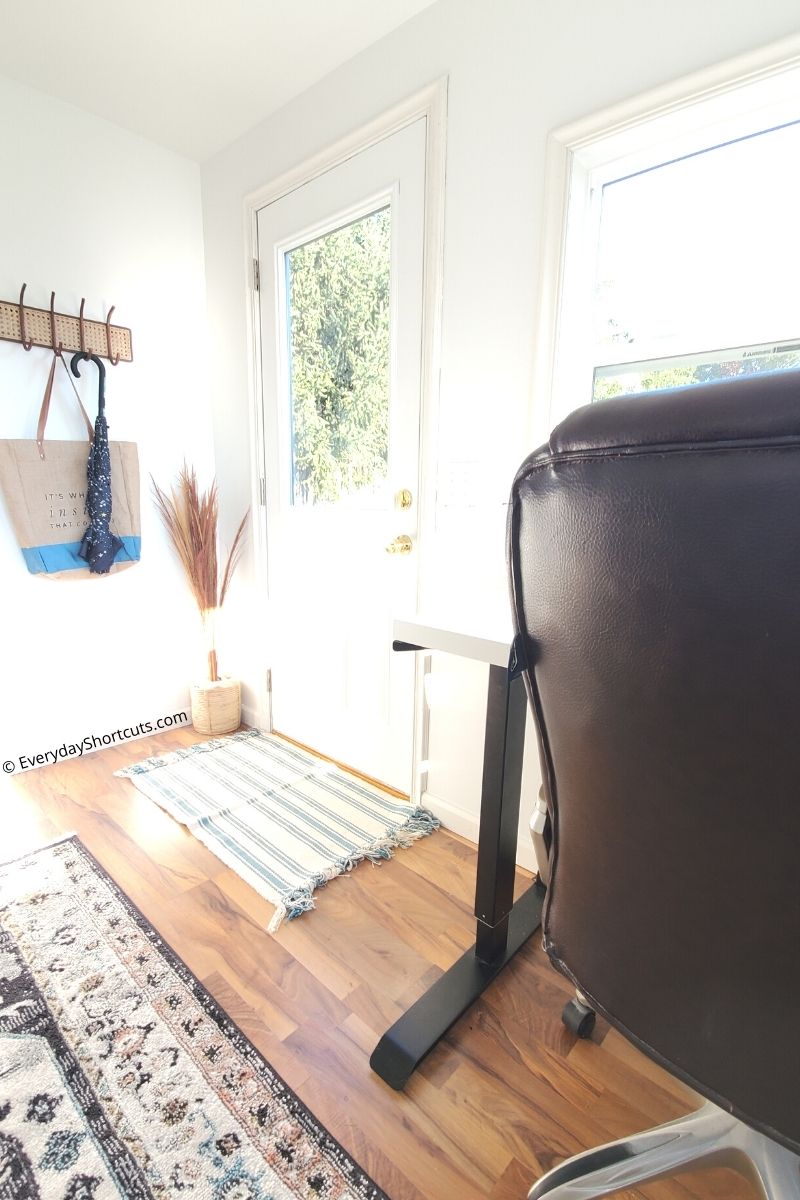 Hooks – Wall hooks (or some other type of decorative hook) for hanging hats, coats, keys, etc. on the wall so you have a place where they can be easily stored instead of strewn about in piles!
You might need to get creative with these depending on how much space you have available. Some examples are using them as door handles if there's no room near your front entryway; attaching one upside down below an open window or next to a desk for extra storage like nails/screws; placing them around corners inside closets without doors; putting two next to each other at different heights along a wall for a curtain rod (in this case, you would need to attach them together with string!)
Desk – If you are turning your she shed into an office/workspace, a small desk that is accessible would be ideal so it doesn't take up much room. I chose a standing desk that way I was not sitting all the time and keeping me more productive. For a budget friendly electric standing desk, purchase the frame via marketplace for cheap and then buy a tabletop at Ikea for under $40. The one I built was under $200 and it's the perfect size plus can withstand the weight of a computer and such.
These are just ideas! Your best bet is to get creative and personalize your space. And remember: It doesn't have to be perfect! Perfection isn't what she sheds are about.
Remember that these spaces were created so people who can never find their way around big houses could live comfortably without having too much stuff cluttering up all their living spaces at once. So really, as long as you're comfortable and happy there's nothing wrong with how you decorate your own she shed!