I get asked a lot of what can you eat on keto and decided it was time to write a post on a keto grocery list for beginners. I find that starting simple is the way to go so you don't get overwhelmed with food options. Once you get the hang of it, you can start adding more foods into your diet. These are the basics to get you started including a free printable list to take to the store with you.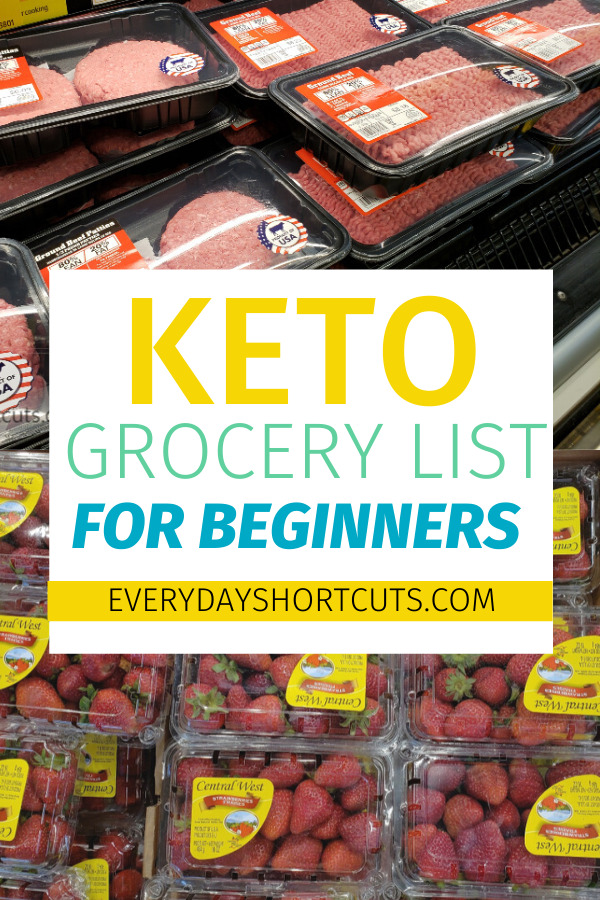 How do I get started on Keto?
Before you start make sure you know everything about Keto such as benefits, side effects, and such. I wrote everything about it in this Beginners Guide to Keto article.
How much weight can I lose on Keto?
Weight loss varies for each person so there is not a definite answer for this. The first few weeks you will probably notice a large amount of weight loss and that will mostly be water weight. After that the weight loss may gradually come off slower. If the scale hasn't budge for awhile don't give up. Keep at it and it will eventually come off. If you need some help with getting the weight to come off try these tips to help break a keto weight loss stall.
What can I eat on Keto?
The ketogenic diet about following a low-carb, high fat plan. Most food items that are keto approved are fish, meats, cheese, healthy fats, limited veggies and fruits along with a few other items. While this may not seem like a huge selection, there is actually a variety of things you can prepare with the foods you can eat that you'll be surprised by. Check out this list of keto recipes to try.
What foods should I avoid on keto?
Since you need to limit your carb intake on the keto diet, there are certain foods you should avoid when following it. Those foods would be grains, fruits that are not berries, veggies that grow beneath the ground, most milks, unhealthy fats, soda, and other items that have sugars in them.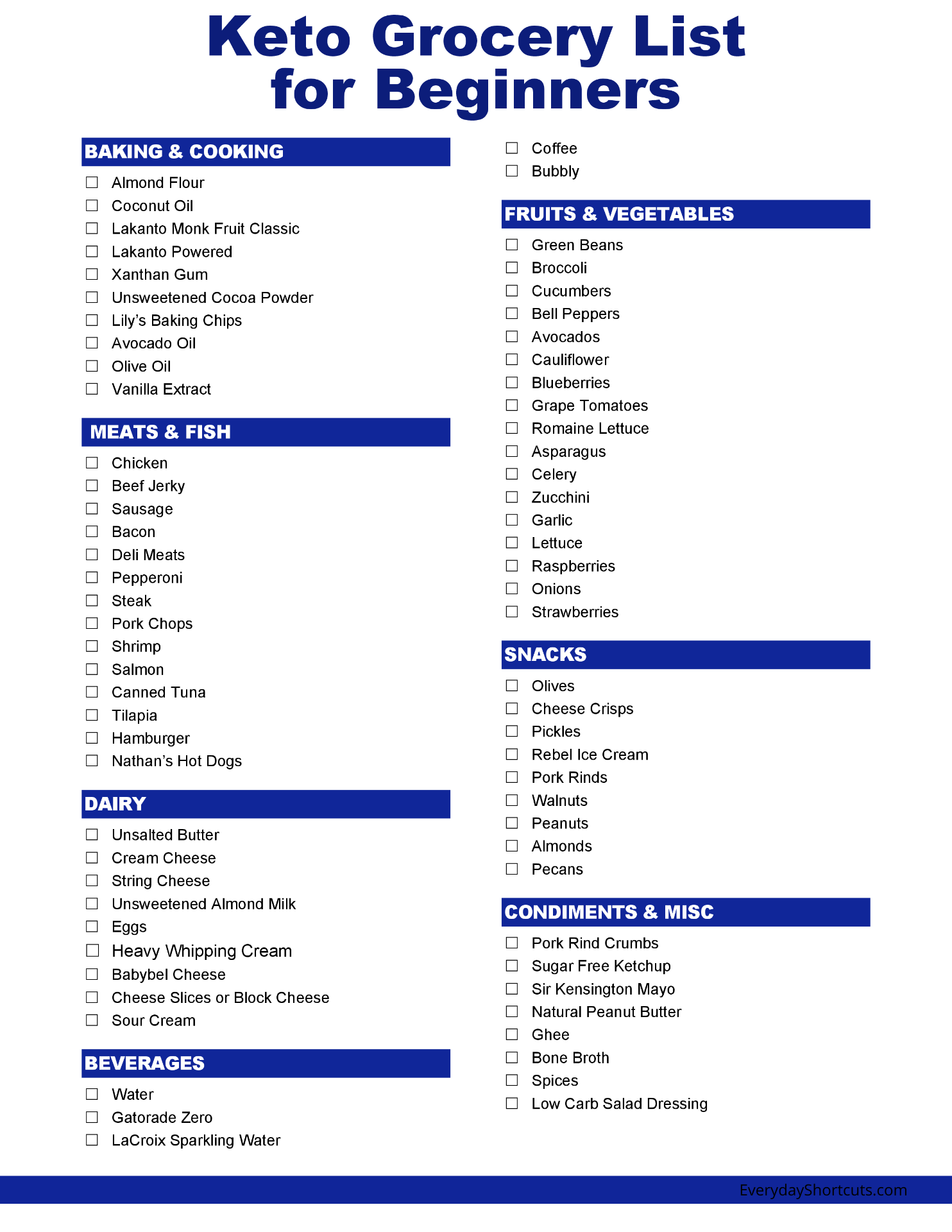 Keto Grocery List for Beginners
Now on to the keto grocery list and what you should buy. If you like to shop at certain stores, I have a grocery list specific for Aldi and Sam's Club that you can print off and take to the store.
Baking and Cooking
Almond Flour
Coconut Oil
Lakanto Monkfruit Classic
Lakanto Powdered
Xanthan Gum
Unsweetened Cocoa Powder
Lily's Baking Chips
Avocado Oil
Olive Oil
Vanilla Extract
Meats and Fish
Shrimp
Tilapia
Steak
Chicken
Deli Meats
Pork Chops
Bacon
Canned Tuna
Pepperoni
Beef Jerky
Salmon
Hamburger
Nathan's Hot Dogs
Sausage
Dairy
Unsalted Butter
Cream Cheese
Eggs
Unsweetened Almond Milk
Heavy Whipping Cream
Babybel Cheese
Block Cheese
Shredded Cheese
String Cheese
Sour Cream
Beverages
Water
Gatorade Zero
Coffee
Premier Protein Shakes
LaCroix
Bubbly
Fruit and Vegetables
Avocados
Celery
Strawberries
Blueberries
Raspberries
Green Beans
Broccolli
Cauliflower
Bell Peppers
Romaine Lettuce
Garlic
Zucchini
Cuccumbers
Tomatoes
Onions
Snacks
Pickles
Pork Rinds
Olives
Cheese Crisps
Almonds
Walnuts
Peanuts
Pecans
Rebel Ice Cream
Condiments and Misc.
Pork Rind Crumbs
Bone Broth
Spices
Low Carb Salad Dressing
Natural Peanut Butter
Ghee
Sugar Free Ketchup
Sir Kensington Mayo
To make things easier, I created a printable shopping list that you can print and take with you the next time you go to the store. All of the items are listed so all you have to do is check mark or cross it off the list.
If you want to be a part of our keto community, join us on Facebook where we post keto recipes and tips all day!