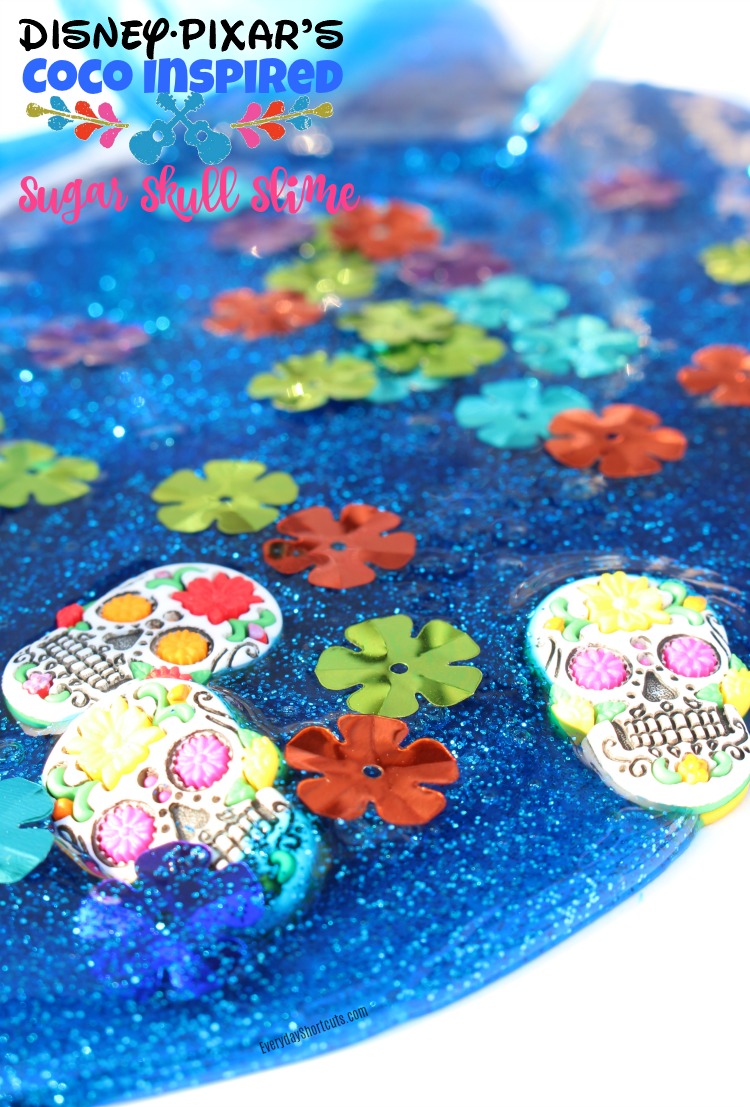 With Disney·Pixar's Coco movie coming to theaters, November 22, it only made sense to make a fun inspired craft. My son was determined to make slime the other day so I was on a mission to find Coco inspired craft items to put in the slime. While I had to go to several stores, I finally found these sugar skulls and flower confetti pieces at Joann Fabrics along with the other supplies on the list. There are many different slime recipes but this one is easy and I like it the most. Have fun with it and be creative!
Warning: Contains small parts and may be hazardous for young kids. Slime is poisonous if swallowed and be sure to supervise children using borax.
Disney·Pixar's Coco Inspired Sugar Skull Slime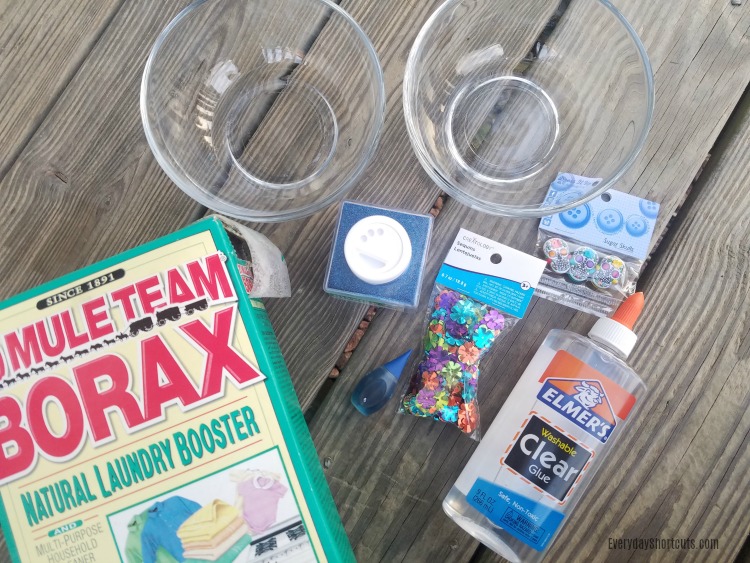 Supplies Needed
Borax powder
Water
Clear glue
Blue food coloring
Extra fine blue glitter
Flower confetti
Sugar skull buttons
2 bowls
Container to store slime in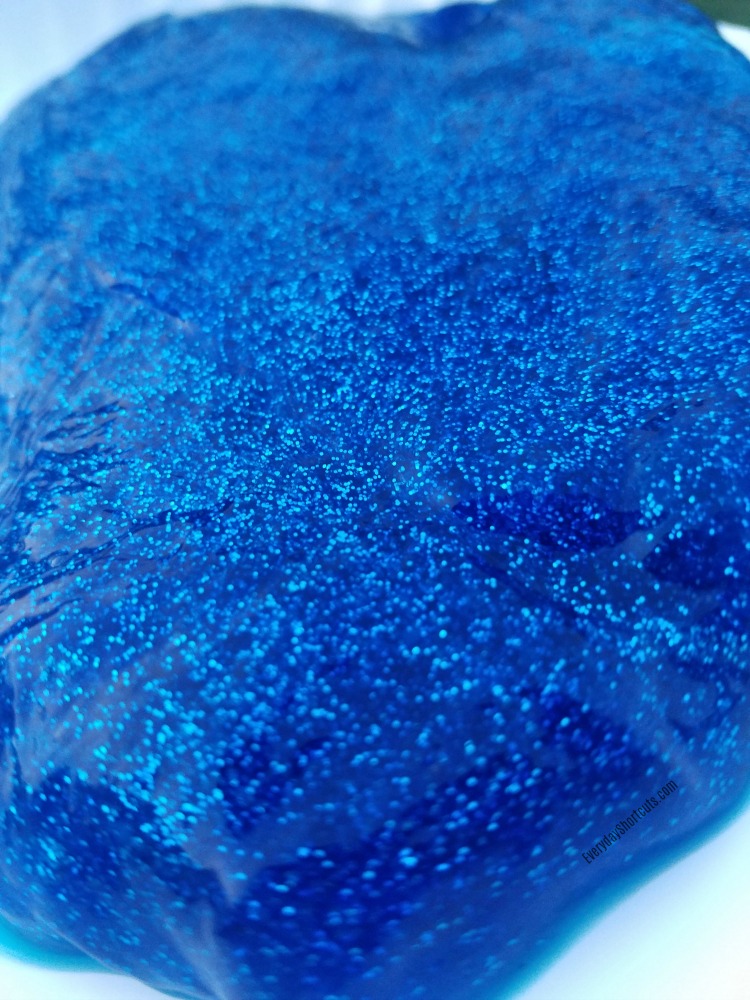 Directions
In a bowl, mix 1 tbsp borax powder and 1 cup warm water together. Stir until the borax is completely dissolved.
In a separate bowl, mix 1/2 cup of glue and 1/2 cup of water.  Stir until the mixture is well-combined. The mixture will be watery.
Add blue food coloring to the glue mixture. Start with a few drops, stir and add more if needed.
Add extra fine glitter to the glue mixture. .
Slowly combine the two mixtures and stir together as the slime begins to form.
Knead out the water and let it sit for 30 seconds.
Sprinkle in the flower confetti and sugar skull buttons.
Have fun playing with the Disney·Pixar's Coco Inspired Sugar Skull Slime.
Store in a sealed container for later use.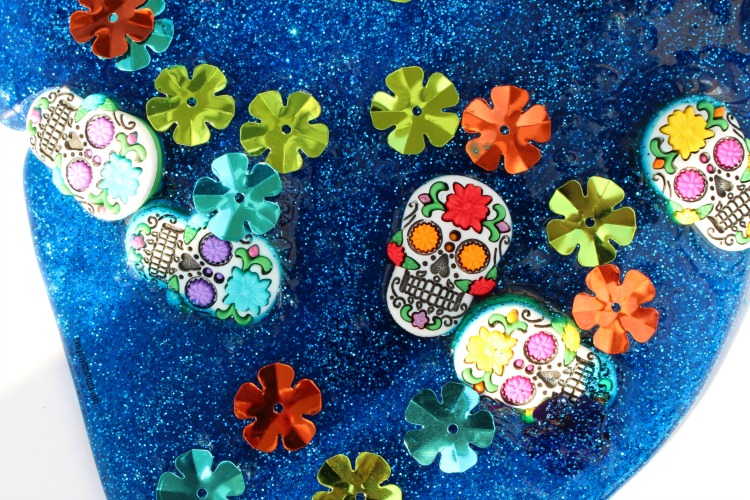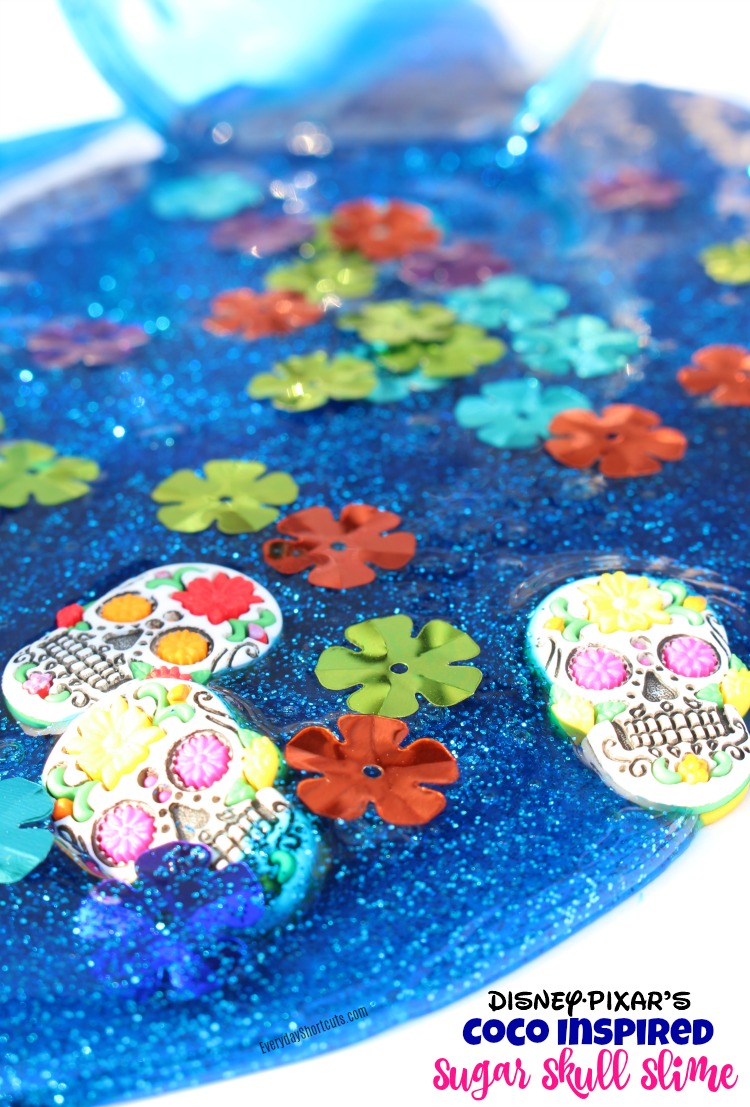 ABOUT THE MOVIE
Despite his family's baffling generations-old ban on music, Miguel (voice of newcomer Anthony Gonzalez) dreams of becoming an accomplished musician like his idol, Ernesto de la Cruz (voice of Benjamin Bratt). Desperate to prove his talent, Miguel finds himself magically transported to the stunning and colorful Land of the Dead following a mysterious chain of events. Along the way, he meets charming trickster Hector (voice of Gael García Bernal), and together, they set off on an extraordinary journey to unlock the real story behind Miguel's family history. Directed by Lee Unkrich ("Toy Story 3"), co-directed by Adrian Molina (story artist "Monsters University") and produced by Darla K. Anderson ("Toy Story 3"), Disney•Pixar's "Coco" opens in U.S. theaters on November 22nd!