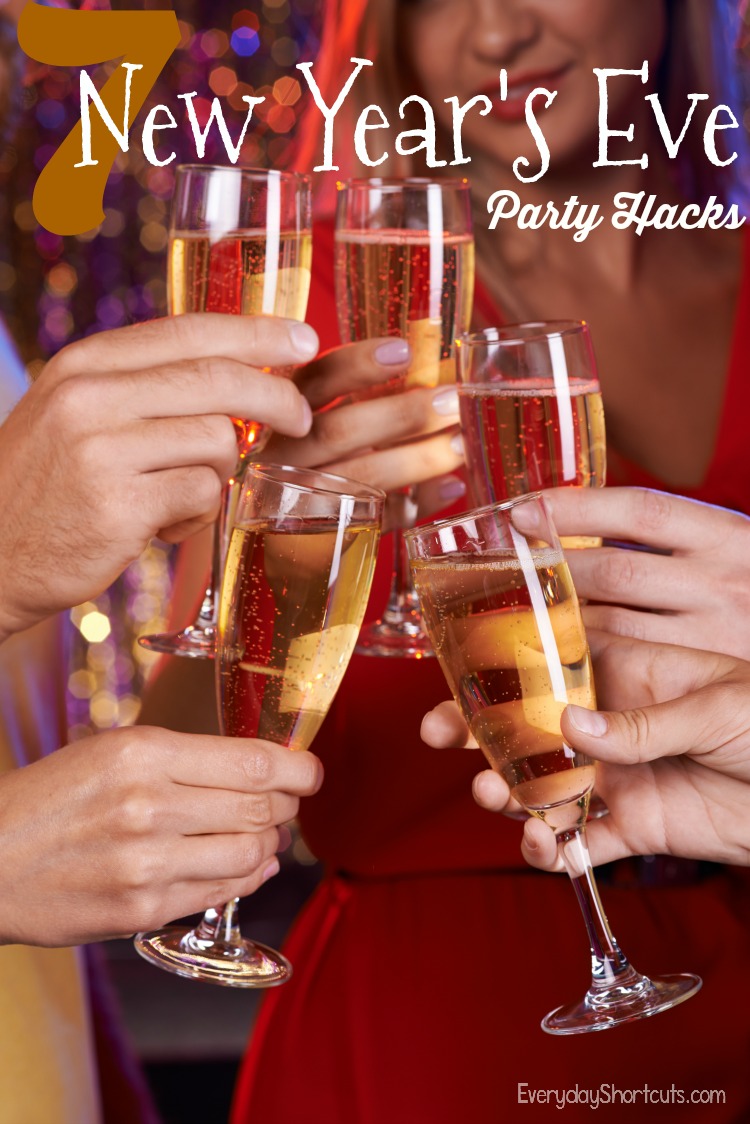 Can you believe it is time to start thinking about New Year's Eve? If you plan on hosting a New Year's Eve party big or small, you might be wondering how to really make it shine. Take a look below at 7 New Year's Eve party hacks for making your party pop. With these simple tricks you can host the perfect party guests are sure to talk about.
7 New Year's Eve Party Hacks
1. Count down the hours with balloons.
Get 6 balloons, fill them with glitter and helium, and number them. Pop one balloon per hour starting at 6 p.m. and going up until midnight. These balloons not only add décor to you party space but give you something fun to do each hour leading up to midnight.
2. Make an easy photo booth.
Drop fun party hats, tiaras, glasses, and feather boas (all of which can be found at the dollar store) and set up a simple photo booth. This gives guests a fun space to take pictures in and post them to social media using a hash tag designated for the party.
3. Sparkle up your glasses.
Give your glasses some sparkle but dipping the rims in edible glitter. This is a great way to make those glasses sparkle and make even the most simple of drinks shine. You can find edible glitter at most bakeries and candy supply shops.
4. Use frozen grapes and cranberries for cold wine.
To keep wine cold without watering it down, add frozen grapes or cranberries to it. This will help keep the wine cold, add some flavor, and will prevent it from becoming watery. It can also help add some color and fun to the drink.
5. Opt for free music.
Download the free Pandora app and search for New Year's Eve tunes. Pandora will pick songs for you and play them for free. For no commercial interruption you can opt for the $1 Pandora daily pass which gives you the choice of skipping songs and avoiding commercials for 24 hours.
6. Make use of Christmas ornaments.
Silver and gold glass bulbs can be used in vases as fillers or used to create centerpieces. You can use pine branches as vase fillers as well. Find ways to upcycle Christmas décor into something suitable for the New Year holiday. This way you don't need to run out and buy new.
7. Dry DIY chalkboard paint drink markers.
Go to the dollar store and buy wine glasses. Dip the base in chalkboard paint, set on newspaper, and allow to dry. This way you can mark each person's drink and there is no risk of drink mix up. So fun an easy! You can even find chalk when you hit up the dollars store. Choose white or use colors to match your party theme.
Give these 7 simple New Year's Eve hacks for the perfect party a try and you are sure to throw a bash that is oh so fun but stress free and enjoyable to everyone.
Need an idea for a New Year's resolution? Check out these 33 New Year's Resolution Ideas You Can Stick To!