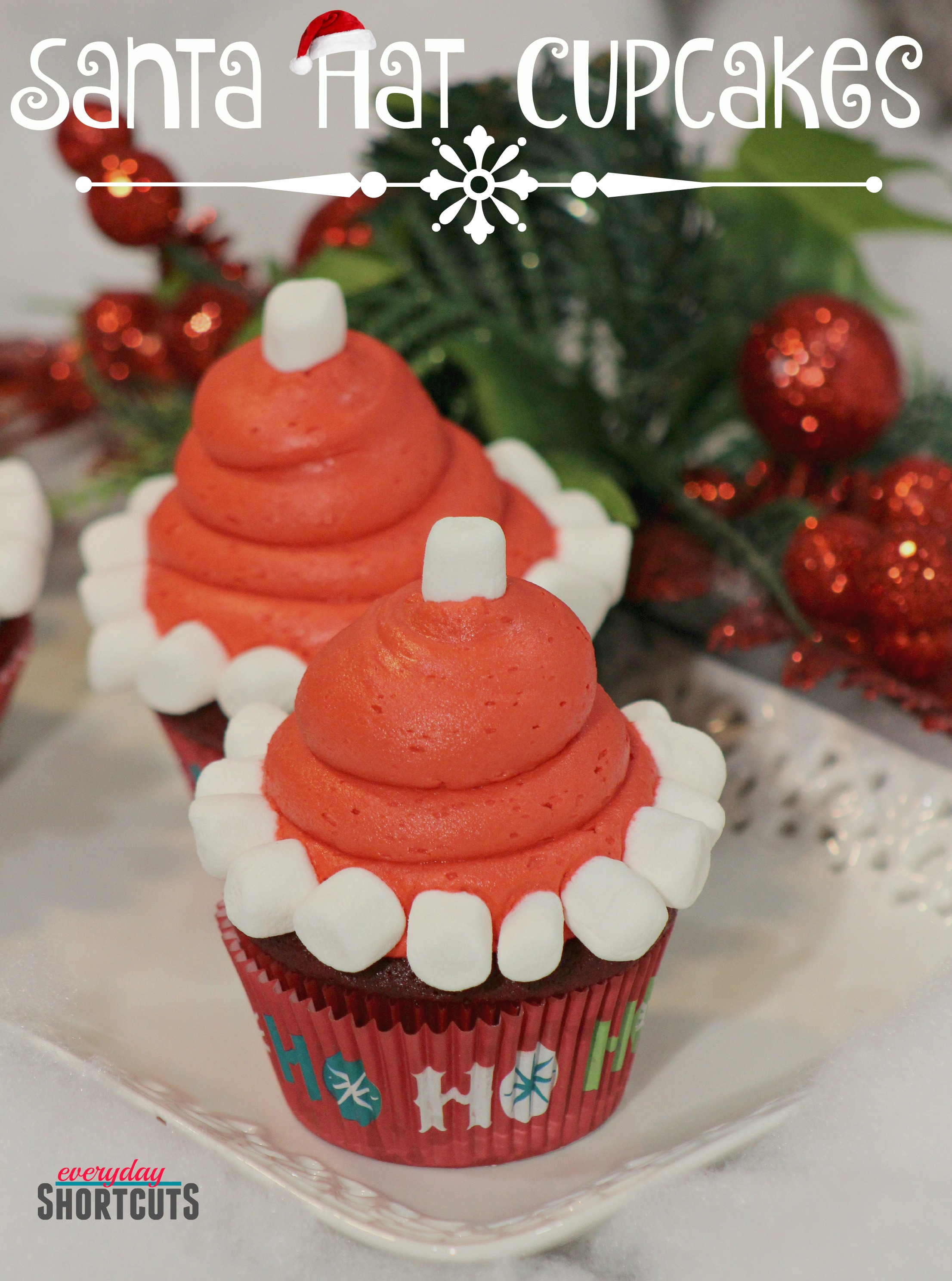 These Santa Hat Cupcakes are homemade down to the frosting. But don't let that stop you from making them. If you want cupcakes in a flash, you can always use boxed cake mix and frosting in the container. Either way they will still be adorable!
Santa Hat Cupcakes
Cupcake Ingredients
2½ C flour
1 tbsp. cocoa powder
1½ tsp. baking soda
½ tsp. salt
½ C butter, soft, plus 4 tbsp.
¼ C softened shortening
1 C sugar
1 egg
1 tsp. vanilla
1 TBSP Red Velvet extract
1 C buttermilk
1 TBSP Red gel food color
Frosting Ingredients
1 C unsalted butter, softened
1 C cream cheese, softened
2 tsp vanilla
2 C powdered sugar
Red gel food coloring
1 bag of mini marshmallows
Cupcake Directions
Preheat oven to 350 degrees.
Line cupcake tins with paper liners.
Sift flour, cocoa, baking soda, and salt.
Mix with a wire whisk.
In a separate bowl using an electric mixer, beat the butter, shortening and sugar until it is light and creamy.
Add the egg, vanilla, red velvet extract, and red gel food coloring.
Mix well.
Add flour and buttermilk, 1/2 of each at a time, mix until completely combined.
Spoon the batter into the lined cupcake tins until 2/3's filled.
Bake at 350 degrees for 20-25 minutes or until an inserted toothpick comes out clean.
Cool for 10 minutes.
Remove from cupcake tins to a wire rack until totally cooled.
Frosting Directions
Cream the butter and cream cheese until creamy.
Mix on low.
Slowly add powdered sugar until blended.
Add vanilla and beat until thoroughly combined.
Scoop the frosting into a pastry bag with a large round tip.
Twist the open end of the pastry bag to force the frosting to the tip.
Frost the cupcakes by starting on the edge of the cupcake and work toward the center.
Place the mini marshmallows along the edge of the frosting to resemble the fur on Santa's hat.
Add another mini marshmallow to the tip of the frosting for the fur ball on Santa's hat.