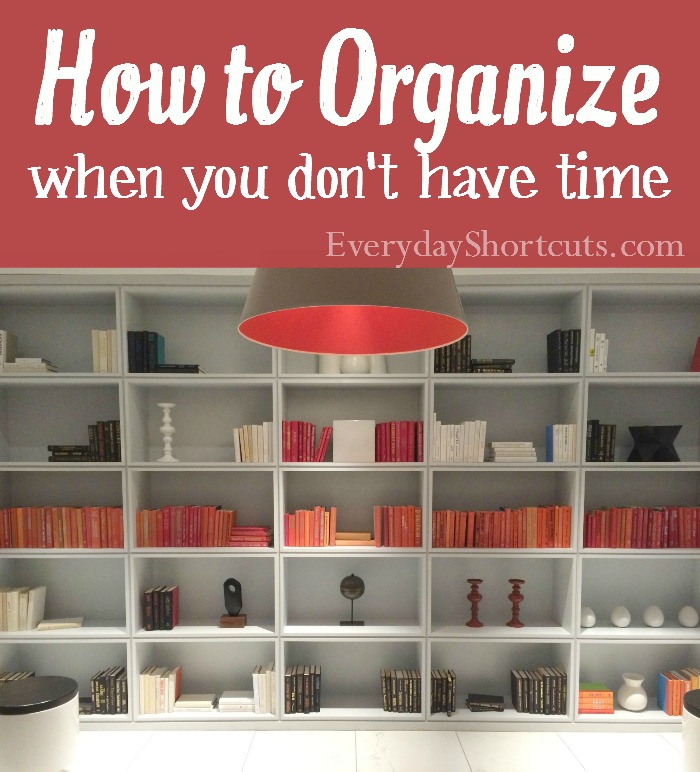 Life is busy and there just might not be enough time to get your house organized like you want to. Every day we are juggling from one task to another and may feel overwhelmed with the clutter in the house. The way to remain organized and achieve it is to have a plan. So how can you do that  when you don't have time? These five tips can help you remain organized even when you have no time to do so.
How to Organize when you Don't have Time
Choose One Project at a Time.
You don't have to get overwhelmed with organizing. By choosing one large project at a time will be less stressful. And don't feel like you have to get all of the projects done in a week. Take your time by doing a project once a week or once a month.
Utilize Your Time.
Sometimes we have free time that we do nothing. There is need for you to ensure that every time that you are free can be utilized by organizing a few minutes a day. You can use the free time to organize your table or even sort your tasks. Just by taking 10 to 15 minutes here and there can help you get organized and feel accomplishment.
Make A Schedule.
Make a list of your tasks that you need to do. Ensure that every task is given time in order of priority. Lists are a great way to remind yourself of what needs to be done and a good motivator to get it completed. Also planning makes tasks seem lighter than they are when combined and thus at the end of the day you are relaxed and not exhausted and stressed. To achieve this in the beginning of the week create a time-table and list all the tasks you do in a normal day as well as your daily routine.
Organize as you do Other Tasks.
When you enter office start by sorting your mails while checking your email, and while at home put clothes in right place, sort the dirt ones while arranging toys as well. Sometimes organizing several related things while doing other tasks minimizes the time of having to do the same tasks later. An organized house ensures that you get what you need when needed and minimizes wasting time looking.
Be a Minimalist.
If you own less stuff and buy less stuff you will have less to clean up and go thru. Not only will this make your home more manageable it will make cleaning a breeze. And most of the time you already own something similar so think before you buy and ask yourself, "Do I really need this?".