Use our FREE Printable Elf on the Shelf Goodbye Letter to let your child know the elf has returned to the North Pole until next year!
It's that time of year to say goodbye to the Elf on the Shelf!
A fun and festive tradition is back at The Elf on the Shelf! Send your elf back to the North Pole and make Christmas more memorable than ever. The Elf on the Shelf "Goodbye Letter" is a part of the farewell tradition; it is written and included when the elf leaves each year. The letter usually includes a message about the memories the Elf had with your child, as well as a thought for the new year.
Before they go to bed let the kids say farewell to their Christmas Elf, who will depart by magic into the night. When they wake up the next morning they will find a letter written by their elf. This beloved Christmas tradition letter lets your kids know that the Elf has returned to the North Pole.
When Does Elf on the Shelf Leave?
The Elf comes the first night of December, but each day he only stays until the sun sets and your little one falls asleep and returns the next day. The last day of his stay is the night of Christmas Eve. The elf returns to his/her home in the North Pole to report back to Santa and will arrive the next year.
Why Does Elf on the Shelf Leave?
Elf on the Shelf is doing a special thing…a scout who reports to Santa. This is why the elf has to go back to The North Pole Christmas Eve night to let Santa know if you've been naughty or nice. Santa also needs help for a very busy night so the elf needs to be present to make all the preparations before Santa heads out.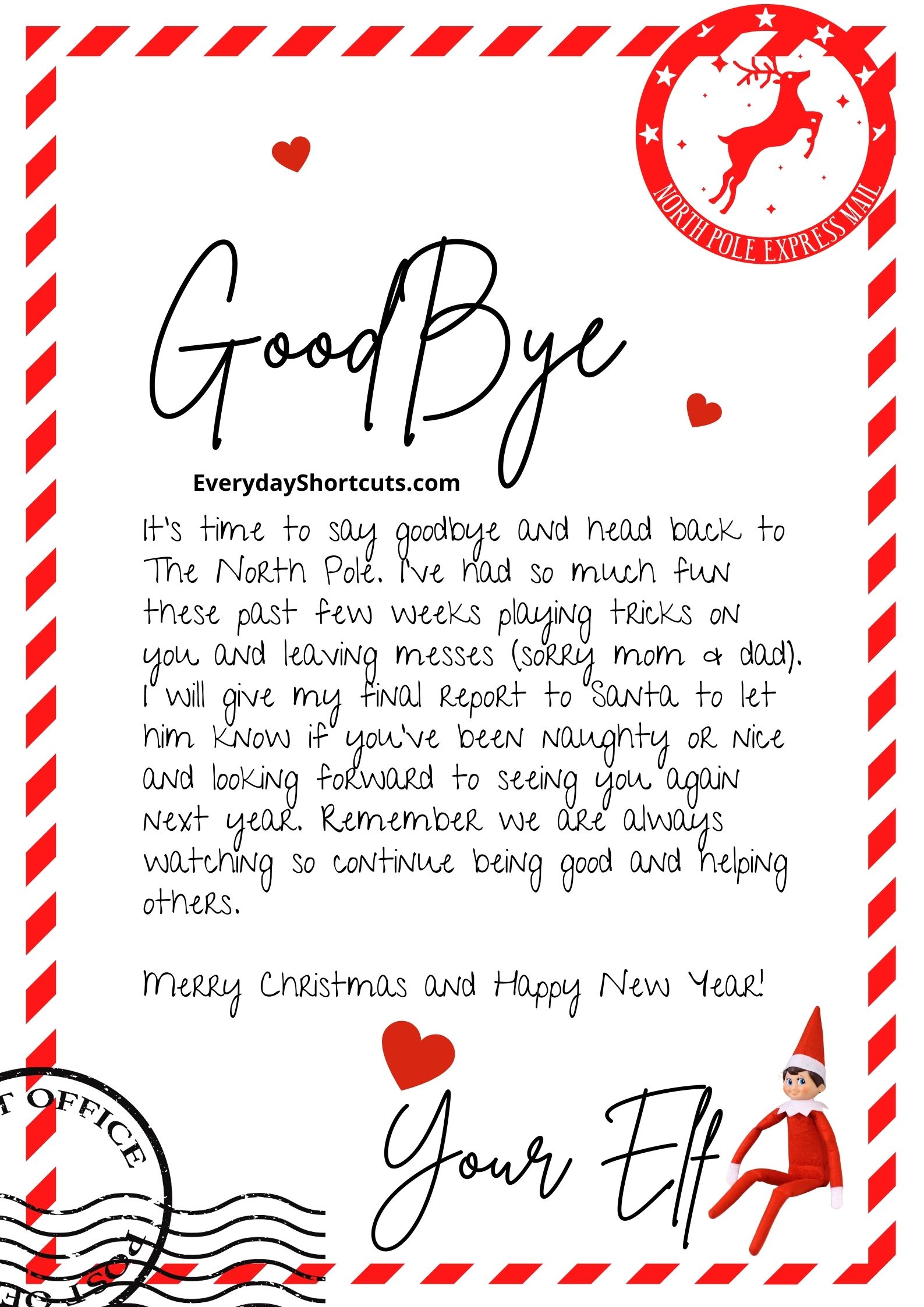 Download and Print our FREE Elf on the Shelf Goodbye Letter here and set out for the kids to see Christmas morning!