Cardboard tubes are everywhere during the holiday season. Why? Because most of your wrapping paper and gift tissue is sold on cardboard rolls. So after the roll is empty, should you just pitch it? Recycle it? Well the truth is neither. There are purposeful ways to put those cardboard tubes to use during the holiday season. Take a look below at 6 creative ways to use cardboard tubes during the holiday season, so you can get a little more use out of them and save them from the trash pile!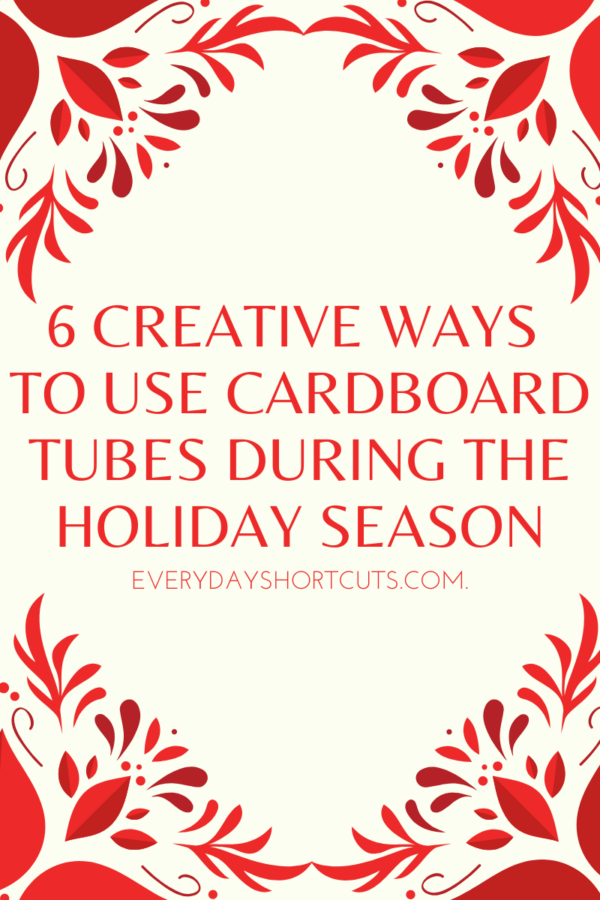 6 Creative Ways to Use Cardboard Tubes During the Holiday Season
1. Store Christmas lights around them.
Keep the lights from getting tangles when you wrap them around the tubes. You will find that this is a great way to store your Christmas lights and keep them from becoming a tangled mess. Just start at one end, wrap, and continue wrapping until you arrive at the opposite end.
2. Make your own ornaments.
Cut the tube into single loops/circles. You can then decorate them with paint and glitter for the perfect little ornaments. This is a great craft for kids and a great way to use those cardboard tubes. You can even make a chain garland using the cardboard circles to decorate banisters and entryways.
3. Make your own napkin rings.
Cut the cardboard tubes into 1 inch sections and make your own napkin rings. You can wrap them in scrapbook paper first if you wish, or paint them or adorn them in glitter. Either way, it is a festive and frugal way to decorate your napkins and your holiday place settings. Guests are sure to love it.
4. Let kids make their own snowmen.
Cut the tubes into 3 inch sections and paint them white. Use markers to make the face and buttons on the front of the snowman. These will also look cute on your holiday tables or kids can use them as gifts. Make a whole little army of snowmen using this method and see how cute they can be.
5. Craft them into light sabers.
This is such a cute idea for kids, and a fun idea if they want to make their own gifts for siblings. Get some washi or duct tape to decorate the tube with so you can make it look like a light saber. You can also make your own fairy wands with them or pirate swords. Just experiment with washi tape to get various looks.
6. Use them as sleeves to store fake tree branches.
If you have a fake Christmas tree that comes apart branch by branch, the cardboard tubes can be used as sleeves to hold them. Just cut the tubes into segments long enough for the branches. When you take your tree down at the end of the season, slide the branches into the tubes. The tubes will keep them safe as well as dust free.
Don't toss out those cardboard tubes after the wrapping paper is gone. Instead, try one or all of these ways to reuse cardboard tubes during the holiday season and see how practical they can be.