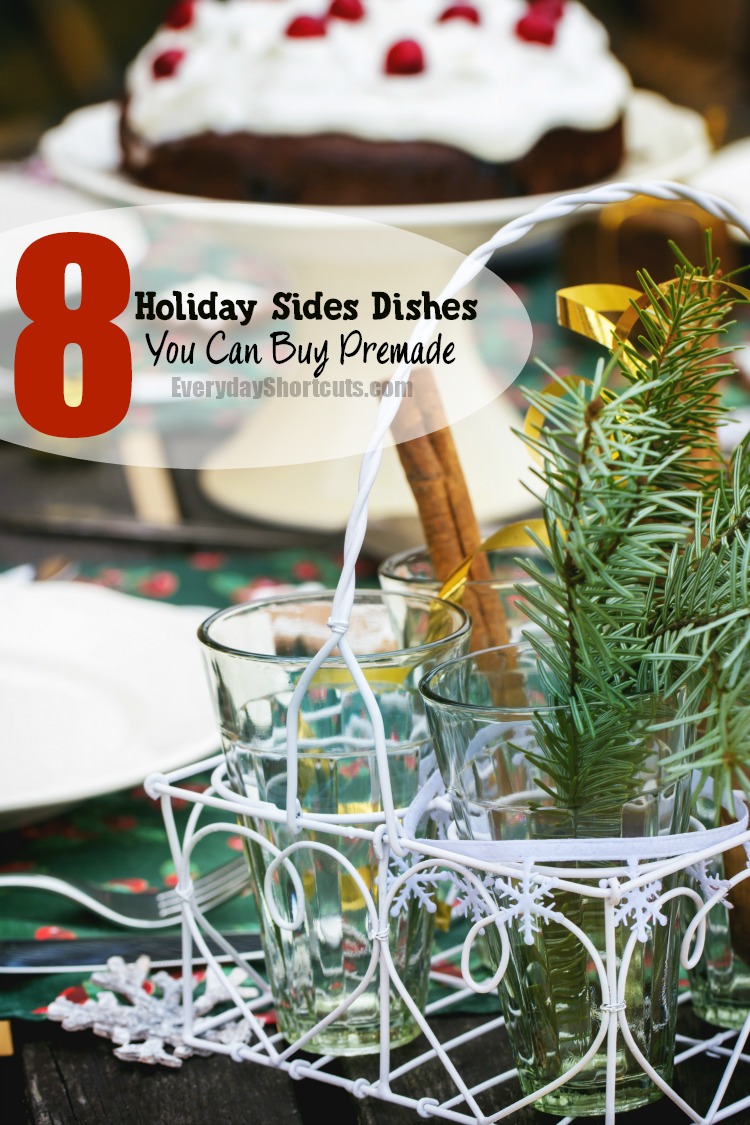 The holidays are coming, which means it's time to start thinking about all your holiday menus and meals. Preparing a dinner for a crowd is no easy task, which is why it is important to take short cuts if possible. Luckily, side dishes have come a long way and so many can be purchased premade these days, saving you tons of time and energy. Look below at 8 holiday side dishes you can buy premade and see how simple it can be to get your holiday meal on the table without a ton of hassle.
8 Holiday Side Dishes You Can Buy Premade
1. Mashed Potatoes.
This use to be one of the most labor intensive side dishes, and now it is one of the easiest to get on the table. You can buy froze potato chunks which just require heating, mashing, and seasoning. Or, you can buy the Bob Evan's variety that comes mashed and seasoned ready to serve. No more washing and peeling potatoes.
2. Baked breads.
There is no need to make bread from scratch. Head to the local bakery and grab a fresh loaf. Then all you need to do is heat it and eat it. Add a little butter and garlic before baking and you will enjoy a real fresh-baked taste without the hassle.
3. Macaroni and cheese bakes.
Bob Evan's also makes ready to serve mac and cheese where all you need to do is heat and heat. You can even top this dish with crunch onion crumbles or bacon crumbles to dress it up. Mac and cheese have never been easier or tastier.
4. Cranberries.
Cranberries can be served all sorts of ways. Buy cranberry jelly or whole canned cranberries and serve them over cream cheese. This is a quick and easy side dish that looks nice and offers a little tartness to the meal. Making your own cranberries side dish is as easy as opening a can.
5. Cold deli salads.
Your local deli will have so many cold salad options. Choose from cold corn salad, bean salad, potato salad, and even pasta salads. If serving your feast around lunch time, this is a great way to add more to your meal for less money and less time.
6. Chef or Caesar salad.
Buy ready to use salad kits from your local grocer. There is no need to rinse and chop lettuce and vegetables when you go this route, and preparing your salad is as easy as opening a bag and pouring it in a bowl.
7. Pies.
Can you have a Thanksgiving feast without a pie? No way! Choose from one of the many delicious frozen pie options from Sara Lee or your local bakery. This is a great way to enjoy a tasty pie for dessert without getting out the rolling-pin.
8. Cider.
Want to enjoy a nice cider with your meal? Heat store-bought apple cider in a crock pot with a little cinnamon and fresh nutmeg. This is an easy way to dress up this store-bought side and create a beverage your guests will love.
Are you ready to enjoy your guests this holiday season? Then consider these 8 holiday side dishes you can buy premade and see how simple it can be to get dinner served!