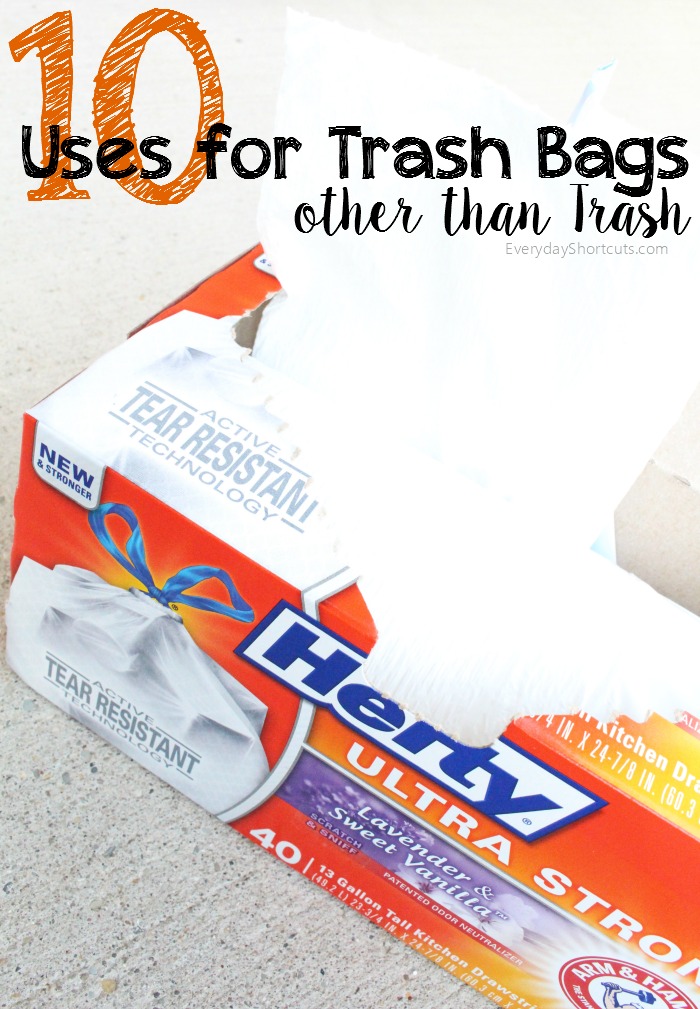 Let's face it with a family of 5, trash in our house is overwhelming. Sometimes, I wonder where the heck it all came from. By the time I gather the trash from all rooms on trash day, I turn around and there is more staring me in the face. It's time to take a handle on trash days by making sure the trash bag can stand the amounts of trash we have. If only we had the help of WWE Wrestler John Cena but since he is on the other side of the map we will take the next best thing of Hefty Ultra Strong Kitchen Trash Bags in our home.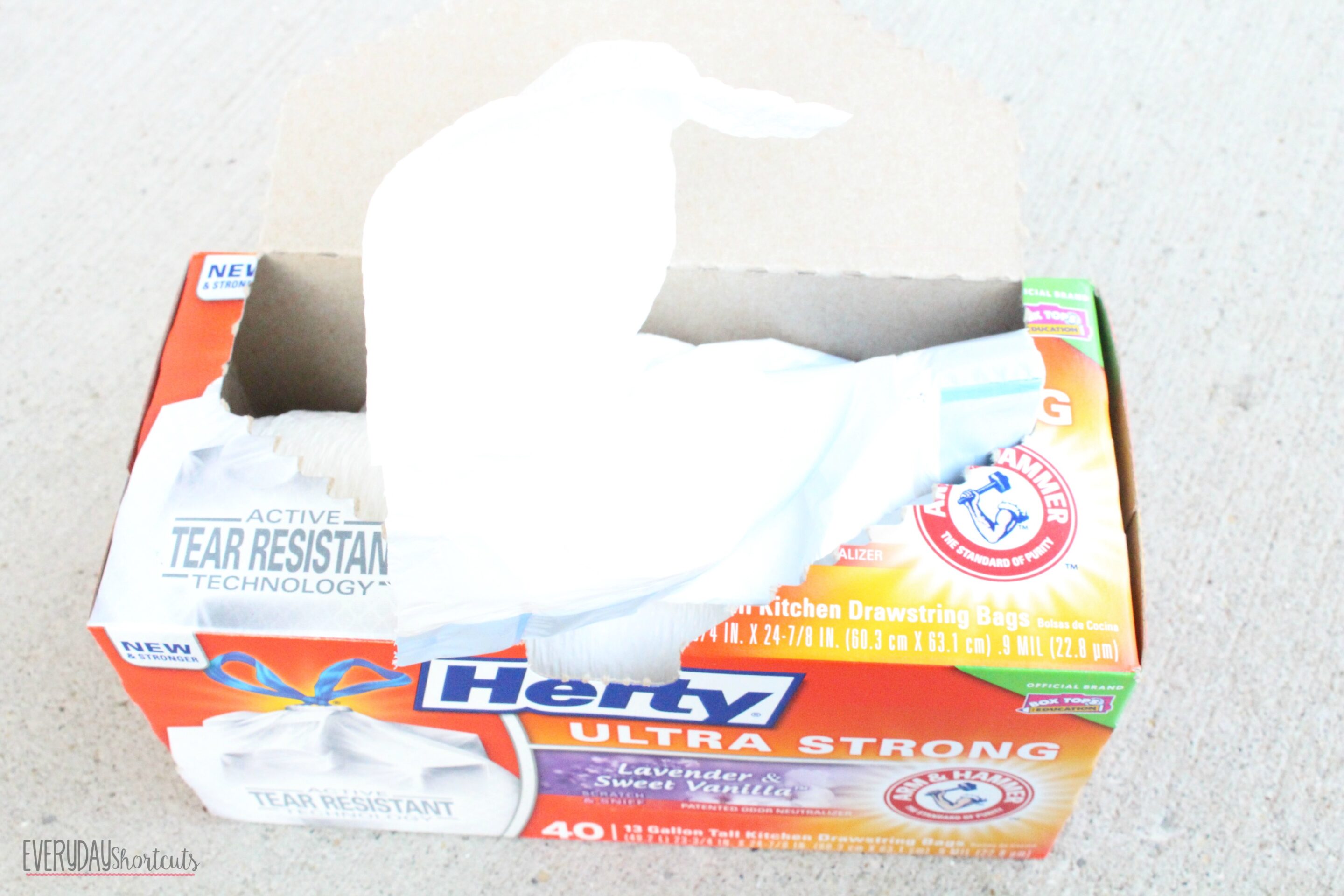 What's so great about Hefty Ultra Strong Kitchen Trash Bags is that they offer exceptional performance with Arm & Hammer patented odor neutralizer, active tear resistant, break resistant grip drawstring, and lower in price than other brands of trash bags. And you can save even more by printing this $1.00 off coupon for Hefty Ultra Strong purchase.
Did you know that you can use trash bags for other things other than trash? Well, there are tons of different uses for trash bags out there but these ones are unique and uses that I use often.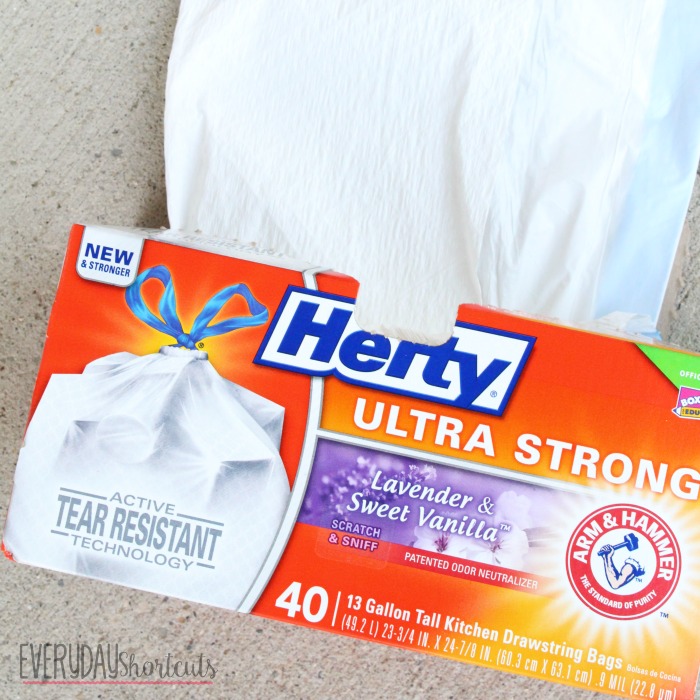 Uses for Trash Bags Other than Trash
Protect a Wooden Flower Box.
Line a wooden flower box with a trash bag before you add the dirt and flowers to protect the wood.
Travel Laundry Bag.
You know those little laundry bags in the hotel rooms are never big enough to haul the dirty clothes home. Next time pack a scented Hefty Ultra Strong Kitchen Trash Bag or two in your bag to put the dirty clothes in. And with the bags being scented the dirty clothes will not smell so bad in your luggage.
Keep Shoes Dry.
Keep 2 extra trash bags in your purse, car, or at work in case you forget your boots or rain gear. Put a trash bag on each shoe and either tie it at the top or use a rubber band to secure it. Your shoes will stay dry in rain or snow. Make sure to take them off when you are ready to drive as they will be slippery and have no traction.
Plastic Cap.
Whether you are conditioning, coloring, perming, or wanting to protect your hair from the rain, wrap a trash bag around your head and hair. Gather together and twist at your forehead and tuck under. Yes, it may look silly but at least your is protected.
Make a Scarecrow.
Instead of stuffing all the leaves inside clothes where they tend to scatter everywhere, stuff leaves in trash bags and put them in the clothes to create a scarecrow. This will keep everything in tact and you can even pin the clothes to the bag if need be.
Wreath Protection.
Keep your non-living wreaths for the holidays dust-free and protected by covering them with a trash bag year and year to expand the life of them.
Table or Surface Protector.
Have a messy project? Line a table or surface with a trash bag. It will make an easy cleanup and leave your furniture protected.
Pillow.
Camping and forgot your pillow? Stuff a trash bag with leaves for a cushiony pillow to sleep on.
Art Project.
Twist, shape, and form your trash bag into any design you want and dip in paint. Dab, roll, or press the paint covered trash bag onto the canvas or project for the perfect art project.
Belt.
Pull the drawstring out of a trash bag and weave thru each belt loop and tie together. Or if that is not long enough you can twist the trash bag, weave thru belt loops and tie together.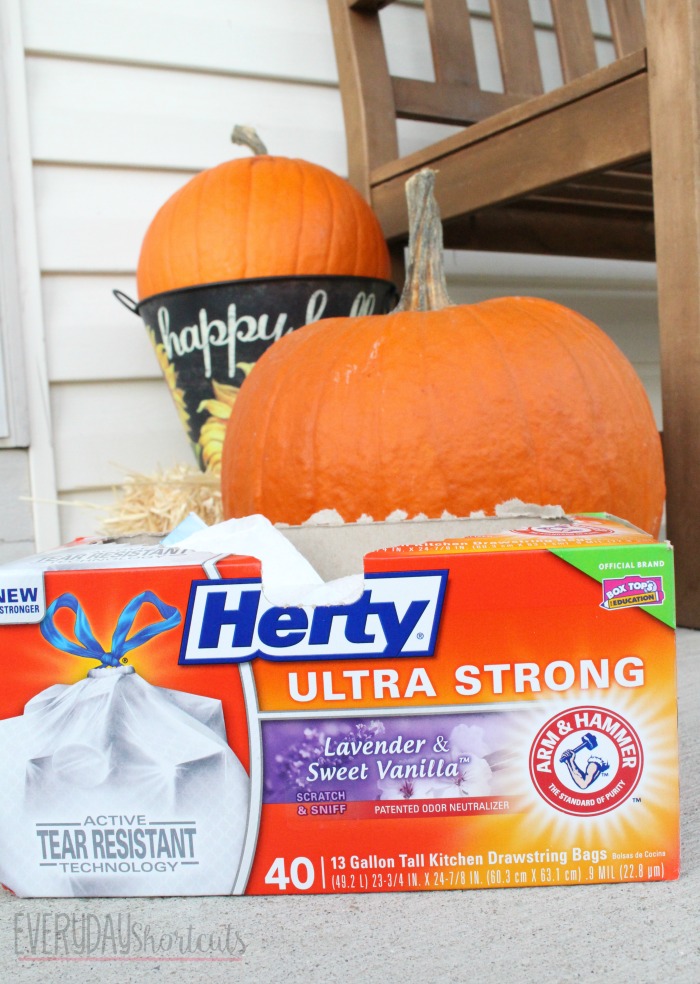 And if all those uses are not unique enough for you, well then you can still use it for a plain ole' trash bag collecting trash. You can find Hefty Ultra Strong Kitchen Trash Bags with Arm & Hammer Odor Control in a mass retail location near you but don't forget to print this $1 Hefty Ultra Strong coupon to take to the store.
Available in 7 Scents:
• Clean Burst
• Citrus Twist
• Lavender & Sweet Vanilla
• Crisp Orchard Apple
• White Pine Breeze
• Tropical Paradise
• Pomegranate Mist