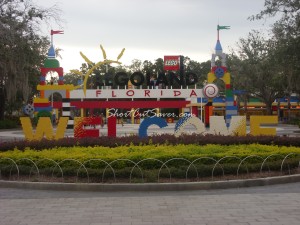 One of my favorite all time parks is LEGOLAND, Florida. My family and I got to review LEGOLAND Park and water park for the day in Orlando, FL. The park is perfect as it is never too crowded so you don't have to wait in line for rides and is a clean park.  My kids are ages 13, 11, and 7 and all of them enjoyed the park and water park.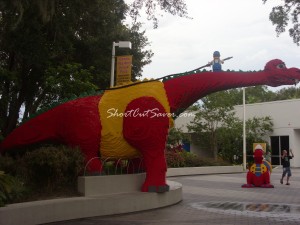 When you first arrive at LEGOLAND park be sure to stand in front in the dinosaur to get it to shoot water over you. It will do a countdown and if you stand in the right spot (stand in the water spot on the ground)  you will also get wet.

Stroll through the middle of the park and view the mini lego builds. In this part you can view a mini lego version of different cities. These look identical to the actual cities. Each mini Lego city will have various of buttons to press to see them in action, such as, "The Mirage" on the Las Vegas strip. Push the button to see the volcano erupt. This year they even added a Star Wars Lego exhibit. You can find a full sized Darth Vader and R2D2 built out of Legos and have your picture taken with them.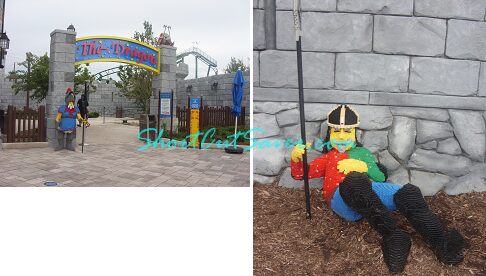 Our favorite roller coaster ride is the Dragon ride. When you enter the ride, look to your right and you will see a sleeping guard snoring away. The dragon ride is fun for all ages (especially the adults). When we rode it we could see the new "Chima" ride being built at the top of the first hill which is now open to the public and I hear you get very wet.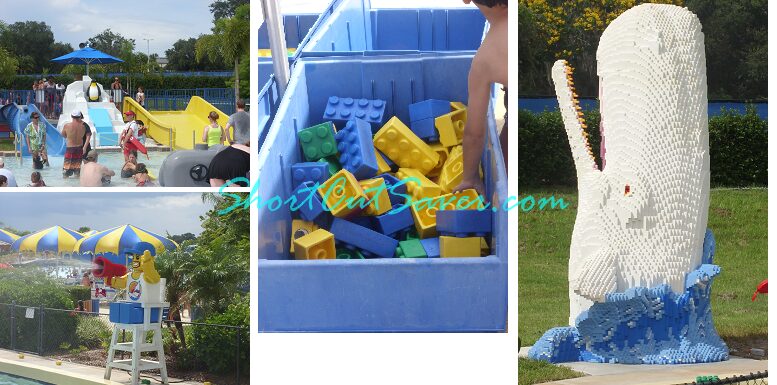 We also got to enjoy the water park at LEGOLAND. When you first enter the water park there is a mini water playground for the young kids. Then, you will notice the lazy river where you can take an inner tube and build on your raft with large Legos floating in the water around you. This makes it fun for kids building on their raft and relaxing for the adults. Next, we went to the wave pool where you will find a small island in the middle with a palm tree. Kids can build with Legos on the mini island. They also make the waves low in the wave pool for small kids. If you continue down the path of the water park you will notice a large water playground with a water dumping buckets that pours out gallons of water each time it gets full. And for the bigger kids you can have a race down the 3 high water slides that vary in style. And last but not least, you can venture down the Twin Chasers water slide with an inner tube. You can ride single or double.
Right now LEGOLAND is offering a deal where you get a FREE Waterpark ticket with the purchase of a park ticket.
Adult Park Ticket + FREE Waterpark Pass $63 (reg. price for both is $100.11)
Child 3-12 Park Ticket + FREE Waterpark Pass $54 (reg. price for both is $91.59)
If you don't want to visit the water park you can just purchase the Park tickets only.
Adult Park Ticket $55.25
Child 3-12 Park Ticket $49.25
To purchase LEGOLAND tickets, go here to get yours. After you purchase them you can print them instantly from your home printer. Take the printed tickets to the gate and they will scan them to get you access in the park.
*Tip: If your child gets Lego Magazine in the mail, sometimes there is a coupon for a FREE child ticket with the purchase of an Adult ticket. (I don't think it includes the water park though) If you would like to subscribe for free, go here to sign up. *
Disclosure: I was given the product featured in this post to facilitate my review. All opinions are 100% mine and not influenced in any way.