Celebrate New Year's Eve with this charcuterie board filled with your favorite meats, cheeses, crackers, fruits and more!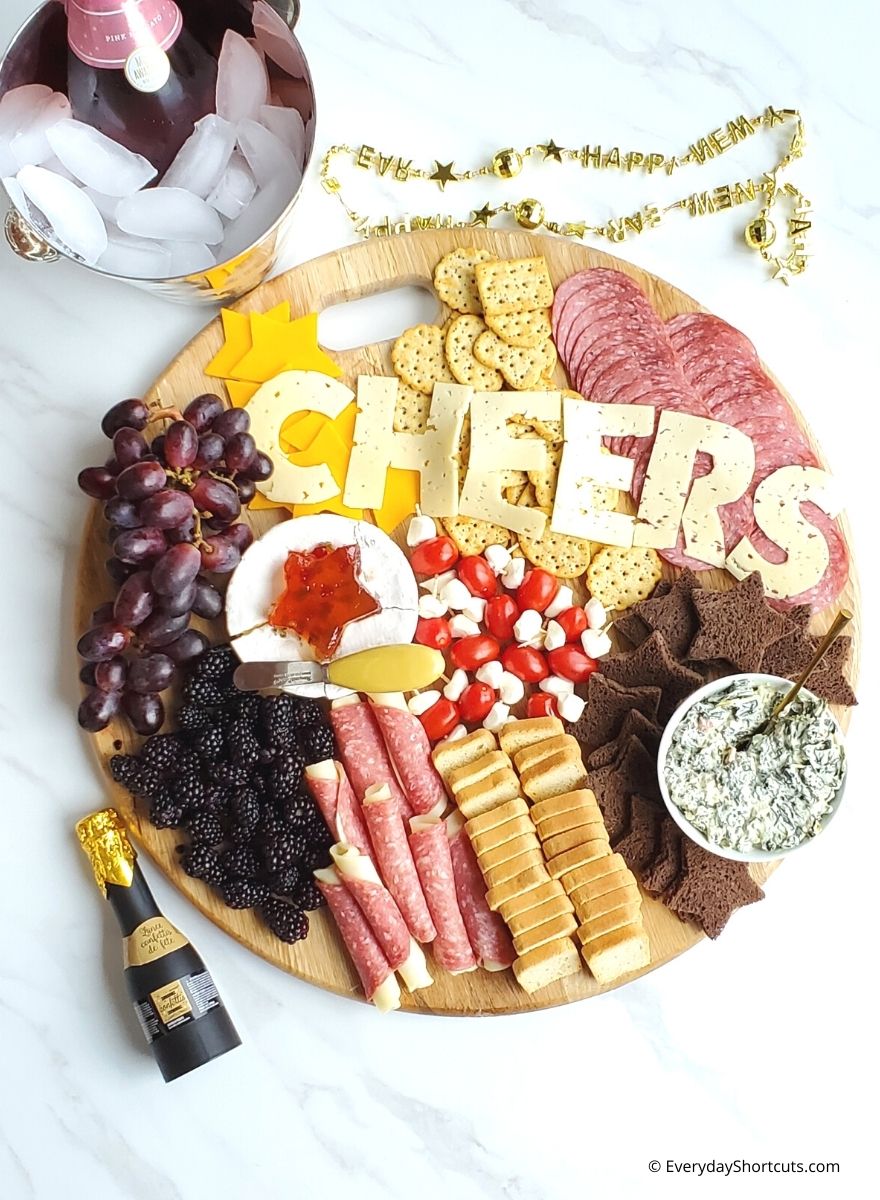 How do you plan to spend New Year's Eve? Many people prefer to spend New Year's Eve at home surrounded by family and friends than going out. In fact, the number of Americans who plan to celebrate New Year's Eve at home is expected to rise compared to previous years. I will one of them staying at home with my family playing games, watching TV and enjoying some delicious food.
Whether you are celebrating with friends, family or both, this New Year's Eve Charcuterie Board is a great way to do it. Everyone loves an array of finger foods to graze throughout the night before the ball drops at midnight. Happy New Year!
Charcuterie Board Pairings
You don't need to be a professional to create and serve up a delicious charcuterie board, you just have to have the right tools. A great charcuterie board requires a wonderful combination of meats, cheeses, sweet and savory items, and the perfect board to put everything on.
When it comes to making a good charcuterie board, it's important to have a variety of flavors and textures. The meats, cheeses and spreads should complement each other as well as be delicious on their own. Here are five pairing combination suggestions that work well together.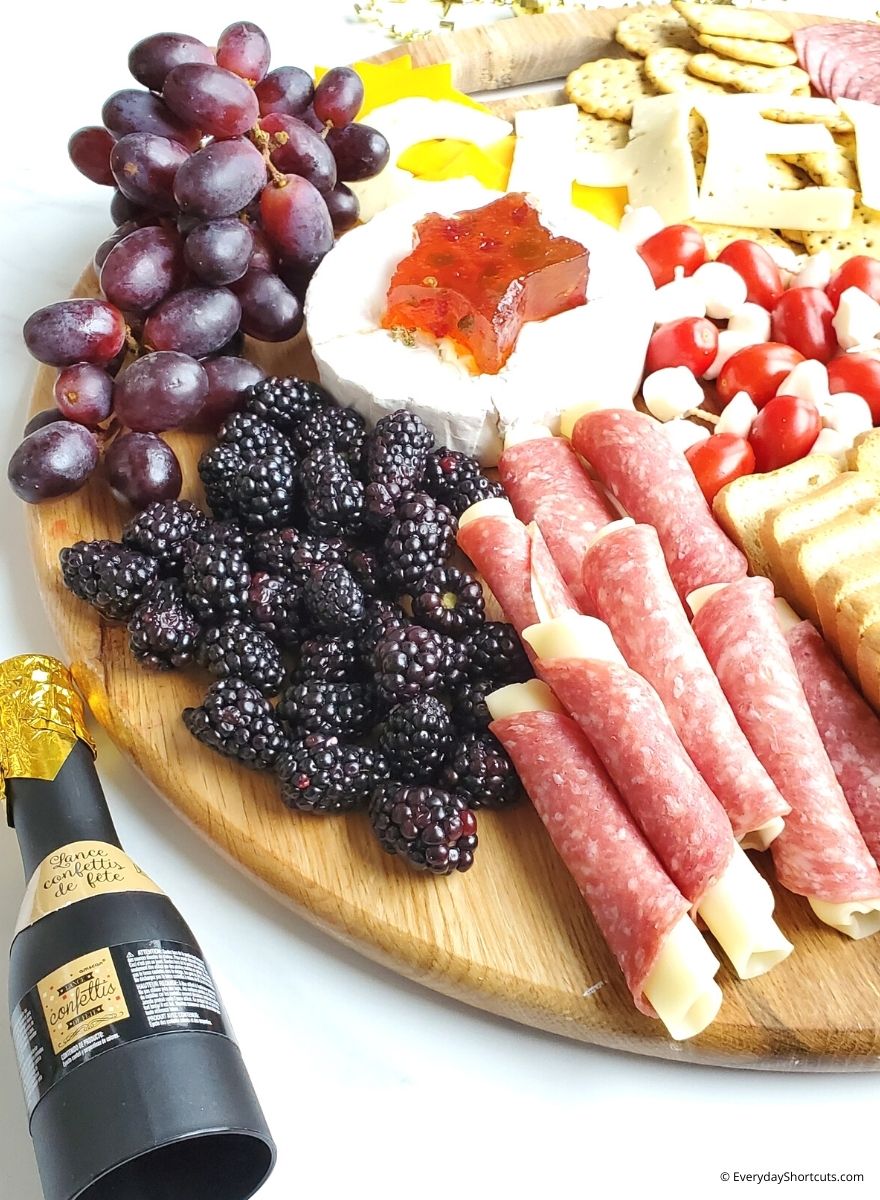 Truffles
The rich, earthy flavor of truffles pair well with the bold flavor of many meats. Try pairing a soft cheese like brie with truffles for a fatty-meets-earthy taste.
Cured Meats
Salami, prosciutto and chorizo pair well with sweet jams or honey. A mild cheese like brie and some honey or jam on crackers is a classic combination which will draw out the milder flavors of the cured meats.
Savory Spreads
Salty, herby spreads like tapenade work well with salty cheeses like manchego or parmesan. Try serving them with crostini or your favorite crackers for an appetizer that packs a lot of flavor without being too heavy.
Tart/Sour
Fruits like apples, pears, and grapes pair well with cheese because they both have a sweet flavor. This combination can work well as an appetizer or dessert. Exotic fruits like figs and papayas can pair well with hard cheeses like Parmesan or Asiago. You can also try this combination with soft cheeses like Brie or Camembert as an appetizer or dessert.
Sweet and Fruity
Fruits like strawberries and apples are sweet, tangy, and pair well with many different types of cheeses such as blue, brie, gouda, cheddar, and camembert. Another fruit that pairs well with these types of cheeses is apricots.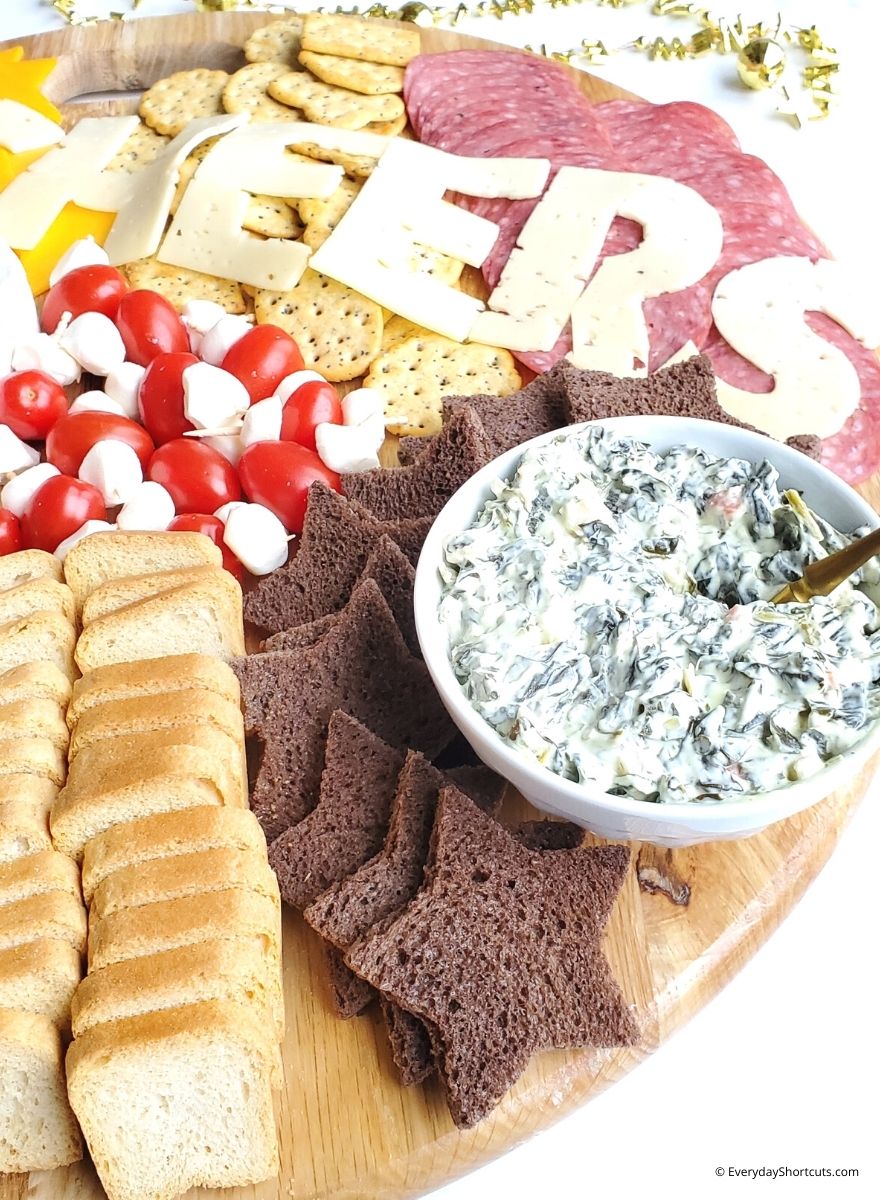 What You'll Need
Brie Cheese Wheel
Peppered Jelly
Blackberries
Red Seedless Grapes
Crackers
Mild Cheddar Slices
Havarti Cheese Slices
Pumpernickel Bread Slices
Spinach Dip
Salami
Salami and Mozzarella Cheese Roll Ups
Sweet Cherry Tomatoes
Mozzarella Cheese Balls
Mini Toast
Elegant Toothpicks
Star Shaped Cookie Cutter
New and Clean Stencils
Sharp Knife
New Year's Eve Decorations/Poppers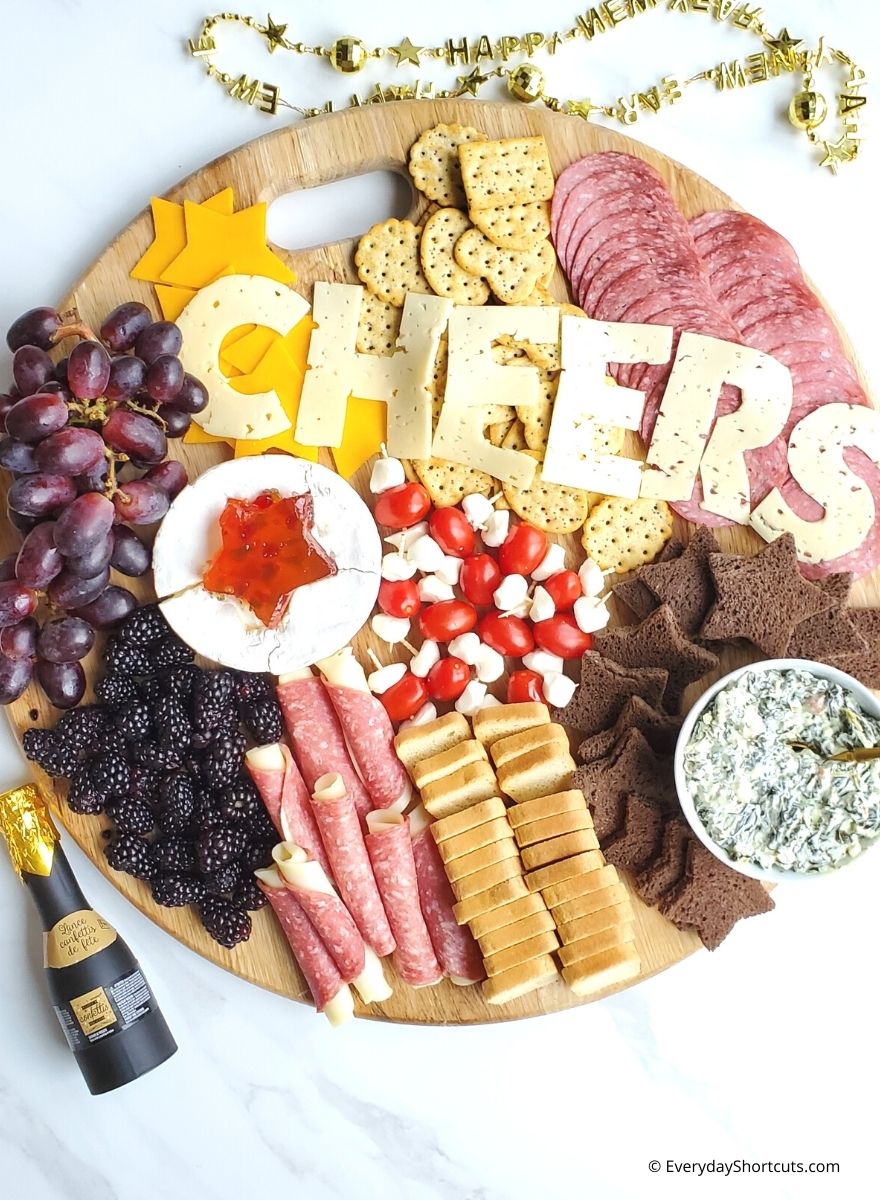 How to Make a New Year's Eve Charcuterie Board
Add the brie cheese wheel to the center left of the board. Cut a star shape out of the peppered jelly using the star cookie cutter and place on top of the brie cheese wheel.
Add the grapes and blackberries along side of the brie cheese wheel.
Place a small bowl of spinach dip towards the bottom right of the board and add a mini spoon to serve. Cut star shapes out of the pumpernickel bread and place around the spinach dip bowl.
Prepare the tomato and mozzarella cheese balls on the elegant toothpicks and place next to brie cheese wheel.
Cut star shapes out of the mild cheddar slices and place at the top of the board next to the grapes and brie cheese wheel.
Fill in the rest of the board with salami, crackers, mini toast, salami and mozzarella cheese roll ups.
Cut the letters to make the word "Cheers" out of the Havarti cheese slices. Place the letter stencils over top each of the cheese slices and trace around with a sharp knife. Carefully peel off the access cheese and place over top and across the charcuterie board.
Add some serving utensils, plates, napkins, decorations/party poppers and enjoy!