I am no stranger to LEGOLAND Florida. In fact this is the third time I have made a visit in the past three years. Why? Because we love it there and they are constantly added new attractions every year. This year we had to come back to "The World of Chima" attraction. My 8-year-old son is a huge LEGO fan.
LEGOLAND® Florida, the largest LEGOLAND Park in the world, is a 150-acre interactive theme park with more than 50 rides, shows and attractions, restaurants, shopping, a breathtaking botanical garden and the LEGOLAND Water Park all geared to families with children ages 2 to 12. And it is only 45 minutes from Orlando! They are also building a LEGOLAND hotel at the front of the park that will open sometime in 2015 featuring 152 brightly colored LEGO themed rooms.

"The World of Chima" ride consists of a slow-moving boat ride where you will get soaked. It has water cannons for each person sitting on the boat that you hand crank. I found the faster you crank the further the water shoots out. You can shoot water at the other passing boats or people outside the ride walking thru the walkways. Our goal was to hit these by standers with a shot of water when they were least expecting it. 🙂
Also, in area you will find Cragger's Swamp which is an area for smaller kids to play in the water fountains, Speedorz Arena where kids can be interactive with LEGOS, and Razar's Bazaar where you can buy Chima merchandise.
After you hit "The World of Chima" attractions, be sure to visit the rest of the park where you will see people and cities made out of LEGO along the way. The rides are always fun and great for families to enjoy too.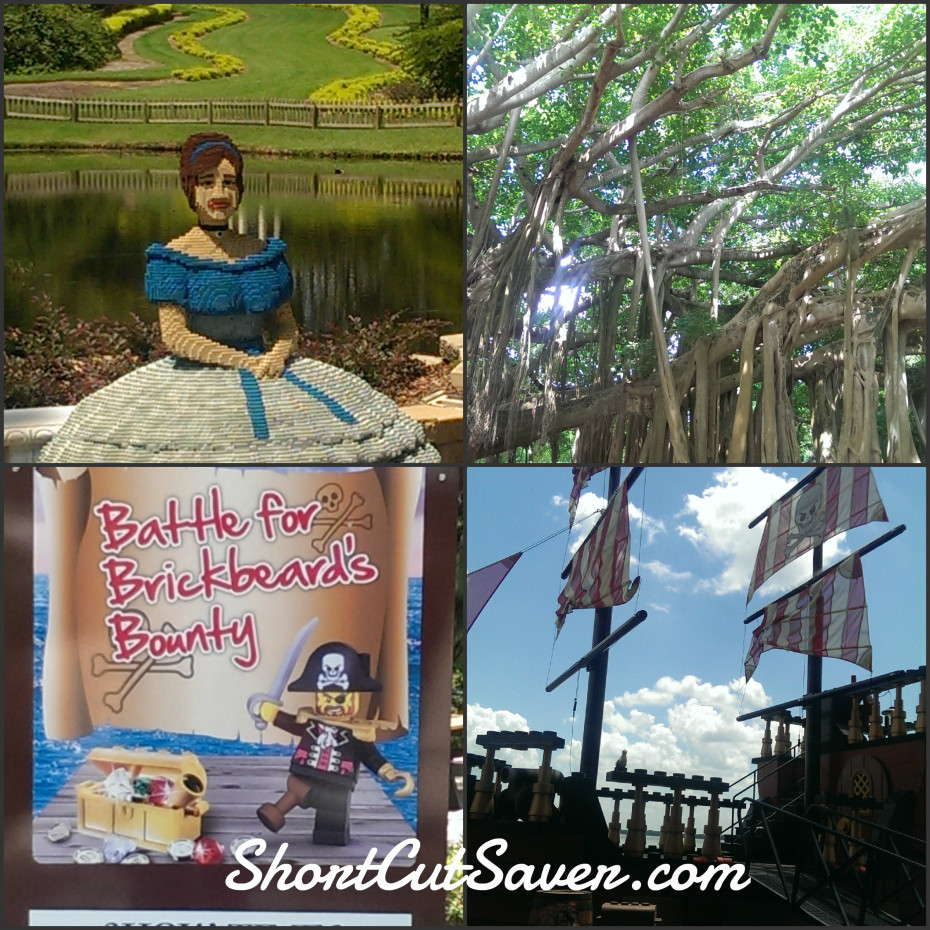 Pirate's Cove is a fun pirate show on the water where you can see pirates and LEGO figures skiing in the water. They have it 3 times a day and it is a great show that interacts with the audience plus, you will get wet if you sit in the front row.
LEGOLAND used to be Cypress Gardens which was an array of botanical gardens throughout the park. LEGOLAND has restored the Cypress Gardens for the public to view. You can walk thru this beautiful path filled with flowers, cypress trees, and other plants.

And lastly, be sure to visit the LEGOLAND water park. They have a lazy river, wave pool, water slides, water playground, and an area for the smaller kids. You will find figures built of out LEGO and in the lazy river you can build with LEGOS on top of your raft. The water park is geared towards young children so kids can play. There are 3 larger water slides for the bigger kids to enjoy. If you haven't checked out LEGOLAND Florida be sure to do so.
To purchase LEGOLAND tickets, go here to get yours. After you purchase them you can print them instantly from your home printer. Take the printed tickets to the gate and they will scan them to get you access in the park.
Disclosure: I was given 5 tickets featured in this post to facilitate my review. All opinions are 100% mine and not influenced in any way.