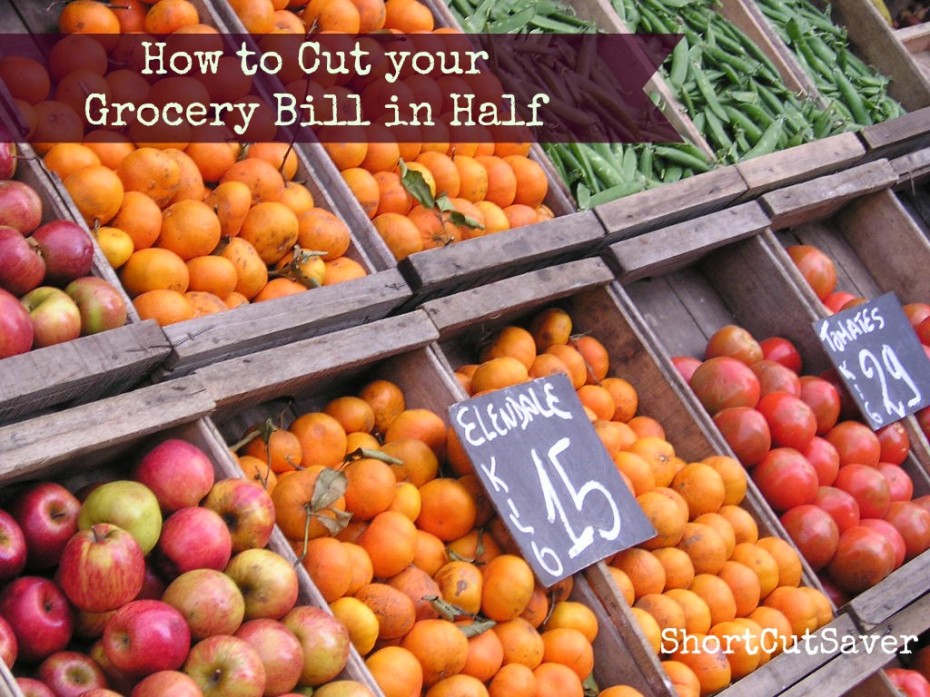 Tips on How to Cut your Grocery Bill in Half
This probably goes without saying but using coupons can dramatically reduce your grocery bill. Combine store sales with coupons and you can easily see a savings of 50% or more! You can search for coupons using an online coupon database on Short Cut Saver.
Go Meatless
Cooking dinners every night that incorporate meat gets very expensive. If you are looking for ways to cut your grocery bill in half, I suggest going meatless a few nights a week. Even serving a meatless dish two nights a week can give you a significant savings on your grocery bill.
Create Dishes for Leftovers
When planning your menu try to plan dinners that you can use twice. If you cook lasagna on Friday consider having it for lunch on Saturday. Using your meals twice means fewer items you have to buy which means a bigger savings for you! If you find a good sale on items you need to make lasagna, stock up and make a few dishes to freeze.
Shop Your Pantry
Before you even head out to the grocery store, shop your pantry. Go through your pantry, freezer and refrigerator to see what you already have on hand. Try to create as many dishes with the ingredients you already have.
Only Buy the Staples 
Make it a point one week to only buy staple ingredients. Try making more of your food from scratch for one week out of the month. Spend some time surfing the internet to come up with fun recipes you can do with very little ingredients. Once you start cooking more of your food from scratch, you will see a huge decrease in your grocery bill.
Start a Garden
Starting a garden allows you to grow your own fruits, vegetables and herbs at a fraction of the cost. You are also in full control over what chemicals are used which means you have more control over what your family is eating. Growing your own food also means fewer items you have to buy at the grocery store.
Shop Solo
I know this isn't always possible but when you can, shop by yourself! Bring our spouse or little kids to the grocery store can get a little stressful. We ended up buying things we might not need just to please our family and get through the store quicker. Shopping alone means you are the only one deciding what to purchase.
Combine these tips to cut your grocery bill in half!
And don't forget to print out the free blank grocery shopping list!