These DIY Dollar Tree Tumbling Tower Christmas Ornaments are super easy to make, great for gift giving and bring joy to your tree!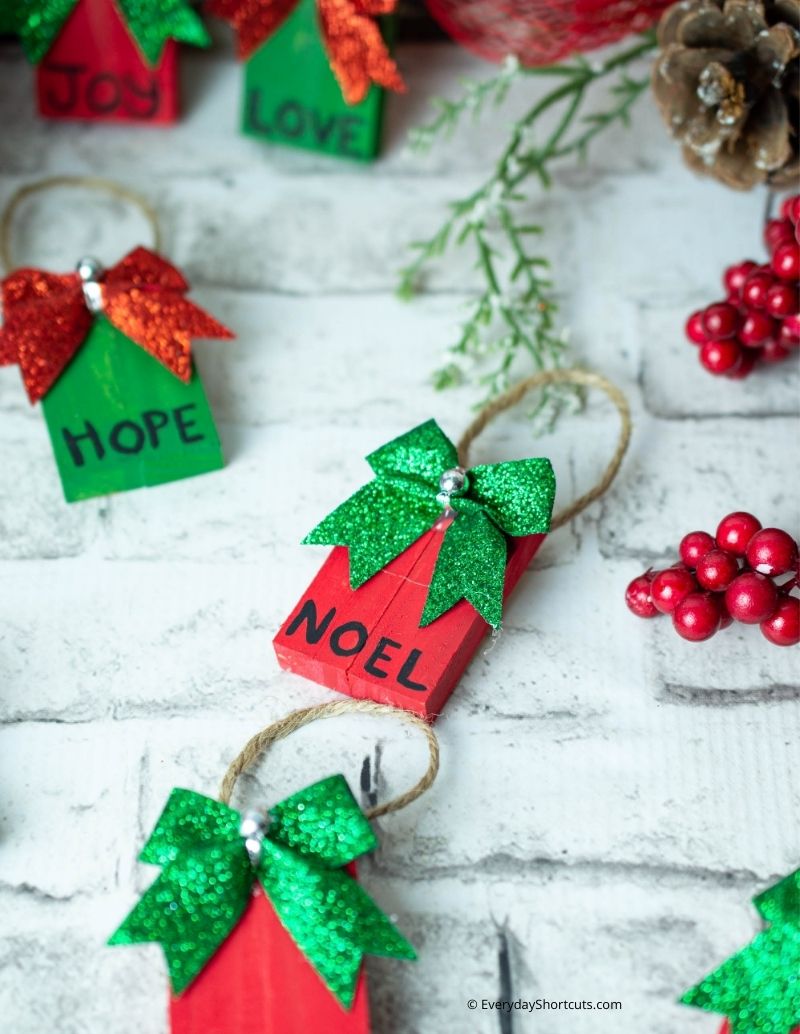 The cutest DIY Christmas Ornaments!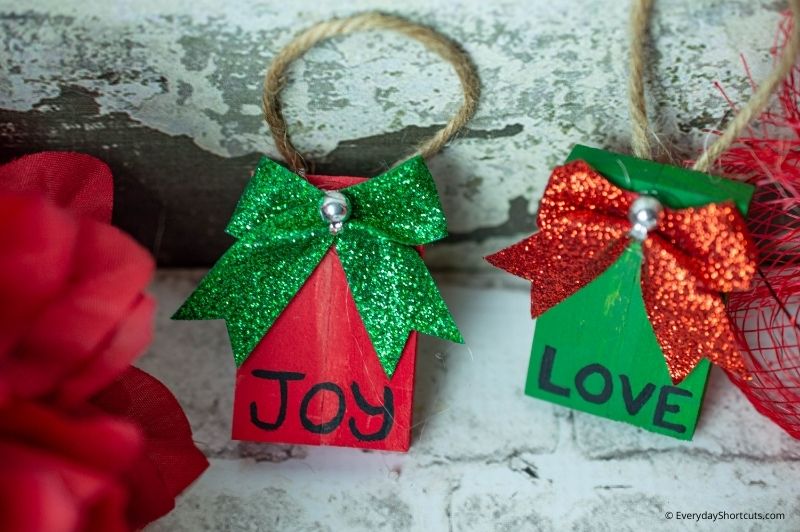 And it's inexpensive to make just like my Rustic Rudolph Ornament made out of cinnamon sticks!
I love how versatile the Tumbling Tower game (Jenga) blocks from the Dollar Tree are. There are so many possibilities of crafts you can make with them and comes with plenty of blocks for only $1. These DIY Dollar Tree Tumbling Tower Christmas Ornaments turned out so good and can be used year after year.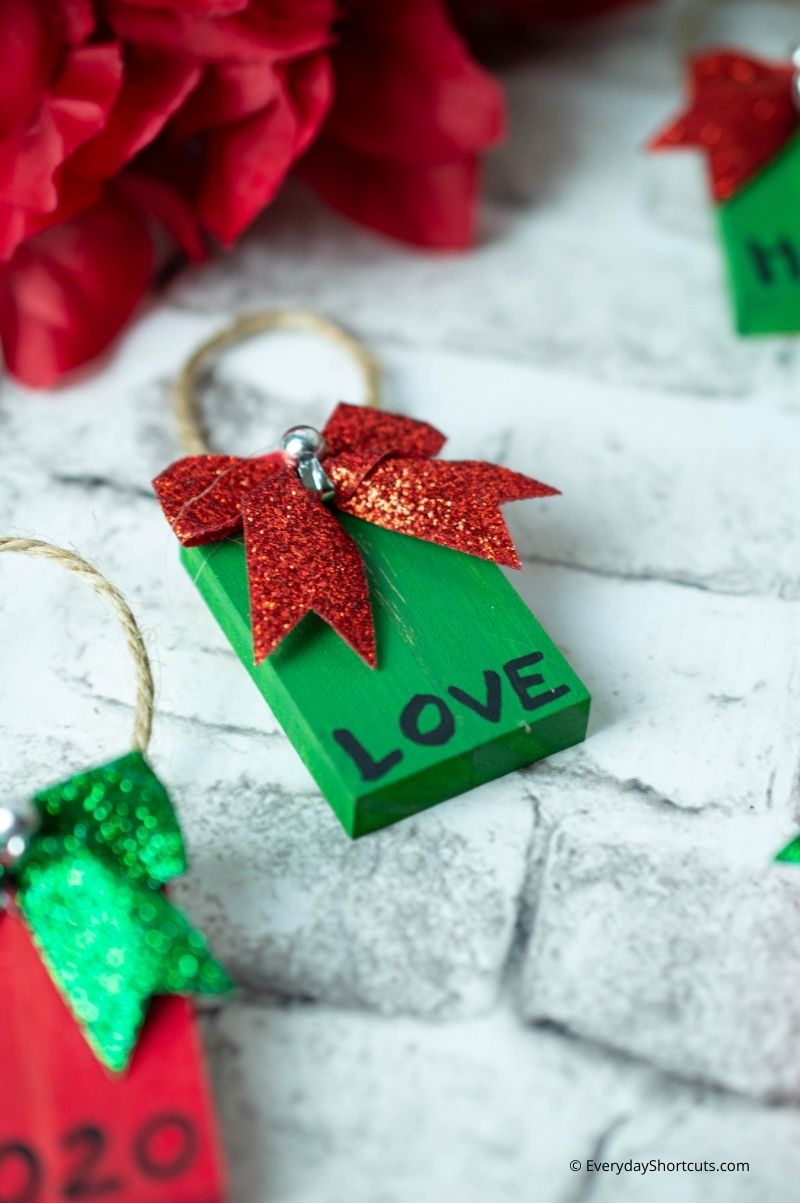 These ornaments look great on the tree or you can decorate a gift using simple materials and hand lettered for a handmade look!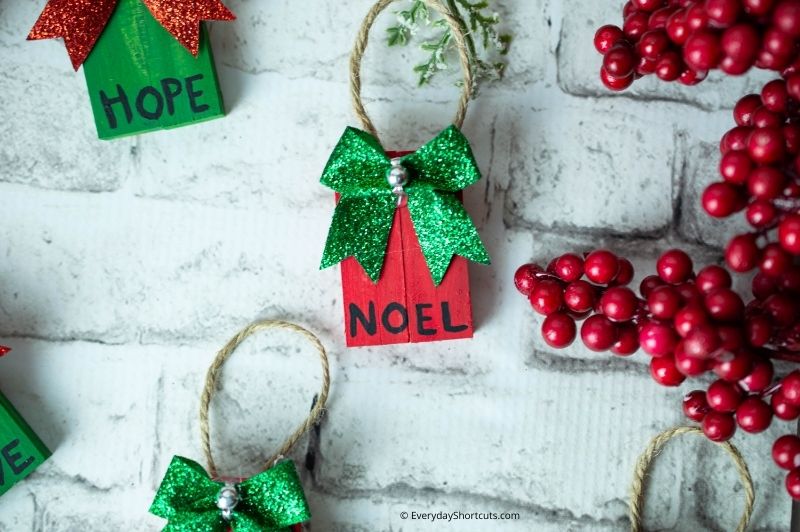 Tips for Making Tumbling Tower Christmas Ornaments
If you make any little mistakes while painting the words on (lines too thick, etc.) wait until the paint is dried then use the detail brush to go back in over the black using the detail brush and the background color.
Use ornaments to decorate the tree or add as a gift tag to a gift.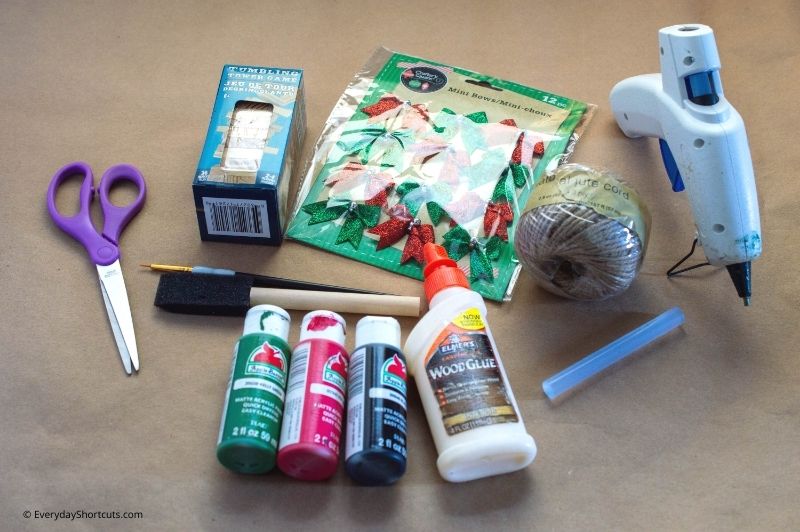 Supplies Needed to Make
Tumbling Tower Game (found at Dollar Tree or you can use Jenga pieces)
12 Pack of Mini Bows
Jute Cord/Twine
Green Acrylic Paint (Apple Barrel – Kelly Green)
Red Acrylic Paint (Apple Barrel – Red Apple)
Black Acrylic Paint (Apple Barrel – Black)
Scissors
Wood Glue
Hot Glue Gun with Glue Sticks
Small foam paint brush (or any small paint brush you may have)
Small detail brush (for writing letters)
How to Make Tumbling Towers Ornaments
Take out 24 tower blocks to make a total of 12 ornaments. Set the rest aside for another project.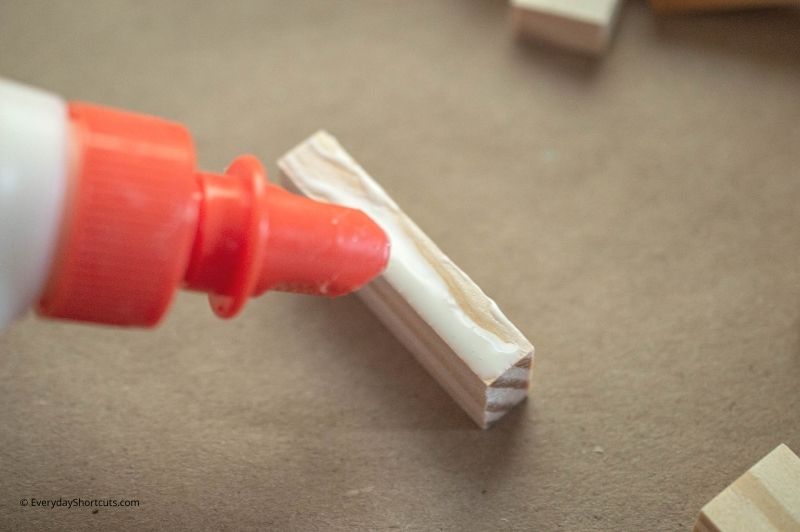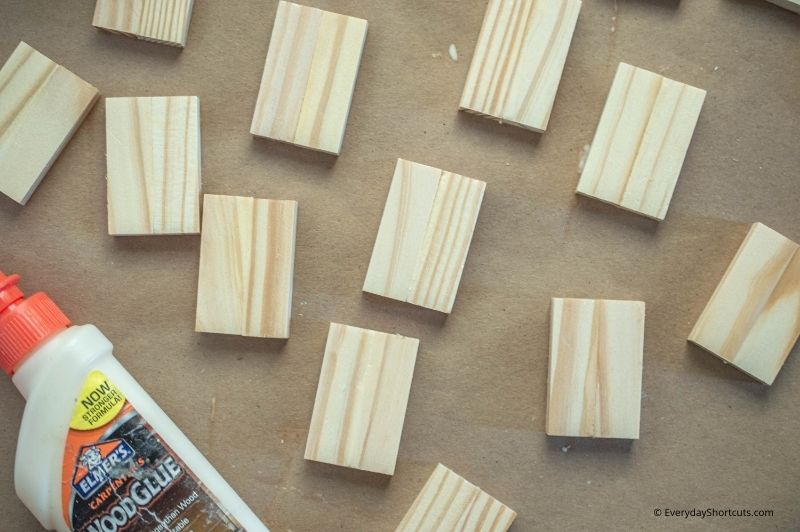 Glue 2 blocks together horizontally, side to side, using wood glue. Press pieces together firmly and wipe away any excess glue with a clean cloth. Allow to dry for 2-3 hours. (The glue takes 24 hours to totally cure, but will be ok to handle at this point.)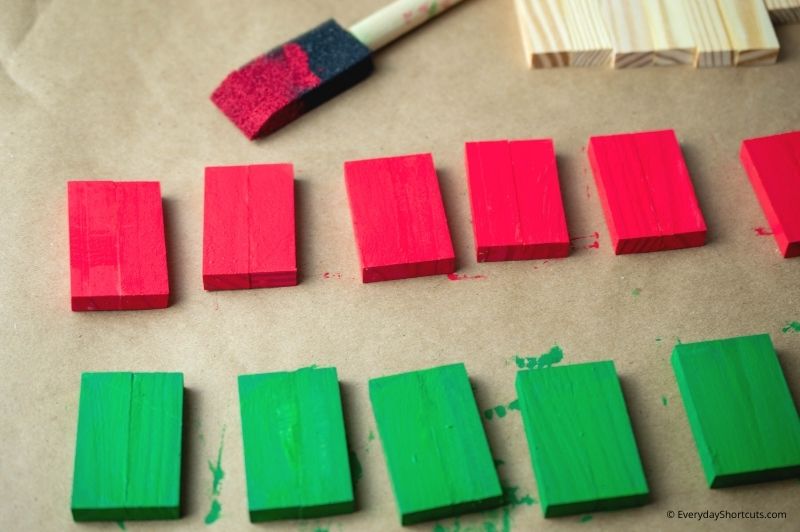 Use the foam brush to paint the front, sides, top and bottom of the blocks. Paint 6 green and 6 red, rinsing the brush in between. Set aside for 1 hour. (This won't be totally dry, but enough to handle.)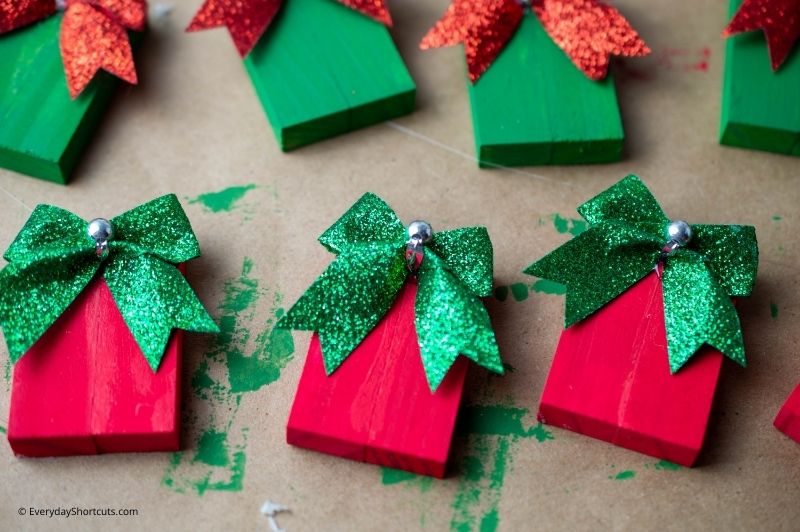 Take out the bows and make sure the twist tie is tight and snip off the end with the scissors. Add a drop of glue to the top of the block and add ribbon, pressing firmly. Alternate green bows on red blocks, and red bows on green blocks.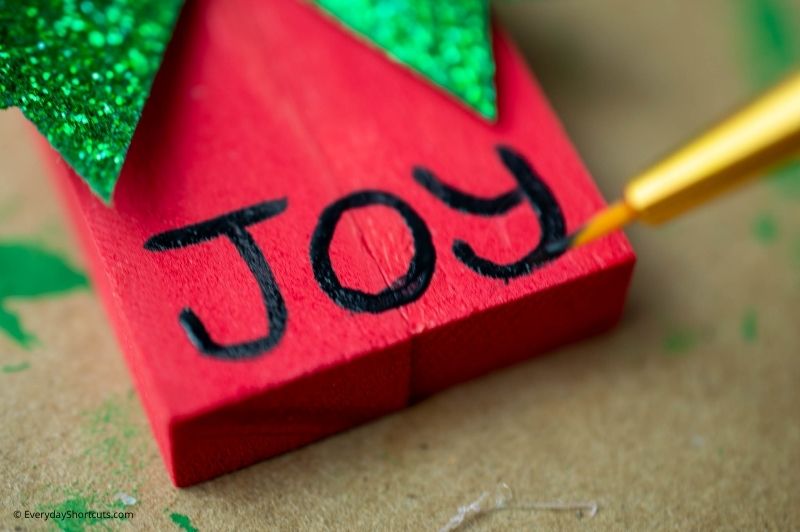 Use the small detail brush and the black paint to write words such as "Joy", "Noel", "Love", "Hope", and anything else to the bottom of each block. Allow to dry.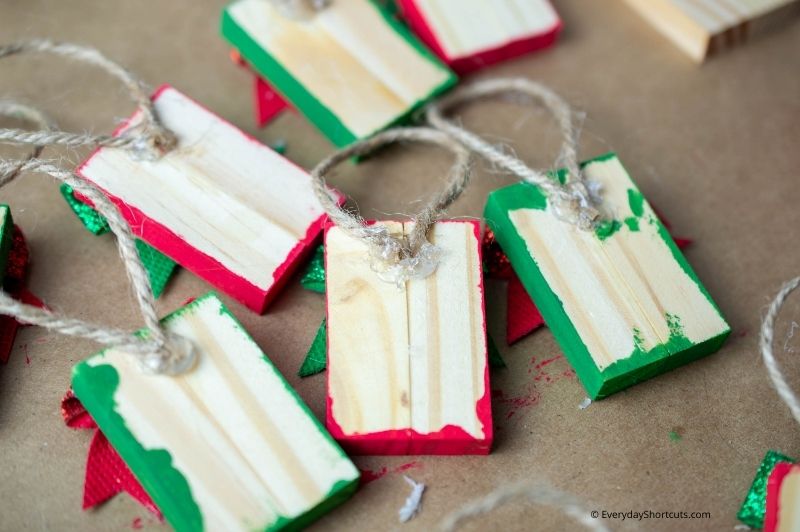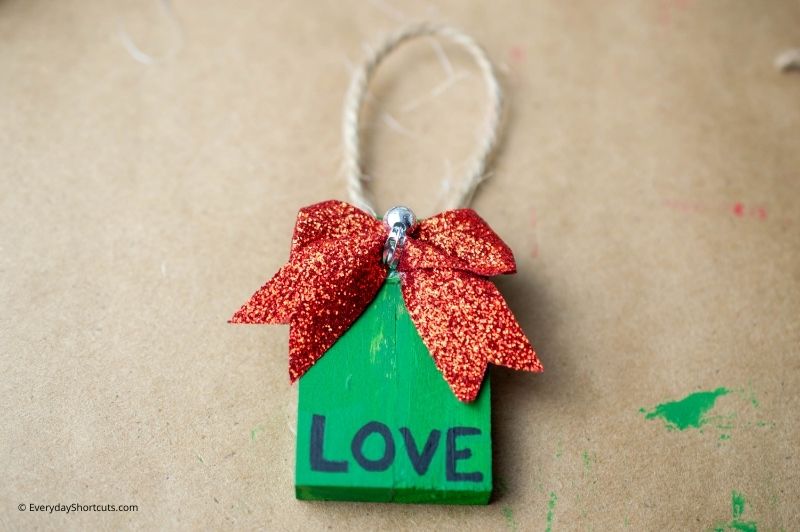 Cut 12 pieces of 3" twine. Add a drop of glue to the back top of each block and carefully press the ends of the twine into it to form a loop using the back of the paint brush or another object then add another drop of glue over the top of the ends to secure. Allow to dry for 30 minutes.
When finished hang on the branches of the Christmas tree!