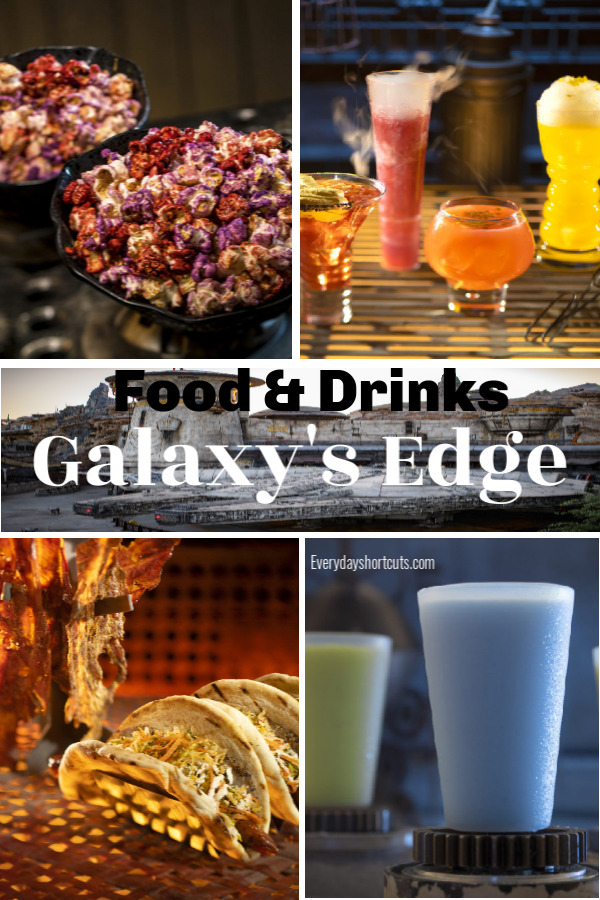 When you visit Star Wars Galaxy's Edge, you might come for Millennium Falcon: Smugglers Run, but you will stay for the interplanetary grub. A huge aspect to this Star Wars story immersion is the details wrapped into the dining environments and the backstories of these places and proprietors. As you enjoy the local food you will find yourself going even deeper into the culture found at Black Spire Outpost on the distant planet Batuu. Here is a sneak peek at Galaxy's Edge food.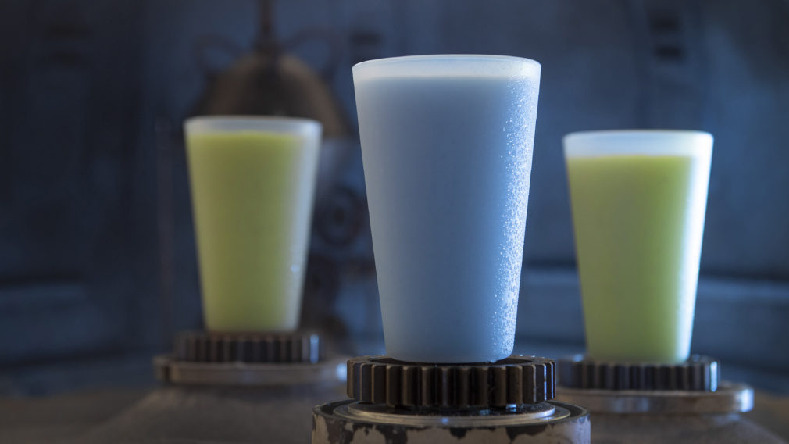 Galaxy's Edge Food and Drinks You'll Want to Try
Milk Stand
One of the must-do things in Star Wars Galaxy's Edge is go to the Milk Stand for a green Thala Siren milk shake, or blue Bantha milk shake. What will you choose?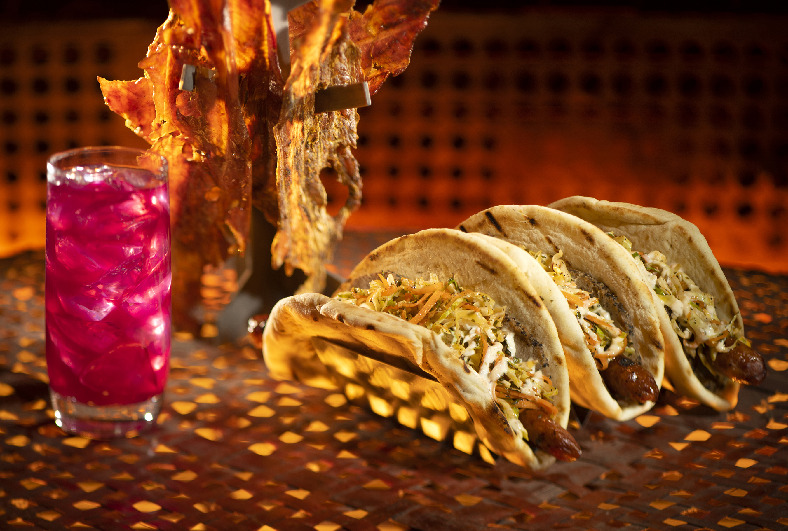 Ronto Roasters
No Ronto's were harmed, but it's hard not to imagine otherwise while you are eating a Ronto Wrap. This counter will serve sandwiches and jerky (turkey) as well.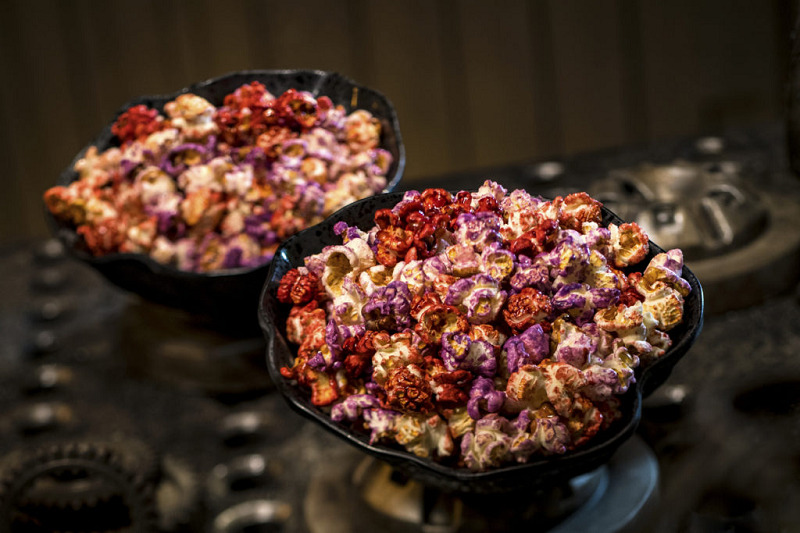 Kat Saka's Kettle
This exciting and flavorful mix of colored kettle corn combines sweet, spicy and savory for a blend you can only find in a galaxy far, far away.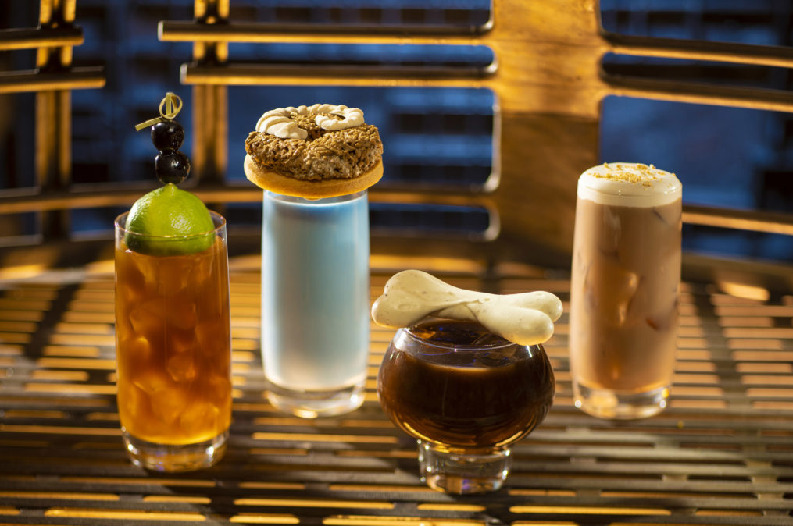 Oga's Cantina
You can't have a Star Wars dedicated land and not have a cantina. Oga Garra is the proprietor of the bar, where those looking to evade the authorities mingle and share tales of their galactic adventures. One of my favorite gags is that this haven for outcasts is home to DJ R-3X. You may recognize him as a failed Starspeeder 3000 pilot.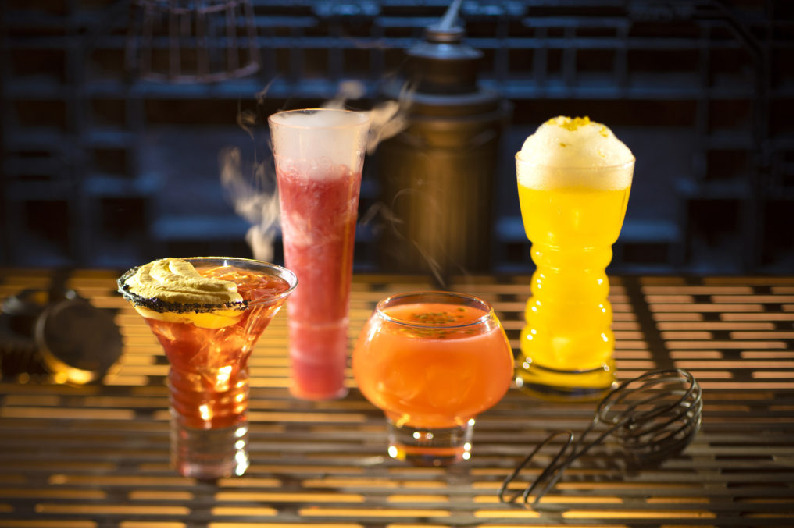 There is an extensive list of alcoholic and non-alcoholic beverage choices. Each more exotic looking than the last and all of them served in unique vessels for added visual and storytelling appeal.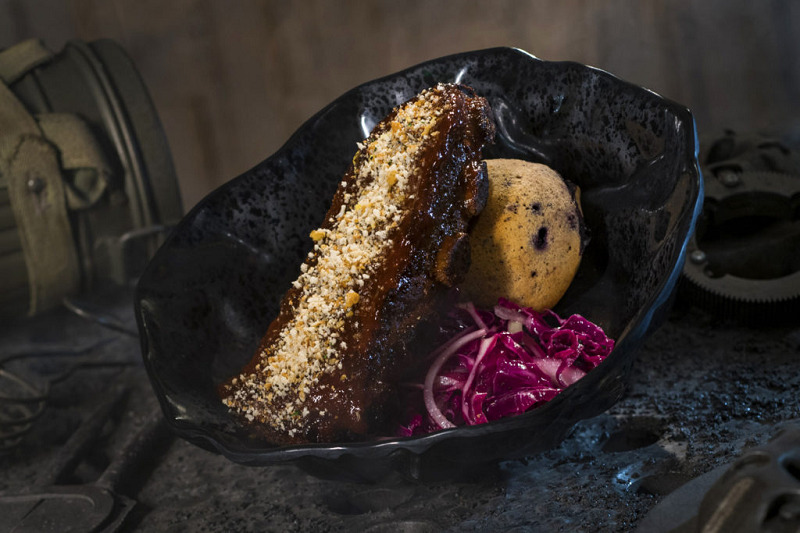 Docking Bay 7 Food and Cargo
Chef Strong "Cookie" Tuggs is another colorful character found in Black Spire. his utilipede transport is modified into a mobile kitchen for travelers across the galaxy. If you have a taste for Tip-Yip from Endor, or Felucian Kefta, you have come to the right place. No idea what these things are? That's the point! Even the menu supports the story in Galaxy's Edge. I'll give you a hint though. The Tip-Yip tastes like chicken… because it is. You could also order Kaadu Ribs (pork), Ithorian Garden Loaf (plant based Meatloaf), Shaak Roast (beef), or Burra Fish; that last one is "sustainable" fish which- I dunno– maybe it is Burra.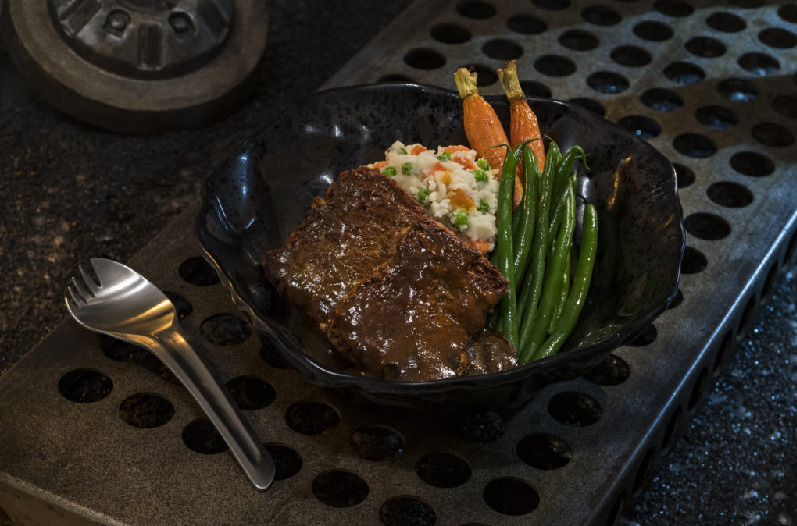 There is also a menu for the kids here and it won't scare them off, so don't worry. for the uninitiated there is the Fried Chicken and Macaroni and Cheese option. More adventurous kids will love the chilled shrimp and rice noodle salad with a sweet orange dressing.
Star Wars: Galaxy's Edge opens May 31, 2019 at Disneyland Park and August 29, 2019 at Disney World so be sure to make your list of what you want to try before you hit the parks.