WonderWorks located in Pigeon Forge, Tennessee is fun for all ages and it let's your imagination fun wild. You can explore the more than 100 hands on exhibits such as, feel the winds of a hurricane, climb the largest indoor ropes challenge course, ride some rides, and so much more.
When you walk up to the building the outside is upside down as well as the front entrance inside.  When you get inside you will explore the many things there are to do. It kind of reminds me of a science fair, amusement park, and children's museum all rolled up into one. There is plenty for the whole family to do for hours in the 55,000 square foot of fun.
Here are some of my favorite attractions: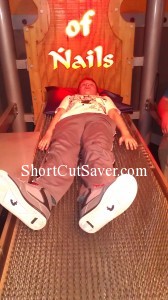 Bed of Nails
Lay on a bed of 3,500 real nails. First you lay down with no nails and then the employee raises the bed of nails up while you are laying on it. I could feel the nails poking my arms and it was cool to say that I layed on a bed of nails.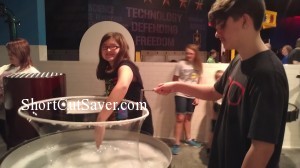 Bubble Lab
Create all different shapes and sizes of bubbles in the bubble lab. They have several containers full of bubble solution with different wands for hours of fun. We spent the most time in the Bubble Lab.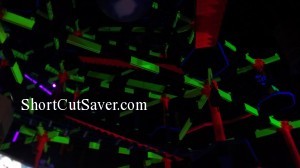 Ropes Challenge Course
Standing 50 feet tall, you can climb 4 stories of rope obstacles; including swinging steps, lily pads, a tremor bridge and more. It is also dark up there with bright neon colors to light the way. We had to wait over an hour in line to get on the course. Warning: if the location is busy there may be a long wait.
There is so much more to do that it is hard to list everything. Some attractions require that you wear closed toe shoes so be prepared to wear them when you arrive.
To view all the attractions and buy tickets head on over to WonderWorks.com.
Disclosure: I was given 4 tickets and a discounted ticket featured in this post to facilitate my review. All opinions are 100% mine and not influenced in any way.