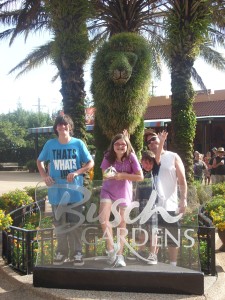 Summer is coming to an end quicker than we would all like, I'm sure, but, that doesn't mean family vacations has to be over. Busch Gardens is open 365 days a year and is full of fun for a family. With tons of attractions to keep your family busy you won't hear "I'm bored."
Tickets
If you are planning to visit for one day purchase your tickets online at BestofOrlando.com
before you go. I highly suggest doing this so you can print your tickets out before you go and get the best price online.
For Florida residents you can save on single day visits by purchasing a weekday  ticket for just $50 (savings of $39) or you can "Pay for a Day and Play All Year with a Fun Card" for just $89 per Adult and $81 for Children 3-9 years of age. This means you purchase a ticket and enjoy unlimited admission through December 31st, 2013! That's an awesome deal!  Plus you can save $25 when you add SeaWorld to your fun card!
For visitors you can also save $39 by purchasing a weekday ticket for just $50, this ticket requires advance purchase! Or, you can pay regular ticket price of $89 and get FREE Dining ALL DAY LONG!  If you aren't interested in dining for free you could pay full price of $89 and visit Adventure Island for Free.
The Free Dining all day long was the best option for us. We went in June and it was hot out so we were able to go to the participating restaurants and grab a drink anytime we were thirsty without having to take our wallet out each time. Participating Restaurants include: Zagora Cafe, Crown Colony® Cafe, Garden Gate Cafe, Bengal Bistro, Zambia Smokehouse (excludes baby back ribs), and Desert Grill (excludes baby back ribs). Each restaurant has a variety of foods to choose from that will sure to satisfy anyone's appetite. Make it easy! Pay once and never have to take out your wallet for the rest of the day.
Most Popular Attractions
If you are looking for things to do but just not sure what to see or visit then visit the most popular attractions! Here are a few attractions that are sure to get your family excited and ready to see more!
Critter Castaways – A show full of family fun in the "Bird Gardens Theatre. This show was created when their expert animal trainers turned their attention to rescued and shelter animals. This show is very popular and will keep you amazed from the beginning to the end.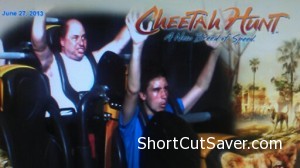 Cheetah Hunt – It's Busch Gardens newest roller coaster experience that people can't stop talking about. It launches you high above the park and races along the ground! It's 4,400 feet and it's the longest thrill ride attraction! You must be at least 48 inches to ride.
Tanganyika Tidal Wave – Enjoy a ride down a beautiful stretch of African River Country. The river falls out from underneath you dropping you 55 feet to the water below! You are sure to get wet! You must be at least 48 inches to ride.
Busch Gardens has tons of things to enjoy with your families; shopping, dining, attractions, animals, shows and more. Make sure you purchase tickets online at BestofOrlando.com
 prior to the day visiting so you can save money and possibly add on items such as other attractions or free dining.
Disclosure: I was given the product featured in this post to facilitate my review. All opinions are 100% mine and not influenced in any way.