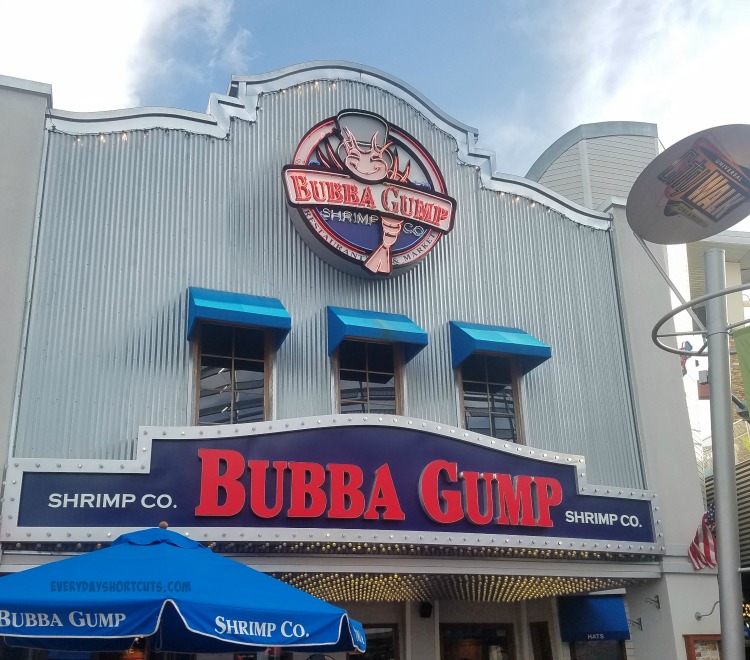 Bubba Gump Shrimp Co restaurant located at the entrance of Universal City Walk in Orlando is based on the classic movie Forest Gump. You can't miss it on the left side as you may see a giant shrimp walking around  or you will see a replica of the bench Forest Gump sat on with his box of chocolates.
Reasons Why You Need to Visit Bubba Gump Shrimp in Orlando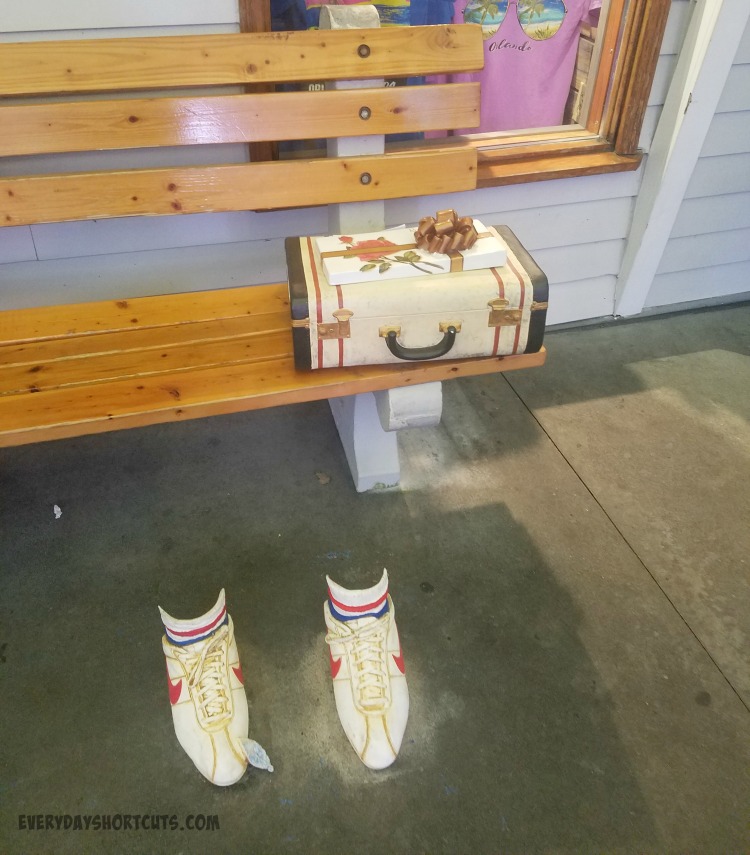 Great Photo Oops– Look for the bus stop bench from the Forrest Gump movie located in front of the restaurant to take advantage of a great photo opp. You can also take some snapshots of the movie memorabilia throughout the restaurant.
Forest Gump Movie Trivia – While sitting at the table waiting for your food, your server will come over and ask you 5 trivia questions about the Forest Gump movie to see how much you know. I was surprised at how much I didn't remember and missed 2 questions.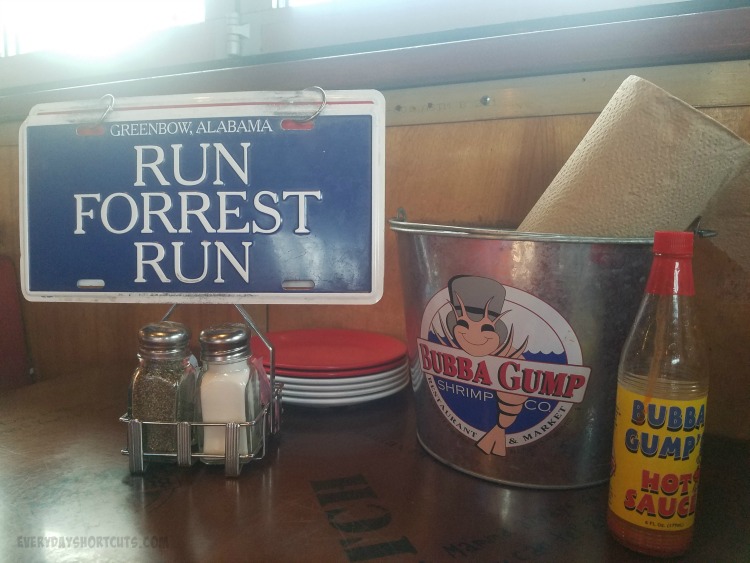 Movie Memorabilia – Throughout the entire restaurant you will find lots of movie memorabilia to look at including script pages, storyboards, costumes,  still photos and more.
Forest Gump Merchandise – Pick up some awesome souvenirs in the gift shop before you leave.  You can find apparel, hats, drinkware, mama's sauces, boxes of chocolate and more.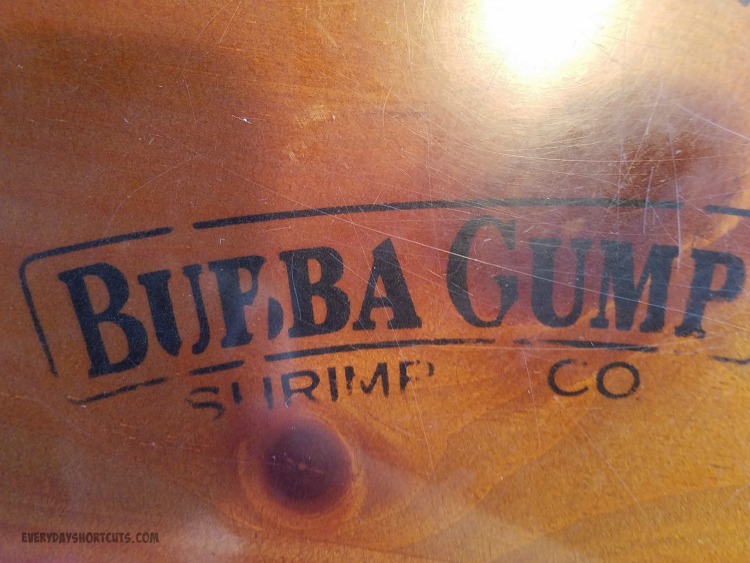 Southern Hospitality – Not only is southern food on the menu but they will make you feel right at home as soon as you walk in. No need to wait for your server to come back to your table to get their attention. Just flip the license plate over on your table to "Stop Forest Stop" and they will be right over to help you.
Good Food – Judging by the name you know they specialize in seafood from shrimp baskets and more but they also have southern specialties on the menu like Dixie-Style baby back ribs.  And if your gluten-free, no worries as they have a gluten-free menu including veggie skewers, salads, shrimp and more.
Fantastic Drinks – Even if you don't eat, you can stop in to have a drink and take a look around. They have fantastic drinks such as hand-shaken margaritas, mojitos, hard lemonades, and spiked punches. If you're looking for something non-alcoholic try the frozen slushy drinks, speckled lemonades or a smoothie. Don't forget to get your drink in a souvenir glass so you can take it home with you. They light up and are super cool!
What We Thought
We love seafood so this restaurant fit right out our alley plus we were curious to check it out since we keep hearing about it.  Although it's been awhile since I've seen the movie and my kids have not seen it yet we still had a blast. Seeing all the movie memorabilia throughout the restaurant and the trivia presented by the server brought back some memories of the movie.
We thought the food and drinks were delicious.  We had to get a couple of light up glasses to take home as souvenirs since they are indeed super cool.  We loved the whole concept of the restaurant and the southern hospitality we received. We ordered a variety of dishes to try from the following below.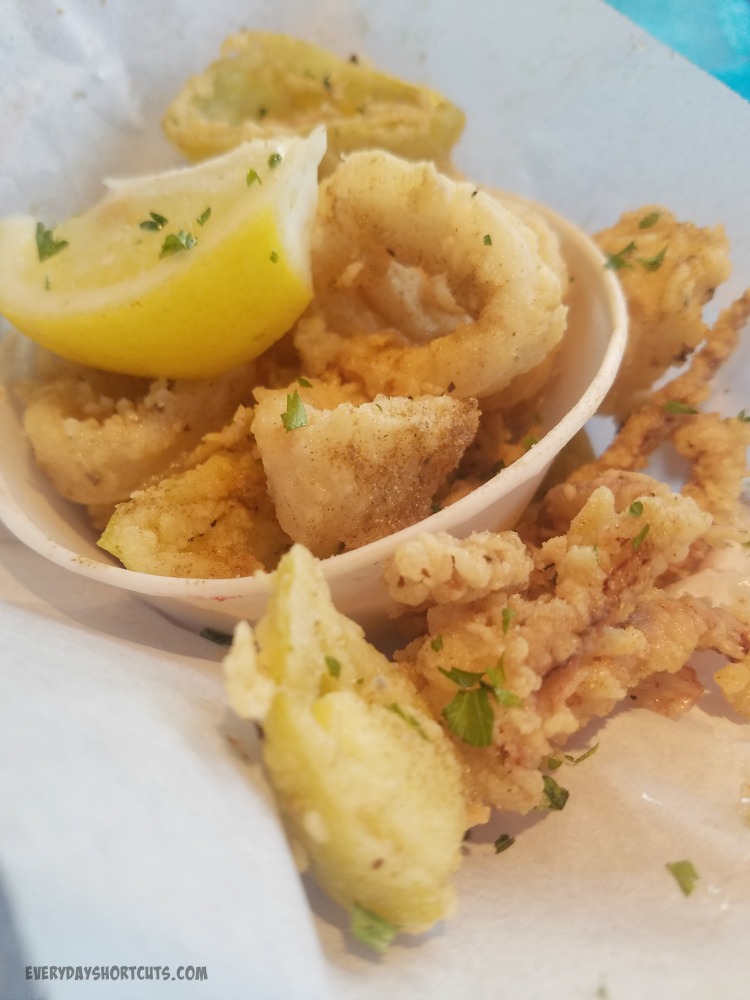 Calamari – Deep fried calamari with roasted red peppers, artichokes, and monetary jack cheese.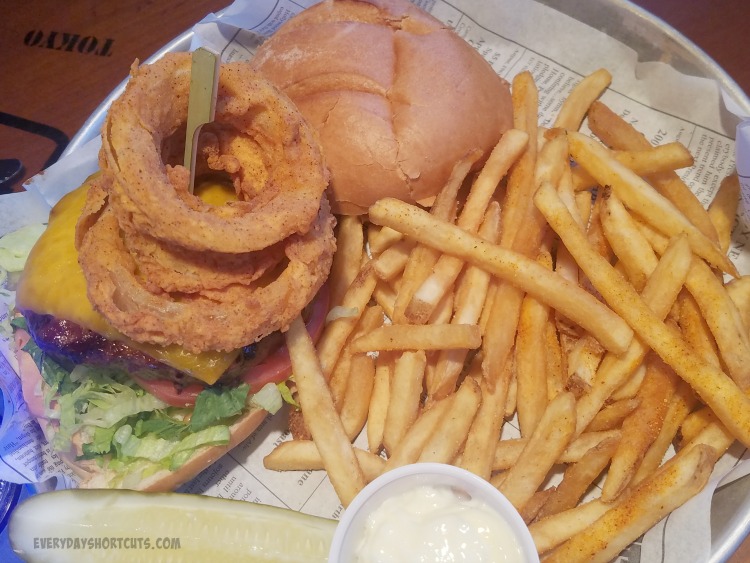 All American BBQ Cheeseburger – Made to order with BBQ sauce, cheese, tomato, lettuce and topped with an onion ring.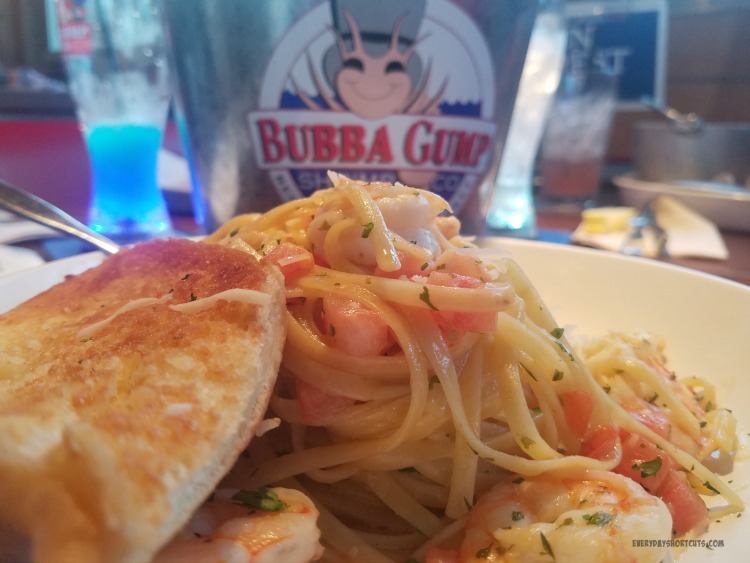 Of Course We Have Shrimp Scampi – Shrimp sautéed with capers in lemon garlic sauce over linguine.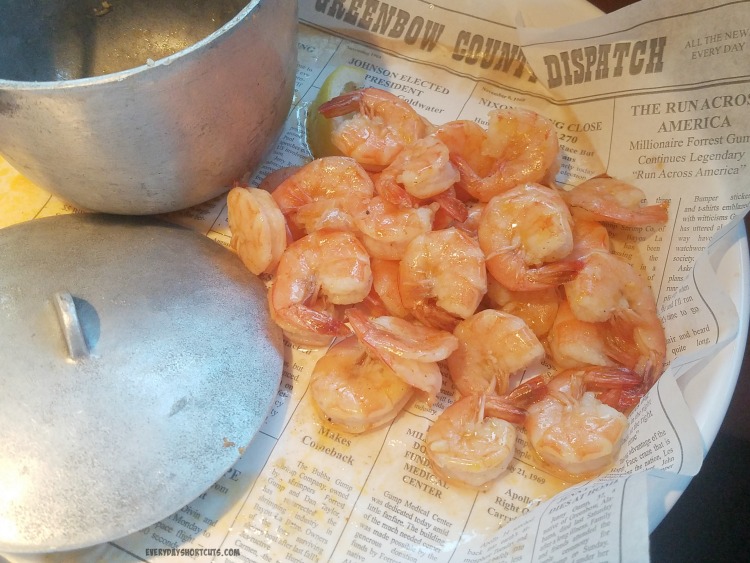 Peel n Eat Shrimp – A bucket of peel n eat shrimp.
None of us had a bad meal. Everything was absolutely delicious and believe me it was hard to choose off the menu as they are so many options they look good. I'm thinking I need to go back again so I can try some more items on the menu.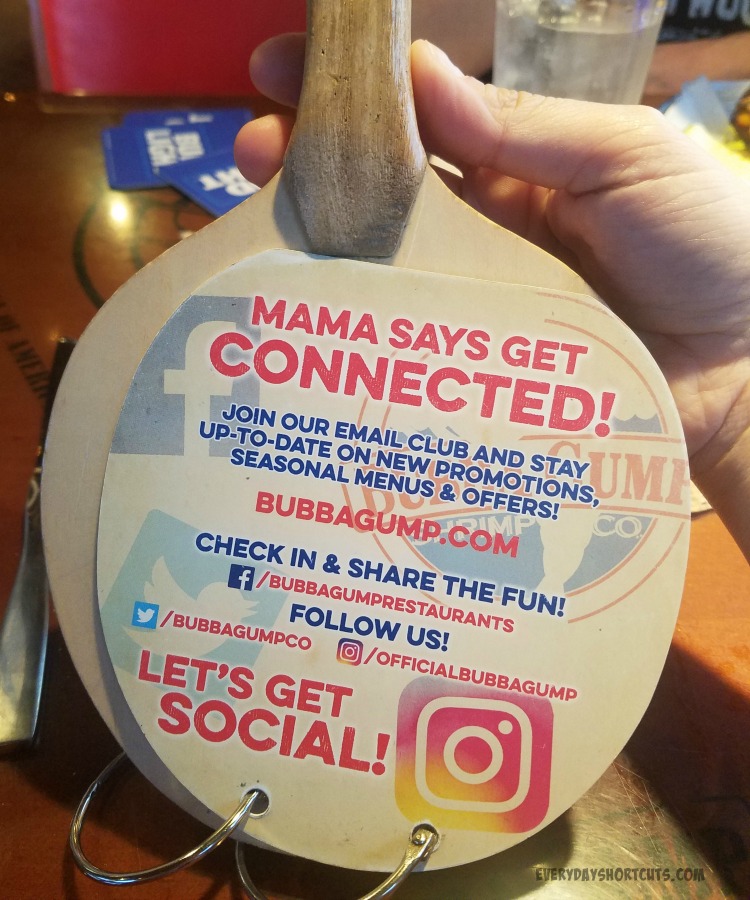 Be sure to stop in Bubba Gump Shrimp Co next time you're in Orlando and visit them on Facebook, Twitter and Instagram for the latest updates and news.
Thanks to Bubba Gump Shrimp Co for hosting us so we can try out the food. All opinions are my own.