Welcome to our Holiday Gift Guide for 2023! We've rounded up the best Christmas gifts all in one place to make it easy for you to shop!
It's never too early to start thinking about Christmas gifts. If you want to get ahead of the game and start planning your gift list for 2023, here are some ideas to get you started.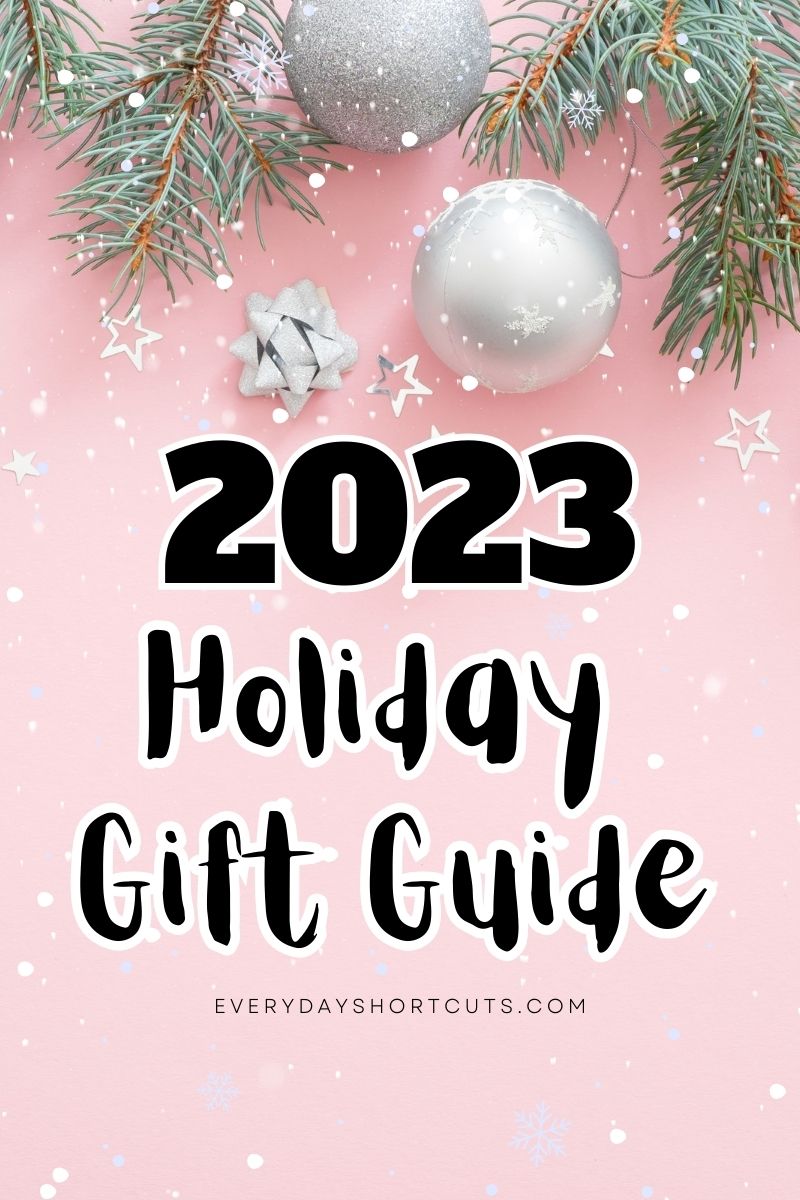 Our easy-to-shop holiday gift guide consolidates all the top gifts in one convenient place, ensuring you can find something special without breaking a sweat. From budget-friendly options to splurge-worthy indulgences, there's something for everyone's taste and budget.
Holiday Gift Guide 2023
For little ones with imaginations, we have a wide range of gift ideas that will spark their creativity and keep them entertained for hours from interactive toys, educational games, and more.
When it comes to choosing gifts for him or her, we understand that every individual has unique preferences and interests. That's why our selection has everything from stylish fashion accessories and grooming essentials for him to luxurious pampering sets and trendy home décor items for her.
As teenagers navigate their ever-changing tastes and trends like pros, our teen gift ideas aim to impress even the most discerning adolescents. From cool tech gadgets to step up their social media game (yes – we're talking about content creators gear!) to fashionable apparel items reflecting their personal style – these gifts are surefire winners.
Tech enthusiasts will love our carefully curated list of cutting-edge gadgets designed to simplify daily life while providing endless entertainment possibilities. From gaming controllers, LED lights, computer hard drives and headphones, tech lovers won't be disappointed with their Christmas surprises.
For those who love to entertain and create lasting memories with family and friends, our holiday gift guide offers plenty of options to up their hosting game. From food, wine, games and more we got the essentials to make make guests feel extra special.
Lastly, for the ones who have everything – we've got you covered too! Choose from a variety of gift cards to popular retailers, restaurants, and experiences, allowing your loved ones to pick their perfect present.
Get ahead of the holiday rush and start crossing items off your Christmas shopping list. Be sure to keep checking back as we update this often.
Happy holidays!
Stocking Stuffers
These stocking stuffers are small, inexpensive gifts are perfect for filling up a Christmas stocking.
Photo Credit: www.foco.com
These matching friendship bracelets have an all-over team-colored design and team logo displays, which makes them the perfect way to show your support for the Cincinnati Bengals.
Gifts for Kids
The best gifts for kids & teens from toys, games, tech and more!
Gifts for Her
The perfect gifts for the woman in your life that will bring her joy!
Gifts for Him
When it's hard to shop for him, we got unique and thoughtful gift ideas that will make him feel special this Christmas.
Your feet will think this is sweet! A delicious collab between Kizik and Jet-Puffed brings you a limited-edition shoe in a one-of-a-kind colorway. We combined our award-winning Roamer shoe-entry tech with a quilted Jet-Puffed upper to create an iconic style statement you can only get while supplies last!
A little smaller in size than our Classic, the Travel Blanket is a lightweight, packable, insulated, and water-resistant hooded blanket ideal for travel and being out & about. These blanket hoodies are also made from 100% recycled materials because we care about you and the planet.
Photo Credit: www.foco.com
The future of fan footwear is now. Treat your feet to a new level of comfort with the Kansas City Chiefs Future Slide Flip Flops.
Photo Credit: www.foco.com
Short of sneaking onto the sidelines, this Cincinnati Bengals Team Color Property of Hoodeez is the next best way for you to feel like you're right there with the team.
Photo Credit: manlymanco.com
This exceptional gift set combines the finest biltong flavors with rugged style and functionality, all housed in a 30 Cal 7.62mm Ammo Can.
Photo Credit: spibelt.com
This belt has two pockets, the larger size easily accommodates large smartphones, including the iPhone® 13 Pro Max and Samsung Galaxy® S20+ and is perfect for running.
Photo Credit: spibelt.com
An easy hydration solution for running, hiking, or just being out and about. The Companion's ergonomic shape is designed to contour to your body, and easily clips onto any SPIbelt.
Photo Credit: spibelt.com
The style and vibe of a trucker hat with the performance of a technical running hat. Designed with active lifestyles in mind, this hat features a sweat-wicking internal band and performance fabrics to keep you cool.
Boxer shorts in woven cotton fabric with an elasticized waistband, longer legs, and button fly.
Regular-fit pajama shorts in soft, patterned jersey. Elasticized drawstring waistband, mock fly, and side pockets.
Regular-fit pajama T-shirt and shorts in cotton jersey. T-shirt with a round neck. Shorts with an elasticized waistband, mock fly, and side pockets.
Relaxed-fit shirt in soft cotton jersey with a printed design. Dropped shoulders, long sleeves, and ribbing at neck and cuffs.
Photo Credit: medicalscrubscollection.com
Made with a removable insole that improves arch support, these athletic shoes have a breathable stretch-knit upper, slip-resistant soles, and an on-trend design.
Photo Credit: oldspice.com
This holiday season, make the gentlemen in your life feel confident and gift them the perfect smelling stocking stuffer at an incredible price – Old Spice Holiday Bundle Packs and Twin Packs. Choose from Fiji, Swagger, Bearglove, Wilderness and Mystery.
Tech Gifts
The best gift ideas for the techie who loves the latest and greatest gadgets!
Household & Entertaining Gifts
Great gifts for the home and entertaining any time of year!