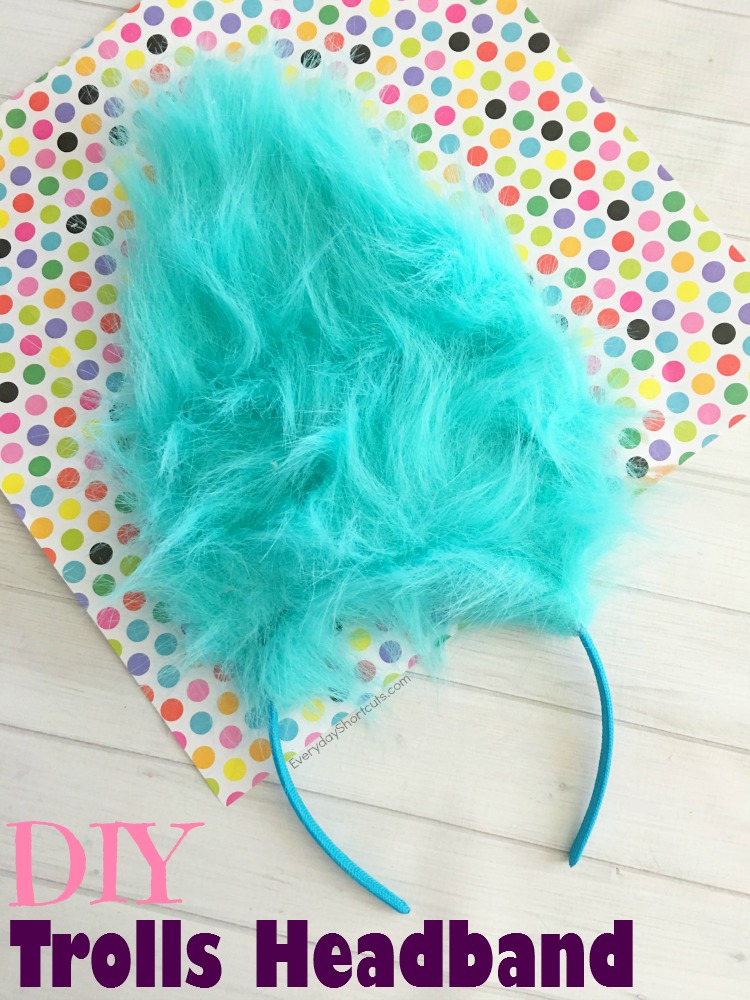 Bring Home Happy with DreamWorks Trolls now available on Blu-ray, DVD and Digital HD. If you haven't seen the movie yet, you will find it jam-packed with music by Justin Timberlake and filled with happy adventures. This is definitely a cute movie that the kids and I enjoyed. After watching the movie I got inspired to do a craft and created this DIY Trolls Headband. The kids and I had a blast making it and took turns wearing it the second and third time we watched the movie.

DIY Trolls Headband
Supplies Needed
1/2 yard faux fur
Matching headband
Heavy duty cardboard
Hot glue/hot glue gun
Scissors
Directions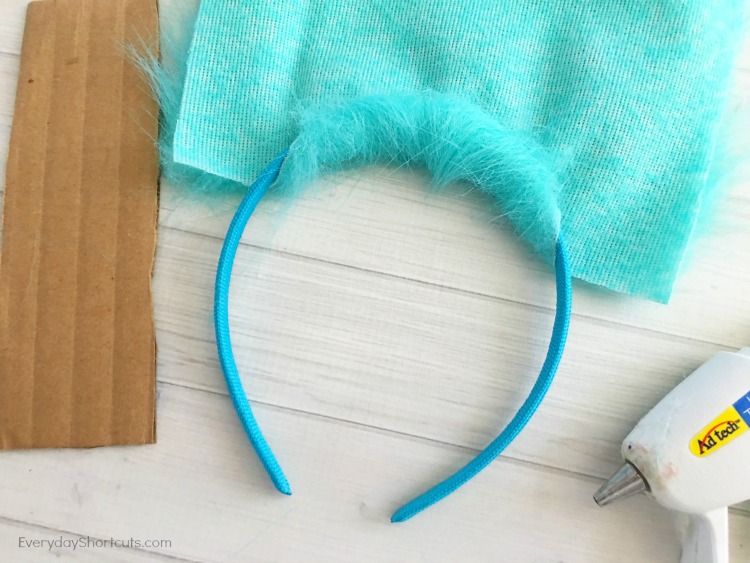 Measure out a piece of 8×9″ piece of faux fur and cut out on the base of the fabric not over the fur (if you move the fur away from where you are cutting you will see what I mean). Lay the fur face down and lay the headband on the short side and bottom of the fur, about 1 1/2″ inches onto the fur. Fold up the fur onto the center of the headband and secure with hot glue. Then carefully fold the bottom sides under and over the headband and secure with glue.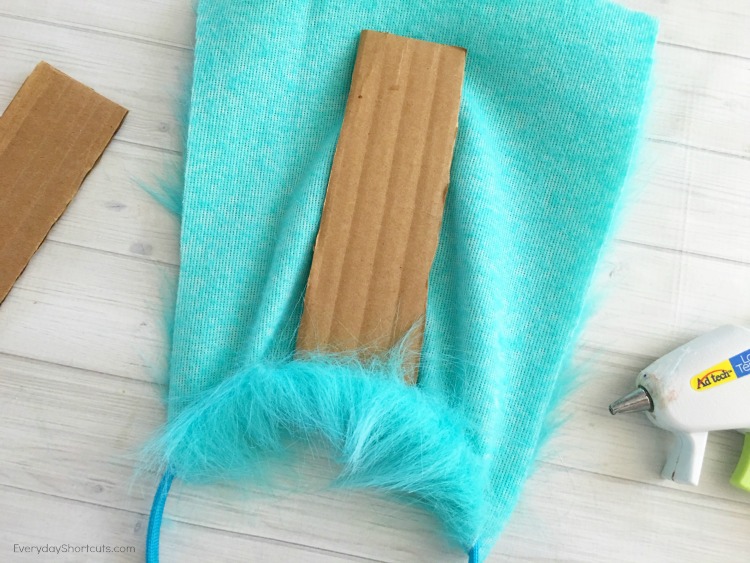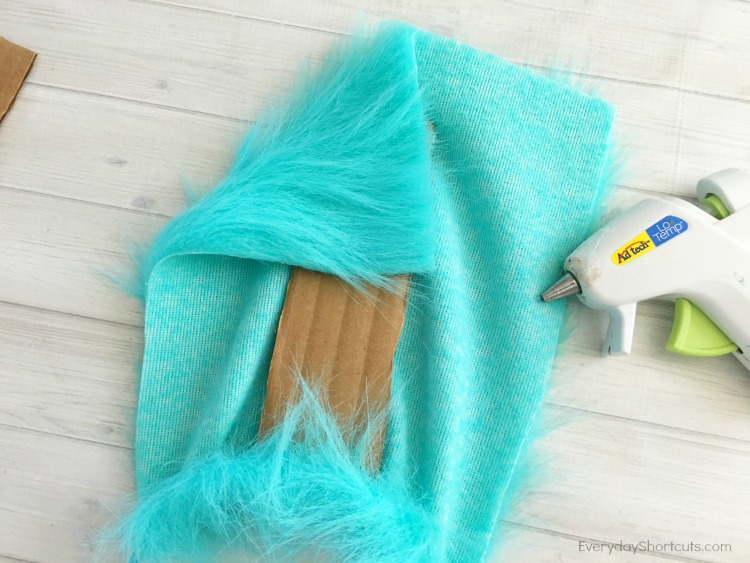 Now cut 2- 3×7″ piece of cardboard hot glue one vertically and one horizontally starting at the headband base.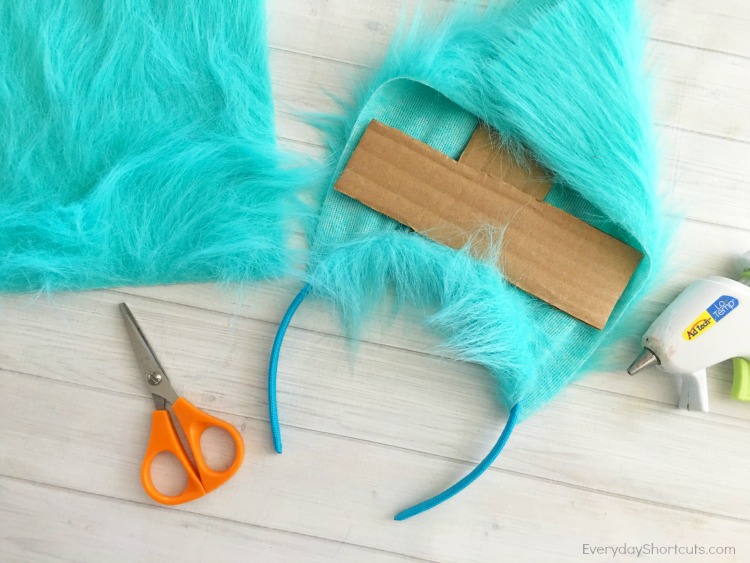 Fold the top two sides into a point and secure with glue.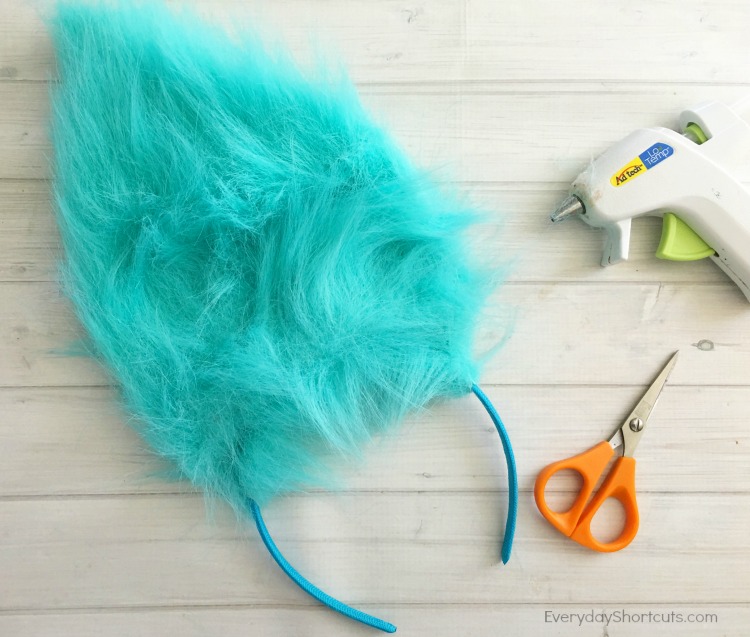 Now cut one more piece and glue onto the back, covering any backing of the fabric and cardboard. Tuck the rough edges of the fabric in a secure with glue.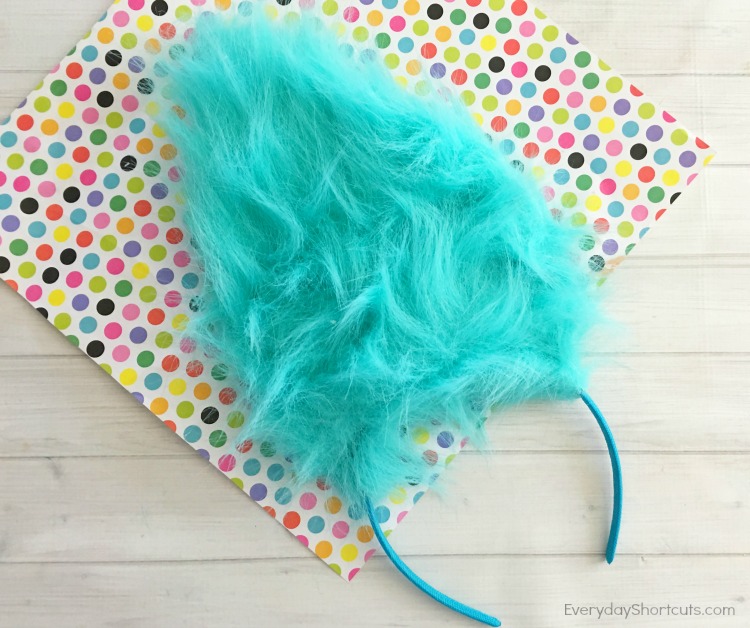 After you finish your Trolls movie inspired DIY headband be sure to wear it when you pick up your TROLLS PARTY EDITION on Blu-ray™ or Digital HD. Exclusive to TROLLS BLU-RAY PARTY EDITION – take your Trolls Party to the next level with four interactive Party Mode features where you can use your remote to engage with the on-screen fun. Shower the screen with glitter during party scenes, drop cupcakes when things get scary, high-five Cloud Guy, join Mr. Dinkles for "OH SNAP" moments and much more!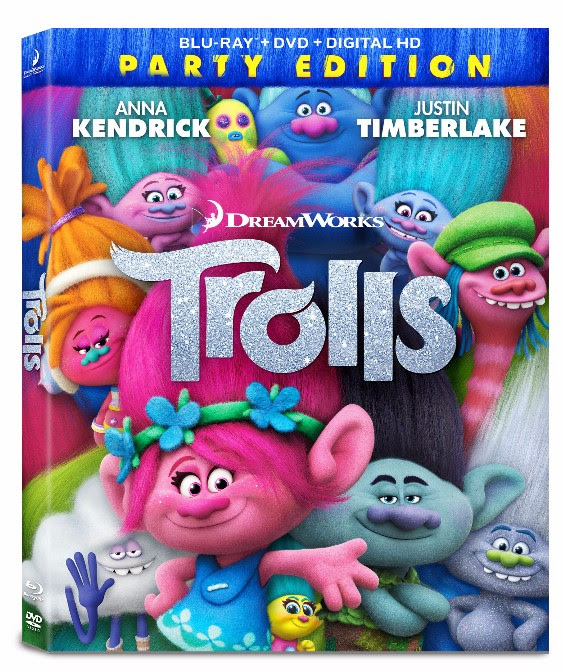 TROLLS Blu-ray™, DVD and Digital HD Includes:
Party Mode – Sing, dance and laugh along with the Trolls in this engaging, interactive feature.* *PLUS, only on Blu-ray: use your remote to conTROLL fun on-screen moments!
Travel Through Troll Village – Cloud Guy narrates a fun exploration of Troll Village.
The Potion for Stop-Motion – Part behind-the-scenes, part stop-motion tutorial, this featurette explores the process of creating Poppy's visually stunning scrapbook.
Creating Troll Magic – Trolls Production Designer Kendal Cronkhite-Shaindlin leads a kid-friendly exploration of her role as production designer on the film before highlighting four key stages of creating the animation with detailed visuals of each stage.
Troll 2 Troll – Poppy and Branch have a friendly debate on important topics such as "Cat vs. Dog." *
Inside the Bunker – An in-depth exploration of Branch's "special" place, narrated by Cloud Guy. *
Deleted Scenes with Intros by Director, Mike Mitchell and Co-Director, Walt Dohrn.
*Blu-ray and Digital HD only
Disclosure: I was given the DVD and party supplies as part of being a #FoxInsider. All opinions are 100% my own.