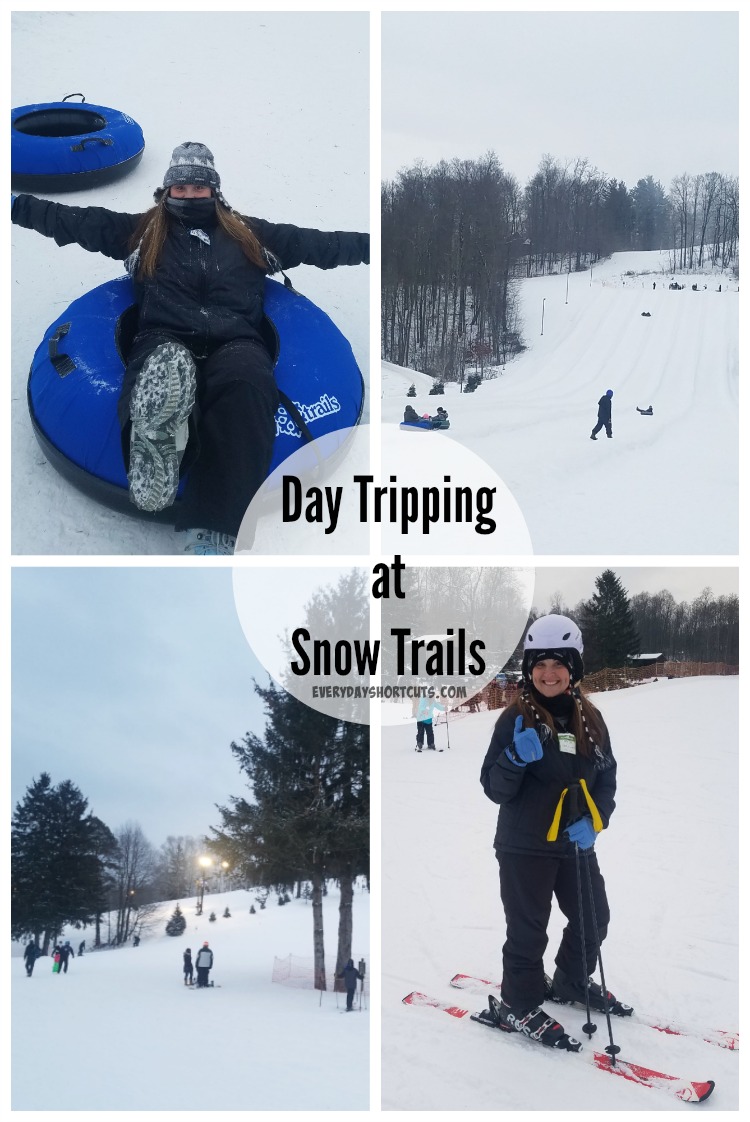 You can always find snow at Snow Trails located in Mansfield, Ohio. It's a great destination to visit over winter break or anytime in the winter with family as you can find a variety of things to do from skiing to tubing and more. My family and I took a day trip to visit Snow Trails had a blast. Check out what fun you can have with these activities!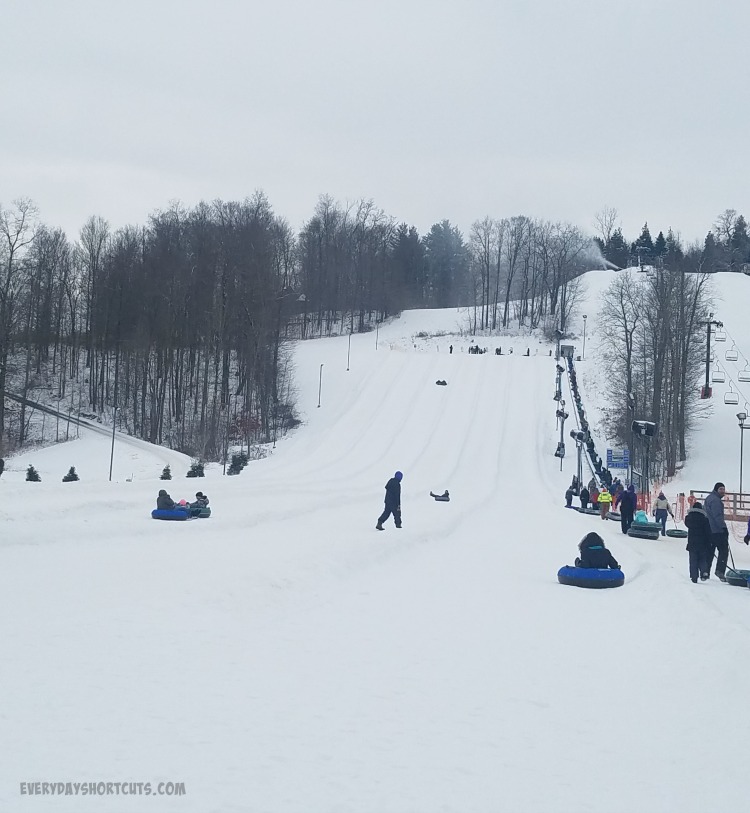 Tubing
No worries about waiting in long lines as there are 7 lanes to go down. You can race your family or connect the tubes to go down together (I highly recommend that as you go faster). With the longest tubing lanes in Ohio at a length of 1,100′ inches, you can laugh all the way down to the end. Tubes are provided and there is no experience necessary!
Glow Tubing
Glow Your Way Down the Tubing Park Lanes with an Array of LED Lights Illuminating the Snow Tubing Park. There are five full weekends of this night time fun. Dates are JANUARY 5TH- 7TH, JANUARY 19TH- 21ST, FEBRUARY 2ND- 4TH, FEBRUARY 9TH- 11TH and MARCH 2ND- 4TH. Tickets go on sale 6 days in advance and may sell out quickly so be sure to get your tickets.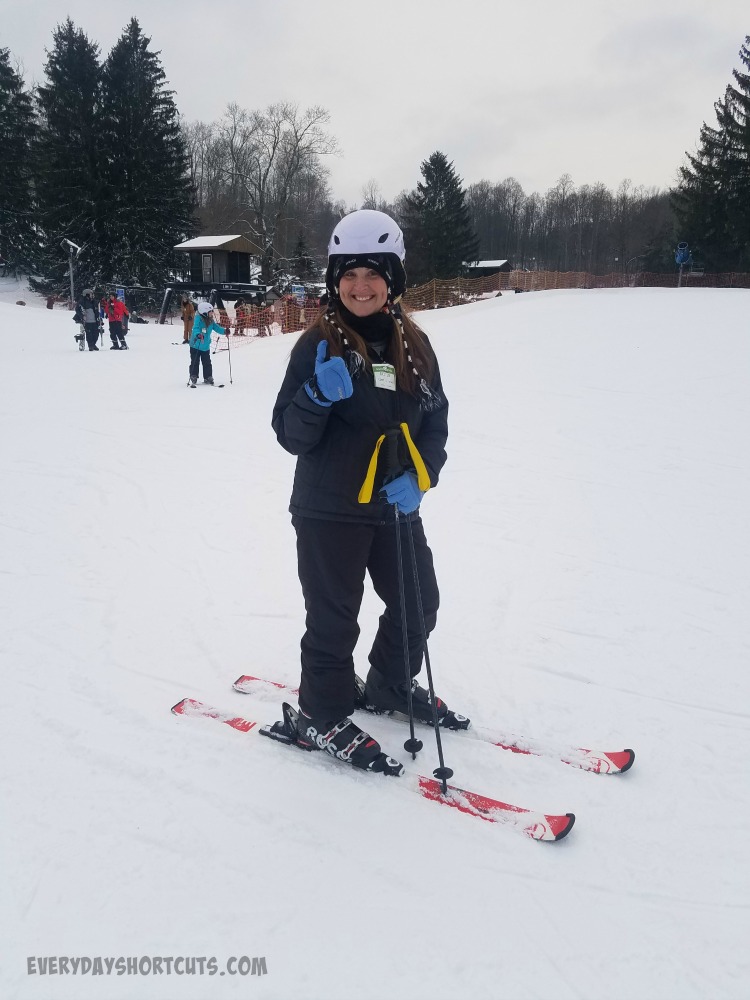 Skiing
There are plenty of hills do go down from the bunny hill to the steep slopes. With it being so spacious you will not find it over crowded. I am a newbie to skiing so I spent most of my time on the bunny hill learning but did not feel uncomfortable as there were lots of newbies. They also offer private lessons if needed.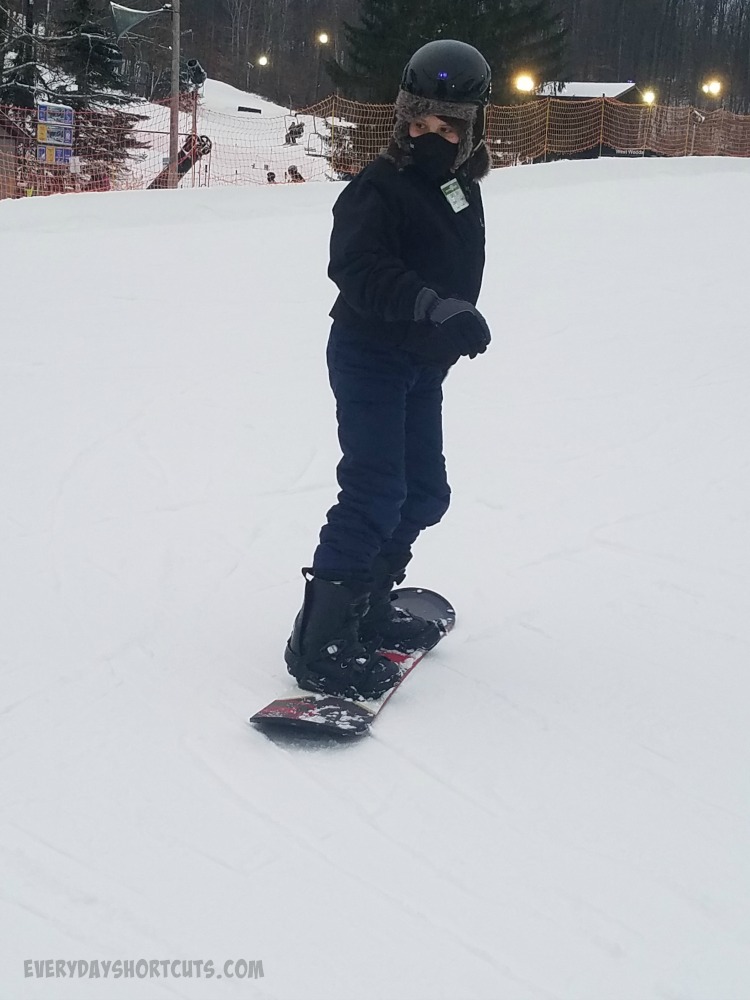 Snowboarding
Snowboarding is allowed on the ski slopes as well and can be quite interesting to watch as we did outside of the restaurant window. You can find the expert snowboarders doing flips and trips as they ride down the slopes. My son was a newbie at snowboarding and did pretty well for his first time and made it one hill past the bunny hill. My husband is somewhat an expert at snowboarding and love the different options of hills to choose from to go down.
Children's Programs
Snow Trails offers ski and snowboard programs for kids ages 4-9 for the day. It runs through Sunday, March 4th 2018. The programs offer fun challenges of trying new things, and mastering new skills. There are a variety of programs to choose from and include Area Ticket, Equipment Rental, Helmet, and Instruction/Supervision with Snacks and Lunch. View the list of kid's programs here.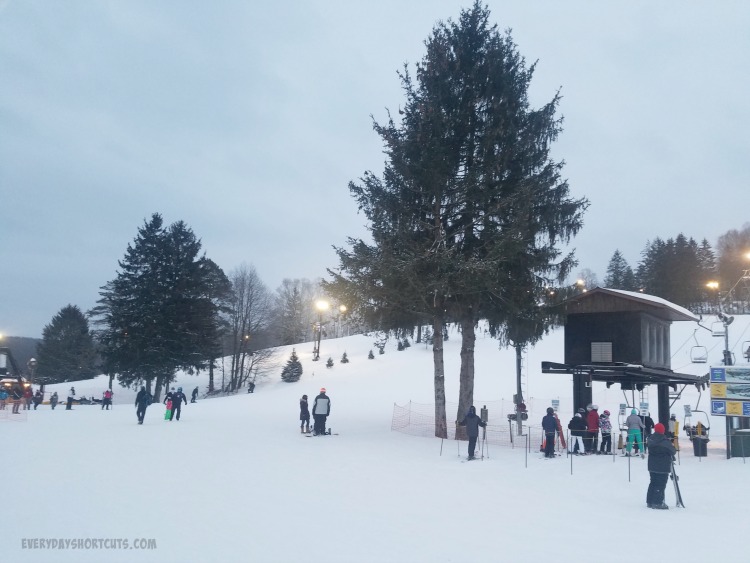 Seasonal Club Pass
A day trip is all you need to get all the activities in but there are benefits to becoming a seasonal club member such as unlimited, any-day slope access, unlimited snow tubing, rentals, ski checks and more. It's definitely worth it to get the perks especially if you're an adventures type.
Learn to Ski and Snowboard Month
January is Learn to Ski and Snowboard Month and after all the holiday indulgences it's a perfect time to get the kids off the couch and the whole family enjoying an active winter of fun on the slopes at Snow Trails. Whether you're a skiing or snowboarding newbie or simply want to dust off your skills, Snow Trails is making it easy to have fun on gentle grade slopes with the right pace and progression. Discounted learn to ski or snowboard packages are being offered and even all-inclusive Children's Program specially designed for kids ages four to nine.
Learn to Ski Packages (Ages 9 and Up)
Snow Trails takes the hassle out of learning to ski or snowboard with two specially designed packages to help families become confident with their skills quickly, so they can start having fun right away. The "Let's Get Started" package is ideal for those that have never skied or snowboarded before. It includes a beginner's area only lift ticket, ski or snowboard equipment rental and up to an hour and a half group lesson for $79 per person. After the group lesson instructors are available throughout the day and evening to provide additional coaching and support. And, best of all the ticket and equipment rental remains valid for the remainder of the day.
For those who aren't new to skiing, but simply want to brush up their skills, the "Jumpstart" package is a great way to get back on the slopes in no time. Priced at $89 per person, the package includes an all-area lift ticket, ski or snowboard equipment rental and beginner or intermediate group lesson up to one and a half hours. Lift ticket can be used for the remainder of the day.
"Polar Bear" Children's Program (Ages 6 to 9)
Snow Trails "Polar Bear" Program is designed for kids ages 6 to 9. Priced at $119 per day, each program includes an area ticket, rental equipment, helmet, instruction, snacks and lunch. This program combines the fun of discovery, the challenge of trying new things and the excitement of mastering new skills, all in a safe environment. Children are led by skilled instructors in both indoor and outdoor activities. Discounts are available for purchasing 5 or more days. The Program is offered through March 4, 2018 on Fridays through Sundays and on Peak Days.
"Polar Cub" Children's Program (Ages 4 and 5)
Parents wanting to introduce their smallest members of the family to skiing and boarding can sign up for the "Polar Cub" Program. This half-day session is all about introducing children to the sport of skiing and snowboarding in a fun and playful manner. It is designed for children ages four and five, and should fit a children's boot size seven, potty-trained and mature enough to follow instructions. Priced at $99 per day, this program is offered through March 4, 2018 on Fridays through Sundays and on Peak Days and includes an area ticket, rental equipment, helmet, instruction, snacks and lunch. Discounts are available for purchasing 5 or more days.
Reservations are required for the Children's Programs and need to be made by 8 p.m. the day before. Please call the Snow Trails Children's Learning Center at (419) 774-9818. Visit SnowTrails.com for more information and directions. And stay up to date on the latest events on Facebook and Instagram.
Thanks to Snow Trails for hosting us. All opinions are my own.