This unique Beetlejuice Shrunken Head Costume will have everyone doing a double take, and it's sure to be a hit at any party!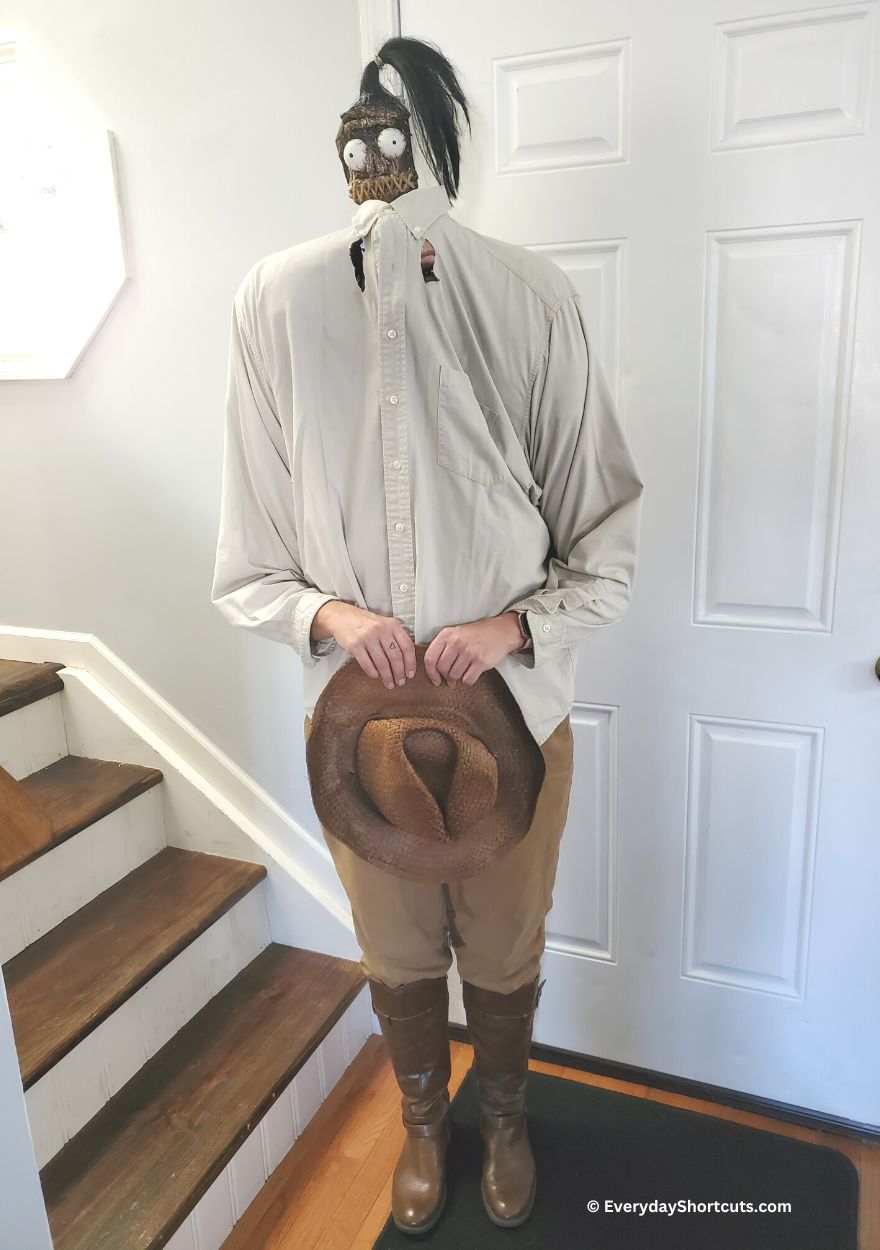 Harry the Hunter Shrunken Head from Beetlejuice is one of the most popular costumes out there. And for good reason too — it's unique, it's creepy, and it's just plain fun to wear.
This year, I needed a costume for a Halloween party but I didn't want to spend any money. I thought I could go as what I have gone in the past such as a Lunch Lady but really wanted something fun and different.
After going through the internet for hours, this idea popped up and knew I could create it with everything I had at home.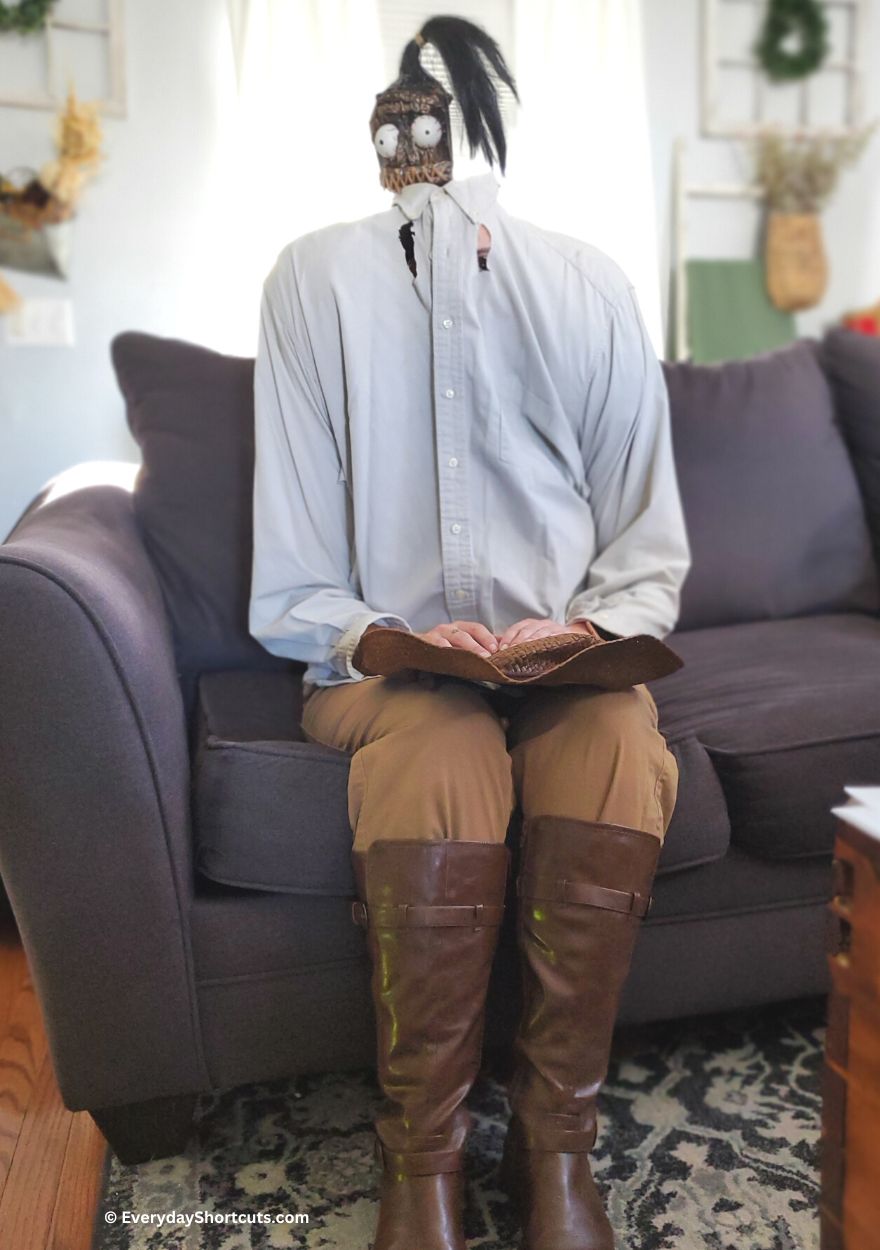 Some people made the mask out of clay but I needed a more budget friendly way to make it. After brainstorming this is what I came up with and I think it looks pretty good.
If you're looking for a costume that will turn heads, then Harry the Hunter is definitely the way to go.
What is Beetlejuice?
Beetlejuice is a 1988 American comedy horror film directed by Tim Burton. The plot follows newly deceased couple Adam (Alec Baldwin) and Barbara Maitland (Geena Davis) who, as ghosts, hire a bio-exorcist named Beetlejuice (Michael Keaton) to scare away the new tenants of their former home.
Who is Harry the Hunter?
Harry the Hunter Shrunken Head is one of the characters in Beetlejuice. He is seen briefly in the waiting room scene outside of Juno's office sitting next to Beetlejuice and the Witch Doctor. You can also spot him in another scene sitting next to Barbara.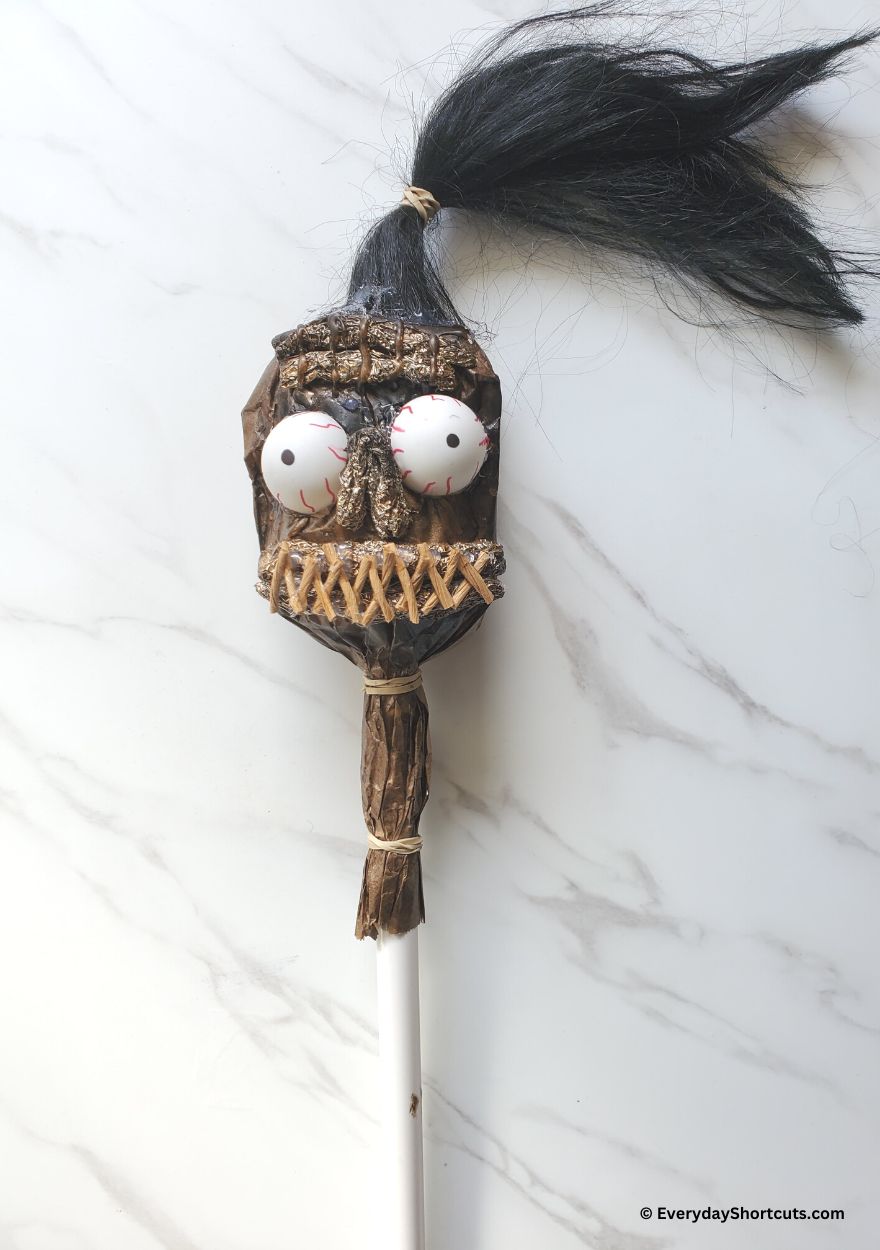 What You Will Need to Make the Shrunken Head
Grocery paper bag
Lunch paper bag
Aluminum foil
Brown or metallic spray paint
Black spray paint
Ping pong ball
Twine or handles from a shopping bag
PVP pipe
2 rubber bands
Red sharpie
Black sharpie
Hot glue gun
Glue sticks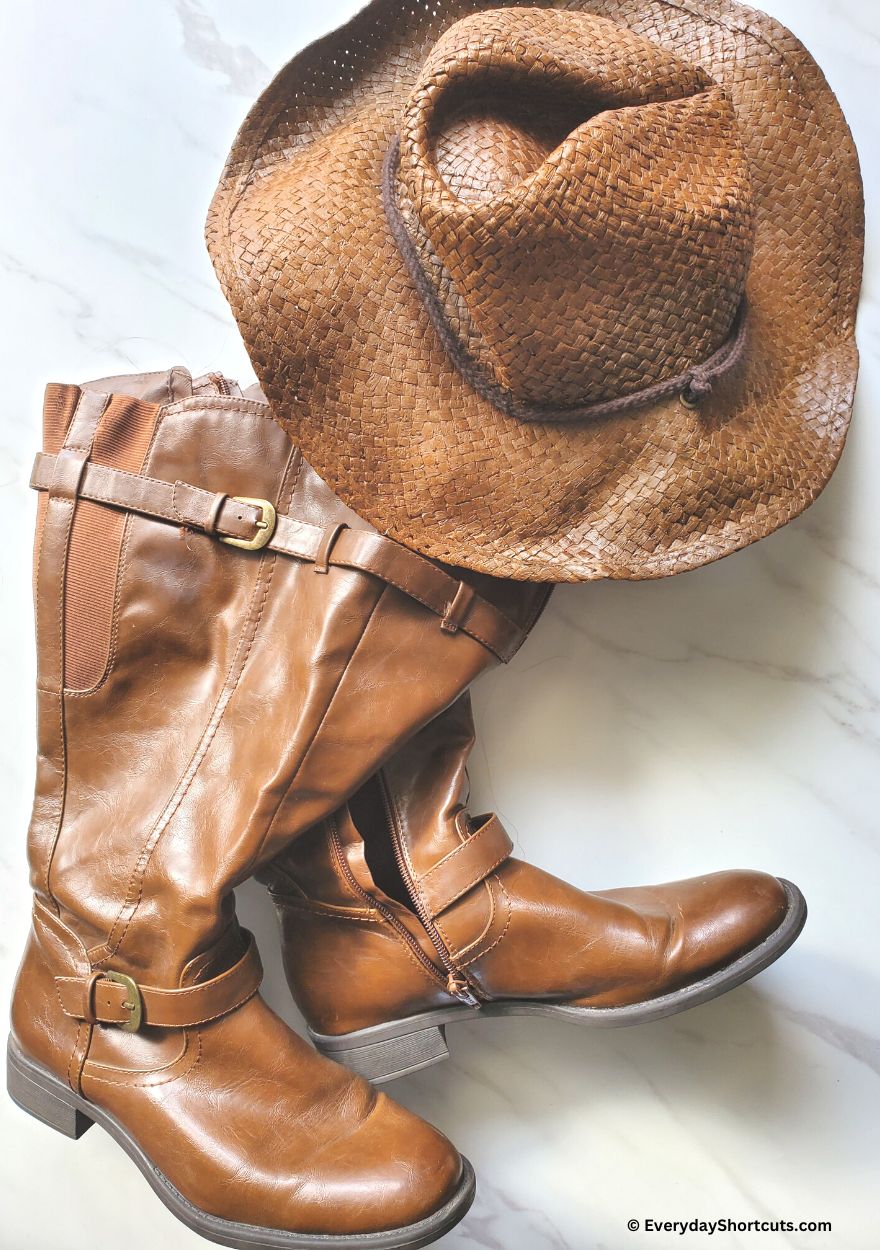 What You Will Need to Make the Costume
Shrunken head on a stick
Khaki pants
Khaki button down shirt
2 pillow cases
2 small pillows
Shoelace or string
How to Make the Shrunken Head
Crumble up a grocery paper bag into a shape of a head. Wrap aluminum foil over top. Cover with a lunch paper bag. Secure at bottom with rubber bands for now.
Shape the wrinkles, mouth and nose with aluminum foil and hot glue to bag.
Spray paint face with brown or metallic paint. Once dry add some black accents around eyes and face with black spray paint. Allow to dry.
Once dried, place a long PVP pipe up through the bottom of the lunch bag and secure it with 2 existing rubber bands.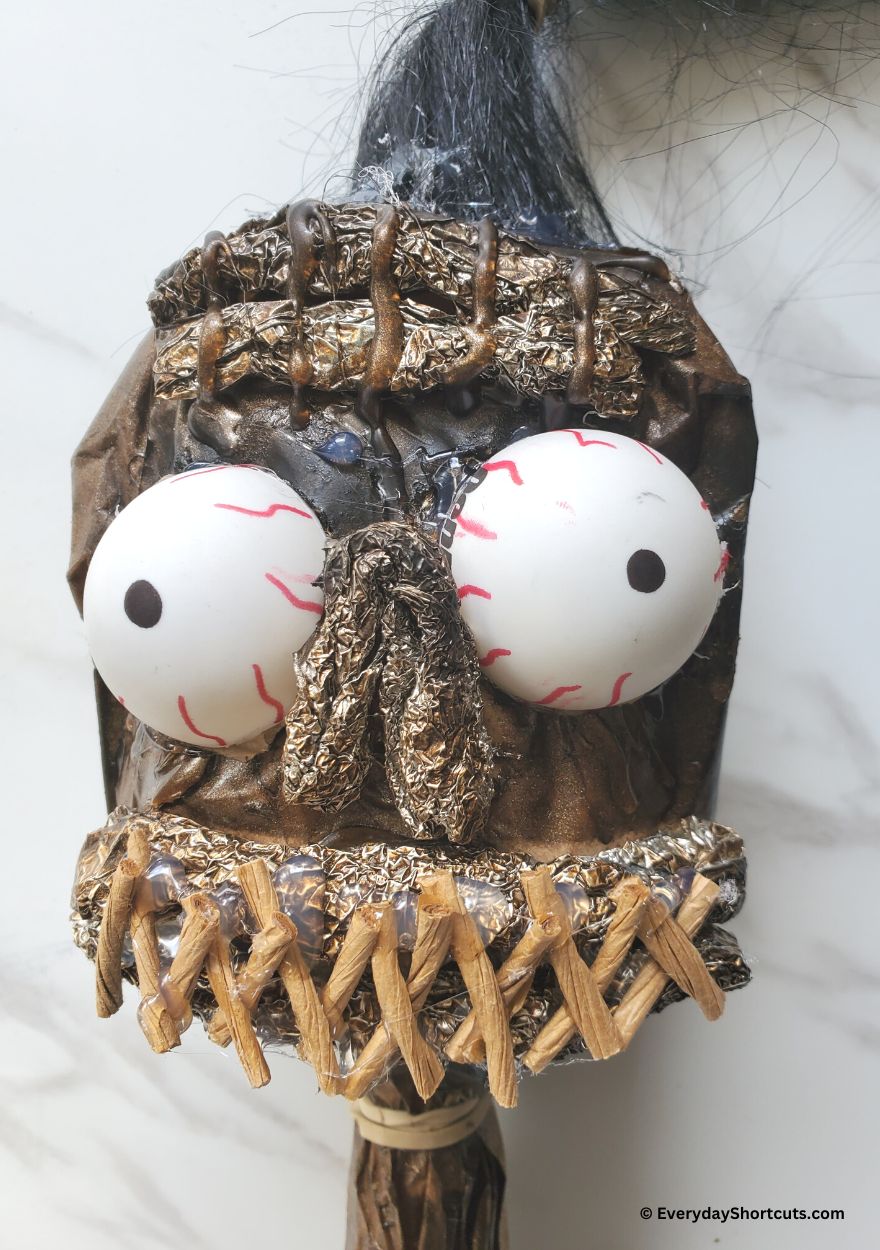 Cut a ping pong ball in half. Draw the pupils with a black sharpie and make the veins with a red sharpie. Hot glue the eyes on the face.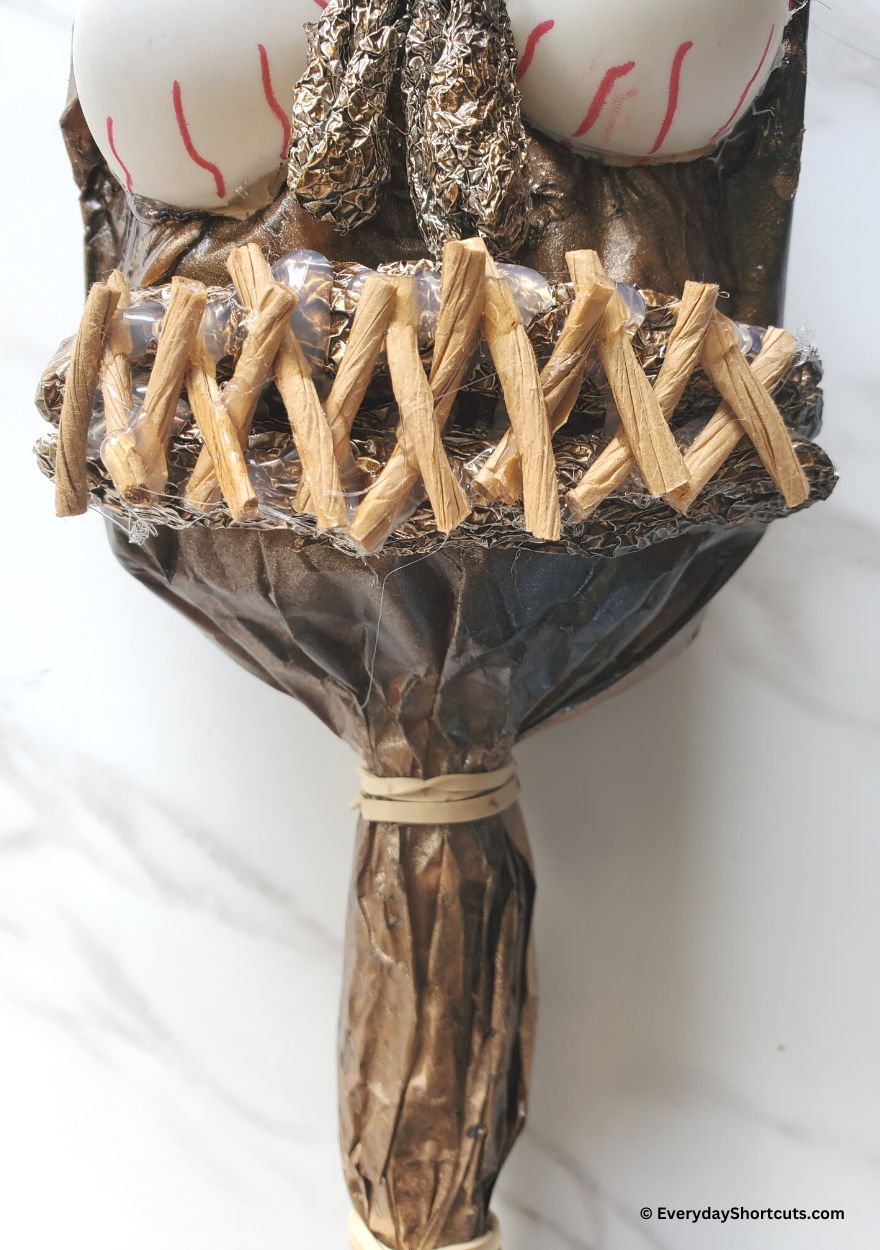 Cut off the handles from a paper shopping bag or use twine into small pieces to make the sewn mouth. Make X's with the string across the mouth and secure with hot glue.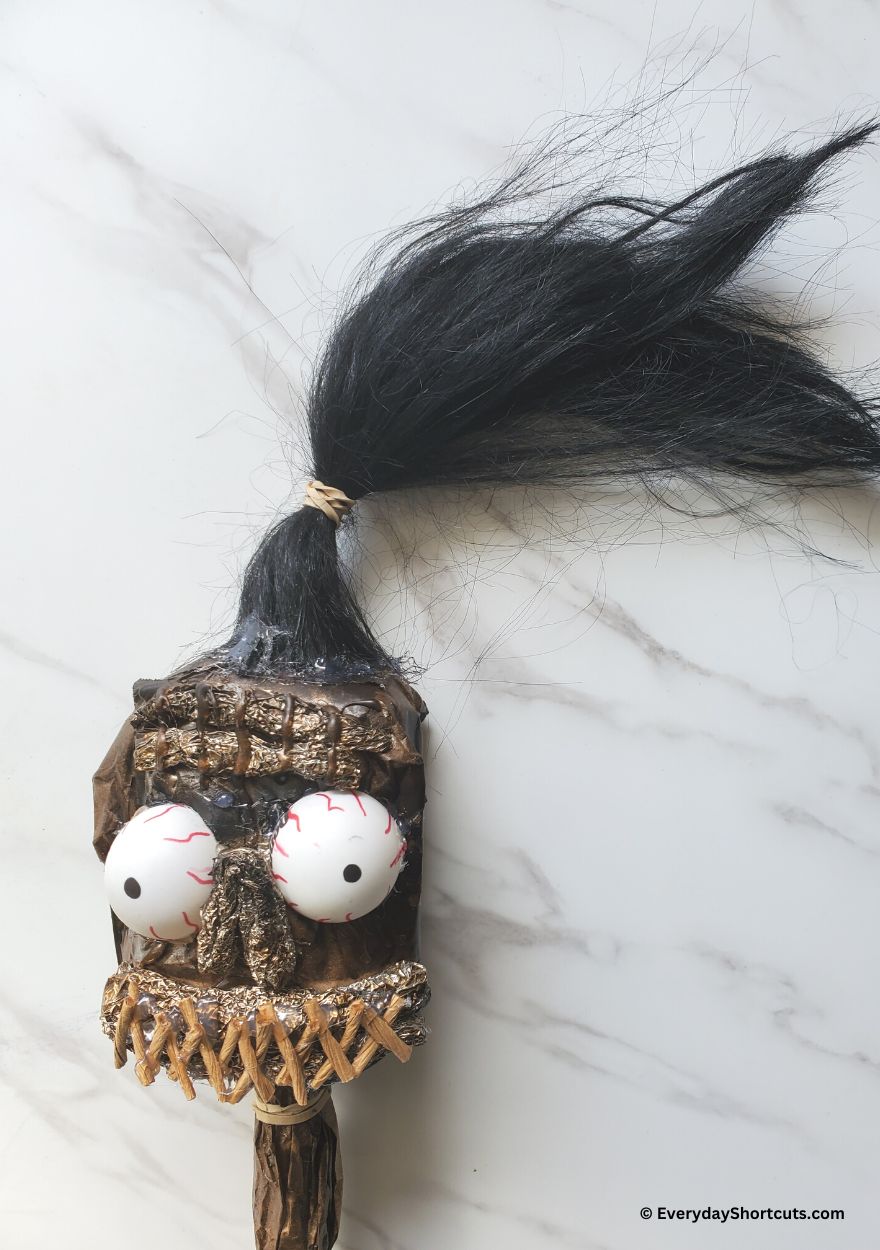 Secure a section of the doll hair or wig with a rubber band. Cut a few inches below rubber band. Hot glue to the top of the shrunken head.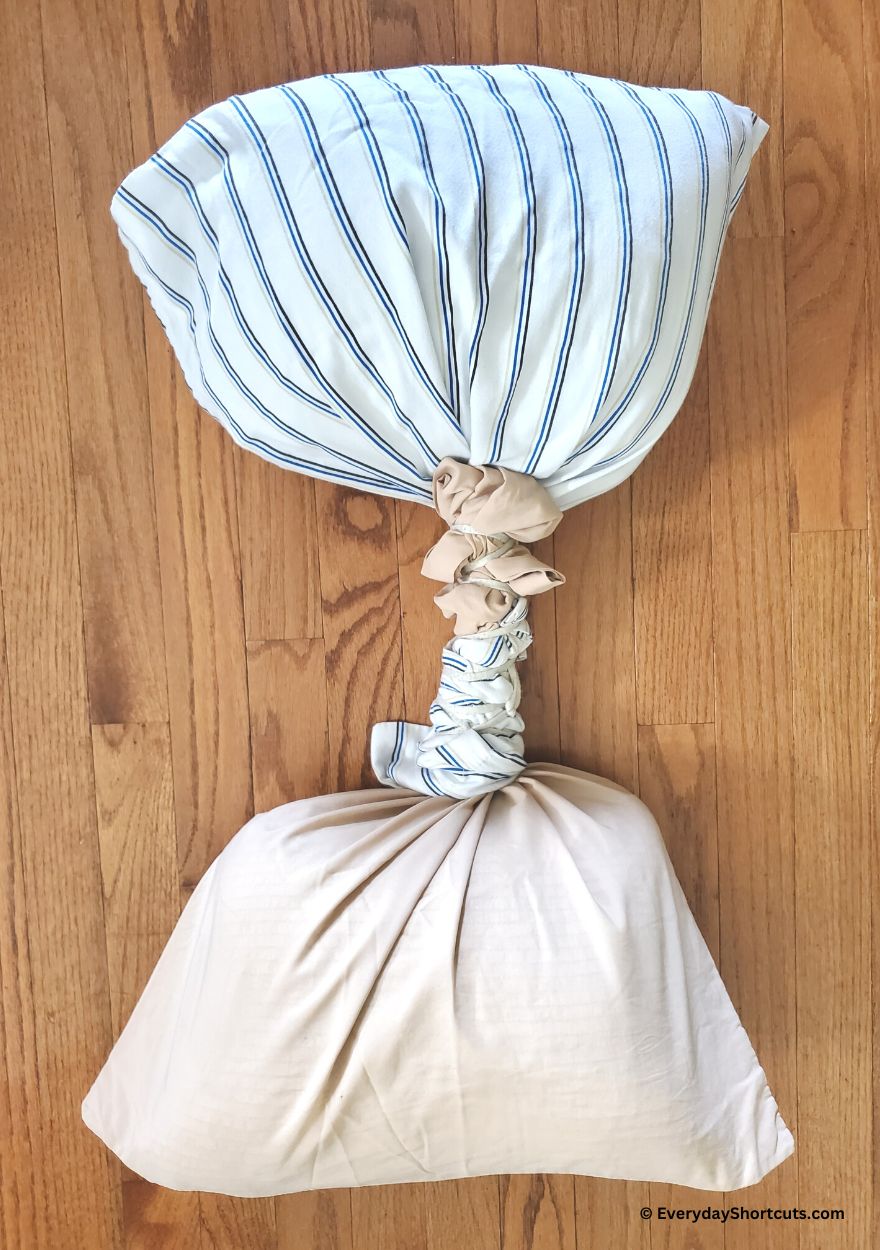 How to Make the Raised Shoulders
Add a small pillow to each pillow case. Take the open ends, twist together and secure by wrapping a string or shoelace around the ends.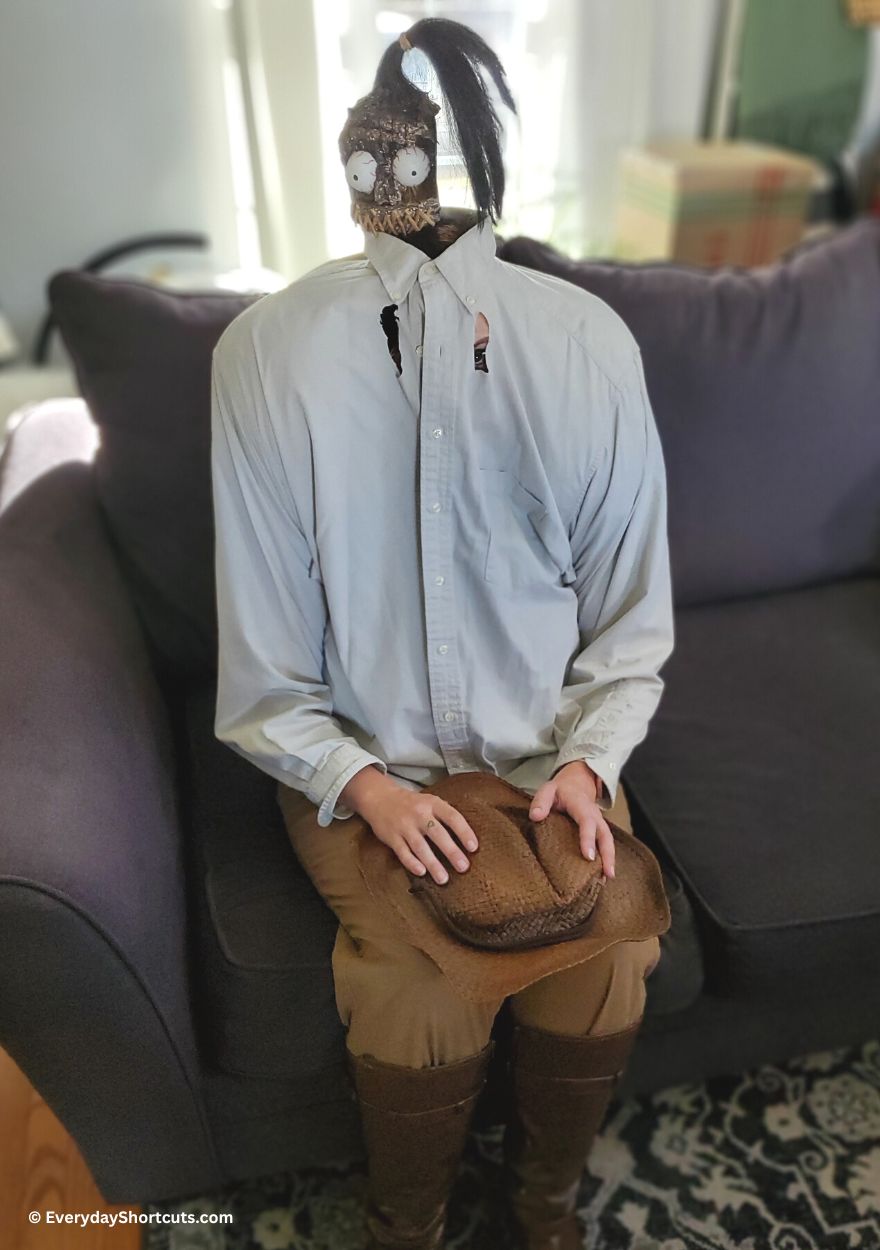 How to Wear the Beetlejuice Shrunken Head Costume
Put on pants and boots. Add chest strap around chest.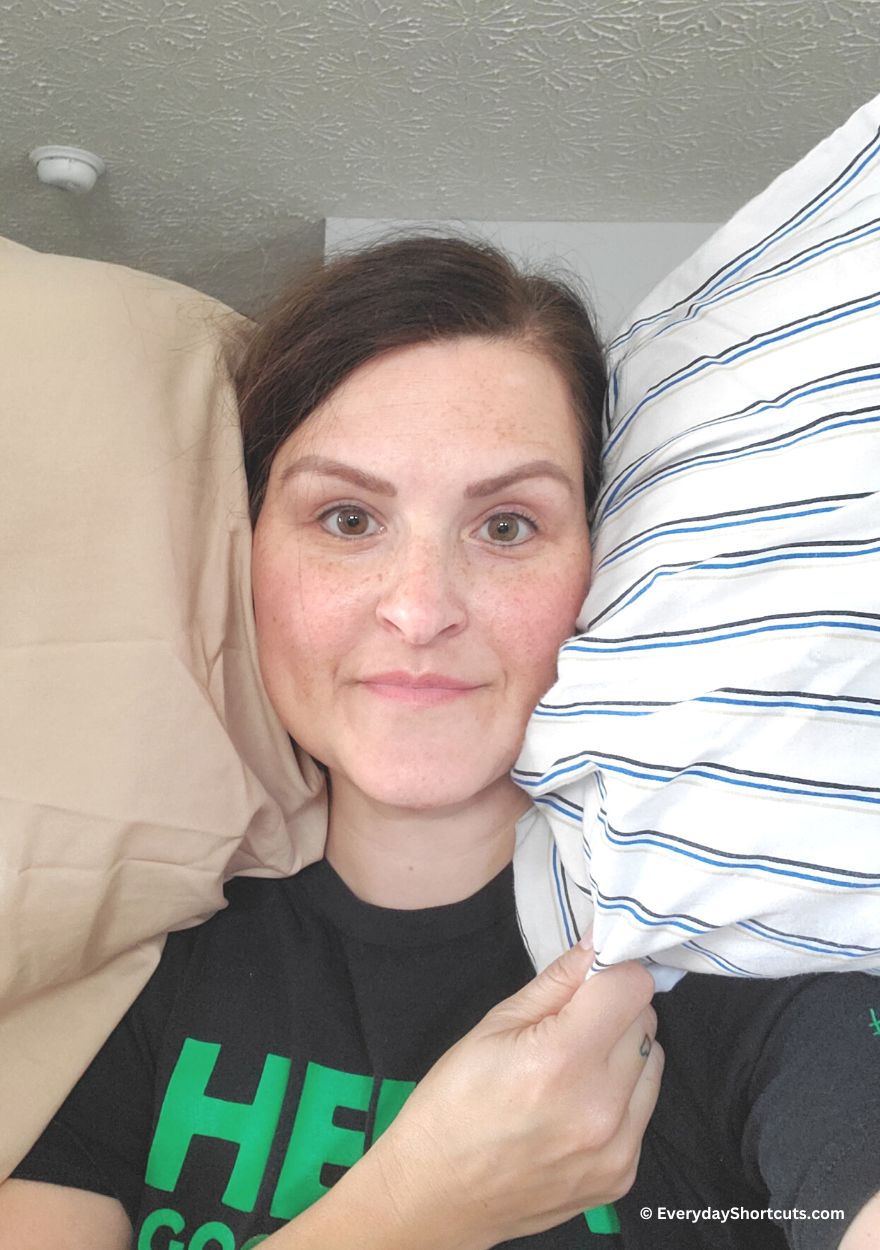 Place tied pillows across the back of your neck to where it's one on each side of ears.
Put shirt on (may need help with this) over pillows and over head. Button shirt all the way to the top.
Add shrunken head on a stick down your back under your shirt. Make sure to loop it under the part where the pillows are tied together and chest strap to help secure it.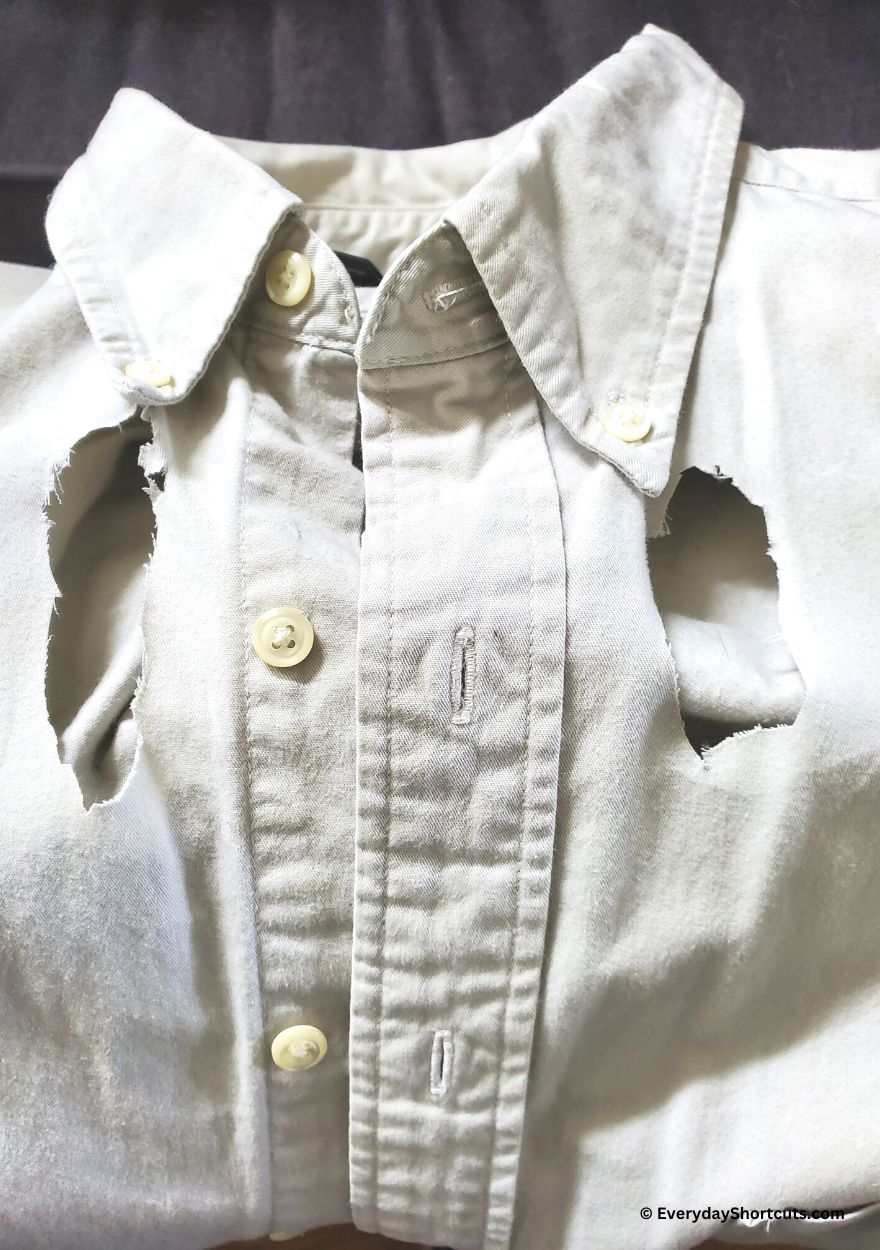 Cut (or have someone cut eyeholes) in the shirt where you can see out of.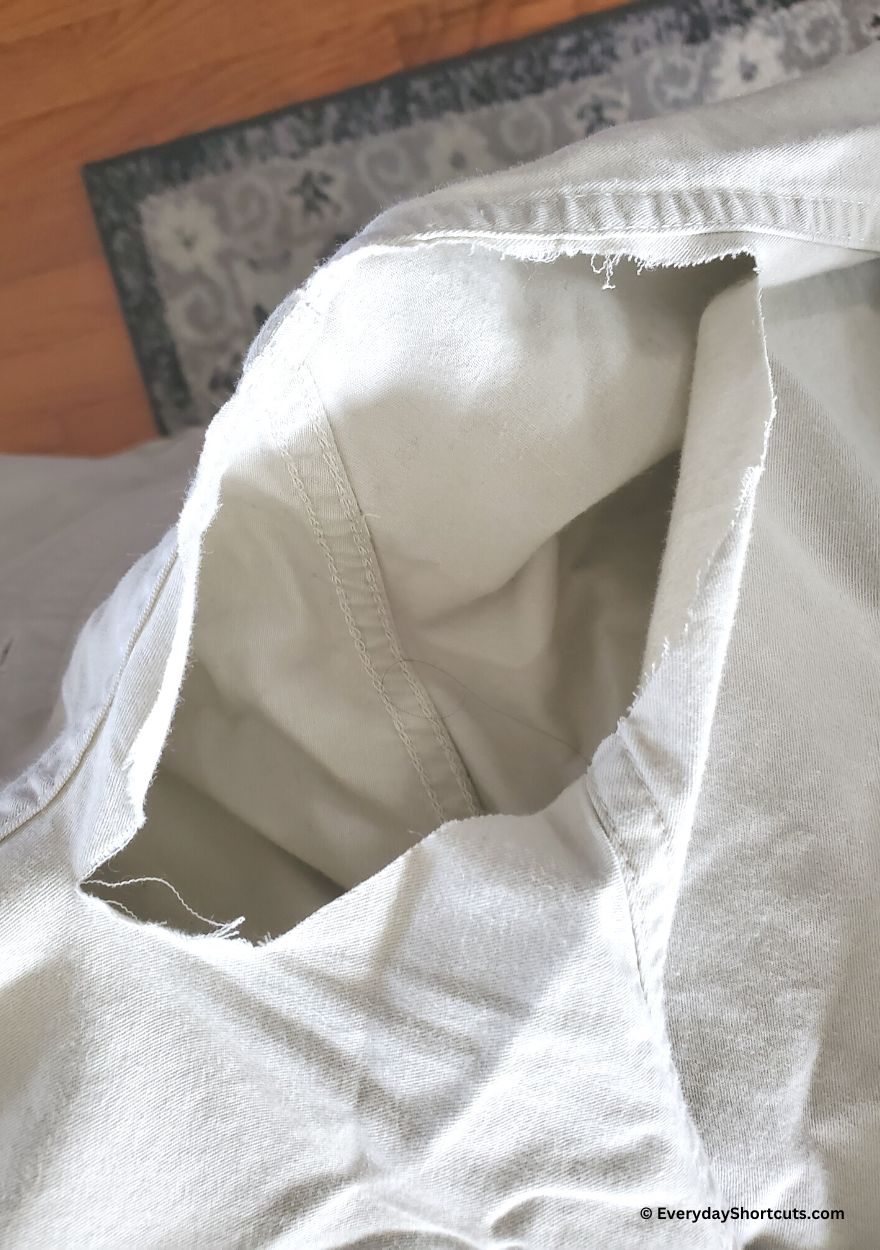 You may need to cut a slit in the armholes to give you more room to put your arms down and help raise the shoulders up more.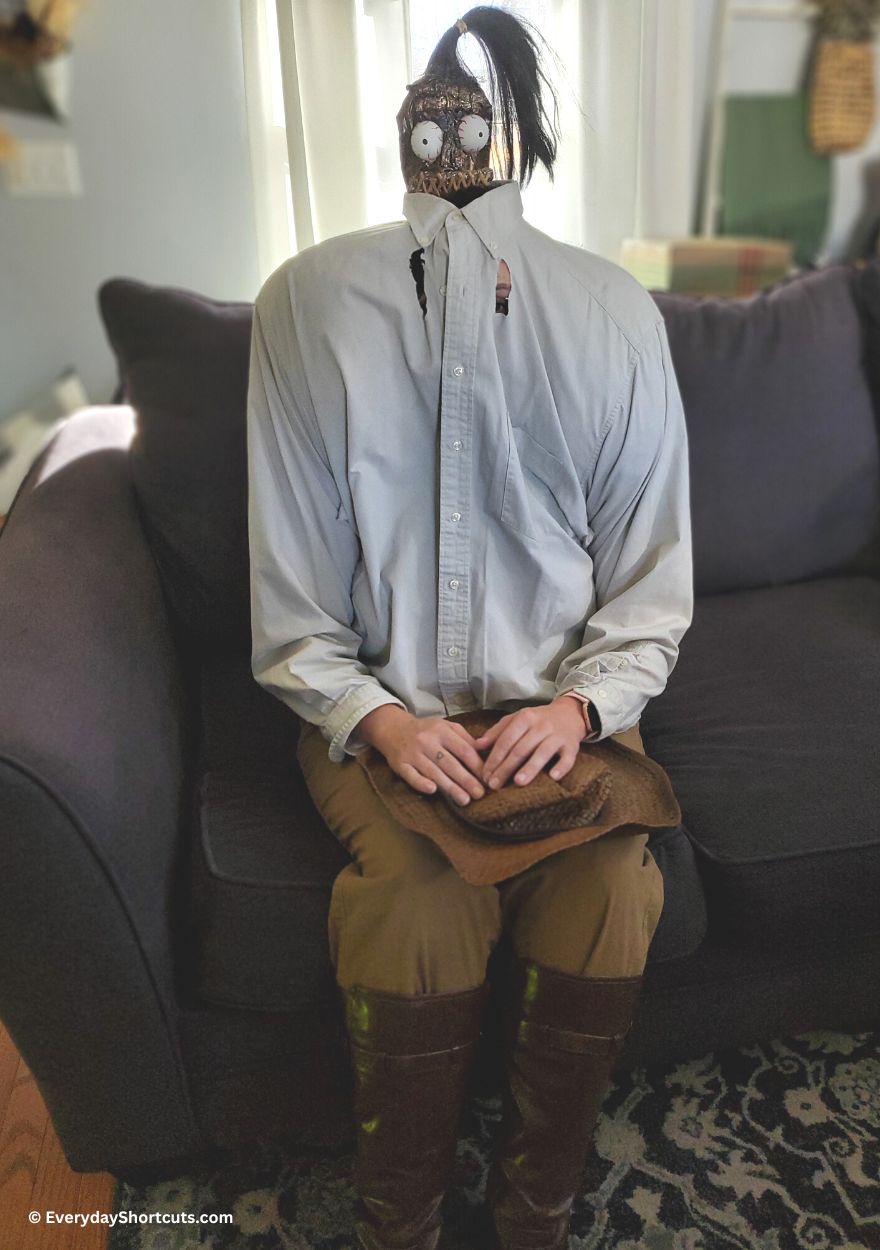 Grab a brown cowboy hat and you're good to go. Happy Halloween!