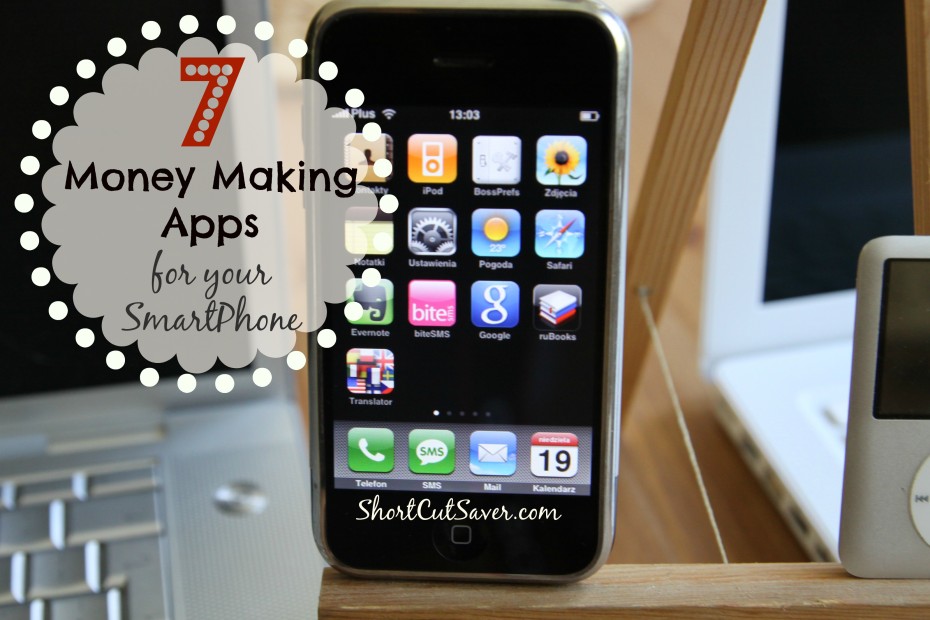 Did you know that there are Apps you can download to your Smartphone that can make you money, or earn points for gift cards and prizes? Yes, there are and I have found 7 money-making apps. The list of apps below are ones that I have joined and have been making money or earning points from. They are super easy to do and take no time at all.Who doesn't love a little extra cash, right?
1. ShopKick
Earn points for visiting participating retailers and having the Shopkick App open when you walk in the store.
Scan products to earn more points listed under the participating retail stores.
Redeem points for gift cards, name brand purses, travel, & more.
2. Ibotta
Earn money just for buying from a list or participating items.
View offers in the app and if you buy that product, take a picture of the receipt, then scan the barcode to earn $.50-$1 per item.
Pair up with a sale and a coupon, you could turn it into a money maker.
You can cash out when you have $5 or more in your account through Paypal.
Offers are released every Thursday at noon and expire the following Wednesday at 11:59PM.
Check to see if the offer is still available before you head to the store.
Submit the receipt through the app or online here.
When you reach $20, you can cash out through Paypal or receive a check.
Earn money just for watching short videos and taking a 3 question poll after the video.
Each video varies on the amount of money you will earn.
They don't tell you when new ads are available so you have to keep checking the site for new ads.
To cash out you need to get the Jingit Visa Debit Card which cost $3.50 to get, and the money will be added on to your debit card.
You can keep reloading the money onto your debit card.
Then download the app on your phone.
Earn Swagbucks for watching videos on your phone.
You will get 2 points for every 5 videos watched. Limit is 50 points per day.
You can redeem Swagbucks for gifts cards and prizes.
Get points for watching TV.
After you download the App here turn on your TV and click "Check In" on the Viggle App.
Each TV Show will add a different amount of points.
Play Trivia along with some shows to earn bonus points.
Watch Ads to earn bonus points.
Cash out for Gift Cards, Swag, and more!
Clip the Digital Coupons right from your phone to use at the store when you link up your store loyalty cards.
Money is added to your account in 2-30 days.
Once you get $5 in your account you can deposit into your bank account, PayPal transfer, Amazon gift card, or a donation to the charity American Forests.