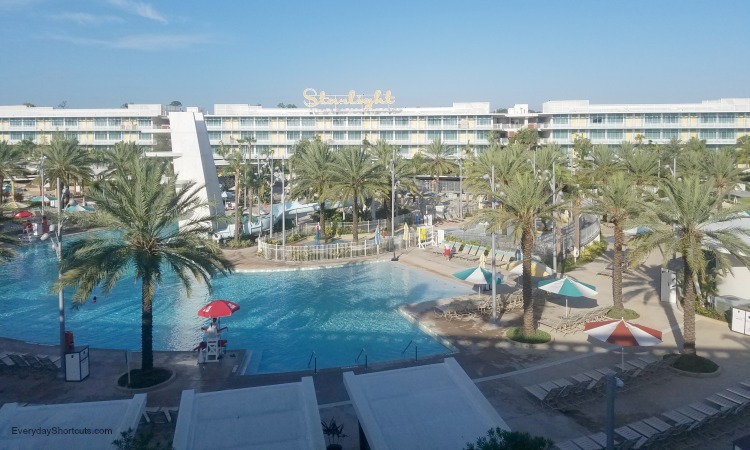 Cabana Bay Resort located in Orlando, Florida is a retro style resort down to the VO5 shampoo and Zest soap in the shower. The resort is filled with fun colors, family suite rooms and plenty to do with the entire family. There is so much to do that we didn't get a chance to do it all while we stayed there for 4 days a few weeks ago.  Check out what fun you can have at Cabana Bay Resort!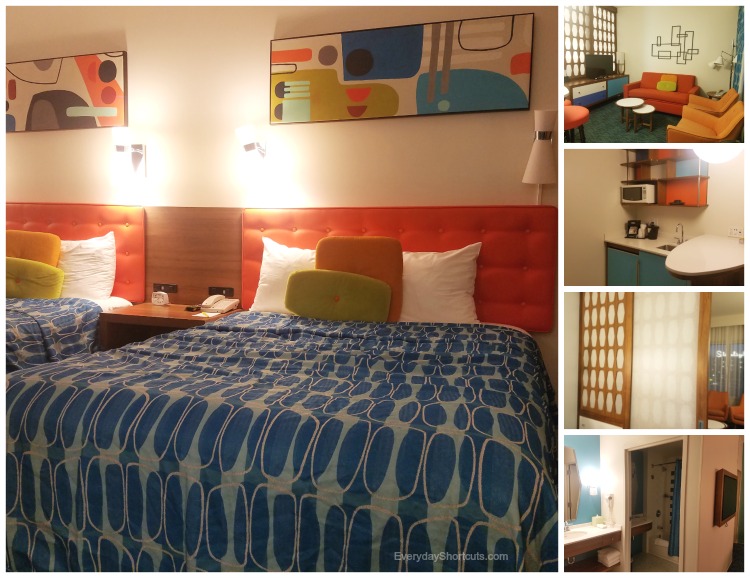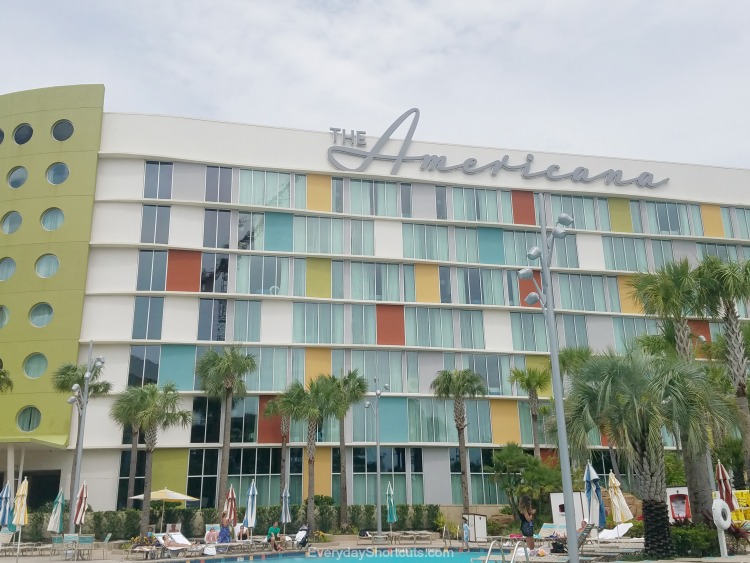 Float in the Lazy River – While most might not know that there are actually 2 pools  located at the resort where one has a lazy river. You can purchase a tube and float for as long as the pool is open for.
Take a Walk – There are some beautiful paths around the hotel with great landscaping and fantastic views of the pool, classic cars and more. Or if you're up for about a 20 minute walk you can take the path to City Walk for some shopping or get something to eat.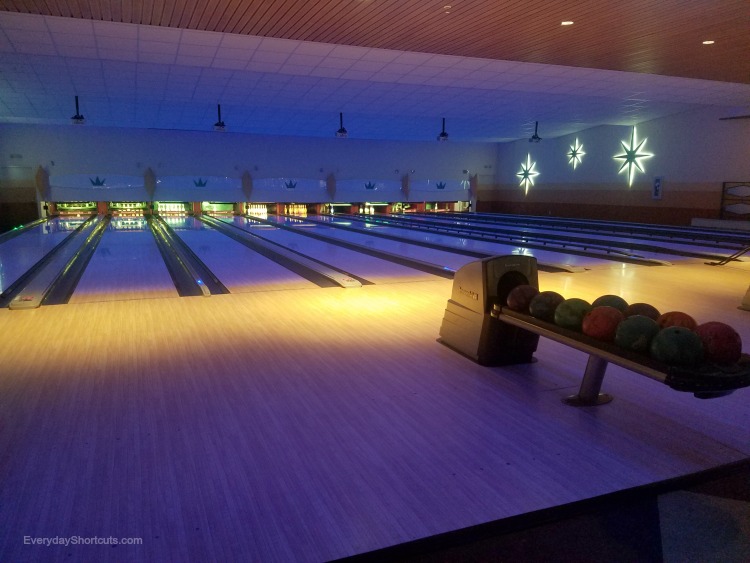 Go Bowling – That's right there is a bowling alley inside the resort located next to the game room. Pay per hour and bowl as many games as you can until the time is up.  There are only 10 lanes so you may want to make a reservation to be sure you get in to bowl. You can even have drinks and dinner while you bowl from the restaurant located inside the bowling alley.
Pool Hop – Many may not know that you can pool hop at other Universal Resorts such as Sapphire Falls, The Hard Rock Hotel, Royal Pacific, and more.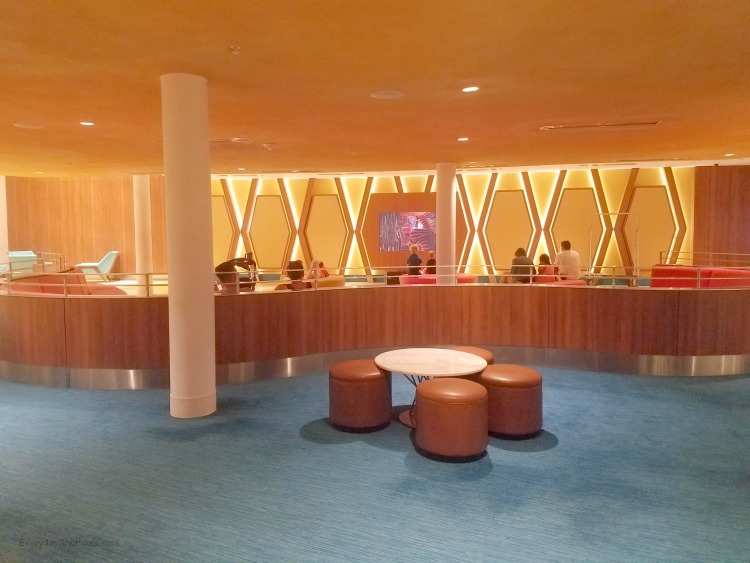 Watch a Movie – Watch a movie inside located in the theater at the end of Bayliner Diner or sit on the lawn by the pool during special times.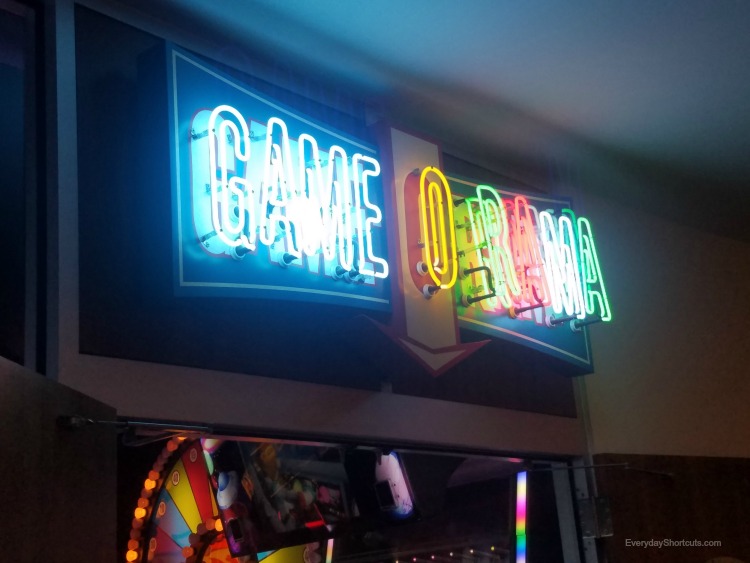 Test your Skills in the Game Room – Located next to the bowling alley is a fully equipped game room filled  with skill, strategy and more games for a night of fun. When your done turn in your tickets for prizes to take home with you.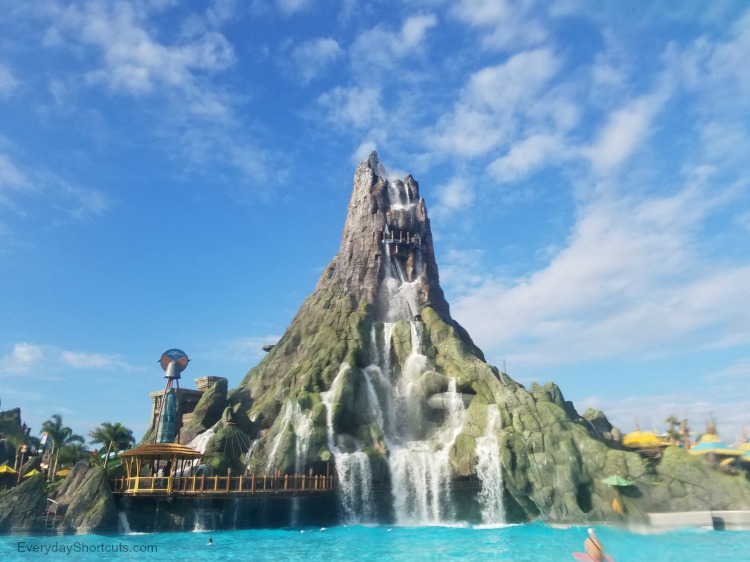 Volcano Bay – Use the walking path and head Volcano Bay for the day for fun in the sun.
Universal Studios, Islands of Adventure Parks & City Walk – There is a shuttle located on the resort that leaves every 15 minutes to take you to the parks  and City Walk with a ride back to the hotel. Be sure to check with the front desk of the first and last time the shuttle leaves to prep for your day.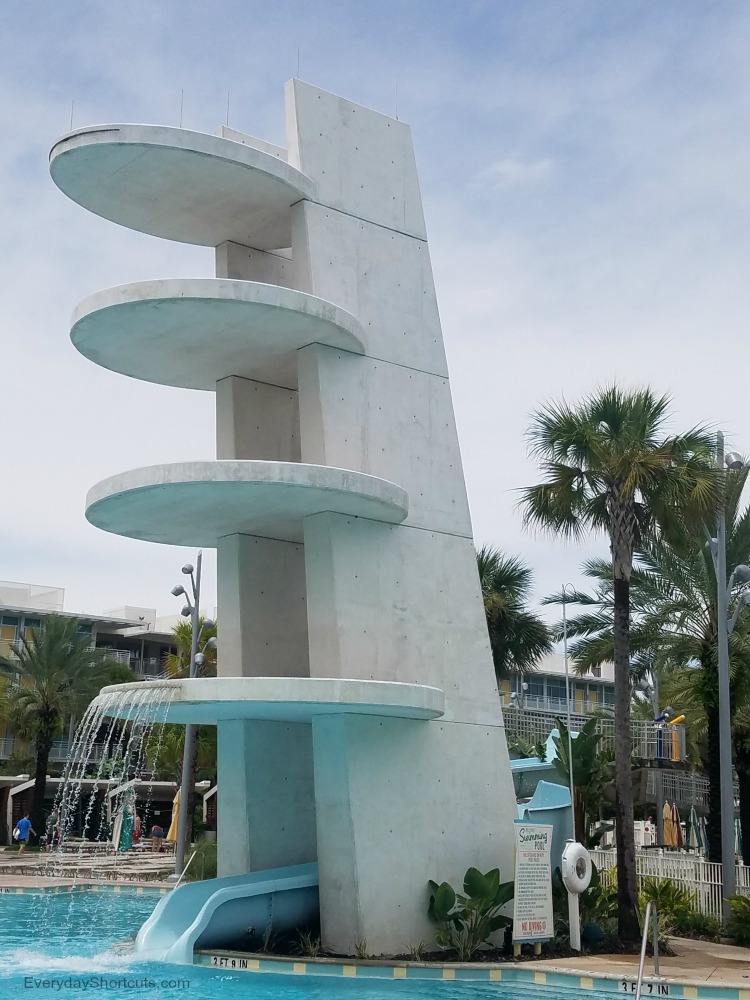 Go Swimming – There are 2 pools to choose from at the resort. There is the Cabana Courtyard and Pool that has a dive-themed water slide and pool and then there is the Lazy River Courtyard and Pool that has a lazy river, pool and sand beach.
Poolside Activities – Get the list at the front desk of the poolside activities for the day. Things on the list may include splash contests and more. Or you can visit the beach area and play cornhole, beach volleyball, or ping-pong.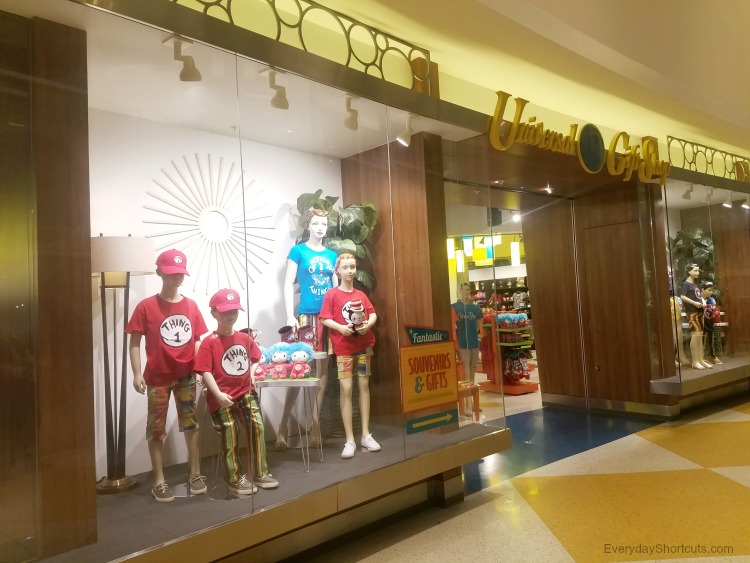 Shop in the Gift Store – Find a variety of souvenirs or things you may need in the Cabana Bay gift shop. Most items are similar to things you will find in the park so if you forgot to pick up a souvenir while at the park you may be able to find it there.
Work Out – Equipped with everything you need to stay in shape while on vacation.
Meet and Greet Characters – Every Friday evening some of Universal Orlando Resort's most beloved theme park characters make special appearances just for guests at Cabana Bay Beach Resort.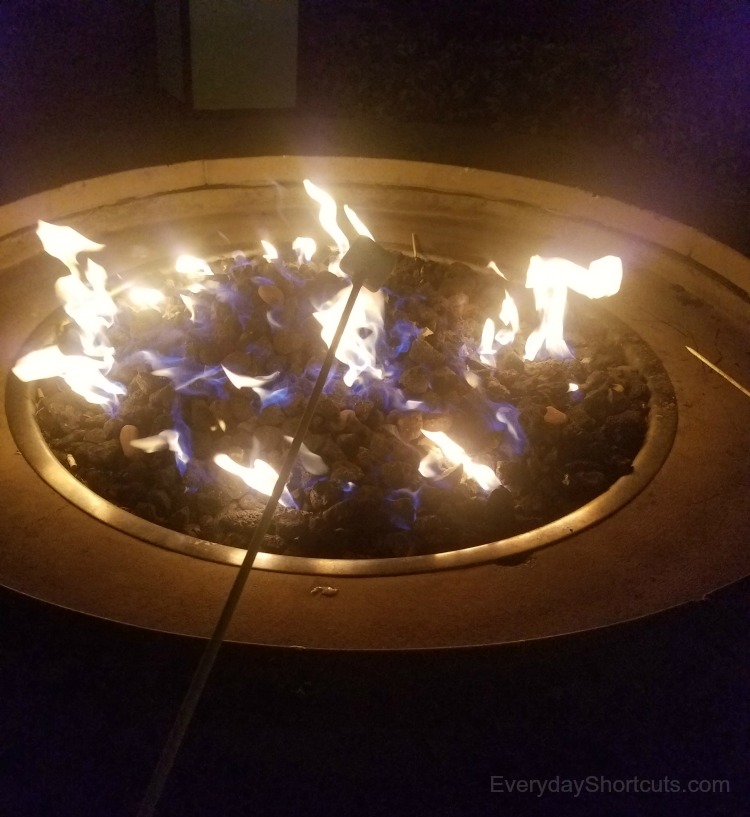 S'Mores by the Fire – Purchase a S'Mores kit at the Bayliner Diner and gather around the fire pit outside of the diner making s'mrores. This is a great time to relax after a day at the parks or swimming with a delicious treat while reliving the memories of your trip.
Let them do the cooking – Choose from a choice of restaurants located in the resort such as the following.
Bayliner Diner
Hideaway Bar & Grill
Atomic Tonic
Galaxy Bowl & Lounge
Delizioso Pizza
Hotel Dining Shuffle
Grab a Drink – Visit the Swizzle Lounge for live music and a drink for ages 21 and older.
Wake up with caffeine – Starbucks is located in the resort with a full menu for you to get the caffeine you need for the day.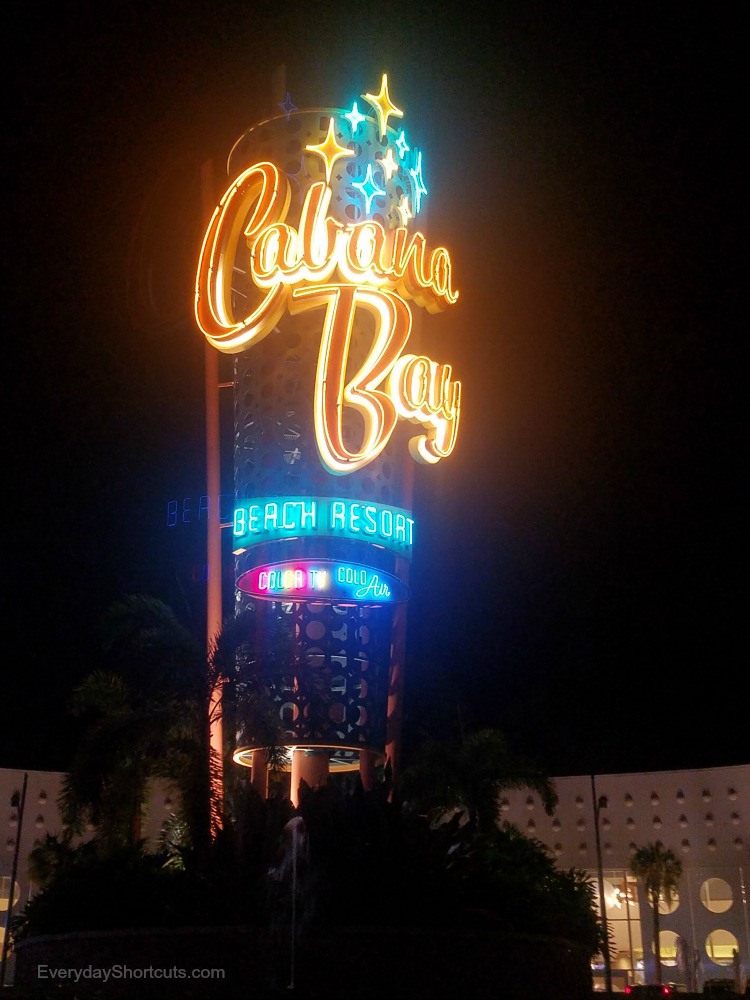 Overall we have a fantastic time from swimming, video games, bowling and making s'mores. I've never seen my kids have so much fun at a resort as I did while we were there. Even my teenagers participated in fun activities which is uncommon for them. These are some family memories we will never forget and I highly recommend staying here with your family for your next vacation. I know you will love it just as much as we did.
Thanks to Cabana Bay Resort for hosting us so we could check it out. All opinions are my own.