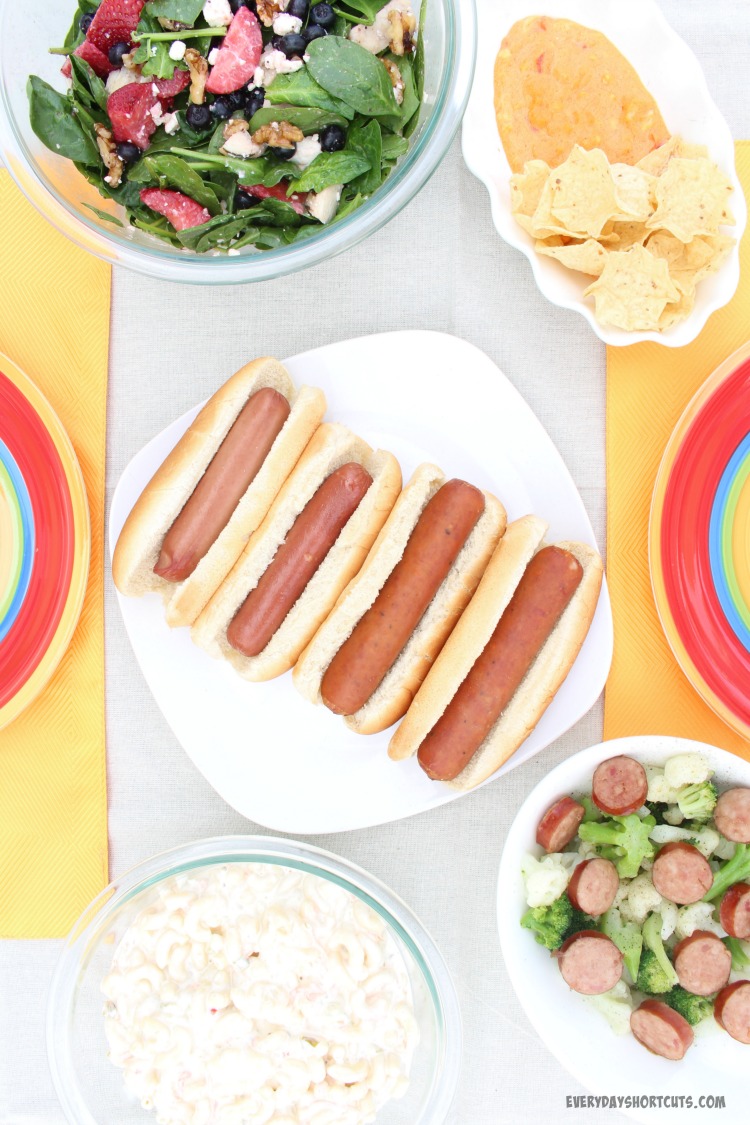 Summer is a time where friends and family meet up, schedules are non-existent, the weather is nice and we enjoy the outdoors more. In the summer meals do not need to be elaborate and more casual. This is your time to relax and not think so hard. With that being said, I've got your meals covered so go ahead and indulge in these delicious and simple recipes for a summer party.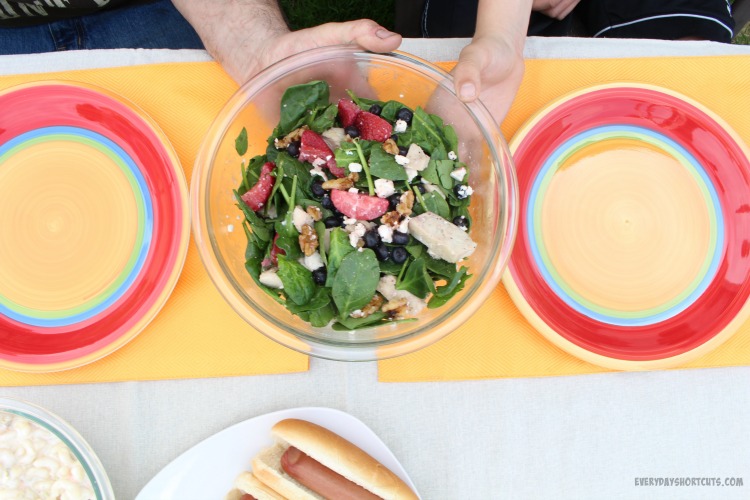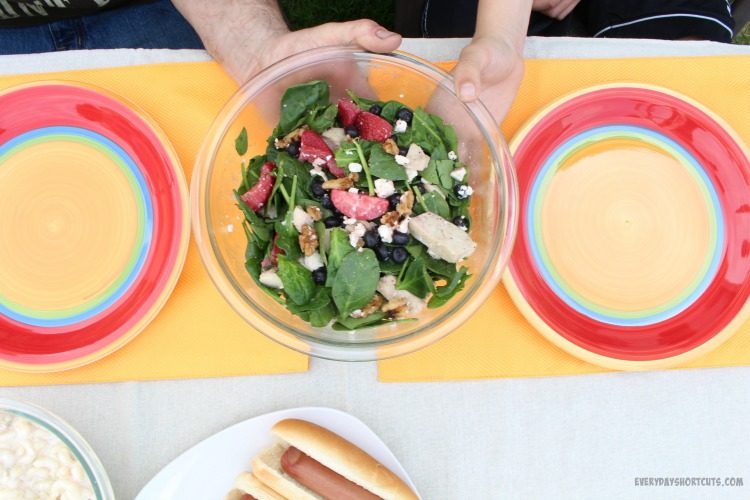 Simple Recipes for a Summer Party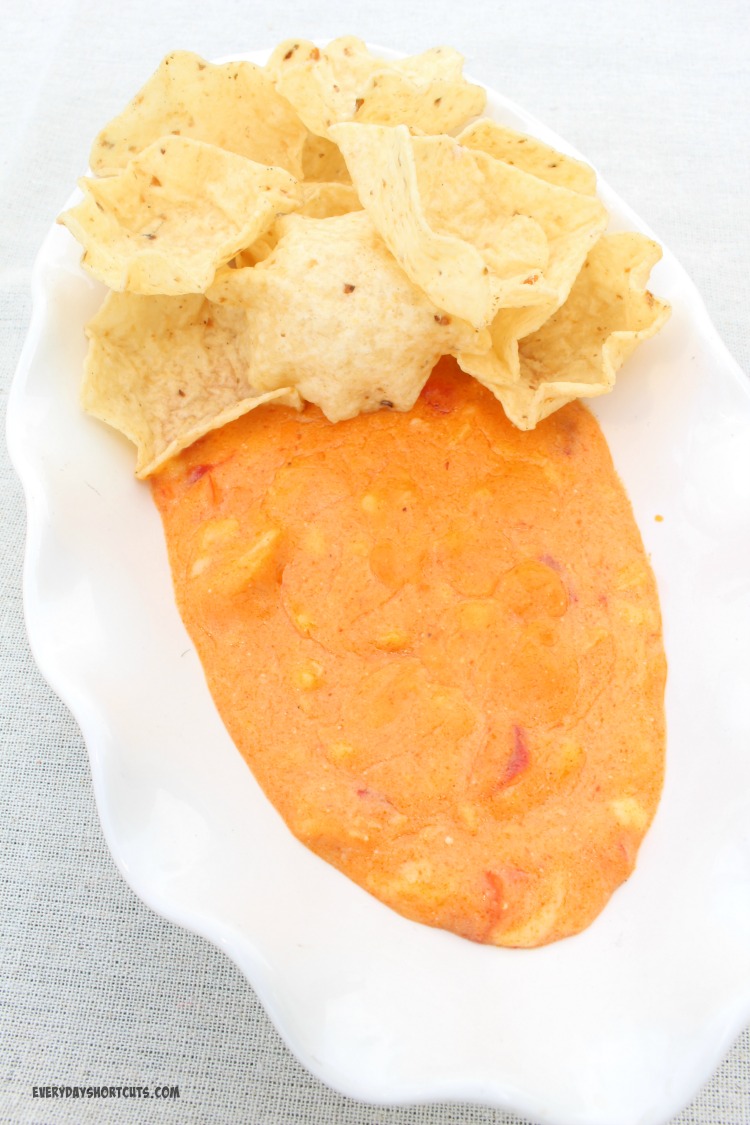 Buffalo Chicken Dip
Ingredients
2 cups shredded cooked chicken (I use Tyson All Natural Boneless Skinless
Chicken Breast and cook it in the crockpot and shred with a mixer)
1 (8 oz. pkg.) cream cheese, softened
1/2 cup buffalo sauce
1/2 cup ranch dressing
1 cup shredded cheddar cheese
1/2 cup Blue Cheese Crumbles
Directions
Preheat over to 350 degrees.
In a bowl mix together shredded chicken, cream cheese, buffalo sauce, ranch dressing and shredded cheddar cheese.
Pour into an 8×8 baking dish.
Sprinkle with blue cheese crumbles.
Bake for 20 minutes or until it is heated all the way through.
Serve with chips.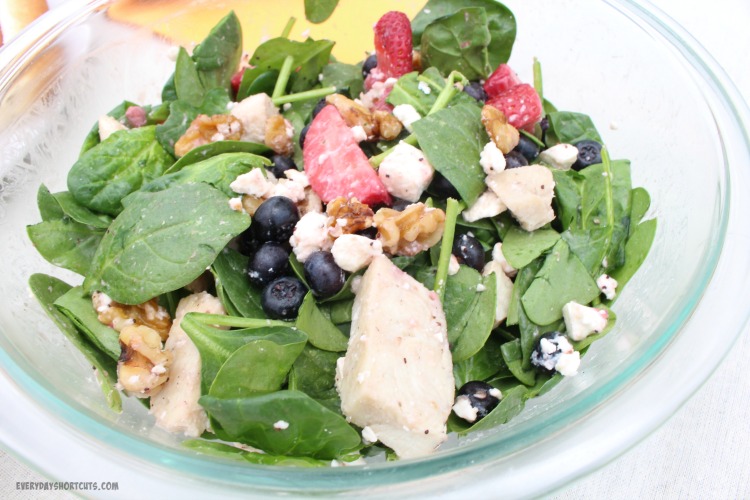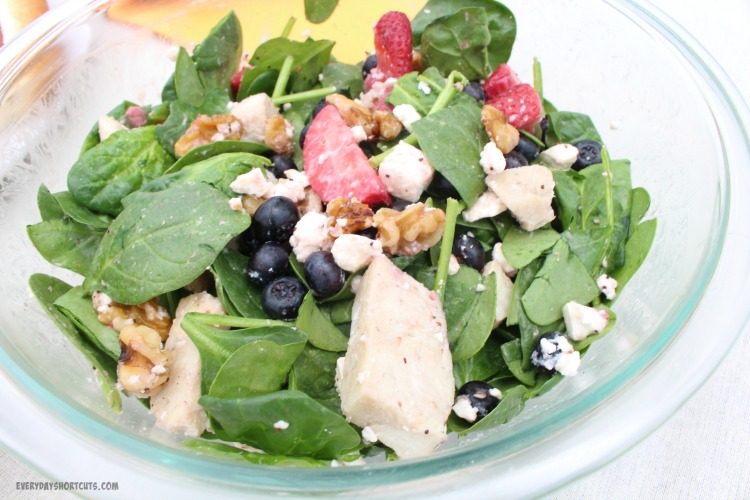 Berry Chicken Salad
Ingredients
1 lb. boneless skinless cooked Tyson All Natural Boneless Skinless
Chicken Breasts, cut into strips
1 6 oz. package baby spinach
1 cup fresh blueberries
1 cup halved fresh strawberries
2/3 cup crumbled goat cheese
3 tablespoons chopped walnuts
1/4 cup raspberry vinaigrette
Salt and Pepper to taste
Directions
Combine everything except the dressing in a large bowl and toss together. Add dressing right before serving and toss again.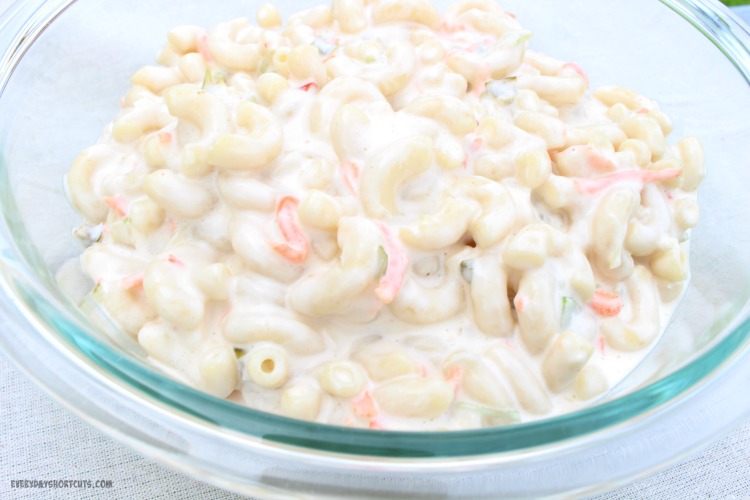 Traditional Macaroni Salad
Ingredients
4 eggs
4 cups cooked macaroni
1/2 cup chopped celery
1 Tbsp. minced pimiento
1 cup Hellmann's Real Mayonnaise
1/4 cup chopped green olives
2 Tbsp. chopped fresh parsley
1/4 tsp. salt
1/8 tsp. ground black pepper
Directions
To cook the eggs, place them in a saucepan with cold water making sure the water is above the eggs.
Bring water to a boil and cover for 20 minutes.
Place eggs in a colander and run cold water over the eggs.
Once cooled, remove the shells and chop up the eggs.
Mix all of the ingredients in a bowl and chill for an hour.
Serve and enjoy!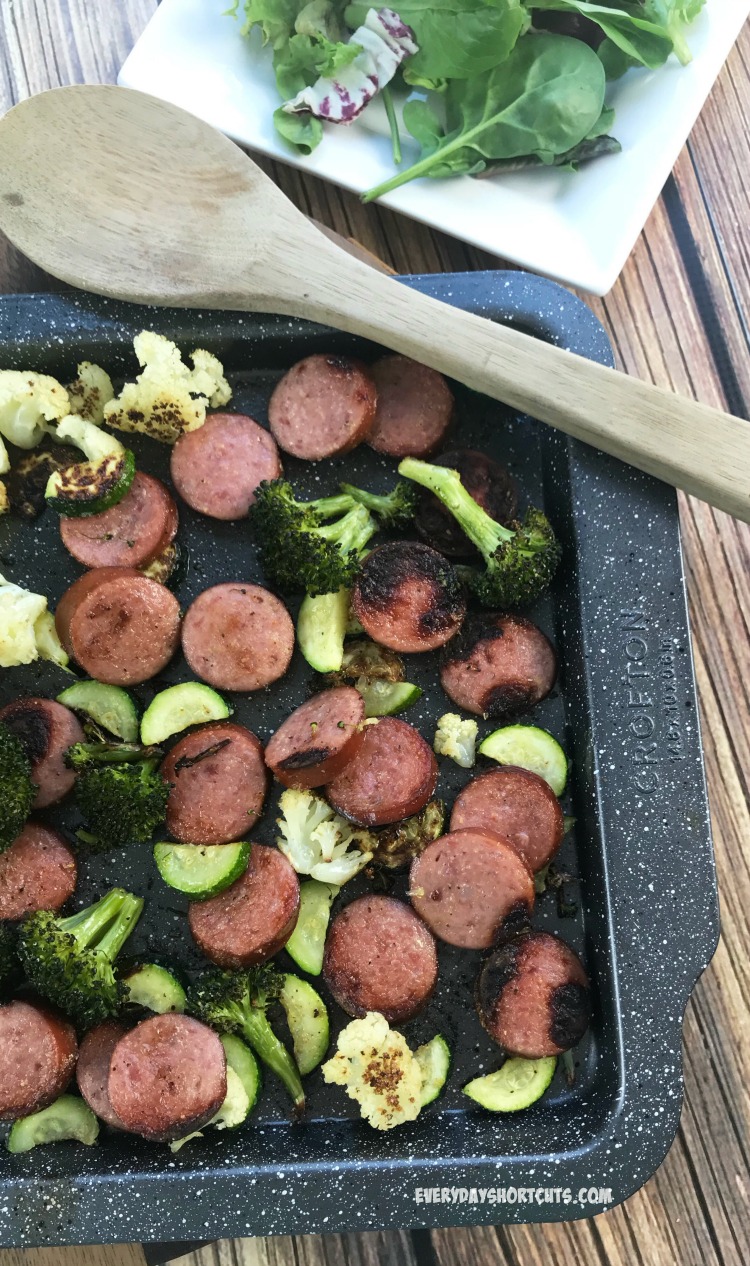 Smoked Sausage & Veggies
Ingredients
16 oz package of beef smoked sausage, sliced
1 C. cauliflower florets
1 C. broccoli florets
1-2 medium zucchini, sliced
1 tsp. onion powder
1 tsp. garlic powder
salt & pepper to taste
Directions
Preheat the oven to 400 degrees.
Place the sausage and veggies in a large bowl. Season with onion powder, garlic powder and salt & pepper.
Stir/toss to combine the ingredients.
Spread the mixture out onto a large baking sheet.
Bake for 20-25 minutes, flipping the sausage & veggies halfway through.
Serve alone or with a side salad.
*You can use just about any veggies you wish this recipe, it's a great way to use up extra veggies you may have sitting in the fridge.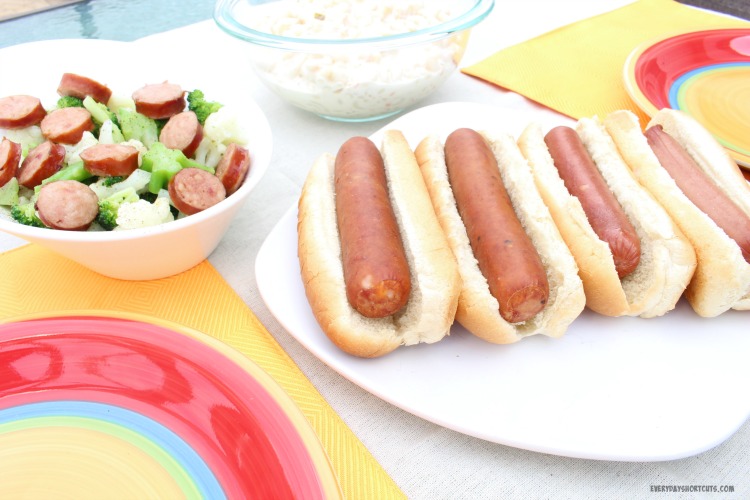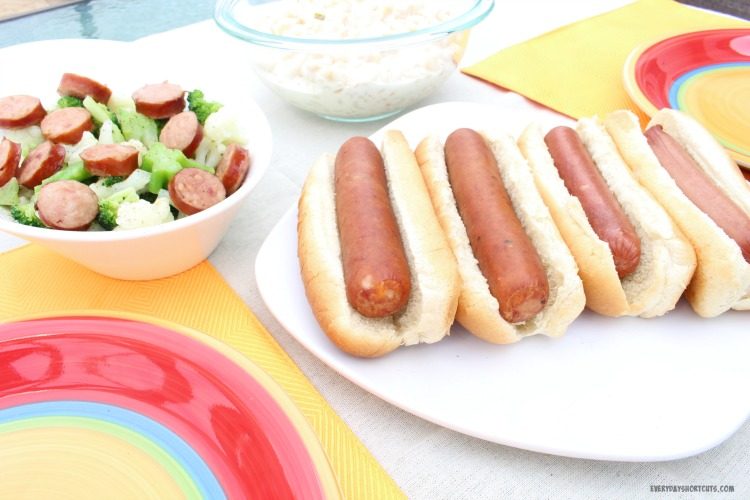 Hillshire Farm Cheddarwurst Smoked Sausage Links & Ball Park Beef Franks
Cook each one per directions on the package. Use Ball Park Tailgaters Brat Buns to hold in place.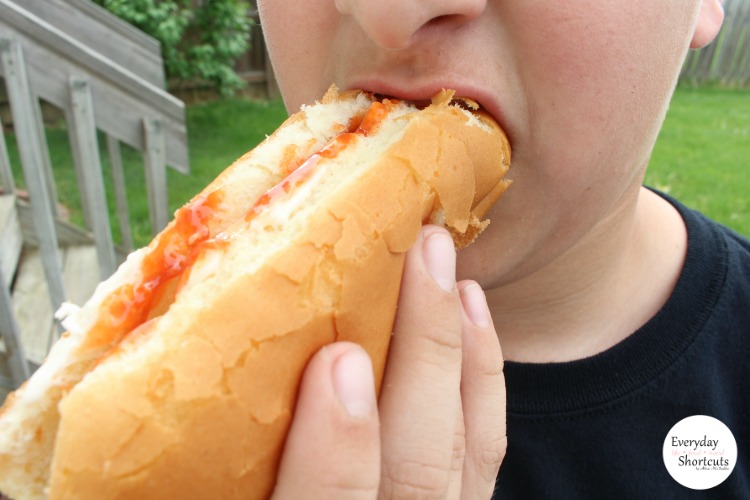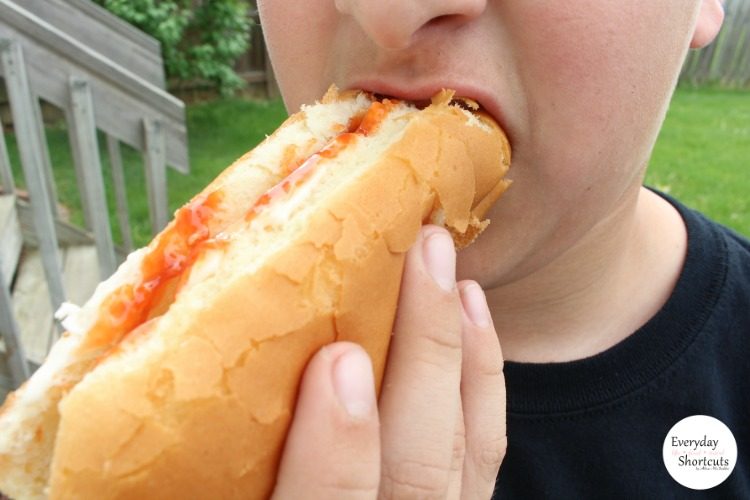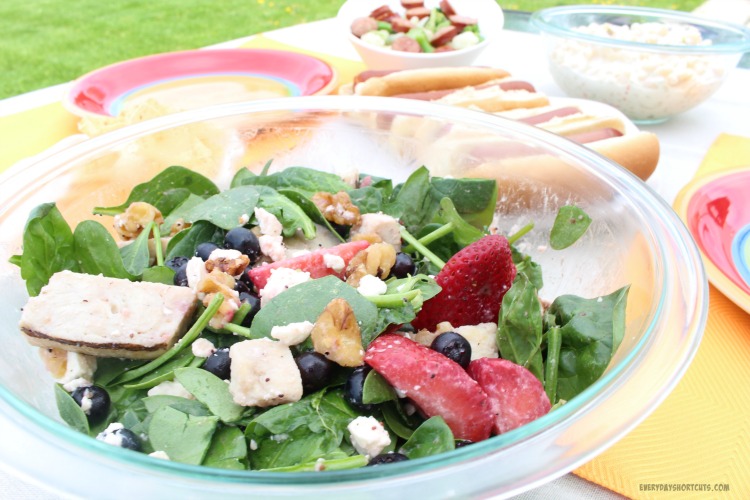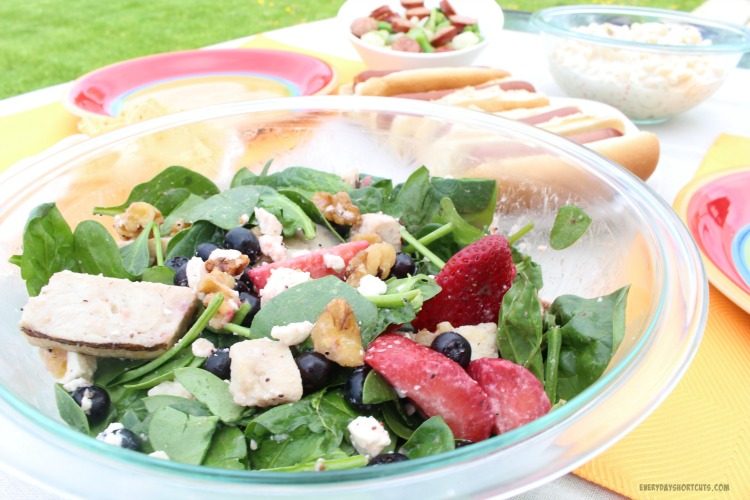 The best part is that you can find all of your summer party supplies along with Tyson, Unilever, and
Bimbo products at Sam's Club. So there's no need to go from store to store and that can save you a lot of time to prepare for your next gathering. Looking for some more yummy, unique recipes? Check them out here! Happy Summer!