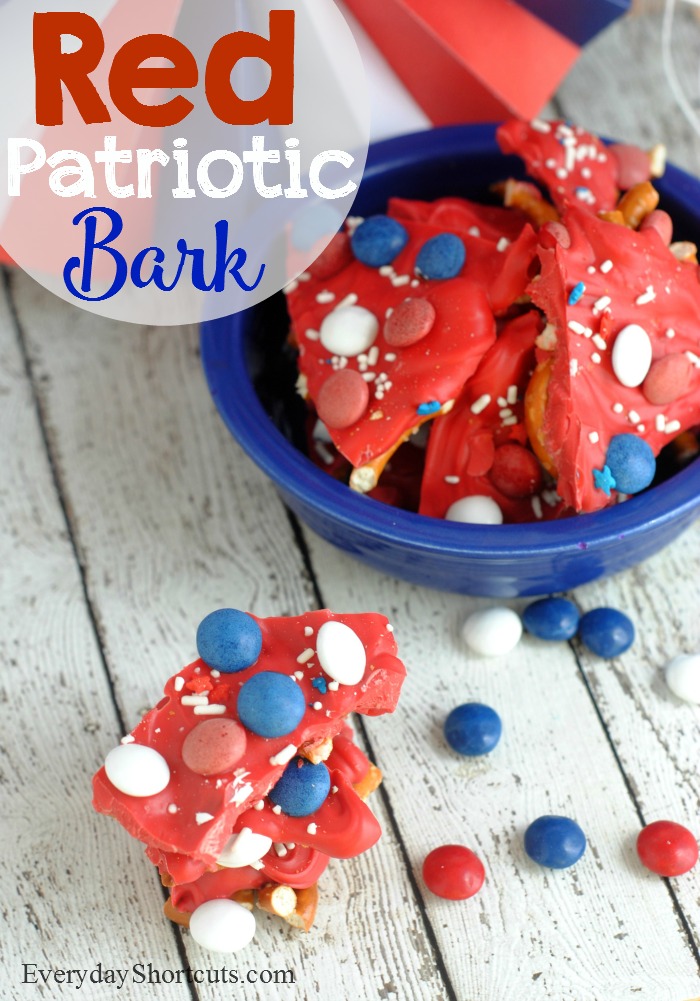 If you are planning on having a 4th of July party, check out this easy recipe for Red Patriotic Bark you can make ahead of time. You can also use different colors with different color candy melts. Not only is it easy to make but everyone at your 4th of July party will love this recipe.
Red Patriotic Bark
Ingredients
12 oz. Wilton red chocolate candy melts
2 C. pretzels, broken into small pieces
1 C. red, white and blue chocolate candies (I bought the colors separate in the bulk section at my local grocer) – you could also use M&M's and separate the colors.
Patriotic sprinkles
Directions
Line a 9×13 baking sheet with wax paper or foil.
Spread ¾ C. of the chocolate candies and the broken pretzel pieces onto the lined cookie sheet.
Melt the candy melts in a microwave safe dish stirring every 30 seconds until melted. Let cool 1-2 minutes.
Poor the melted chocolate evenly over the chocolate candy and pretzel mixture. Spread out with a spatula if needed.
Before the mixture sets sprinkle the remaining chocolate candies and the Patriotic sprinkles on top.
Place cookie in the fridge to set for about 30 minutes.
Remove and break into smaller pieces.
*Store in an airtight container 1-2 weeks.