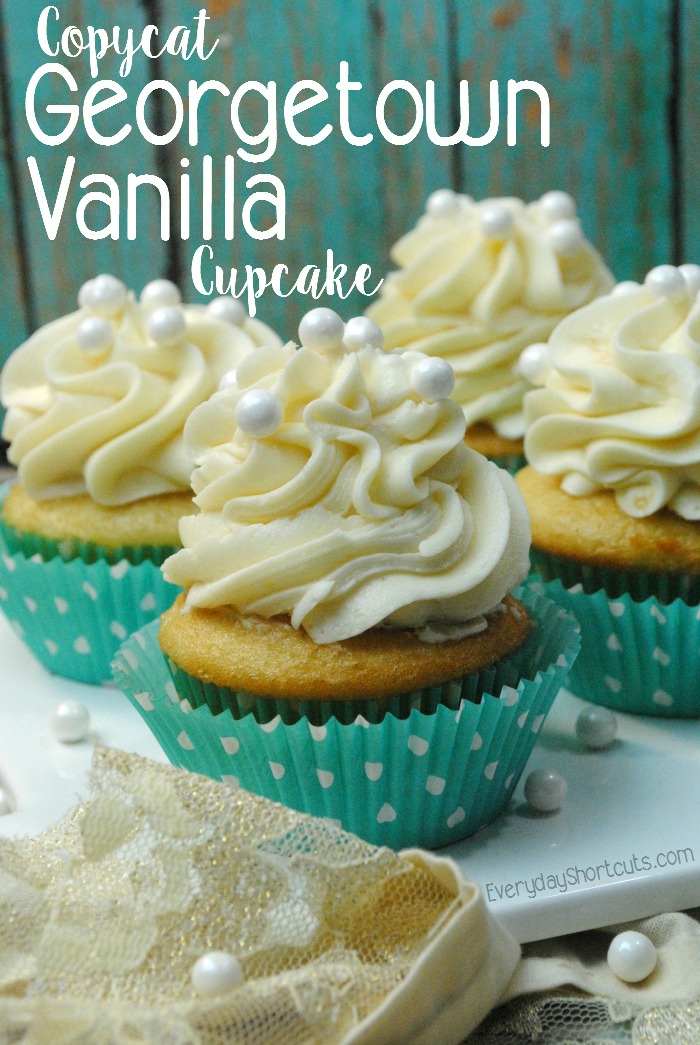 Wonder what the secret is to the Georgetown Cupcake's Vanilla Cream Cheese Frosting? I have the answer for you in this copycat recipe that will taste so similar to the famous DC cupcakes. And the best part is that you don't have to wait in those long, wrap around the block lines to get one as you can make them right in your home. You will see what I mean when you try this recipe and bite into a cupcake .
Copycat Georgetown Vanilla Cupcake
Ingredients
1/2 cup unsalted European sweet cream butter softened
2 eggs
2 1/2 cups flour
2 1/2 tsp baking powder
1/2 tsp salt
3/4 cup milk
1 3/4 cups sugar
1 tsp vanilla bean paste
Directions
Preheat oven to 350 degrees.
Set up your cupcake pan with liners.
Using a medium bowl, whisk flour, baking powder, and salt.
In a separate large mixing bowl, beat butter with an electric mixer or a Kitchenaid on medium to high for 30 seconds.
Now add sugar, and vanilla to the butter and beat until combined.
Add eggs one at a time, beating well after each addition.
Alternate, the flour mixture and milk to butter mixture, beating on low-speed until everything is well mixed together.
Fill the cupcake pan liners 2/3 with cake batter.
Bake for 18-20 minutes.
Remove cupcakes from pan and allow to cool on a wire rack for 30 minutes before frosting.
Vanilla Cream Cheese Frosting Ingredients
1 c unsalted sweet cream butter
1/2 c softened cream cheese frosting
3 c powder sugar
1 tsp vanilla bean paste
3 tbs heavy whipping cream
Vanilla Cream Cheese Frosting Directions
In large mixing bowl beat butter, vanilla bean paste, and cream cheese on high-speed until fluffy.
Add 3 cups of sugar, one at a time.
Add in heavy cream if frosting is looking like sugar pebbles.
Scrape the sides to get all of the sugar mixed in.
Mix until your frosting is stiff and won't fall off the whisk.
Pipe the cupcake using a star tip and top with edible pearls.