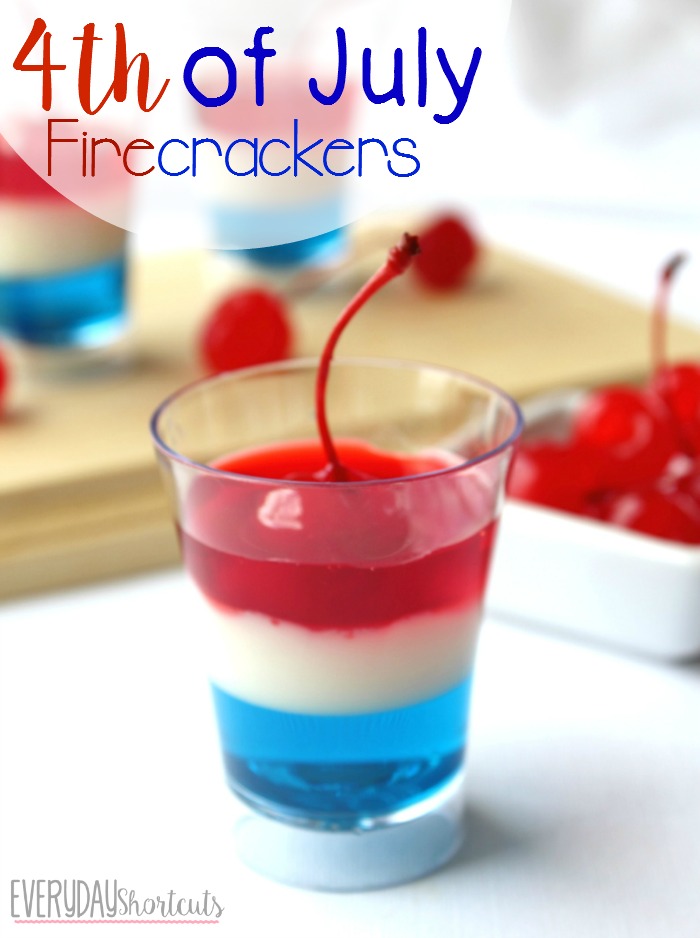 Fourth of July is a great way to celebrate Independence Day and these Jell-O Firecrackers will be a hit at your patriotic party. The red, white, and blue colors are so festive for the occasion and is a treat that is super easy to make. For the cups, I used these plastic shot glasses that are disposable for easy cleanup.
4th Of July Firecrackers
*Makes 20 approximately 20 firecrackers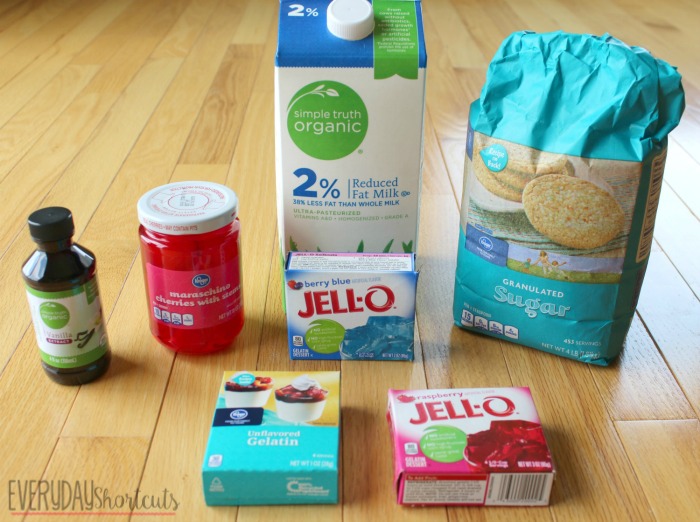 Ingredients
1 1/3 cups boiled water
2 – 3 oz. packages of Jell-O gelatin (Cherry and Berry Blue)
1 package of Knox Brand non flavored gelatin
1-cup milk
3 Tbsp. sugar
1/2 tsp. vanilla
20 maraschino cherries with stems, (drain well and pat dry)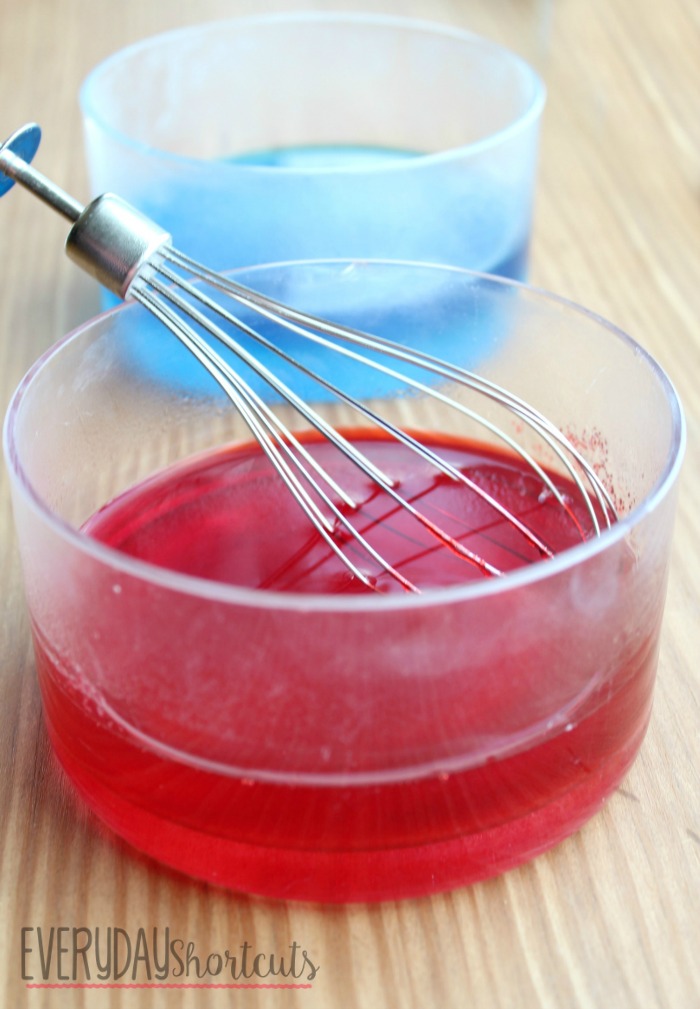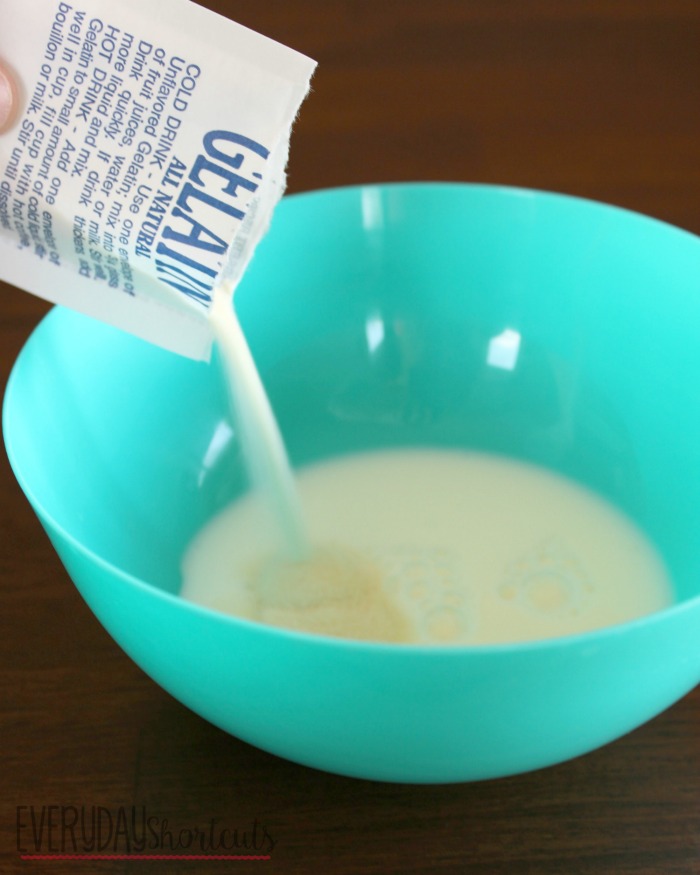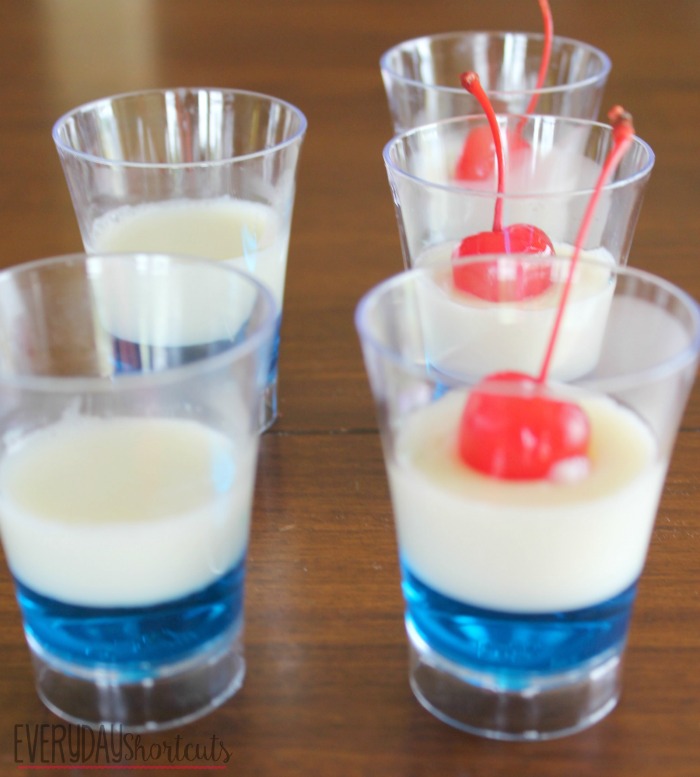 Directions
Start by boiling water in a small saucepan.
In small bowl add 2/3 cup boiling water to berry gelatin mix; stir 2 min. until completely dissolved. Repeat in separate bowl with cherry gelatin mix. Allow to cool.
In another bowl add ¼ cup of milk and sprinkle in 1 envelope of unflavored gelatin; let stand 5 min. Bring remaining milk to simmer in saucepan.
Remove from heat; stir in sugar and vanilla. Add to plain gelatin mixture; stir until gelatin is completely dissolved. Cool 10 min.
Spoon berry gelatin into 20 (1-oz.) plastic shot, add about 2 tsp. to each. Refrigerate 15 min. or until set but not firm.
For the next layer top with unflavored gelatin mixture, adding about 2 tsp. to each cup. Refrigerate 10 min.
Insert cherry, stem end up, into white gelatin layer in each cup and refrigerate 2 more minutes.
Finish the top layer with cherry gelatin, add about 2 tsp. to each cup. Refrigerate 2 hours or until firm.
Enjoy!