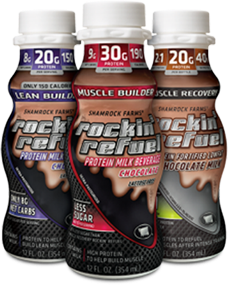 How does a trip to Hawaii sound? Sounds like paradise at this time of year, right?! Well, you can have a chance to soak up the sun, ride some waves and watch football all-stars compete on the gridiron! Rockin' Refuel is giving away a trip for two to Hawaii in Rockin' Refuel's Football in Paradise! The grand prize package, sponsored by Rockin' Refuel, includes travel and hotel accommodations for the winner and one guest for a three night stay in Honolulu (January 29 – February 1, 2016), two game tickets (January 31, 2016), food and entertainment voucher, a pro-football player A.J. Green prize package and supply of Rockin' Refuel. Total value estimated at $4,399. There are also additional opportunities for a chance to win weekly prize packages that are comprised of A.J. Green memorabilia, a supply of your favorite Rockin' Refuel beverage and a grocery or convenience store gift card of your choice.
Not only does Rockin' Refuel tastes great it is also made with pure, fresh milk and contains up to 30 grams of high-quality protein to build muscle or help muscles recover after a workout. This is A.J. Green's go-to protein beverage and helps him excel on and off the field. You can find Rockin' Refuel in the dairy case at a retailer near you. Be sure to follow on Facebook, Twitter and Instagram for the latest news and promotions. To enter the Rockin' Refuel Football in Paradise Sweepstakes, follow the instructions online at http://rockinrefuel.com/aj-green-sweepstakes/. The sweepstakes ends at 11:59 p.m. ET, December 20th.
Disclosure: This is a sponsored post. All opinions are my own.