Kids can now have their own Fireworks show with Uncle Milton's Fireworks Light Show Products. They can light up the night all year long with Fireworks Light Show Launcher, Dragon Fire Night Rocket, Light Frenzy Sparkler, Roman Candle Fireball Blaster, Screamin' Sky Weasel, Streaking Light Flyer, Shoe Fireworks, Pinwheel Light Show, and The Grand Finale Light Show. Each toy is unique to create an amazing fireworks display to show their friends or family.
My kids and I got the chance to review the Fireworks Light Show Launcher, Screamin' Sky Weasel, and Roman Candle Fire Blaster. As soon as it arrived in the mail, my kids got excited. We quickly put batteries in the products that needed them and turned off all the lights to begin the fireworks show.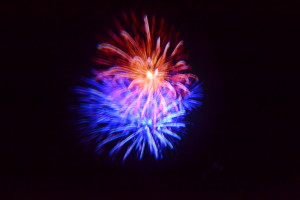 The Fireworks Show Launcher has different firework image settings to choose from. When you choose the right one, aim it at the wall or ceiling and pull the trigger. The image appears of the fireworks with actual firework sounds.
The Roman Candle Fireball Launcher comes with 3 balls that have a light on the ball. Load them into the launcher and shoot them at a distance. The ball swirls around and with the light on the ball it makes it look like a roman candle shooting across the room. I noticed the balls did not shut off after we launched them. To turn them off just squeeze the ball and it will click off.
The Scream' Sky Weasel was our favorite. You get a set of long balloons and a pump. What you do is use the pump to blow up the balloon and when you let it go, it gives off a screeching sound that is so cool. The balloon flies all over the house and the kids love to try and catch it. The balloons also have raised designs on them. If you charge them in the light they will glow in the dark. You can also launch them outside where they will shoot straight up in the air. Be careful as the balloons tend to go their own way and could go over fences.
You can find Uncle Milton Products on Amazon
and Toys R Us stores.
Disclosure: I was given the product featured in this post to facilitate my review. All opinions are 100% mine and not influenced in any way.
Be sure to Follow Uncle Milton on Social Media:
Facebook: www.facebook.com/unclemilton
Twitter: @unclemiltontoys
YouTube: UncleMilton1
Pinterest: www.pinterest.com/unclemilton