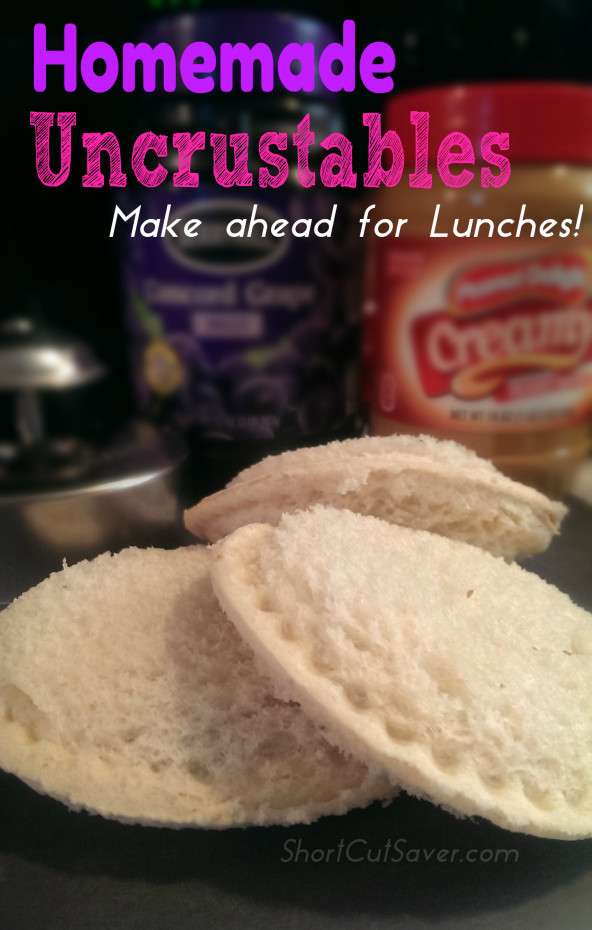 Homemade Uncrustables
Making homemade uncrustables could never be easier. I usually get 3 loaves of bread and make a few batches of them on Sunday. I freeze half of them and put the rest in the fridge using the bread bag. This way I can just grab them in the morning and throw them in the lunch boxes. When we are getting low, I will take the ones out of the freezer and thaw them out in the fridge. The kids can even grab one for an afer school snack.
I use The Pampered Chef Cut and Seal gadget to make mine as they make them round and similar to the store uncrustables. There are several other gadgets you can use to make homemade uncrustables such as The Wonder Bread Sandwich Sealer that makes the uncrustables square. Whichever gadget you use, it only takes a few minutes to make.
"PIN IT" by clicking the PIN button on the image above!
Get more RECIPES from ShortCutSaver here!

Homemade Uncrustables
Ingredients
Loaf of Bread
Peanut Butter
Jelly
Sandwich Cutter and Sealer
Instructions
Spread the peanut butter and jelly in the middle of the bread.
Add the 2 pieces of bread together to form a sandwich.
Place the sandwich sealer/cutter on top of the bread in the middle.
Push down and wiggle the gadget from side to side or twist it. (this will make the crust come off easier)
Remove the crust before taking the gadget off.
After you sealed the one side, turn the sandwich over and seal that side.
Place back in the bread bag and freeze or put in the fridge.
Save your crusts to make homemade croutons, bread pudding, or you can feed them to the birds.